DAVE'S DIARY - 7/9/2020 - PREVIEW OF EPISODE 3 - SERIES 45
TIM MCGRAW HEADLINES NU COUNTRY TV
Singing actor Tim McGraw headlines Nu Country TV this Saturday September 12 at 9.30 pm on Channel 31/Digital 44.
Georgian star Luke Bryan and Virginian quintet Old Dominion also return to the show repeated on Wednesday 10.30 pm.
Nu Country TV co-producer, camera man and editor Laith Graham adds humour in his second hosting role despite Octogenarian Ray Stevens paranoia about being stalked by Taylor Swift.
Veteran Trentham singer-songwriter and disc jockey Gene Bradley Fisk and former Tyabb troubadour Joe Ransom reach into our past for their bushranger flashbacks.
Nu Country TV is a highlight of C 31 streaming list on Digital 44.
Further info - https://www.c31.org.au/
TIM SWAPS FOOTBALLS FOR MATERNAL MEMORIES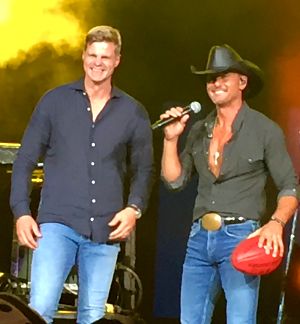 Louisiana born singing superstar actor Tim McGraw is luckily far removed from the devastation that recently swept his home state and Texas.
Tim picked the right year - 2019 - to boot footballs into his Rod Laver Arena concert crowd with former St Kilda captain Nick Riewoldt.
The arena is now as deserted as the once fertile footy ovals of the Dandemic state of denial.
McGraw, now 53, has toured here three times with singing spouse and fellow actor Faith Hill.
But this week he honours his single mother Betty who raised him after his late baseball champion sire Tug McGraw decamped the family arena.
Tim starred in a brace of movies including The Blind Side with Sandra Bullock and Country Strong with Gwyneth Paltrow, Friday Night Lights and Flicka.
I Call Mama is on Tim's 16th album Here On Earth.
CLICK HERE for a Tim McGraw interview in The Diary on April 29, 2019.
LUKE BRYAN BUILDS HIM A DADDY
Georgian singer-songwriter and chart star Luke Bryan returns with a passionate paternal paean.
Bryan , 44, performs an evocative plea for a return of a departed dad that resonates with many viewers.
Luke gave his wife Caroline two kangaroo joeys for Christmas on the eve of his debut tour as 2018 CMC Rocks Queensland festival headliner at Willowbank in Ipswich.
Bryan filmed Caroline putting on a blindfold on Christmas Day while he brought her gift into the room.
He told her he was bringing designer purses but the bag on her lap had two baby marsupials.
The Roos live in Brett's Barn on their farm, named after their niece Sadie Brett who died, aged seven months, of liver and heart disease and Downs Syndrome.
They were named Margo and Todd after yuppie neighbour on National Lampoon Christmas Vacation and share the barn with other pets.
But the Joeys didn't join Luke when he played Rod Laver Arena with Tennessean Dustin Lynch.
Instead Bryan saved Build Me A Daddy for his seventh album Born Here, Live Here, Die Here.
CLICK HERE for a Luke Bryan feature in The Diary on June 3, 2012.
OLD DOMINION DANCING FOREVER
Virginian quintet Old Dominion showed fancy footwork on their Australian tours so their dance steps are fondly remembered.
Band member Brad Tursi also wrote Light It Up with Luke Bryan on his sixth chart topping album What Makes You Country that toured here to promote.
Old Dominion recently appeared on Nu Country with Make It Sweet from their third album - sequel to second album Happy Endings.
The band formed in Nashville in 2007 after writing hits for diverse artists and perform and record as Old Dominion - nickname of its home state Virginia.
They appeared on Nu Country with Hotel Key, Written In The Sand, Be With Me, Song From Another Time, Shoe Shopping and No Such Thing As A Broken Heart.
Old Dominion performed the 2018 CMC Rocks Queensland festival and are now promoting Dancing Forever from their fourth album out later this year.
CLICK HERE for an Old Dominion feature in The Diary on September 18, 2017.
RAY STEVENS STALKED BY TAYLOR SWIFT
Octogenarian singer-actor-comedian Ray Stevens returns to Behind Bars with a fantasy of being stalked by superstar Taylor Swift.
But it wasn't Taylor Swift after all - at the age of 81 it was Georgian Ray's eyesight that let him down
Ray once fell from a camel on St Kilda Beach while promoting a previous hit Ahab The Arab.
The dual Grammy winner also resurrected The Streak from his 1974 album Boogity, Boogity, and Grandpa Voted Democrat on our recent shows.
We also featured equally topical video Quarantined - the tale of avoiding church because of his isolation.
Stevens has released more than 100 albums in his recording career that began in 1957.
His satiric hits include Osama, Yo' Mama, Sitting Up With The Dead, The Streaker, The Mississippi Squirrel Revival, Shriners Convention and Ahab The Arab.
Further info - https://raystevens.com/
GENE BRADLEY FISK RECALLS OTWAYS CATTLE DUFFERS
Veteran Geelong singer-songwriter-disc jockey Gene Bradley Fisk and former Tyabb troubadour Joe Ransom reach into our past for their bushranger flashbacks.
He began playing mandolin and banjo at the age of 11 in Colac Banjo Club.
That was before joining the RAAF at 15 and playing in The Strangers band while stationed in Malaysia .
On his Australian return he continued in music as DJ on 3HA, Hamilton , before hosting country music shows on 3UZ from 1977-1980 and 3GL Geelong before it became K-ROCK FM.
His many singles included The Bushranger, The Ballad Of Ronald Ryan and I Ain't Gonna Stand In Line.
This time he revisits the Otways for a cattle duffing tale based on Walter John's true story of being acquitted of cattle duffing in 1916.
Fisk tells the story in his song Kaanglang Dreaming that means Place of the Tiger Snake.
"In the early 1900's in southern Victoria the sons of early settlers wishing to become owners of their own farms or sheep and cattle stations, found it difficult to obtain finance (mainly from banks at that time) to finance their ventures," Fisk revealed.
"Most of them were young married men with young families and some of them, once gaining the land either by purchase or inheritance, still needed valuable stock to begin with.
"In the wild Otway Ranges district, young men began what in Australia is known as Cattle Duffing also known as Rustling .
"The gang who star in the song used moonless nights to carry out their deeds and chose mainly coastal farms on the side of the ranges to extract young milking cows to begin to build up their herds as they were mainly skilled dairy farmers. "They used a secret base high in the Otway hills to leave their spoils to be impregnated by a bull or bulls, and when the female calves were able to travel months later, they drove them to their various properties.
"The Kaanglang area in the Otways was an ideal spot for the operation as, it was very remote and still is to this day.
"Walter John, the ringleader of the duffing gang was the only one to face the courts accused of the crime of Duffing which meant a long Jail term if found guilty.
"He however got away with it because the prosecution didn't have enough proof according to the judge. My song is based on facts told to me by descendants of Walter John."
Further info - https://www.facebook.com/genebradleyfiskmusic/
JOE RANSOM DINGOES IN GLENROWAN
Former Tyabb teacher and singer-songwriter Joe Ransom returns with historic tales from bushranger country in Glenrowan.
Joe spent three years teaching students from Santa Barbara Bilingual School , Honduras , before he returned home.
He recently moved to Yuendumu near Alice Springs - home of many AFL stars including former Melbourne high-flier Liam Jurrah.
Liam is a member of the Warlpiri people and plays for the Yuendumu Magpies.
Ransom, who spent a fortnight in quarantine in the Territory, returned home to source footage from a famed Kelly Gang movie for his video for Dingoes from his new album Farmyard Blues.
Joe also filmed in historic Rushworth-Whroo gold mining region in northern Victoria for previous video Bone Digging Country.
Bone Digging Country name checked El Mochito Mountains in Honduras on his album Fear Not Fantasy, released on December 1, 2017.
Joe also released 11 track 2018 digital album Saltar that features Palm Oil Plantations.
Further info - https://joeransom.bandcamp.com/
HOW TO KEEP NU COUNTRY ON AIR
We need your support in Nu Country TV's 45th series with Australian record companies and major artists teaming to ensure our survival.
We have the vintage BR5-49 CD Big Backyard Beat Show and other classics including Billy Ray Cyrus's historic 1992 album Some Gave All that features his Achy Breaky Heart hit.
You can join Watling & Bates as members and win their 13 track CD Small Town Tales and Kip Moore's third album Slowheart.
We also have other CDS by major artists you can win by becoming a Nu Country TV member or renewing your membership.
They include Brad Paisley, Carrie Underwood, Gary Allan, Eric Church and late larrikin legend A.P. Johnson.
CLICK HERE for our Membership Page for details.