DAVE'S DIARY - 2/11/2020 - PREVIEW OF EPISODE 11 - SERIES 45
LUKE COMBS HEADLINES NU COUNTRY TV
North Carolina nouveau outlaw Luke Combs headlines Nu Country TV this Saturday November 7 at 9.30 pm on Channel 31/Digital 44.
Kentucky coalminer's son and fellow chart topper Chris Stapleton also returns to the show repeated Wednesday at 10.30 pm.
Expatriate Kiwi superstar Keith Urban and Ohio born Frank Myers appear with a Behind Bars Biblical double shot on the program hosted by our multi-talented host Laith Graham.
Ozarks escapee Nick Shoulders and NSW Central Coast brothers Frecko also debut this week.
Nu Country TV is a highlight of C 31 streaming list on Digital 44.
Further info - https://www.c31.org.au/
LUKE SERENADES WIFE NICOLE
Luke Combs joins expat Australasian superstar Keith Urban by writing songs for a wife named Nicole whom he married on August 1 on a southern Florida beach.
Luke, now 30, played St Kilda Palais on March 13, 2019, with Arkansas traveller Ashley McBryde.
But it was Nicole who inspired many songs including Loving On You.
The newlyweds rounded up kid skaters for a happy ending in their Loving On You video for his 9 th consecutive #1 hit.
Loving on You is on Luke's second huge selling album What You See Is What You Get that was re-released as a deluxe version last month.
It features a duet with Amanda Shires on Without You that he promotes in a live video with his studio trio during lockdown.
Combs also filmed live videos for his topical Six Feet Apart and appeared on Nu Country with fellow North Carolina outlaw Eric Church on their duet Does To Me.
It followed smash debut deluxe disc This One's For You 2 - #1 for 44 weeks on Billboard.
Combs broke a record set by Randy Travis Always and Forever that spent 43 non-consecutive weeks No.1 in 1987-1988.
His album holds second-longest run at No.1 for a country album after Shania Twain's 1997 album Come On Over 50 weeks reign .
In July he became first artist to have their first two studio albums spend 25 weeks or better at No. 1 on Billboard Country chart.
It broke the record set by Taylor Swift who previously led with 24 weeks.
Combs charted five tracks from The Prequel on Billboard Top 25 in June, 2019 - a feat not accomplished since Johnny Cash in 1959.
He recorded Let's Just Be Friends for The Angry Birds Movie 2 .
Luke was 29 when inducted into Grand Ole Opry on June 11, 2019, by fellow stars Craig Morgan, Chris Janson and John Conlee.
CLICK HERE for our What You See Is What You Get CD feature in The Diary on November 25, 2019.
CHRIS STAPLETON STARTING OVER
Kentucky coalminer's son Chris Stapleton set a high benchmark for Combs after topping charts with his huge selling albums.
Stapleton, now 42, was joined in the studio by singing spouse Morgane - also the mother of their five children including twins.
Producer Dave Cobb guested on the video for Starting Over - title track of his fourth solo album, released on November 13.
He wrote 11 of the 14 songs on his new album.
Chris recently appeared on Nu Country with Missouri born singing actor Sheryl Crow on historic hit Tell Me When It's Over.
His previous Nu Country videos included I Was Wrong and Midnight Train To Georgia live after he celebrated a brace of Billboard Music Awards, Grammys, CMA, ACM and American Music Awards.
Midnight Train To Georgia is on Chris's huge selling third album From A Room Volume 2.
He also filmed Broken Halo, Fire Away and Tennessee Whiskey videos after writing many hits for a vast cast diverse as Adele, Tim McGraw, Brad Paisley, Dierks Bentley, Vince Gill and Peter Frampton.
Stapleton penned five #1 hits during and after his career with bluegrass band The Steel Drivers.
Novocastrian Catherine Britt and Stapleton co-wrote Lonely - a highlight of her 2010 self-titled album that featured three collaborations with Tennessean Ashley Monroe.
CLICK HERE for Chris's huge selling debut solo album Traveller feature in The Diary on December 21, 2015.
KEITH URBAN BIBLICAL WHISPERS
Expat Kiwi Keith Urban performs the first of our Behind Bars Biblical double shots on his return to our show.
Keith Urban, now 53 and father of two daughters, had a conversation with his saviour in his video for God Whispered Your Name.
Urban headed high into the mountains in his video for one of 16 songs on his 12 th album The Speed Of Now - Part 1.
The album features five Urban originals, collaborations with artists diverse as Eric Church, Breland and Nile Rogers and a duet with Pink on One Too Many.
This eclectic Australian chart-topping album, also his ninth U.S. and sixth Canada #1 disc, has been promoted by colourful videos filmed in isolation and featured on Nu Country.
Urban's innovative videos have filled the vast void of live concerts postponed in the Covid-19 pandemic.
There was one worthy exception - a ground-breaking Nashville drive-in theatre concert that Keith staged for medics, nurses and other emergency first responders.
CLICK HERE for our The Speed Of Now CD feature in The Diary on October 19.
CLICK HERE to win the CD on our membership page.
FRANK MYERS SWEET SOLACE IN PANDEMIC
Ohio born singer-songwriter and producer Frank Myers finds faith in his maker on his Behind Bars debut.
Frank has written many hits since leaving Ohio for Nashville 39 years ago after appearing on the Porter Wagoner TV show at 14.
But the singer found solace in the pandemic when he wrote God's Got This from his third album.
"I was going through some personal things in my life and I realised I was powerless in the situation," Frank, now 63, revealed.
"I just sat back, closed my eyes, and the words God's Got This came to me and now, in listening to the media, reading posts with frantic reactions to current events, my heart felt burdened. I wanted to share this message of faith. I feel this song speaks volumes not only in today's turmoil and unsettled circumstances, but to everyday hurdles, and I hope the message offers anyone listening, a renewal of faith to believe that no matter the struggle, HE is right here with us."
Myers joined Eddy Raven's band as a guitarist on his Nashville arrival and wrote the hits I Got Mexico , Bayou Boys, You Should've Been Gone By Now and Sometimes A Lady.
His career rocketed in 1982 when he wrote Eddie Rabbitt-Crystal Gayle #1 hit You and I, I Swear for John Michael Montgomery, I'm Already There and Front Porch Looking In for Lone Star .
Further info - https://www.frankmyersmusic.com/
FRECKO GO FOR BROKE ON NSW CENTRAL COAST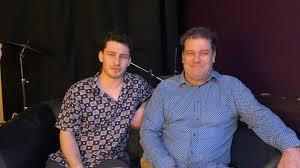 NSW Central coast brothers Jason and Jack Freckelton perform and record as Frecko with healthy doses of humour.
The Copacabana duo filmed their joyous video Good Times - celebration of Australian resilience when times get tough - near a town named Broke with director Jay Seeney.
Their previous hit Bury Me Deep - story of forgotten rural towns of Australia and their struggle with drought, fires and flood in the face of political inaction - is in new documentary Bone Dry.
Good Times is on their second album, produced by Lachlan Bryan and Damien Cafarella, set for release next year.
Further information - https://www.facebook.com/freckomusic/
NICK SHOULDERS FLEES THE OZARKS FOR NEW ORLEANS
Nick Shoulders made the most of a shopping trip in New Orleans - he whistled, sang and shopped at a 24 hour a day seafood supermarket mecca.
Nick visited Hank's Checkout Line , armed with guitar and grits and filmed his video with a colourful cast.
Hanks's Checkout Line is on second album Okay, Crawdad that follows his EP-mini-album Lonely Like Me.
He recorded it below sea level at Mashed Potato Records in New Orleans
Since 2014 Nick has travelled for months at a time, living out of his van-house with trusty 130-pound dog Moose while busking as a one-man band.
Since releasing a solo demo in late 2017, he has taken his songs off the streets and to the dance floors of New Orleans where he has performed with Sam Doores, The Deslondes , Esther Rose and Australian C.W. Stoneking.
He also recorded Rough Cuts, Vol 2 , solo in an old train tunnel, carved clear through a mountain, near his home in the Ozarks.
Further info - https://www.facebook.com/OKAYcrawdad/
HOW TO KEEP NU COUNTRY ON AIR
We need your support in Nu Country TV's 45th series with Australian record companies and major artists teaming to ensure our survival.
We have expatriate Australasian superstar Keith Urban's chart topping 12 th album The Speed Of Now - Part 1.
Also vintage BR5-49 CD Big Backyard Beat Show and Billy Ray Cyrus's historic 1992 album Some Gave All that features his Achy Breaky Heart hit.
You can join Watling & Bates as members and win their 13 track CD Small Town Tales and Kip Moore's third album Slowheart.
We also have other CDS by major artists you can win by becoming a Nu Country TV member or renewing your membership.
They include Brad Paisley, Carrie Underwood, Eric Church and late larrikin legend A.P. Johnson.
CLICK HERE for our Membership Page for details.