DAVE'S DIARY - 25/5/2020 - PREVIEW OF EPISODE 1 - SERIES 44
TRACE ADKINS HEADLINES NU COUNTRY TV
Singing actor Trace Adkins headlines Nu Country TV on Saturday May 30 at 9.30 pm on Channel 31/ Digital 44.
Dierks Bentley and his Hot Country Knights return to the show hosted by Mid-Pacific Bob Olson and repeated Tuesday 4.30 am, Wednesday 10.30 pm and Friday 1 am.
Mid-West farmer's daughter Margo Price and LoCash boomerang to Behind Bars on the program filmed and edited by Laith Graham.
Boston bred bluegrass quintet Della Mae and Sunshine Coast duo Oh Harlow also appear.
Nu Country TV is a highlight of C 31 streaming list on Digital 44.
Further info - https://www.c31.org.au/
TRACE TORNADOES TRAUMA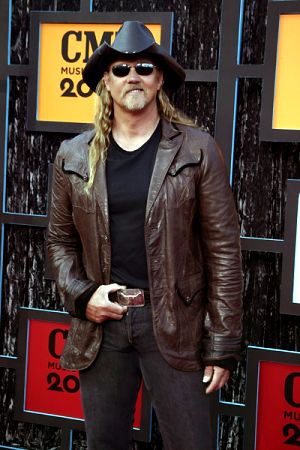 Trace Adkins returns with a prophetic video filmed on the night of the deadly Tennessee Tornadoes.
Louisiana born Trace, 58, and dad of five daughters, filmed Better Off in a former slaughter-house.
"I loved the venue," Trace revealed.
"It's an old slaughterhouse in north Nashville that has been repurposed as a video and photo shoot location. The night shot from the top of the roof, looking back towards the Nashville skyline, was beautiful. The video was filmed the night the tornado came through Nashville . It's a bit surreal to think they touched down a few hours later, just a few blocks from where we were.
"I wanted to do a performance-style video where I could use my band, so we started there. We could have gone in a few directions with this song, but I wanted to be cognizant of keeping the video sexy but classy. I have worked with the director, Mike Stryker, on a few different projects and enjoy his directing style. Mike suggested using the dancers to add some elegance. The fact that the dancers also happen to be a couple added authenticity to their scenes."
It's incredible to see the video process in its entirety. While filming you are being told by the director to "stand here" or "walk to here." I don't really have a good feel for what it will look like until I start getting edits of the video. When I received the first edit, I knew we had captured the feeling I wanted to convey."
Better Off , penned by Hillary Lindsey, Corey Crowder and Liz Rose, is the first single on Trace's 14th album on Verge Records .
Adkins has appeared in 24 movies and telemovies and released 12 studio albums and other compilation discs.
His movies include The Lincoln Lawyer, Hickock, Traded or Stagecoach: The Texas Jack Story, Trailer Park Of Terror , An American Carol, Bennett's War and The Virginian .
CLICK HERE for a Trace CD feature in The Diary on July 6, 2009.
DIERKS BENTLEY AND HOT COUNTRY KNIGHTS
Arizona born Dierks Bentley and his side project - Hot Country Knights - return with welcome mirth.
Dierks, alias Douglas 'Doug' Douglason, had a perfect ploy when his pick-up broke down outside a tiny Tennessee town
His Hot Country Knights decamped and ignited bright lights on arrival and performed the Moose Knuckle Shuffle.
The head knight wed a local lass, had kids and became mayor.
Moose Knuckle Shuffle was penned by Brett Beavers, Jim Beavers, Buddy Brock, Dan Hochhalter, Chase McGill, Zach Turner and Brett Tyler
It's on Hot Country Knights debut CD - The K Is Silent.
Guests include Terri Clark and Georgian singing actor Travis Tritt.
The Knights feature Bentley, bassist Trevor Travis, guitarist Marty Ray Rayro Roburn, fiddler Terotej Terry Dvoraczekynski, steel guitarist Barry Van Ricky and percussionist Monte Montgomery.
They revive a comedic element akin to historic Grand Ole Opry stars String Bean Akeman, Minnie Pearl and others.
Bentley, 41, broadened his career by fronting his Bolo Boys bluegrass band as his opening act at some concerts.
Dierks toured here in 2012 with Lee Kernaghan and attracted former St Kilda captain Nick Riewoldt and Carlton stars Andrew Walker and David Ellard to his St Kilda Palais concert.
The Hot Country Knights disc follows Dierks 12th album The Mountain .
CLICK HERE for a Dierks CD feature in The Diary on July 25, 2016.
MARGO PRICE TWINKLES THE ICE
Mid-West Farmer's daughter Margo Price takes viewers on a tasty time and travel trip on her Behind Bars return.
She performs Twinkle-Twinkle from her third solo album That's How Rumours Get Started.
The video, directed by Matthew Siskin, was inspired by a candid, backstage conversation with Marty Stuart about the tough truths of touring and illusory nature of success.
Margo co-produced the 10 song disc while pregnant with her daughter Ramona and Covid-19 survivor Sturgill Simpson and David Ferguson.
"They're both a creation process," Illinois born Price, now 37, revealed.
"And I was being really good to my body and my mind during that time. I had a lot of clarity from sobriety."
Margo co-wrote most songs with guitarist husband Jeremy Ivey and recorded with a stellar band - guitarist Matt Sweeney, bassist Pino Palladino, drummer James Gadson and keyboardist Benmont Tench.
The Nashville Friends Gospel Choir arranged and guested on Hey Child and What Happened To Our Love ?
The album follows Price's 2017 project All American Made and Mid-West Farmers Daughter in 2016.
Margo started Buffalo Clover with Jeremy, released three albums and fronted Margo & The Price-Tags whose members included Sturgill and Kenny Vaughan.
Margo toured here in 2018 and played Out On The Weekend festival in bayside Williamstown.
Click Here for a Margo interview in The Diary on September 17, 2018.
LOCASH - BUT HIGH COUNTRY SONG
American duo LoCash dodged errant hats, boots, shoes, sneakers and skateboards in a night on the town on their return with One Big Country Song.
Maryland minstrel Chris Lucas and his Indiana pal Preston Brust formed LoCash in 2004.
One Big Country Song , written by Jesse Frasure, Ashley Gorley and Michael Hardy, is on their fifth album Brothers released on March 29.
"It has become one of my favourites off the album," Lucas revealed.
"Mid-show one day I randomly decided we should try it out-live. From that moment on, I was hooked. It's so much fun to perform and you can tell from the stage, it just sparks something in people."
The duo has now charted 10 hits and wrote expatriate Australasian Keith Urban's 2011 #1 hit You Gonna Fly and singing actor Tim McGraw's chart topper Truck Yeah in 2012.
They broke in 2015 with I Love This Life, I Know Somebody and Ring on Every Finger from third album, The Fighters .
Further info - http://www.locashmusic.com/
DELLA MAE ENJOY CHANGE
Grammy nominated IBMA Award winning Boston bluegrass quintet Della Mae debuts with a video filmed in their new music HQ - Nashville.
The band chose a fruit salad entrée for their evocative video for Change on their fourth album Headlight.
Della Mae, formed in 2009, includes fiddler-co-founder Kimber Ludiker, vocalist Celia Woodsmith, mandolinist Jenny Lynn Gardner and bassist Zoe Guigueno.
"It's been a long time coming," Gardner explained.
"You kind of get in the zone of making the recording, and you're excited about it, but you wonder how you know how the world's going to receive it so people enjoy it so far which means a lot to us."
Ludiker added that Della Mae is "nine years into our five-year plan."
Headlight features 12 Della Mae originals including a collaboration with the McCrary Sisters on three tracks.
"We collaborated with The McCrary Sisters several years ago in Scotland ," Ludiker explained.
"We were playing this festival called Southern Fried , and a part of our festival hiring that was to be like the host band of the Dolly Parton tribute that had all the artists singing Dolly Parton songs The McCrary Sisters were there and became really good friends. When we were thinking about, you know, the song spirit they just came to mind. We thought that it would be really cool to have a soul infusion especially in It's About Time . It just felt like it needed that kind of soul vibe, they came in, and it was so much fun."
Further info - https://www.dellamae.com/
OH HARLOW GIVE IT A MISS
Sunshine Coast sister duo Oh Harlow enjoy bliss by the water's edge in Brisbane on their return with their Give It A Miss video before they called it a night for popcorn and other indoor pleasures.
The 2020 Queensland Music Award Best Country winners - guitarist Tiana Dennis, 19, and bassist sister Briannah, 20, - started as the Dennis Sisters four years ago.
They began writing in their early teens after a long period of chronic illness prevented them attending school.
This health journey in their youth gave them maturity showcased in their songs through storytelling.
They have toured with another high profile Queensland duo Busby Marou.
Oh Harlow has followed Give It A Miss - title track of their six track debut EP released in March - with second single Don't Open That Door.
Further info - https://www.ohharlow.com/
HOW TO KEEP NU COUNTRY ON AIR
We need your support in Nu Country TV's 44th series with Australian record companies and artists teaming to ensure our survival.
You can join Watling & Bates as members and win their 13 track CD Small Town Tales.
Also Kip Moore's third album Slowheart , thanks to EMI promotions chief Dave Parker.
We also have other CDS by major artists you can win by becoming a Nu Country TV member or renewing your membership.
They include Brad Paisley, Carrie Underwood, Gary Allan, Dierks Bentley, Eric Church and late larrikin legend A.P. Johnson.
CLICK HERE for our Membership Page for details.