DAVE'S DIARY - 6/8/2013 - PREVIEW OF EPISODE 9 - SERIES 20
SPRING TOURISTS HEADLINE NU COUNTRY TV
Georgian superstar Alan Jackson and Missouri born touring partner Sara Evans headline Nu Country TV this Saturday - August 10 at 9.30 pm on C 31.

The duo, who play Rod Laver Arena on Friday October 4 and 15th Deni Ute Muster, revive video clips from rich catalogues on a show repeated Monday at 3 pm and midnight and Thursday at 1 am.

Former Hootie & The Blowfish singer Darius Rucker returns to the show, edited by Blaize Warden, with a song that began life as a Bob Dylan poem before being finished and recorded by Old Crow Medicine Show.

Singing actor Shooter Jennings, Bucky Covington and Texan troubadour Radney Foster return to our Behind Bars segment by popular demand.

And Far North Queensland refugee 8 Ball Aitken, now living in Nashville when not touring Texas and Canada, also returns to the show you can see on Catch-Up TV on the Channel 31 web page.
ALAN JACKSON SINGS THE REPAIR SHOP BLUES
Spring tourist Alan Jackson is well qualified to act ornery in the video for The Talking Song Repair Blues.
Jackson, 54 and father of three daughters, spend much of his childhood watching his late mechanic dad Eugene toiling in grease and oil on cantankerous cars in a vast array garages.

Here he takes a slightly more humorous tack - from the motorist's viewpoint.

Jackson, who courted wife Denise in one of his many Cadillacs, has up to 20 automobiles stored in garages on their lakeside properties near Nashville.

Alan, touring here with Missouri minstrel Sara Evans and Novocastrian Morgan Evans, will have new gospel and bluegrass albums out for his visit.

His new bluegrass album, available on September 24, features eight Jackson originals and covers including John Anderson's Wild And Blue and The Dillards' There is A Time.
Jackson produced the album with his nephew Adam Wright who wrote a song with Fawkner filly Jasmine Rae for her third album If I Want To, released here on August 2.
Rae, 26, and McAlister Kemp supported Jackson on his first Australian tour in 2011.

We first interviewed Jackson at a Vern Gosdin concert at a car dealership in the Tennessee civil war town Franklin on October 15, 1988.

CLICK HERE for another exclusive Alan Jackson interview in the Diary on October 24, 2010.
CLICK HERE for our Jackson concert review on March 5, 2011.

THANK EVANS FOR SARA
Sara Evans has good reason to perform the video for My Heart Can't Tell You from her sixth solo album Stronger on the eve of her debut Australian tour.

Sara, 42, and mother of three, was stronger after she split with a Republican politician and wed former Alabama University quarter back Jay Barker - now a radio talkback host.

The couple live with their seven children in Mountain Brook - a suburb of Birmingham, Alabama.

Evans landed Stronger in the Country Strong movie starring Tim McGraw, Gwyneth Paltrow and Garrett Hedlund who was also in 2004 McGraw film Friday Night Lights.

Sara is proud to bring bassist elder brother Matt to Australia.

Matt has been co-writer on most of her albums since she broke in 1997 with Pete Anderson produced debut disc Three Chords And The Truth.

The seven Evans siblings - of Welsh, English, Irish and Native American descent - were raised on farm near New Franklin in Missouri.
They were born in Boonville because rural Boonesboro wasn't big enough to merit a hospital.

All siblings played in their family bluegrass bands as toddlers and Sara's sisters Ashley and Lesley and sister in law Melody have sung on her albums and road tours.

Sara and Matt wrote redemptive What That Drink Cost Me on her sixth album Stronger that was followed by one of her four Greatest Hits discs.

They include autobiographical classics New Hometown, Rockin' Horse, These Four Walls, Wildfire and Anywhere.

But the singer doesn't just spread her songwriting royalties to the family.

Matt's wife Kaelin also tours Australia with Evans who debuts at CMC Rocks North Queensland in Townsville before playing Rod Laver Arena in Melbourne on Friday October 4.

CLICK HERE for an exclusive Evans interview in the Diary.
SHOOTER AND BUCKY BEHIND BARS
Life imitates art when Shooter Jennings and Bucky Covington perform on Behind Bars in the video for Drinking Side of Country.

The hard riding hombres decamp from a bar in a speeding car after a fracas erupts when they dance with the sister of one of the patrons.

They head south to Louisiana after they use a female as a decoy to escape a sheriff in a scene befitting Dukes Of Hazard that featured Shooter's late dad Waylon's Good Old Boys TV theme song.

Shooter is set to co-produce a film based on the life of his father.
"It's going to be one of the coolest biopics ever made," says Shooter, 34, whose partner Drea De Matteo also starred in The Sopranos, Joey and Sons Of Anarchy.
"That's the one aspect of my dad's whole deal that I'm like, 'This is my territory, I want to be in charge of this,'" he says.

"I'm a big film fan, and I just want it to be done right."

Shooter is also promoting his latest album and companion film The Other Life.

The film portion - which Jennings co-wrote and produced - recently won best short film at the Horror Hound Festival in Cincinnati, Ohio.

"The film is very dark, and I think that there will probably be some people that are like, 'What the hell's going on?' And that's fine, but that's not my core fan," Jennings says.

"The more projects like this, the visual side and all that, I'm really cultivating my fan base more and more."

"At first we were going to call it The Outsider, but once we got into the film we thought, 'Well, it's like a mirror, a dark mirror of what Family Man was.' The record deals with the darker side, while Family Man was pretty positive. Not that The Other Side is negative, but it's a more realistic representation of the other side of me. I'm 33, figuring life out, and there is a lot of light and dark going back and forth. This record encapsulates that, accepting oneself and the helter-skelter of life."

CLICK HERE for a Shooter Jennings interview in The Diary on April 28, 2012.
RADNEY FOSTER BASIN STREET BOUND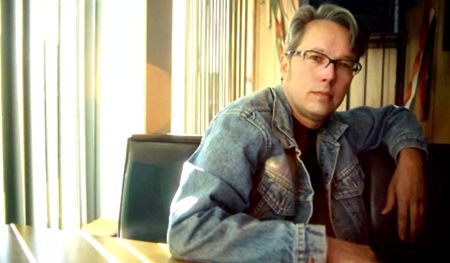 Texan Radney Foster heads south to Basin St, New Orleans in the video for Louisiana Blue from his 2012 album Del Rio Texas, Revisited: Unplugged and Lonesome.

Dixie Chicks and latter day Court Yard Hounds singer Martie Maguire plays fiddle and Jon Randall is on mandolin in the picturesque paean to life in the deepest south.

Jon, former member of Emmylou Harris's Nash Ramblers is also of Tennessee star Lorrie Morgan's four former singing spouses.

Foster, now 54, cut three wondrous discs with Bill Lloyd as Foster & Lloyd from 1987 and has penned enough chart toppers to keep him from diluting his soulful albums that began with Del Rio, Texas, 1959, in 1992.

Godspeed, inspired by his former wife of 12 years decamping to France in 1994 with their son Julien, now 21, was one of three to grace huge selling Dixie Chicks albums.

His hits include expatriate Australasian superstar Keith Urban's Raining On Sunday, and smashes for Darius Rucker, Kenny Chesney and Brooks & Dunn.

He also wrote A Real Fine Place To Start - an historic hit for Sara Evans.

CLICK HERE for a Radney Foster CD review from the Diary on July 17, 2013.
DARIUS RUCKER - SECOND SPIN OF A WAGON WHEEL
Darius Rucker borrowed from Foster when he called his 2010 album Charleston, SC 1966, named for his birthplace and year and tribute to longtime favorite country album, Radney Foster's Del Rio TX 1959.

Foster recently performed at the Darius Rucker & Friends concert at Wildhorse Saloon in Nashville.

This time Darius, 47, is indebted to Old Crow Medicine Show for latest hit single Wagon Wheel from fourth solo album True Believers released on May 21.

Rucker performs the video clip for the double platinum single that he also showcased recently on the Grand Ole Opry.

Old Crow Medicine Show also charted with the song that band leader Ketch Secor finished after revamping a Bob Dylan poem.

The band showcased it on its 2009 Australian tour that included CMC Rocks The Snowys at Thredbo.

Dylan is making healthy royalties from Rucker's version of Wagon Wheel but it's not the first time the folk legend has scored a paycheck from the singer.
In the early '90s he sued Hootie and the Blowfish because of lyrics used in their hit song Only Wanna Be With You.

Rucker admits it's doubtful Dylan knew anything about the lawsuit.

During an interview he said Dylan's management was aware of their use of lyrics from Idiot Wind and had no problem with it.

Once the song became a hit they objected, and Hootie was forced to pay up.

The lyrics in question: "Said I shot a man named Gray/ took his wife to Italy/ she inherited a million bucks/ and when she died it came to me/ I can't help it if I'm lucky."

Only Wanna Be With You is a Dylan tribute, especially that verse.

Later in the song the band drops Tangled Up in Blue - title of another Dylan hit.

CLICK HERE for a Darius Rucker feature in The Diary.
8-BALL AITKEN HOWLS AT A YELLOW MOON
Expat North Queensland singer-songwriter 8-Ball Aitken returns to Nu Country with his animated video for Yellow Moon.

The colourful character, who appeared on a Texas TV show hosted by singing crime novelist Kinky Friedman during a tour of the Lone Star State, has also made two Canadian tours.

Last month 8-Ball, now 31, began recording his eighth album in Nashville where he now lives.

That's where he shot another video for Cowboy Movie - a mini-movie with a sting in the tail.

The song told a sardonic story about a far North Queenslander trying to score a record deal for his Blue Heeler bird dog and a cockatoo.

Music City moguls slammed doors in the face of the trio as they tried to seek an audience - from major record and publishing companies and Grand Ole Opry to the Lower Broadway cowboy bars.
But when the canine and cockatoo top the Billboard charts the same surly gatekeeper is forced to eat humble pie - serving cocktails to 8 Ball and a blonde beauty in his mansion pool.

The moral of the Biblical parable is one the Atherton Tablelands born and latter day Tamworth troubadour lives out each day.

Chase your dreams all over the world and treat each swinging door as an entrée - not an exit.

"I wanted to make a video that was like a mini-movie," 8 Ball told Nu Country TV.

"I treat every video like that. It's three minutes to do something and say something different and exciting. So many people go to Nashville and make it. I thought how about trying to get a dog and a bird a record deal in Music City - Nashville."

CLICK HERE for an 8-Ball Aitken interview in the Diary on April 15, 2012.
HOW TO KEEP NU COUNTRY ON AIR
We need your support to return to air in December on Channel 31 to celebrate our 21st series of Nu Country TV.

Australian record companies and artists have joined forces to ensure our survival.

We have new CDS by major artists you can win by becoming a Nu Country TV member or renewing your membership.

They include singing actors Willie Nelson and Tim McGraw, Voice judge Blake Shelton and singing spouse Miranda Lambert, Ashley Monroe, Brad Paisley, Gary Allan, Keith Urban, Toby Keith, Dierks Bentley, Eric Church, Carrie Underwood, Charley Pride, Slim Dusty, Felicity and more.

We also have the latest John Fogerty and John Denver all-star tribute albums and DVDS by Miranda and fellow chart topper Lady Antebellum.

CLICK HERE for our Membership Page for full details.