DAVE'S DIARY - 30 JULY 2013 - PREVIEW OF EPISODE 8 - SERIES 20
TRUE BRITT DEALS WITH HER TROUBLED MAN

Novocastrian singer-songwriter and national TV-Radio host Catherine Britt headlines Nu Country TV this Saturday August 3 at 9.30 pm on Channel 31 with help from a St Kilda mate Tim Rogers.

The duo perform in the video for Troubled Man from her fifth album Always Never Enough on a show repeated Monday at 3 pm and midnight and Thursday at 1 am.

Acclaimed Texan Kacey Musgraves is also joined by a little mate Josh Abbott on their latest video on a show edited by Blaize Warden and filmed by Laith Graham.

Controversial North Carolina singer Eric Church and Texan Lee Ann Womack also return to Nu Country.

And Georgian comedian Tim Wilson and the Turnpike Troubadours warn about the evil of gin, smoke and lies in the churches of their choice in Behind Bars.

Click Here to soak up salvation and sin by watching the show on Catch-Up TV on the Channel 31 web page.
HILLBILLY KILLERS REUNION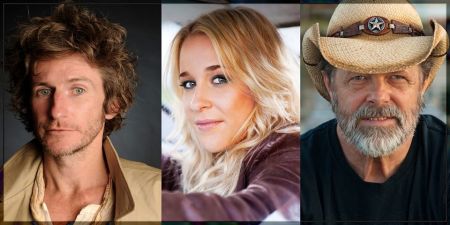 Catherine Britt has increased her national profile by touring with her mentor Bill Chambers and Tim Rogers in their roots trio Hillbilly Killers.

They perform with other unsung heroes and heroines - including Ashley Monroe, Buddy Miller and Jim Lauderdale, bluegrass musician-actor Steve Martin and Rodney Crowell's daughter Chelsea - at the Americana festival in Nashville from September 18-22.

The trio debuted in Tamworth in January and released They Call Us The Hillbilly Killers from an album set for release in spring on WJO label.

"I was looking for a little bit of a challenge and a change," Britt, 28, revealed.

"I've been doing my solo thing pretty much my whole life, since I was very young, and I've always dreamed about this side career as a band member, harmony singer, rhythm guitar player. I guess being outside of the spotlight but still getting to be a part of the music was always such a desire for me as a little thing I do secretly or on the side or whatever. Then The Hillbilly Killers came up and I was like, 'Oh my God, my dreams are fulfilled'.

Meanwhile Britt keeps the home-fires burning with popular hosting roles on ABC radio Saturday Night Country and Pay TV channel CMC.

CLICK HERE for a Britt interview in the Diary on May 2, 2010.
CLICK HERE for a Britt CD Review in the Diary on August 19, 2012.
KACEY MUSRAVES FINDS AN ABBOTT
Kacey Musgraves returns to Nu Country with her favourite Texan Abbott - Josh - as they fanned flames in the West Texas heat in their video for Oh Tonight.

It was released before Musgraves hot new album Same Trailer - Different Park.

Musgraves, 24, hails from Golden - a sweet-potato-growing country town of about 600 people due east of Dallas.

Kacey's birthplace is 20 miles northwest of Lindale - hometown of Miranda Lambert with whom she wrote recent Lambert hit Mama's Broken Heart.

She also shared a Nashville Star reality show pit-stop with Lambert.
Abbott, 31, first kicked the dew of his glass and guitar at Idalou near Lubbock in the Texas Panhandle.

The Panhandle is also where Buddy Holly, Waylon Jennings, Terry Allen, The Maines Brothers, The Flatlanders (Butch Hancock, Jimmie Dale Gilmore and Joe Ely) strutted their stuff.

Abbott's band released third album Small Town Family Dream on April 24, 2012, on its indie label Pretty Damn Tough.

The band recorded it in Denton - the north Texas college town that also launched the Eli Young band who toured here in March, 2012.

Josh founded the quartet, now a sextet, in Lubbock while attending Texas Tech University.

CLICK HERE for a Musgraves interview in the Diary on July 9.
ERIC - CHURCH OF HIS CHOICE
North Carolina nouveau outlaw Eric Church returns to Nu Country with the video for Just Like Jesus Does from third album Chief.

Church, 36, name checks the late Waylon Jennings in Like Jesus Does and Johnny Cash in Country Music Jesus - a satiric swipe at critics exposing faux outlaws.

Eric remains church of choice to fans yearning rocking country without edges instead of safe and familiar rhythm methods of radio.

He broke in 2006 with debut disc Sinners Like Me and boomeranged to the Top 20 seven times since then.

Ironically, one of his hits was Smoke A Little Smoke - a song touching on Bali's Ganga gaol-bait for tempted tourists.

On January 8, 2008, Church married music publisher Katherine Blasingame in Blowing Rock, North Carolina, and have a son Boone McCoy Church.
They were featured in an episode of CMT show Cribs.

CLICK HERE for an Eric Church feature in the Diary on October 18, 2011.
CLICK HERE for an Eric Church feature in the Diary on February 9, 2009.
CLICK HERE to win Church album Chief on our membership page.

TIM WILSON BLESSES THE FIRST BAPTIST BAR AND GRILL
"They're at the First Baptist Bar and Grill/ it's the only church in the bible belt that smells like a whisky still/ not a stained glass window anywhere in sight/ just a blood-stained floor and neon lights/ and the communion wine in here is always chilled." - Tim Wilson.
Georgian country comedian Tim Wilson, 51, returns to Behind Bars - by popular demand.

Wilson proves why a cleansing wine and waltz at the First Baptist Bar & Grill is good for the soul in his satiric swipe at religious hypocrisy.

We feature a live version of the classic from Wilson's 1999 album It's A Sorry World.

Wilson was born in Columbus where his parents were school teachers and attended Presbyterian College in Clinton, South Carolina as an English major.

Baritone Tim is the source of the theme song of Wimmera born Presbyterian David Heard's long running popular show Acid Country on PBS-FM in Easey Street, Collingwood.
The former Columbus Ledger sports writer's 15 albums have fitting titles ranging from Church League Softball Fight in 2005 to 15th album Caffeine Wired, Nervous & Pale.

Wilson is a self-described libertarian and co-writer of Jeff Foxworthy's 1996 single Redneck 12 Days of Christmas and several parodies for 1980s comedy duo Pinkard & Bowden.

He began his recording career in Atlanta, Georgia on Southern Tracks label with music publisher Bill Lowery and members of Atlanta Rhythm Section played on many of his early recordings with band keyboardist Dean Daughtry producing.

Wilson later recorded with the Muscle Shoals Rhythm Section at their famed Alabama studio.

He co-produced Allnight Allstars with Muscle Shoals engineer Steve Melton with rock luminaries Levon Helm, Greg Allman, Jimmy Hall, Bobby Whitlock, and members of Atlanta Rhythm Section and Muscle Shoals Rhythm Section.

In 2009, Wilson and Roger Keiss wrote a detective book entitled Happy New Year -ted, about serial killer Ted Bundy.

Further info - http://www.timwilsonamerica.com/
TURNPIKE TROUBADOURS - GIN, SMOKE AND LIES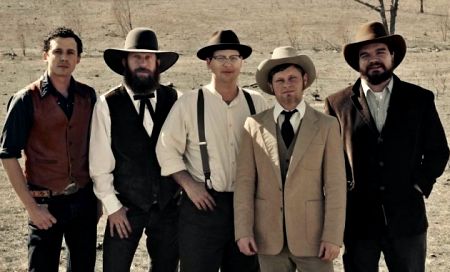 The Turnpike Troubadours debut on Behind Bars with their video warning about evil Gin, Smoke, Lies.

The moral of story - eat your vegies and don't spill your milk or cheat because cheap perfume, gin, smoke and lies will bring you down.

Turnpike Troubadours are a Red Dirt group from Oklahoma - bassist R.C. Edwards took a hiatus from his career as a chemist to found the band with Evan Felker, Kyle Nix, Ryan Engelman and Gabe Pearson.

The quintet took its name from the Indian Nation Turnpike that connected many smaller towns where it cut its teeth before signing to Bossier City Records for three studio albums in 2007.

In 2012 third album Goodbye Normal Street peaked at 57 on Billboard 200.

The band also played Boston beer and wine mines and worked with singing actor Dwight Yoakam.

Felker writes most of the lyrics with Edwards who penned the semi-autobiographical Morgan Street about the band's early days.

He also penned Blue Star - a bittersweet tale of a veteran returning from war and Gin, Smoke and Lies on which he contrasts his own romantic plight with that of a rooster who manages to satisfy 20 partners, and not just one.

"We all pretty much grew up with hardcore country music around us," says Felker.

"I mean, sure, there was rock stuff in there, but the real old-school stuff, plus exposure to folks like Jason Boland and Cross Canadian Ragweed, really affected what we were playing.

We're really a product of both our influences and our environment. It wasn't something that we sat in a room and dreamed up in one day."

Further Info - www.turnpiketroubadours.com
LEE ANN WOMACK - LITTLE PAST LITTLE ROCK
Texan troubadour Lee Ann Womack flees Dallas in the video for her 1998 hit Little Past Little Rock from second album Some Things I Know.

Womack exploits a metaphor for faded love as the little rock on her finger lost its glitter.

Lee Ann played a sheriff - Chief Deputy Claire Wades in a small East Texas town in the movie Noble Things and landed her song Liars Lie on the soundtrack of Tim McGraw-Gwyneth Paltrow movie Country Strong.

Womack also joined fellow Texan George Strait and Georgian superstar and September tourist Alan Jackson on Murder On Music Row - their Nashville parody.

The Jacksonville born singer, 46 and mother of two, is the former singing spouse of singer-songwriter Jason Sellers whom she wed in 1990 and divorced in 1997 - the year of her debut hit Never Again, Again on Decca.
She is wed to Miranda Lambert and Pistol Annies producer Frank Liddell and cut duets with Strait on Everything But Quits and 2005 CMA award-winning tune Good News Bad News.

Womack, daughter of a small town Texan DJ, won a Grammy with Willie Nelson for their 2002 duet, Mendocino County Line.

She also cut a duet with Alan Jackson on Vern Gosdin tribute Till The End on his 18th album Freight Train.

CLICK HERE for a feature on Lee Ann from the Diary on March 28, 2005.
HOW TO KEEP NU COUNTRY ON AIR
We need your support to return to air in December on Channel 31 to celebrate our 21st series of Nu Country TV.

Australian record companies and artists have joined forces to ensure our survival.

We have new CDS by major artists you can win by becoming a Nu Country TV member or renewing your membership.

They include singing actors Willie Nelson and Tim McGraw, Voice judge Blake Shelton and singing spouse Miranda Lambert, Ashley Monroe, Brad Paisley, Gary Allan, Keith Urban, Toby Keith, Dierks Bentley, Eric Church, Carrie Underwood, Slim Dusty, Felicity and more.

We also have the latest John Fogerty and John Denver all-star tribute albums and DVDS by Miranda and fellow chart topper Lady Antebellum.

CLICK HERE for our Membership Page for full details.