DAVE'S DIARY - 23 JULY 2013 - PREVIEW OF EPISODE 7 - SERIES 20
GEORGIAN TOURIST HEADLINES NU COUNTRY TV
Georgian superstar Alan Jackson headlines Nu Country TV this Saturday - July 27 - on the eve of his second Australian tour in September.

The singer showcases his love of cars in an historic video at 9.30 pm on Channel 31.

Shotgun Willie Nelson also returns with fellow Texan Lee Ann Womack on the show edited by Blaize Warden and repeated Monday at 3 pm and midnight and Thursday at 1 am.

We also feature alt-country singer Todd Snider, discovered in Texas, and now living in the East Nashville musicians' enclave.

Texan troubadour Aaron Watson and Lone Star State satirist Rodney Carrington debut on Behind Bars.

And Benalla singer-songwriter Adam Toms, a popular act on the local country festival circuit, struts his stuff on the show you can also watch on Catch-Up TV on the Channel 31 web page.
ALAN JACKSON SINGS THE MERCURY BLUES
Alan Jackson will have no shortage of new material to showcase on his second Australian tour that brings him to the 15th Deni Ute Muster and Melbourne on October 4.

Jackson, touring with Missouri minstrel Sara Evans and Novocastrian Morgan Evans, will have new gospel and bluegrass albums out for his visit.

The singer, 54 and father of three daughters, recorded Precious Memories Volume 2, for his mother and mother-in-law.

We feature his video for Mercury Blues - as a tribute to his late mechanic father Eugene with whom he shared a love of classic cars.

Jackson has up to 20 automobiles stored in garages on his lakeside properties near Nashville.

His new bluegrass album, available on September 24, features eight Jackson originals and some covers including John Anderson's Wild And Blue and The Dillards' There is A Time.
Jackson produced the album with his nephew Adam Wright who wrote a song with Fawkner filly Jasmine Rae for her third album If I Want To, released here on August 2.

Rae, 26, and McAlister Kemp supported Jackson on his first Australian tour in 2011.

We first interviewed Jackson at a Vern Gosdin concert at a car dealership in the Tennessee civil war town Franklin on October 15, 1988.

CLICK HERE for another exclusive Alan Jackson interview in the Diary on October 24, 2010.
CLICK HERE for our Jackson concert review on March 5, 2011.
TODD SNIDER - AN ALRIGHT GUY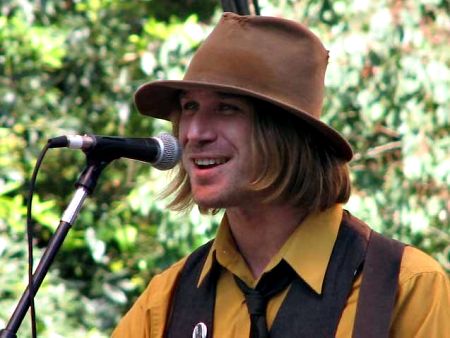 Oregonian Todd Snider debuts with the video for one of his breakthrough hits Alright Guy.

Snider, 46 and a 16 album veteran, shot the video in East Nashville with a support cast including a chook, two goats and more wildlife.

Todd wasn't kidding when fellow singer-songwriter Kent Finlay discovered him at the famed Cheatham St Warehouse in San Marcos.

Floridian singing sailor and frequent Australian tourist Jimmy Buffett signed Snider to his Margaritaville Records label after a Keith Sykes concert in Memphis.

Todd broke here with Seattle Grunge Rock Blues, now lives in East Nashville, and wants to tour here with Will Hoge or frequent Texan tourist Jack Ingram.

Ingram, father of three and wed to wife Amy for 13 years, wrote his hit Barbie Dolls with Snider.

It was a subliminal sister of Kent Finlay's Blow Up Plastic Girl that flew over radio for Mel McDaniel.

The late Oklahoma singer McDaniel scored widespread exposure for the song in Queensland when it scored airplay on 4KQ - then a country station.

Music director Rod Stone, a former Nu Country FM DJ, was involved in a humorous on air fracas with morals maverick Vilma Ward when he played the song from Mel's 1978 album Gentle To Your Senses.

Stone broke the record on air but Ward told the DJ she believed it was a Slim Dusty disc that hit the floor.

Snider updated They Ain't Makin' Jews Like Jesus Anymore on tribute disc Why The Hell Not - the Songs Of Kinky Friedman on Texas indie label Sustain.

Snider refers to The Kinkster's 2006 Gubernatorial campaign - featured in Australian magazine Men's Style.

CLICK HERE for a Snider interview in The Diary.
RODNEY CARRINGTON - A TEXAN DANCING WITH A MAN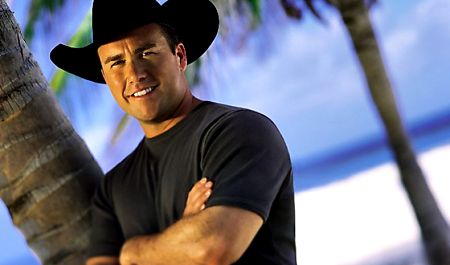 Texan comedian Rodney Carrington showcases his bizarre humour with his video about two-stepping in the dark with a tall dark stranger.

His song Dancing With a Man appeared on 1998 debut album Hangin' With Rodney that reached No 73 on charts.

It also included Letter To My Penis that did not score wide exposure.

Rodney, 44 and father of three sons, hails from Longview and now lives in Bixby - a suburb of Tulsa, Oklahoma.

Carrington co-wrote and appeared with Toby Keith and Willie Nelson in the 2008 movie Beer For My Horses.

He scored wide TV exposure in The Bob And Tom TV show before appearing in 2004 TV sitcom Rodney - based largely on his life which aired on the U.S. ABC network for two seasons.

Carrington released his second album Morning Wood in 2000 - his first Top 20 album featuring More of a Man that reached No. 71 on charts.

His album Live: C'mon Laugh You Bastards did not chart.

Carrington's fourth album Nut Sack in 2003 included Don't Look Now that reached 60 and prompted a Greatest Hits in 2004.

He released King of the Mountains in 2007 featuring his second serious song Angel Friend - a tribute to his best friend Barry Martin, who died suddenly in 2003.

El Niño Loco, his sixth Capitol album, was released in 2009.

Carrington later released Make It Christmas - his single Camouflage and Christmas Lights became his first Top 40 country hit in December 2009.

Further info - www.rodneycarrington.com
AARON WATSON
Amarillo Christian University graduate Aaron Watson debuts on Behind Bars with his live video for Lonely Lubbock Nights.
The song about the hometown of Buddy Holly, Butch Hancock and The Maines Brothers.

Watson recalls famed Broken Spoke cowboy bar in Austin and a Baptist Preacher's daughter in the song from a live CD/DVD Deep In The Heart Of Texas recorded at Hog Creek Ice House in Waco on June 27, 2009. Asleep At The Wheel icon Ray Benson produced Watson's 2004 album The Honky Tonk Kid featuring guest cameo by Shotgun Willie Nelson.
Watson played junior college baseball in New Mexico and performed around Texas before releasing debut album, A Texas Café.

Aaron, now living in Abilene, and his band Orphans of the Brazos appear on his 2005 album, Live at the Texas Hall of Fame.

In 2006 his San Angelo release hit No. 60 on Billboard country charts.

Later that year Watson, 36 and father of four, released a collection of gospel songs - Barbed Wire Halo - including readings by Billy Joe Shaver.

On April 1, 2008, Watson's eighth album Angels & Outlaws peaked at 28 and hit the Billboard Top 200 all genre chart.

He has since released The Road And The Rodeo in 2010 and 12th album Real Good Time in 2012.

Watson wrote recent message song Raise Your Bottle for his dad who was disabled in the Vietnam War.

He has used it to raise money and awareness for the Boot Campaign - a foundation that supports American troops upon their return home.

Further info - www.aaronwatson.com
WILLIE AND LEE ANN WOMACK
Shotgun Willie Nelson has long sung the praises of fellow Texan Lee Ann Womack - this week he sings with her in the video for Mendocino County Line.

The graphic song was written by Matt Serletic and Bernie Taupin and released in January 2002 as first for Willie's 2002 album, The Great Divide.

It peaked on U.S. country charts at 22 - his first Top 40 hit since Ain't Necessarily So in 1990.

Willie was more successful with the duet than his audition for The Hobbits.
We have run a collage of those famous auditions.

Willie, 80, has also scored collateral publicity this month by sharing the cover of Rolling Stone with one of the Boston Bombers.

The feature is on Willie's bus - also the subject of a Kinky Friedman crime novel Road Kill.

CLICK HERE for a Willie feature in the Diary on April 29, 2013.
CLICK HERE to win Willie's new album Let's Face The Music And Dance on our Membership Page.
CLICK HERE for a Lee Ann Womack feature in the Diary on March 28, 2005.
ADAM TOMS - BENALLA RICH MAN
Benalla singer Adam Tom debuts on Nu Country with the video for his title track of third album Rich Man.

Adam performed this year at the Red Hill, Whittlesea & Kilmore Country Music festivals in Victoria.

His 12 track album was produced by Matt Fell and features Glen Hannah, Mitch Farmer, Josh Schubert and Michael Carpenter.
Toms includes original tunes and collaborations with Felicity Urquhart, Troy Kemp and Drew McAlister and vocals by Chris E Thomas, Sally-Anne Whitten and Briana Lee.
The album also includes a DVD documentary, Are We There Yet - On The Road With Adam Toms that depicts nine months on the road with his wife Jo and two young sons Mitchel and Riley.

The DVD also includes his six video clips.

His single Rowdy Together released last August was written with Troy Kemp and is on three ABC Music compilation albums. Hell Yeah - Ultimate Country Drinking Songs, Hit Country 2013 and Songs That Make Us Country.

Shine On Me also on the album, has been released as a digital download with all profits going to Aussie Helpers to assist Australians effected by recent fires & floods.

CLICK HERE for a Toms CD review in the Diary.
HOW TO KEEP NU COUNTRY ON AIR
We need your support to return to air in December on Channel 31 to celebrate our 21st series of Nu Country TV.

Australian record companies and artists have joined forces to ensure our survival.

We have new CDS by major artists you can win by becoming a Nu Country TV member or renewing your membership.

They include singing actors Willie Nelson and Tim McGraw, Voice judge Blake Shelton and singing spouse Miranda Lambert, Ashley Monroe, Brad Paisley, Gary Allan, Keith Urban, Toby Keith, Dierks Bentley, Eric Church, Carrie Underwood, Slim Dusty, Felicity and more.

We also have the latest John Fogerty and John Denver all-star tribute albums and DVDS by Miranda and fellow chart topper Lady Antebellum.

CLICK HERE for our Membership Page for full details.