DAVE'S DIARY - 16 JULY 2013 - PREVIEW OF EPISODE 6 - SERIES 20
TEXANS TAKE NU COUNTRY TV AGAIN
Texan troubadours Lee Ann Womack, Radney Foster and Rodney Crowell headline Nu Country TV this Saturday July 20 at 9.30 pm on Channel 31.

Crowell and Emmylou Harris revive a song that originally topped charts for late Texan outlaw Waylon Jennings on a show repeated Monday at 3pm and midnight and Thursday at 1am.

Tennessean chart topper Kenny Chesney, joined by singing Texan actor Shotgun Willie Nelson on his 15th album Life On A Rock, also returns to the show filmed by Laith Graham and edited by Blaize Warden.

West Australian singer-songwriter Jonny Taylor debuts with a stark video for a strident social comment song on reality rooted domestic violence in his home state.

And Corryong born former Australian of The Year Lee Kernaghan returns with Van Diemen's Land band The Wolfe Brothers on a trucking song penned by Joy McKean - widow of late bush balladeer king Slim Dusty.
LEE ANN RIDES A BUCKAROO
Texan singing actress Lee Ann Womack returns with the video for her song Buckaroo - delivered in the spirit of Buck Owens & his band The Buckaroos.

Lee Ann wanted a man who could tame a live Mustang on the song from her 1997 self-titled album.

Fellow Texan Waylon Payne played a waiter in the twice-wed singer's video for 20 Years And Two Husbands Ago.

Waylon - son of late singer Sammy Smith & Jody Payne - played Jerry Lee Lewis in Cash movie Walk The Line and wrote Solitary Thinking on her eighth album Call Me Crazy, released in 2009.

Lee Ann played a sheriff - Chief Deputy Claire Wades in a small East Texas town in the movie Noble Things.
The Jacksonville born singer, 46 and mother of two, is the former singing spouse of singer-songwriter Jason Sellers whom she wed in 1990 and divorced in 1997 - the year of her debut hit Never Again, Again on Decca.

She is wed to Miranda Lambert and Pistol Annies producer Frank Liddell and cut duets with fellow Texan George Strait on Everything But Quits and 2005 CMA award-winning tune Good News Bad News.

Womack, daughter of a small town Texan DJ, won a Grammy with Willie Nelson for their 2002 duet, Mendocino County Line.

She also cut a duet with Alan Jackson on Vern Gosdin tribute Till The End on his 18th album Freight Train.

CLICK HERE for a feature on Lee Ann from the Diary on March 28, 2005.
KENNY CHESNEY WAVES PIRATE FLAG
Tennessean troubadour Kenny Chesney proves life is safer on his favourite beaches than Somalia in his video for Pirate Flag from his huge selling 15th album Life On a Rock.

Chesney, 46, hopes to follow the song's co-writer David Lee Murphy - a four time Australian tourist - and perform here early next year.

Kenny recovered from marriage on the rocks with actress Rene Zelweger to enjoy life in the surf like recent tourists Jimmy Buffett and Zac Brown.

When he tours here he might even resurrect the boots given to him by former President George Dubya Bush when Kenny serenaded John Howard at the White House.

That was May 16, 2006 - the same night the Texan served barramundi to his Australian Prime Minister VIP guest.

Chesney's black eel skin boots, replete with black calf top and black eel in-lays and also sporting twin U.S-Australian flags, were designed and made by Houston boot-maker Rocky Carroll.
When the singer tours here he might catch up with Boy Howardy when he returns from watching record breaking Aussie test debutant Ashton Agar at Nottinghamshire where Robin Hood once wooed Maid Marion under the watchful eye of Friar Tuck.

Chesney has also toured with expat Australasian superstar Keith Urban and thespian spouse Nicole Kidman who also dined with the President back in 2006.

Kenny hooks up for a duet with octogenarian Farm Aid altruist Shotgun Willie Nelson - who first toured here in 1981 - on Coconut Tree from his new disc.

CLICK HERE to win Life On A Rock on our Membership Page.
CLICK HERE for our latest Chesney feature in our Diary on May 20.
RODNEY CROWELL - EMMYLOU HARRIS BEHIND BARS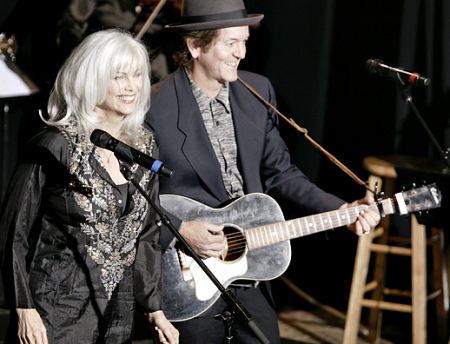 Texan legend Rodney Crowell and Alabama born icon Emmylou Harris performs a live version of Dreaming My Dreams from their duets album Old Yellow Moon.

The song, penned by Allen Reynolds, was once a hit for the late Waylon Jennings.

Crowell, 63 on August 7, played the Prince of Wales in St Kilda on his 2009 Australian tour with guitarist Will Kimbrough and Emmylou played the nearby Palais on her fifth Australian sojourn last year.

Rodney was a longtime member of Emmylou's Hot Band in an era when she also employed Ricky Skaggs, Emory Gordy Jr, Hank DeVito, Albert Lee, James Burton, Glenn Hardin and Tony Brown.

Harris, 66, has won 12 Grammys in a career embracing more than 30 studio and live discs, DVDS and two albums with Linda Ronstadt and Dolly Parton as The Trio.

Third husband Paul Kennerley - brother-in-law of Aussie TV host Kerri-Anne, produced her revered concept album The Ballad of Sally Rose in 1985.

Harris's soul brother Vince Gill, who first toured here with Albert Lee, also played with Crowell in the Cherry Bombs.

Rodney, married to Rosanne Cash from 1979-1992, toured here two decades after Cash, 60, who later wed fellow singer-songwriter John Leventhal.

The latter day Tennessean wed singer Claudia Church in 1988 and poached expat Aussie guitarist and singer songwriter Jedd Hughes from Patty Loveless's band about a decade ago.

CLICK HERE for a Crowell interview in the Diary on March 28, 2009.
CLICK HERE for an Emmylou feature in the Diary on March 18, 2006.
RADNEY FOSTER ANGEL FLIGHT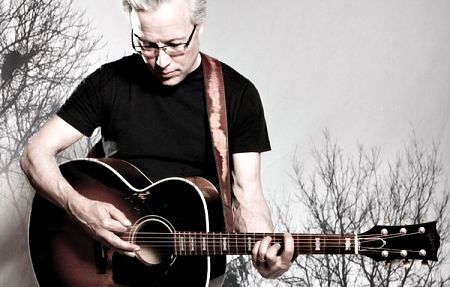 Texan troubadour Radney Foster debuts with the evocative video for his song Angel Flight from his eight solo CD Revival in 2009.

Foster's song is a tribute to airmen returning from combat.

Videos for Angel Flight have surpassed one million views combined on Youtube.

The music video itself has had over 300,000 views, and the Angel Flight Radio Tower DVD Mix has garnered over 720,000 views.

It features interviews with former Hootie & The Blowfish singer Darius Rucker, who did background vocals on the song, along with co-writer Darden Smith and Foster explaining how it came about.

Proceeds from the sale of Angel Flight benefit the Texas National Guard Family Support Foundation that aids military families in crisis.

"Each state has its own Guard," Foster revealed in a recent interview.

"And each state has its own civilian support groups that help families in crisis. This is the one from Texas. I got involved with them after writing Angel Flight with my friend Darden Smith. We met several guys within the Guard. We met with the guys that are with the family support division. When mom and/or dad are deployed overseas, that puts an awful amount of stress on the families. A lot of Guard guys have a good job and after they deploy, they often take a hit in pay in order to go overseas. There's lots of needs that go along with that. After meeting with those guys, it seemed like a natural way to help. The song was inspired by a series of Angel Flights that brought home a group of guys known as the Red River Four. They were all known well within their unit. It's pretty organic. It really came about naturally. I can't speak highly enough of these folks. The pleasure I've had working with these guys is only rivaled by the professionalism they go about their business."

Radney, 53, hails from Del Rio, Texas, and had a brace of hits on five albums with Bill Lloyd as Foster & Lloyd.

Foster began his solo career in 1992 and his album Del Rio, TX 1959 produced four consecutive Top 40 hits.

Darius Rucker, who also recorded Foster songs emulated the Texan by naming his third solo album Charleston, SC 1966, in 2010.

Foster released Del Rio, TX Revisited: Unplugged & Lonesome on August 14, 2012, as his ninth solo album.

His other albums included Labor of Love (1995), See What You Want to See (1999), Are You Ready for the Big Show?, Another Way to Go (2002) and This World We Live In (2006).

Foster had 13 Billboard hits including Just Call Me Lonesome #10, 1992 and Nobody Wins #2, 1993.

Expatriate Australasian Keith Urban recorded Foster songs I'm In and Raining on a Sunday.

And Australian tourists The Dixie Chicks, Gary Allan, Sara Evans and Texan Jack Ingram, who also employed Jedd Hughes as a guitarist before his Australian tours, cut Foster songs.

CLICK HERE for a Radney Foster CD Review in The Diary.
JONNY TAYLOR BATS FOR BATTERED WOMEN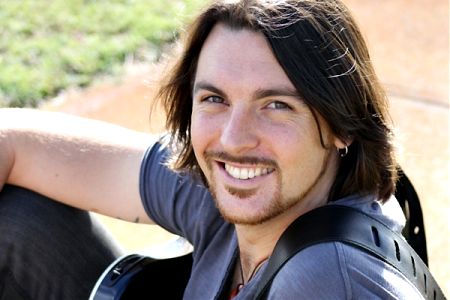 Western Australian singer-songwriter Jonny Taylor, 28, debuts on with a video tribute to a woman who fought back after being bashed by two violent husbands.

The battered bride came out of a coma and her attacker died of a drug overdose after being released from prison.

Taylor's riveting song You'll Never Break Me is on his second album Something To Say.

He donated proceeds of song and benefit concerts to domestic violence victims in Mandurah in the Deep South of Western Australia.

Taylor ensured authenticity in his graphic video by using an old band mate Ben Langley and a local sales rep to portray the combatant characters.

"We filmed the video at the historic Caves House Hotel at Yallingup near Margaret River," Taylor told Nu Country.

"We used amateurs, willing to give it a go. I used to be in a prog rock band years ago with the lead male - Ben Langley. He was keen to be an actor in his teenage years. The woman is a sales rep - a friend of my wife Nicole. That part took about 10 hours to film - then we did the band stuff in a couple of hours the next day."

CLICK HERE for a Jonny Taylor feature in the Diary.
LEE KERNAGHAN AND WOLFE BROTHERS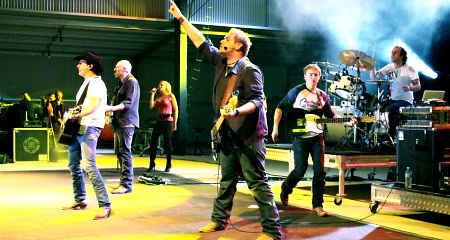 Lee Kernaghan returns to the show with his Van Diemen's Land discovery The Wolfe Brothers and their video trucking tribute - Slim Dusty hit Lights On The Hill.

Slim's widow Joy McKean wrote the song that's reprised live on the deluxe version of Lee's ninth album Beautiful Noise.

Lee, singing spouse Robbie, guitarist Dan Conway and the Wolfe Brothers tour nationally to promote their new albums.

Kernaghan, 48 and father of two sons - Rock 11 and Jet, 10 - is confident his Carlton footy team is immune to peptides washed ashore for arch rivals Essendon at Australian Crime Commission.

Lee, who attracted Carlton players Andrew Walker, David Ellard and Eddie Betts to his concerts with Dierks Bentley, believes country music is the favoured stimulant of his fans.

"You know how much I love that team and how the boys get along to my shows," Lee added.

"I know Eddie Betts listens to country music to get him pumped before he goes out and plays each week."

CLICK HERE for a Lee feature in The Diary on February 20, 2013.
HOW TO KEEP NU COUNTRY ON AIR
We need your support to return to air in December on Channel 31 to celebrate our 21st series of Nu Country TV.

Australian record companies and artists have joined forces to ensure our survival.

We have new CDS by major artists you can win by becoming a Nu Country TV member or renewing your membership.

They include singing actors Willie Nelson and Tim McGraw, Voice judge Blake Shelton and singing spouse Miranda Lambert, Ashley Monroe, Brad Paisley, Gary Allan, Keith Urban, Toby Keith, Dierks Bentley, Eric Church, Carrie Underwood, Slim Dusty, Felicity and more.
We also have the latest John Fogerty and John Denver all-star tribute albums and DVDS by Miranda and fellow chart topper Lady Antebellum.

CLICK HERE for our Membership Page for full details.