DAVE'S DIARY - 2 JULY 2013 - PREVIEW OF EPISODE 4 - SERIES 20
TOBY KEITH HEADLINES NU COUNTRY TV
Oklahoma born star Toby Keith headlines Nu Country TV this Saturday July 6 - less than two months after his hometown Moore was devastated by killer tornadoes.

The singer shares billing with Texas band Reckless Kelly who took their name from Australian bushranger Ned - at 9.30 p m on Channel 31.

Mid-Pacific Bob Olson hosts the show, edited and filmed by Blaize Warden at Bob's Beer Can Hill delta home in Northcote, with Oklahoma band Cross Canadian Ragweed debuting in Behind Bars.

Also debuting in Behind Bars is Georgian comedian and Presbyterian minister's son Tim Wilson with a humorous family ode.

Gold Coast band The Bostocks, fresh from the 37th Port Fairy Folk Festival, return to Nu Country.

And Thornbury singer-songwriter Jordie Lane, who toured with Texan Ruthie Foster after she played Port Fairy, debuts on the show you can see on Catch-Up TV on Channel 31.

TOBY KEITH - HOPE ON THE ROCKS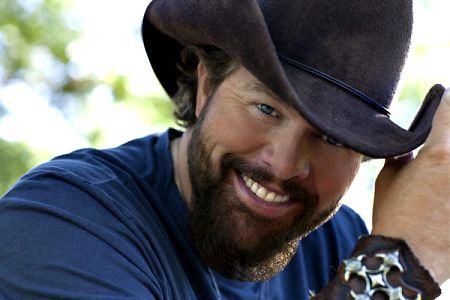 Oklahoma star Toby Keith returns to Nu Country with the video for the title track of his 18th album Hope On The Rocks.

Keith, 51 and father of singer Krystal Keith, played a bartender and soaked up tears in one of his many I Love This Bar and Grill restaurant chain locales.

Toby shed tears on national TV when he returned to hometown Moore after May tornadoes caused major damage to his sister's home and narrowly missed his mother's residence.

Keith's sister's belongings survived but the house is not livable.

He hosts the Oklahoma Twister Relief Concert this Saturday at the University of Oklahoma's Memorial Stadium in Norman - with Garth Brooks, Willie Nelson, Trisha Yearwood, Carrie Underwood, John Anderson, Mel Tillis and Ronnie Dunn.

"I grew up in Moore," said Keith about the deadly twister. "I live in Norman, and I've got lots of family and friends who were directly affected. I know these folks, and they're resilient, but we're going to keep helping them any way we can. I'm proud to get together with some others from around here who are just as committed as I am to supporting these communities."

Fellow Oklahoma star Garth Brooks and singing spouse Trisha Yearwood have good reason to perform.

"Once we got the news that the tornado had hit Toby's hometown, Miss Yearwood and I told Toby we were at his service for whatever he chose to do," Brooks said.

"I am amazed at the human spirit the tornado victims have shown. I am humbled by the giving of the volunteers. It is an honor to get to be a part of this healing process.

Keith released new single Drinks After Work on June 11 from his new album for release in our spring and headlines Hammer Down tour with fellow artists Kip Moore and Drake White.

Toby landed on the cover of the July issue of Forbes Magazine after he earned $65 million in the last year - far more than celebrities Jay-Z, Beyonce and Jennifer Lopez.

The singer-songwriter has written a No. 1 hit every year for the last 20 years and also owns a piece of the enormous success of Taylor Swift, through his Show Dog label's partnership with her label, Big Machine.

He also has his own Wild Shot mezcal line, a chain of I Love This Bar & Grill restaurants, a multi-million-dollar endorsement deal with Ford, merchandising, concerts and is a prominent horse breeder.

Forbes estimates Keith's total career earnings at $500 million - his label Show Dog features Louisiana kindred spirit Trace Adkins as his major client.

CLICK HERE to win Hope On The Rocks on our Membership Page.
CLICK HERE to read a review of the album in the Diary.
CLICK HERE to read a previous Toby feature in the Diary on January 25, 2011.

RECKLESS KELLY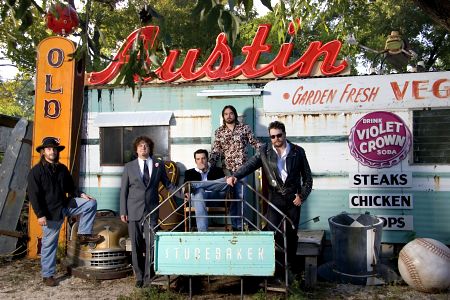 Texan band Reckless Kelly debut on Nu Country with the video for Ragged As The Road from their 2008 album Bullet Proof.

They took their name from the 1993 movie about our infamous headless bushranger Ned Kelly.

Since then they have released seven studio albums and two live discs - the most recent was Good Luck And True Love in 2011 on their own label No Big Deal.

Brothers Willy (vocals/guitar) and Cody Braun (vocals/fiddle/mandolin/harmonica) formed in Bend, Oregon, before relocating to Austin, Texas, in October, 1996.

The Brauns previously toured with their father in Muzzie Braun & the Boys - a Western swing band - and were joined in their own group by lead guitarist Casey Pollock, bassist Chris Schelske, and drummer Jay Nazz.

The band played locally on historic Sixth Street in Austin and turned a small bar & restaurant called Lucy's Retired Surfers Bar, into a popular music venue.

From November 1996 to May 1998, they packed the place out with their infamous Monday night show.

Soon other music venues in Austin invited them to play, including the Continental club, the Saxon pub, Stubbs barbecue, and Antone's home of the blues.

In 2010 Reckless Kelly released Somewhere In Time - an album of songs by one of their musical heroes Pinto Bennett & the Famous Motel Cowboys.

CLICK HERE for a CD review in the Diary.
CROSS CANADIAN RAGWEED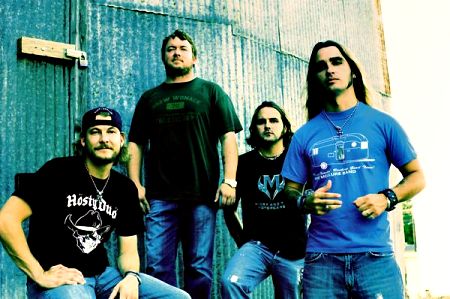 Cross Canadian Ragweed debuts on Behind Bars with the video for teen anthem 17 from it self-titled 2002 album.

The band, formed in Yukon, Oklahoma, was leader of the Red Dirt country movement and recorded seven studio albums and three live discs in its 20 year career.

It took its name from founding members Grady Cross, Cody Canada, Randy Ragsdale and Matt Wiedemann.

They moved to college town Stillwater, Oklahoma, where Mike McClure's The Great Divide and singer-songwriter Jimmy LaFave established enough of a local scene to earn Stillwater the nickname North Austin.

In May 2010 the band announced a hiatus from touring.

Ragsdale said "Right now, I need to be at home for my family, particularly my son JC, who has autism. He's 10 years old now and still struggling in his development. I feel the only way I can help him is to be more hands on and close to home."

In September 2010 Canada officially announced the band was calling it quits by announcing their Last Call Show in October, 2010 at Joe's Bar in Chicago.

In a March 2012 interview, Canada said the band's breakup was based on more than Ragsdale's need to be with his family, implying that tension with Cross was also a factor.

"We just wanted to protect the name of the band", he said.

"There was one person who wasn't happy from an artistic or business perspective."

Canada and Plato formed The Departed with fellow Yukon-native Dave Bowen (drums), Seth James (guitar), and Steve Littleton (keyboards), releasing their debut album in June, 2011.

Ragsdale and Cross both returned to Yukon and Ragsdale toured with Stoney Larue from December 2011.

Cross purchased and operates the bar that was the very first venue Cross Canadian Ragweed performed in 1994.

Their song Boys from Oklahoma plays as the credits roll in the movie Leaves of Grass starring Edward Norton and Susan Sarandon.
TIM WILSON - PRESBYTERIAN PAIR
Georgian comedian Tim Wilson, 51, adds some dry humour to Behind Bars with his video for his hilarious portrayal of a close relative.
He's My Brother-In-Law is on Wilson's album Certified Aluminum.

The father of two also wrote I Should Have Married My Father-In Law - title track of his ninth album in 2001.

Wilson was born in Columbus where his parents were school teachers and attended Presbyterian College in Clinton, South Carolina as an English major.

Baritone Tim is the source of the theme song of Wimmera born Presbyterian David Heard's long running popular show Acid Country on PBS-FM in Easey Street, Collingwood.
The former Columbus Ledger sports writer's 15 albums have fitting titles ranging from Church League Softball Fight in 2005 to 15th album Caffeine Wired, Nervous & Pale.
Wilson is a self-described libertarian and co-writer of Jeff Foxworthy's 1996 single Redneck 12 Days of Christmas and several parodies for 1980s comedy duo Pinkard & Bowden.

Tim and frequent co-writer Danny Simpson were credited as co-writers on Toby Keith's 2007 single High Maintenance Woman although Keith wrote the song by himself.

He began his recording career in Atlanta, Georgia on Southern Tracks label with music publisher Bill Lowery and members of Atlanta Rhythm Section played on many of his early recordings with band keyboardist Dean Daughtry producing.

Wilson later recorded with the Muscle Shoals Rhythm Section at their famed Alabama studio.

He co-produced Allnight Allstars with Muscle Shoals engineer Steve Melton with rock luminaries Levon Helm, Greg Allman, Jimmy Hall, Bobby Whitlock, and members of Atlanta Rhythm Section and Muscle Shoals Rhythm Section.

In 2009, Wilson and Roger Keiss wrote a detective book entitled Happy New Year -ted, about serial killer Ted Bundy.

Further info - http://www.timwilsonamerica.com/
THE BOSTOCKS - FROM GOLD COAST TO SHIPWRECK COAST
Gold Coast band The Bostocks made a big splash when they returned to the 37th Port Fairy Folk festival on the Shipwreck Coast in March.

They family quartet struts its stuff in the joyous video for Another Lifetime.

The Bostocks began more than 15 years ago and borrowed a guitar from local musician and multi-media minstrel Russ Goodear at Port Fairy.

The group, nominated for two Golden Guitar Awards and instrumental of the year winners at the Queensland Country Music Awards, join The Mavericks and Kevin Welch on the 2013 Gympie Muster bill.
Jason Millhouse directed the video in which sisters - violinist Rachel and bassist Sara vocalise with guitarist brother Brendan and drummer Robert.

The family group began touring at the ages of 9, 12, 13 and 15 with help from Phil Emanuel and on their first Port Fairy Folk Festival gig won a Maton Young Talent Award.

Their support roles included rock artists diverse as Jimmy Barnes, INXS and Steve Wright after releasing debut album In The Neighbourhood.

The Bostocks previously appeared on Nu Country with a video of the title track of its second album Not By A Long Shot.

Further info - http://www.thebostocksband.com/main.html
JORDIE LANE
Thornbury singer-songwriter Jordie Lane returned from an overseas sojourn to tour with Texan Ruthie Foster after she was one of the headliners at Port Fairy.

Lane performs on Nu Country in the video for his song Feet Tall from his second album Blood Thinner.

Raised by a comedian and a clown, he spent his early years travelling in the community circus his parents performed in.

He started on ukulele at 4-years old and moved to 6-string electric guitar at 9.

The singer starred in the Gram Parsons tribute show, Return Of The Grievous Angel, at the Athenaeum Theatre in Collins St shortly before Vikka Bull graced the same stage in her Etta James show At Last.

Jordie wrote and recorded some of his album in Room 8 at the Joshua Tree motel where Parsons went to God of a morphine and booze overdose at 26 on September, 19, 1973.

A day later Jordie bought a guitar, borrowed a Tascam 4-track, scavenged for extra instruments and recorded every sound on Blood Thinner.
The album was nominated for an Australian Independent Music Award for Best Blues & Roots Album.

Gram's tour manager Phil Kaufman and expat Adelaide roadie stole Parsons' body and gave him a cut-rate cremation at Cap Rock near Joshua Tree.

The duo escaped from police who pulled up their hearse and returned to Kaufman's home where Arthur Penn was directing his 2005 release movie Night Moves featuring Gene Hackman.

Their feats were graphically captured in Kaufman's book Road Mangler Deluxe and 2003 movie Grand Theft Parsons starring Johnny Knoxville and Christina Applegate.

Lane returned to Los Angeles this year to record his third studio album - sequel to Live at The Wheaty.

He also tours Canada in July with Winnipeg and Calgary folk festivals on his radar.

Further info - jordielane.com

HOW TO KEEP NU COUNTRY ON AIR
We need your support to return to air in December on Channel 31 to celebrate our 21st series of Nu Country TV.

Australian record companies and artists have joined forces to help our survival.

We have new CDS by major artists you can win by becoming a Nu Country TV member or renewing your membership.

They include singing actors Willie Nelson and Tim McGraw, Voice judge Blake Shelton and singing spouse Miranda Lambert, Ashley Monroe, Brad Paisley, Gary Allan, Keith Urban, Toby Keith, Dierks Bentley, Eric Church, Carrie Underwood, Slim Dusty, Felicity and more.

We also have the latest John Fogerty and John Denver all-star tribute albums and DVDS by Miranda and fellow chart topper Lady Antebellum.

CLICK HERE for our Membership Page for full details.