DAVE'S DIARY - 25 JUNE 2013 - PREVIEW OF EPISODE 3 - SERIES 20
TEXAN TRIO HEADLIINE NU COUNTRY TV
Texan singing actor Lyle Lovett, Bruce Robison and Kelly Willis headline Nu Country TV this Saturday June 22 at 9.30 pm on Channel 31.

The trio are planning return tours of Australia to promote their latest albums.

Host - expatriate Californian Mid-Pacific Bob Olson - enjoying his resurrection after a two month homeland hiatus has a hot new recipe for his roasted peppers with anchovies, filmed by our editor Blaize Warden at Bob's Beer Can Hill delta kitchen.

Olson also introduces New Jersey trio Red Molly who made their Australian debut at the 37th Port Fairy folk festival in March in Behind Bars & Barbecues.

The bon vivant chef features prolific ARIA and Golden Guitars winner Troy Cassar-Daley, who recently lost his voice before surgery in Boston, and duet partner Craig Campbell.

And Bob draws upon talents of local trio Chris Altman, Liz Stringer & Suzannah Espie - also guests at Port Fairy - with their video on a show repeated Monday at 3 pm and midnight and Thursday at 1 am.

The long time Hawthorn supporter previews a video clip by Gary Hammond - a champion VFA full forward from days of yore - in case he is pulled from retirement if Buddy Franklin doesn't sign his new Hawks contract during winter.
BRUCE & KELLY ON BORDER RADIO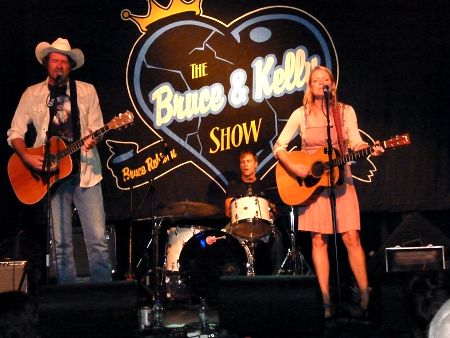 Long tall Texan Bruce Robison and singing spouse Kelly Willis return with the video for their latest duet - Dave Alvin penned Border Radio from their new album Cheater's Game.

Bruce and Kelly - parents of four children including twins - performed live on Nu Country FM at Beer Can Hill in Northcote on their debut Australian tour in 2000.

That was shortly before our studio burned down on June 26 - we moved to the Paris, Texas, end of Collins St for our final three broadcasts.

Bruce, 47, and an 11 album veteran, penned six of 13 songs on Cheater's Game - he co-wrote But I Do with expat Adelaide singer-guitarist Jedd Hughes.

It's a banjo-driven duet reminiscent of the peak of George Jones and Tammy Wynette coupling.

Robison, 6 ft. 7 in the old currency, also stands tall in the writing stakes - he penned Dixie Chicks hit Travelling Soldier, Tim McGraw and Faith Hill duet Angry All the Time and ultimate Willie Nelson tribute, What Would Willie Do?

Bruce's Bandera-born brother Charlie, also an acclaimed singer-songwriter, is ex-husband of Chicks banjo ace Emily Robison.

Border Radio almost didn't make it to the final cut.

"Like at first I was really hesitant to do Border Radio," Willis confessed, "because I thought, 'this is a classic song that everyone knows and loves, so there's really no point to doing it again.' But Bruce came up with this really cool little groove, and it sounded different, and it felt like at least like a slightly different take on it that was kinda fun and maybe worth hearing. It could never top the original, but it was still something that was kinda cool. What I liked about it was it kind of brought our two worlds together because I was really a child of that. When I started cutting my teeth musically, that was really the world that I was really being exposed to and dreaming about being a part of. That real roots-y stuff. And that really wasn't a part of Bruce's world or where he was at all. So he would take his musical groove and attach it to something from my musical upbringing. That's what we were doing, was trying to figure out what a collaboration between us might sound like."
The couple wed in 1996 and had the first of their four children in 2001.

Although Oklahoma born Kelly, now 44, took a hiatus when she gave birth to twin sons in 2003, and daughter in 2006, she and Bruce continued to record and perform but this is their first duets album.

"We weren't interested in being a duo in any way," revealed Willis - daughter of an Army Colonel.

"We were just a couple and just interested in having our relationship work. We would sing on each other's stuff, and I would record his songs, but it was a long time before it really felt like the time was right to do that."

The album had a long incubation.

"I think it was about a year and a half, maybe close to two years since Bruce and I started playing together with the intention of working up songs to do for this project," says Willis who has also released seven solo albums.

"We took it on the road the last summer as a four-piece and kind of worked out our sound. We wanted to come up with a sound that was uniquely ours as opposed to whatever we sound like solo. It was real stripped down. We just had our pedal steel and stand-up bass, and decided we really like the stand-up as opposed to the electric bass and just kind of hashed it out. So, I took a while."

Willis and Robison have a distinct Texas country style.

"I definitely feel we're both country artists," says Willis who wed high school boyfriend-Radio Ranch drummer Mas Palermo in 1989 but divorced in 1991.

"I feel like there always seems to be a shrinking place for country artists, but that we're not going away so basically what happens is we're just finding different ways to get people to hear it. I still think people really like the kind of music that we do. There's plenty of people liking us doing it and they find ways to get to it. And come out and hear it."

CLICK HERE for a Bruce and Kelly feature in the Diary on January 9, 2013.

LYLE LOVETT IN HIS OWN MIND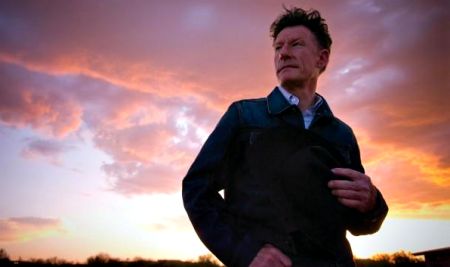 Lyle Lovett took time out from a busy recording and movie career for a short marriage to Georgian star Julia Roberts from 1993-1995.

Lovett returns to Nu Country with In My Own Mind from his aptly titled 2003 album My Baby Don't Tolerate.

Lyle, now 55 and four time Grammy winner, got his break in Robert Altman movies in 1992 with The Player, Short Cuts in 1994 and Cookie's Fortune in 1999.

He also composed for 2000 film Dr. T & the Women, acted in 2002 film, The New Guy and Walk Hard: The Dewey Cox Story in 2007, Pret A Porter, When Angels Sing, Fear & Loathing In Las Vegas, The Open Road and The Opposite Of Sex.

Other movie roles included Breast Man, Bastard Out Of Carolina, Hope Floats, The Apostle, Toy Story, Clay Pigeons and Stuart Little.

His TV acting forays included a government agent in Castle, True Blood, The Exonerated, Mad About You, Brothers & Sisters and Dharma & Greg.

Lovett released 14th album Natural Forces on the eve of his Australian tour in 2010 with Kasey Chambers and Release Me - his 15th and final disc for Curb - came out in 2012.

It featured a few originals and songs by Eric Taylor, Townes Van Zandt, Chuck Berry and Jesse Winchester.

Lovett songs have been covered by Nanci Griffith, Pat Green, Johnnie Taylor, Lacy J. Dalton and Patty Loveless.

"It is the nicest compliment anyone can pay you," Lovett said.

"I'm always grateful."

But Lovett hasn't labored to get songs cut by other artists.

"Publishers pitch songs, my first big relationship in the music business was with my publisher," Lovett recalled of many hits written in his 27 year career.

"Before my first album came out I'd had cuts by Lacy J. Dalton (Closing Time) and Patty Loveless (God Will.) But I never was that kind of staff songwriter where I'd look at recording schedules, see that Alan Jackson was in the studio and try to pitch a song to Alan Jackson. I think some good songs have come from those kinds of songwriters, but I never was able to do it."

Release Me included duets with k.d. lang (the title track) and Kat Edmonson Baby - It's Cold Outside.

"That's just pure fun," Lovett said.

"What I wanted to do was make an effort to do those kinds of songs. With the exception of Release Me, I'd been doing those songs in the live set for years. And I wanted to sing with people I have genuine relationships with. I toured with k.d. in 1988, and we've stayed in touch all these years and I've never gotten to sing with her. We were playing Edmonton Folk Festival and I saw k.d. walking down the street. I told the driver to stop the bus and I got out and chased her down the street. I probably scared her but she said she'd sing with me."

Release Me was recorded at Blue Rock Studios in Wimberley - near where Ray Wylie Hubbard lives when not on the road.

"I'm writing songs. I'd like to record an album of my songs next," he added. "I'm definitely not going to stop playing, singing and making up songs."

Lovett joined Oscar-winning actress Helen Hunt in Los Angeles production of Shakespeare play, Much Ado About Nothing.

His Grammys were Best Country Male Vocal in 1989 for Lyle Lovett and His Large Band, Best Country Duo/Group with Vocal in 1994 for Blues for Dixie with Asleep at the Wheel, Best Pop Vocal Collaboration that same year for Funny How Time Slips Away with Al Green, and Best Country Album in 1996 for The Road to Ensenada.

CLICK HERE for Lovett CD reviews in the Diary on January 25, 2010.
CLICK HERE for his Australian concert review on March 26, 2010.
RED MOLLY DEBUT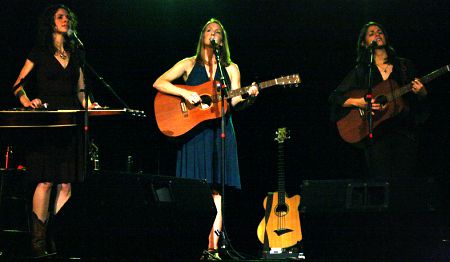 New Jersey trio Red Molly debut on Behind Bars and Barbecues with their video for rollicking original Jezebel.

The trio performed Jezebel from fourth CD Light In The Sky at Port Fairy way beyond on their Australian tour in March.

They even chanced the surf on the Shipwreck Coast at Port Fairy.

"It was a nice clean beach - you don't swim in our beaches in New Jersey," guitar-banjo-bassist Laurie MacAllister joked before they honoured Dolly Parton with her hit Do I Ever Cross Your Mind.

Laurie formed the trio in 2004 with Abbie Gardner - dobro and guitar - and replaced original member Carolann Solebello with Austin based singer-songwriter guitarist Molly Ventner in 2011.

The trio opened for Shotgun Willie Nelson concerts on the eve of their Australian tour.

'We finally noticed these big bugs, thought we were back in New York City," Abbie quipped at Port Fairy.

Red Molly play the Kate Wolfe Music Festival in California on June 28 and 29.

CLICK HERE for our Red Molly Port Fairy review in our Concerts Section.
SPEECHLESS TROY CASSAR-DALEY & CRAIG CAMPBELL
Former Nu Country TV host Troy Cassar-Daley returns to the show with Georgian duet partner Craig Campbell in the video for The Sunshine Club from Campbell's second album Never Regret.

Campbell, former guitarist in Texan Tracy Byrd's road band, moved to Nashville in 2002.

Craig, 34, and Troy filmed the video at the 40TH Tamworth Country Music Festival before Troy lost his voice.

Grafton raised Troy, 44, and father of two, released his duets CD The Great Country Songbook with Geelong born Adam Harvey on June 14.
Troy underwent vocal surgery in Boston by world renowned Laryngeal Surgeon Dr. Steven Zeitels - healer of Adele, Keith Urban, Steve Tyler, John Mayer, Roger Daltrey and Lionel Richie.

Troy is back in Boston for further surgery and treatment.

Although on complete vocal rest for six weeks, diagnosis is good and Troy performs with Queensland Pops Orchestra for the Queensland Festival in July.

He also has a national tour with Harvey to promote The Great Country Songbook.

"I love my job as a singer so much," Troy revealed.

"This at first came as a surprise and I was scared at the start of how it would all unfold but having Dr Steven Zietels in my corner took all the worry away. Also the great advice from Keith Urban about the recovery process was invaluable to me and I want to thank Laurel my wife and my beautiful kids for putting up with living with Marcel Marceau for the past month! I can't wait to get on the road with Adam Harvey and play! I have had two rounds of vocal surgery in Boston with the amazing Dr Steven Zeitels and the prognosis is very good, I thought the lack of range was just a bit of old age, but the doctor said it looks like a whole lot of hard work and not much recovery time.

"I told him that's what we call touring mate! And probably singing through illness which I have done quite a bit in the last couple of years. All in all the hardest part of the healing process has been to be quiet (full vocal rest) which means to shut up and anyone that knows me will know this was going to be tough for me!"

CLICK HERE for a Troy feature in the Diary on February 12, 2012.
CLICK HERE for a Craig Campbell feature in the Diary on July 14, 2012.
CHRIS - NOT ROBERT - ALTMANN
Adelaide hills raised dairy farm born Chris Altmann teamed with 37th Port Fairy festival guests Liz Stringer and Suzannah Espie to record the video for his song Other Side Of The Mountain.

The multi-instrumentalist performed at the historic Thornbury Theatre with Susannah and Liz among on-stage guests.

Altmann opened for Joe Pug on his 2011 March tour of Australia before heading overseas.

The singer moved to Peterborough - a university city 140 kilometres east of Toronto - in June, 2011.

Chris also had songwriting and recording stints in music mecca Nashville.

He rejoined his Hamilton, Ontario, band Homo Erectus - maybe named after the song by singing Texan crime novelist Kinky Friedman - after recording with expat Saltbush pedal steel guitarist and producer Mark Moffatt in Nashville.
Chris, who worked here with The Drowners and The Vandas, toured Australia in 2012 to promote second album Nothing But Nice Things - his follow-up to Que Paso.

Altmann and Stringer played on Espie's latest album Sea Of Life that she launched at Port Fairy.

Further info - chrisaltmann.com.au

HAMMOND ON LAND - NOT ORGAN
Host Mid Pacific Bob Olson shares a sneak preview of former champion Camberwell VFA full forward Gary Hammond's video of his song We Work The Land.

Gruyere born "Happy" Hammond is among the Top 10 goal kickers and was named full forward in the VFA Division 2 team of the century.

The latter day Aspendale Gardens musician was a member of Bad Apple Bush Band in the Dandenong ranges in the eighties and nineties.

Hammond has released an EP featuring Would You Marry Me Again and We Work The Land.

Further info - http://garyhammond.com.au/
HOW TO KEEP NU COUNTRY ON AIR
We need your support to return to air in December on Channel 31 to celebrate our 21st series of Nu Country TV.

Australian record companies and artists have joined forces to help our survival.

We have new CDS by major artists you can win by becoming a Nu Country TV member or renewing your membership.

They include singing actors Willie Nelson and Tim McGraw, Voice judge Blake Shelton and singing spouse Miranda Lambert, Ashley Monroe, Brad Paisley, Gary Allan, Keith Urban, Toby Keith, Dierks Bentley, Eric Church, Carrie Underwood, Slim Dusty, Felicity and many more.

We have the latest John Fogerty and John Denver all-star tribute albums and DVDS by Miranda and fellow chart topper Lady Antebellum.

CLICK HERE for our Membership Page for full details.