DAVE'S DIARY - 3/8/09 - PREVIEW OF EPISODE 9 - SERIES 12
AFL STAR IN CHEATING VIDEO
AFL star Andrew Welsh plays a cheating cad in Ronnie Rae Rivers' new video Running On Fumes on Nu Country TV this Saturday - August 8 - at 9.30 p m on C 31.

The femme fatale dumps the Essendon defender's character, a nocturnal escapee, in a show hosted by Hawthorn supporter Mid Pacific Bob Olson and repeated at 3.30 p m on Wednesday.

Mathematics lecturer Olson spices up the show with another hot recipe from his Beer Can Hill Delta kitchen.

Bob has cooked up a Four Star Chilli beans and Margarita meringue pie - not to be consumed in the same sitting.

Expat Californian Olson introduces two fellow expats, enjoying living further down south, with their new videos.

Texan Doug Bruce, ensconced with Australian wife Jodie near Bendigo, debuts here with What I'm Drinking About.

And Alabama-born Kimber Sparks, now completing her MBA in Queensland, returns with her video for new single Moving On.

Mississippi young gun Randy Houser debuts with the video for his new single Boots On and prolific Golden Guitarist Adam Brand takes time out from Dancing With The Stars to showcase his new video for single Blue Sky Cathedral.

RONNIE RAE RIVERS
Perth singer Ronni Rae Rivers was a mistress of marketing when she chose Essendon defender Andrew Welsh to play the Lothario in her new video.

Welsh's video debut was aired on the Nine Network's huge rating Footy Show during his appearance as a panellist.

Although former Geelong star forward Billy Brownless used the dated C & W cliché to describe Ronnie's music it was an invaluable free kick.
Rivers' riveting country is a welcome oasis from refried rock, rap and disco polluting mainstream TV.

It's a sequel to a stimulating era when former Geelong captain Michael Turner revved up team-mates playing Hank Williams Jr hits Born To Boogie and A Country Boy Can Survive before games.

Running On Fumes, replete with grounded aeroplane and topless sports car, is one of many highlights of Rivers second album Whole Heart To Give.
Rivers, 28, wrote five songs on the Shock Records disc and is renowned for her fiddle playing.

Her dad is a Texan, full of Irish & Cherokee blood.

He met her mum - an actress of Welsh and Scottish descent - in Sydney.

They raised Ronni between Perth and Texas before she used her university degree in Astrophysics to launch a music career.

CLICK HERE for a Ronnie's CD review from the Diary on December 23, 2008.

DOUG BRUCE - SON OF ANOTHER TEXAS GUN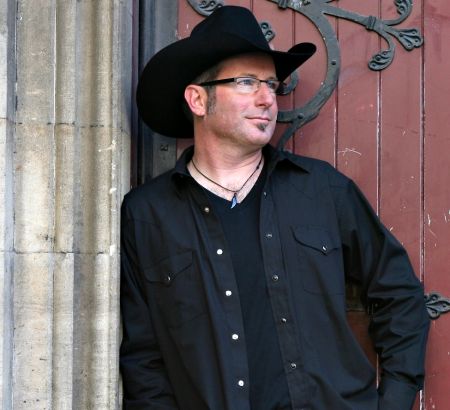 When Texan Doug Bruce left the Lone Star State and moved here with his Bendigo bride Jodie it was a case of déjà vu.

Doug's bassist dad Dale toured here in the late seventies with western swing maestro Red Steagall & The Coleman County Cowboys.

Steagall's band played Cross Keys Hotel, Essendon, three decades before the nearby oval became a double homicide Underbelly crime scene.

Red's brother Danny was also a guest on former Hit & Run singer Danny Robinson's 3RRR-FM country show.

But that's history and unlike the Bruce family patriarch, drummer Doug is here for the long haul.

Doug and band, featuring pedal steel guitarist Dave Moore, filmed their video for his original What I'm Drinking About at Dederang Hotel near Wodonga in the scenic Kiewa Valley.

They're touring to promote Doug's debut album All I Need.

Bruce adds an international flavour when he plays the long running Red Hill Country Music festival on Sunday January 3.

Doug hails from small Texan horse town Aubrey and joined Dallas band Cheyenne who played Fort Worth venue Billy Bob's - the largest honky tonk in Texas.

They opened for Travis Tritt, Jerry Jeff Walker and Rascal Flatts but split in 2001 as Doug moved to Nashville with band singer-songwriter Brit Stokes.

They played Douglas Corner, French Quarter and other gigs while Doug freelanced with diverse bands and worked sessions.

Bruce expanded his writing and joined Billy Yates' band before meeting wife Jodie in Guitar Town and following her back to Australia.

He then returned to Nashville for a tour earlier this year.

Further info - www.dougbruce.com.au
KIMBER SPARKS MOVING ON
Alabama born Kimber Sparks arrived down under before Bruce and mixed her MBA studies with bar tending and rodeo MC at Lee Kernaghan's former hotel The Great Western in Rockhampton.

The singer, living on the Gold Coast, cut debut solo disc It's Her Turn under tutelage of producer Bill Chambers.

She emerges from the sleep of the just to farewell a lover in the video for Movin' On.

It's the follow-up to her video for Strait & Jackson - her tribute to Murder On Music Row superstar singers George Strait and Alan Jackson.

Sparks CD includes a duet with late country singer Vern Gosdin on his CMA Award winning hit Chiselled In Stone.

The Bachelor of Business and Marketing has a return tour of the U.S. with gigs in her hometown Cordova, Alabama, then Burnsville, Mississippi.
She'll play the famed Tootsie's Orchid Lounge, Nashville - a venue she visited with Gosdin - and The Water Hole - her Uncle Joe's honky-tonk in Marlin, Texas.

Kimber tours with fellow country artist Dallas Steele, who plays the leading man in Movin' On, and her guitarist Dave McKeowen.

CLICK HERE for a Kimber Sparks CD review from the Diary on February 9, 2009.
RANDY HOUSER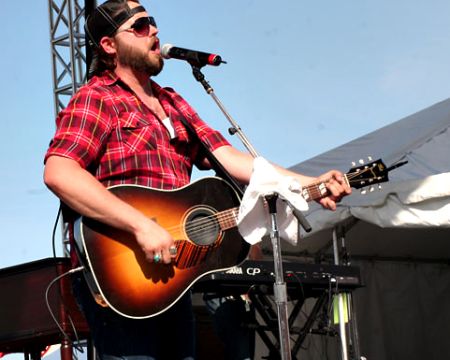 Mississippi born singer-songwriter Randy Houser debuts on Nu Country with the video for his second hit Boots On from second album Anything Goes.

Houser, 33, was raised in Lake Mississippi - a town of about 500 outside the famed song locale Jackson.

Randy's parents divorced when he was 7, and he spent summers with his dad - a professional singer and musician.

The rest of the year, he lived with his mother in public housing until she remarried, which was followed by a move to the country.

He was playing Mississippi clubs when he was 15 and after his father passed away he moved to Nashville and quickly found work as a demo singer.

Randolf Mack Houser, died at 46 of what the singer said was "basically alcoholism." That was 1997 and Houser was 21.

When he lost his father, Houser said he lost motivation to play music for about a year.

Houser landed a publishing deal at Windswept Music and joined Jamey Johnson as a co-writer of Honky Tonk Badonkadonk - a big hit for Trace Adkins.

The singer cut an unreleased album with famed producer James Stroud for MCA and rebounded to Universal South Records.

Houser takes no credit for using guitarist Drake, aged four, in the video that finds the singer locked out of his car at a service station.

"It was my record's label idea," Houser says.

"I honestly can say I can't take credit for that wonderful idea. I kind of fought the label a little bit because Drake's video had already been seen by everybody on the Internet. And to take that video and put it into the video wasn't my idea, only because it had nothing to do with the lyrics of the song. I wrote the song and it just didn't match up with the song. But Drake, who was an awesome little guy, did great. And although I initially wanted something that matched up better with the song, luckily there's some people a heck of a lot smarter than I am around at the label."

Further info - www.randyhouser.com
ADAM BRAND BLUE SKY CATHEDRAL
Perth-born Adam Brand returns to Nu Country with a biblical parable off his seventh album Hell Of A Ride.

The grandfather's church of choice for burial in the video is a Blue Sky Cathedral above the land that fed his daily bread.

Brand, 39, worked incognito behind scenes at Whittlesea and Kinglake emergency relief centres after the devastating Black Saturday bushfires.

And he returned on April 4 to headline a major bushfire relief festival at Whittlesea Showgrounds.

Meanwhile Adam has signed with major Nashville record label BMG-Sony after he performed a showcase.

Brand's profile mushroomed when he joined Seven Network show Dancing With The Stars and had surgery for a blocked saliva gland after a stone lodged near the back of his tongue.

Adam supports Childrens Cancer Institute Australia.

He honoured toddler nephew Harrison, who died two years ago, by having his name tattooed on his forearm.
Adam cut Hell Of A Ride in Nashville with revered producer Richard Landis and A team session players.

He wrote several new songs in a hunting cabin owned by late legendary songwriter Harlan Howard.

Brand stayed in the cabin near the famed Jack Daniels whiskey distillery with fellow writers Travis Meadows and Mark Stephen Jones.

CLICK HERE for an exclusive interview with Adam about his Nashville sojourn and album in our Diary on March 31, 2009.
WIN DIERKS BENTLEY CD

EMI Records has provided Nu Country TV with Arizona born Dierks Bentley's fifth chart topping CD Feel That Fire.

Bentley won an enthusiastic following on his debut Australian tour in May with superstars Brooks & Dunn.

Feel That Fire has already produced two U.S. #1 hits - the title track and Sideways.

Bentley, 33, has scored seven #1 hits since leaving Phoenix for Nashville as a teenager.

Dierks trails only expatriate Australasian superstar Keith Urban as most played male artist on U.S. country radio so far this year.

The father of two is currently blitzing the U.S with West Virginia born star Brad Paisley on his American Saturday Night tour.

Bentley plans to return to Australia for a second tour to capitalise on his growing fan base.

The singer has broadened his music by including bluegrass - featuring the famed McCoury family - on albums dating back to his indie debut Danglin' Rope.

He has also recorded duets with prolific Grammy winner Alison Krauss and Texan chanteuse Patty Griffin.

Win Feel That Fire by becoming a member of Nu Country or renewing membership.
It only costs $20 including postage.

Please email us first at music@nucountry.com.au

We will then send you the CD on receipt of your cheque or money order made out to Nu Country Music.
WIN SLIM DUSTY CLASSIC BOX SET
We have more good news for viewers - EMI Records has given us an invaluable collectors' item - a brace of the 4 Box sets by late Australian country legend Slim Dusty.

Sittin' On 80 features a lost, classic track discovered by Slim's widow Joy McKean.

Joy found Give Me Room from a 1997 recording at their home studio Columbia Lane.

It was written by one of Slim's favourite writers John Dohling - outback station hand and good mate who passed away in November last year.

Sadly he never heard the final version of Slim's recording of his classic trucking song.
It has now been released as a single and included on Sittin' On 80.

Slim's legendary Travelling Country Band played on the song that has been digitally re-mastered by Australia's mastering guru Don Bartley.

All you have to do to win Slim's 4 CD Box set is become a member of Nu Country TV or renew your membership.

It only costs $20 and includes postage.

Please email us first at music@nucountry.com.au

We will then send you the CD on receipt of your cheque or money order made out to Nu Country Music.
WIN BROOKS & DUNN CDS
Sony-BMG has also given us extra copies of the Cowboy Town tour souvenir CD and bonus Greatest Hits CD.

Viewers who become members or renew membership for just $22 including postage can win the double CDs.

Please email us at music@nucountry.com.au with your pledge.

Important note - please email first - don't send your membership until you have been confirmed as a winner.

Brooks & Dunn have sold more than 30 million album since releasing their debut disc in 1991.

TAYLOR SWIFT FEARLESS CD OFFER
Universal Music has donated copies of teen sensation Taylor Swift's huge selling second album Fearless to Nu Country TV.

Viewers who become members or renew their membership can win the Fearless CD.

Swift, 19, played capacity audiences on her debut Australian tour in March and plans to return in 2010.

Please email us at music@nucountry.com.au with your pledge.

Important note - please email us first.

Don't send membership cheque until you have been confirmed as the winner.
WIN CATHERINE BRITT CDS
MIKE BRADY TOO
We have Catherine Britt's third CD Little Wildflower for viewers who wish to become members or renew membership.

Catherine, Adam Brand and Mike Brady were among artists who donated their talent to the Whittlesea Bushfire benefit on Saturday April 4.

Brady donated autographed copies of his Country To Country CD to viewers who become members or current members who renew their membership.

Mike was also a VIP guest host of Nu Country TV during our eighth series.

So for your membership you can win Mike's CD Country To Country or Catherine Britt's Little Wildflower CD.
WIN JASMINE RAE & STEVE FORDE CDS
We have the following CDS for viewers who email our web page and pledge $22 membership at music@nucountry.com.au .

Telstra Road To Tamworth winner Jasmine Rae's debut CD Look It Up.

We also have Steve Forde's fifth album Guns & Guitars.

Both Rae and Forde performed at the CMC Rocks The Snowy festival at Thredbo.

Jasmine also supported Brooks & Dunn and Bentley on some of their Australian concerts.
KACEY JONES CD, DVD, POSTER & TEE SHIRT PRIZES
Internationally renowned country comedienne, singer-songwriter and producer Kacey Jones has given us a box of autographed merchandise for viewers and members who renew their membership.

A highlight is her acclaimed tribute disc Kacey Jones Sings Mickey Newbury that is scheduled for Australian release in July.

We have autographed collectors' copies of the CD for viewers who want to become members of Nu Country TV.

She also autographed tee shirts and posters for Nu Country members.

For your $22 membership and postage you can take your pick of Kacey memorabilia. We have limited supplies so please email us at music@nucountry.com.au first.
WILLIE NELSON EXCLUSIVE BOOK
We also celebrate Shotgun Willie Nelson's 75th birthday on April 30 with a special giveaway of his collectors' book.

We have limited stock of Willie Nelson - The Collected Writings Of A Living Legend - The Facts Of Life And Other Dirty Jokes.

The book, featuring yarns, jokes and Willie Nelson song lyrics, is the latest addition to out prize treasure trove.

It's available for viewers wanting to become members or current members wishing to renew their membership.

Please email us at music@nucountry.com.au for a chance to win a copy of this book with your membership.

We also have other CDS in our library as rewards for your valued membership - we rely on membership for our survival.