DAVE'S DIARY - 21/7/09 - PREVIEW OF EPISODE 7 - SERIES 12
URBAN COWBOY AUSTRALIAN TOUR
Expatriate Australasian country superstar Keith Urban celebrates the international success of eighth album Defying Gravity by headlining Nu Country TV this Saturday - July 25.

The singer and hotshot guitarist also returns to Australia for a December tour starting at Rod Laver Arena on December 12.

Urban also features in a behind the scenes documentary on video making on the show hosted by Mid Pacific Bob Olson and repeated on Wednesday at 3.30 p m.

Fellow homegrown star James Blundell, who also completed his secondary education in Queensland, returns to the show.

We also feature Victorian band Ruckus, frequent guests at our showcases, and Sydney singer Johanna Hemara.

New Mexico singing jeweller Mose McCormack also returns to Nu Country in live concert footage.
SWEET THING
Chart success moves fast for Urban - we feature the video for his 10th #1 hit Sweet Thing and a slice of his documentary about its making.
Urban, 41, has since topped charts with Kiss The Girl and released another.

Ironically, the singer who opened for Leanne Rimes on an Australian return visit, had teen sensation Taylor Swift as support act on dates on his Escape Together tour.

It's a far cry from when Urban first visited Nashville in 1989.

"I was a little progressive for the time," recalled Urban who moved there in 1992.

"I took my demo around, and I got some lovely rejections. Country was just in a very traditional time then."

Urban's other support acts include fellow chart topper Dierks Bentley, fresh from his Australian visit with Brooks & Dunn, and Jason Aldean.

So far no support act has been announced for Urban's return but a smart marketing move would be a guest spot for Brad Paisley.
Urban and Paisley topped charts with Start A Band from Paisley's 5th album Play.

The West Virginian born guitarist and singer has since released another #1 album American Saturday Night with sales of 130,000 in its first week.

CLICK HERE for a Keith Urban DVD review on February 23, 2009.
JAMES BLUNDELL
James Blundell returns to Nu Country with the video for a song about his father Peter - a grazier who operates their 9,800 family farm near Stanthorpe in northern NSW.

The song is the title track of the former jackeroo and stockman's 10th CD Portrait of A Man.

"The thing about it is that any man who has a close relationship with a father as an adult, you can bet your bottom dollar there was a fair bit of fire in the forming of the relationship otherwise it always remains in that filial 'You're my dad, so therefore I'll be nice to you' sort of thing," James said.

"If you end up as a genuine friend with your father, you've gone toe-to-toe on a few things, and my father is my best male friend. He's so vital - he still gets on his horse two or three days a week, rides a quad bike and he can pretty much name all the sheep on his property! He's a unique human being."
Stanthorpe is across the border from Queensland town Texas, subject of a song by his Corryong born and latter day Queensland peer Lee Kernaghan.

James, 44 and father of two sons, has upstaged his father and Kernaghan by courting Australian Idol belle Jesse Curran, 25, before splitting with his second wife Lydia.

Blundell also wrote Moving On with Weddings, Parties, Anything and Sure Thing singer Mick Thomas who duets with him.

He also penned Bound To Freeze with upcoming Nu Country TV host Felicity.

CLICK HERE for a Blundell interview in the Diary on February 1, 2005.
JOHANNA HEMARA
Sydney-born Johanna Hemara debuts with a video for Daddy - her paternal tribute tune.

Johanna, 29, never had a chance to say goodbye to her dad Cookie who died suddenly at 52.

That's why yodeller Johanna called her debut CD - Goodnight Sweetheart.

The Starmaker quest and Mo Awards finalist recently performed on the Sun Princess on a 10 day cruise to Ho Chi Minh City, North Vietnam, and Tonga.

Further info - www.johannahemara.com.au
RUCKUS
Victorian band Ruckus was among the many artists who donated their talent and time to the Whittlesea Bushfire Benefit festival in April.

The popular group returns with its video for a new take on old Charlie Daniels hit The Devil Went Down To Georgia.

The fiddle fuelled Devil Pub is on Ruckus's new DVD on sale at concerts and their web page.

The band plays a Variety Club benefit this Saturday with Aaron Daniels at the Eildon Hotel resort and July 31 at Healesville RSL.

Further info - www.ruckus.net.au
MOSE MCCORMACK - HOUSE OF BLUES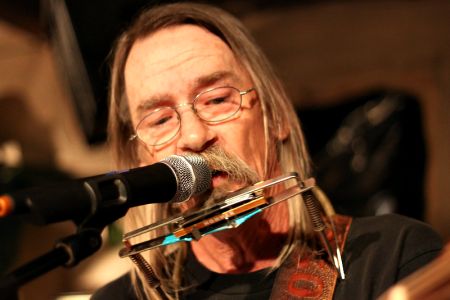 Mose McCormack followed in the footsteps of convict country stars David Allan Coe, Jeff Bates and late Johnny Paycheck when he was rescued from life as an outlaw by his music.

In 1970 he flew from California to Hawaii and robbed a bank - he flew back to the mainland and the FBI arrested him in Arizona.

Mose was granted probation and soon found solace and creativity in his music.

McCormack also kept the wolves and deputies from the door by exploiting his dual talent as a jeweller.

"My probation officer told me I had to do something for a living, something besides playing music in bars," Mose recalled.

"So I learned how to make jewellery. My teachers were the Hopis and the hippies. I started doing that for a while and people kept telling me I could sell more jewellery if I moved to Santa Fe."

So McCormack moved to the New Mexico in 1973 and released debut disc Beans And Make Believe on the CMH label in 1976.

Since then he released four albums - Old Soldiers Home (1979), Mosey Mack (1981), Santa Fe Trail (1995) and After All These Years.

The Alabama born singer returns to Nu Country with a live version of his tune House Of Blues.

Further info - www.myspace.com/mosemccormack
CLICK HERE for a Mose feature in the Diary on July 13.
WIN SLIM DUSTY CLASSIC BOX SET
We have more good news for viewers - EMI Records has given us an invaluable collectors' item - a brace of the 4 Box sets by late Australian country legend Slim Dusty.

Sittin' On 80 features a lost, classic track discovered by Slim's widow Joy McKean.

Joy found Give Me Room from a 1997 recording at their home studio Columbia Lane.

It was written by one of Slim's favourite writers John Dohling - outback station hand and good mate who passed away in November last year.

Sadly he never heard the final version of Slim's recording of his classic trucking song.
It has now been released as a single and included on Sittin' On 80.

Slim's legendary Travelling Country Band played on the song that has been digitally re-mastered by Australia's mastering guru Don Bartley.

All you have to do to win Slim's 4 CD Box set is become a member of Nu Country TV or renew your membership.

It only costs $20 and includes postage.

Please email us first at music@nucountry.com.au

We will then send you the CD on receipt of your cheque or money order made out to Nu Country Music.

WIN DIERKS BENTLEY CD

EMI Records has provided Nu Country TV with Arizona born Dierks Bentley's fifth chart topping CD Feel That Fire.

Bentley won an enthusiastic following on his debut Australian tour in May with superstars Brooks & Dunn.

Feel That Fire has already produced two U.S. #1 hits - the title track and Sideways.

Bentley, 33, has scored seven #1 hits since leaving Phoenix for Nashville as a teenager.

Dierks trails only expatriate Australasian superstar Keith Urban as most played male artist on U.S. country radio so far this year.

The father of two is currently blitzing the U.S with West Virginia born star Brad Paisley on his American Saturday Night tour.

Bentley plans to return to Australia for a second tour to capitalise on his growing fan base.

The singer has broadened his music by including bluegrass - featuring the famed McCoury family - on albums dating back to his indie debut Danglin' Rope.

He has also recorded duets with prolific Grammy winner Alison Krauss and Texan chanteuse Patty Griffin.

Win Feel That Fire by becoming a member of Nu Country or renewing membership.
It only costs $20 including postage.

Please email us first at music@nucountry.com.au

We will then send you the CD on receipt of your cheque or money order made out to Nu Country Music.
WIN FELICITY URQUHART AND TROY CASSAR-DALEY

You can win autographed copies of the acclaimed new CDS by Felicity and Troy Cassar-Daley.

Felicity's sixth album Landing Lights is available here in shops on Shock.

Troy's seventh CD I Love This Place is on Liberation - the new recording home of Kasey Chambers and singing spouse Shane Nicholson.

All you have to do is become a member of Nu Country TV or renew membership.

It only costs $22 and includes postage.

Please email us first at music@nucountry.com.au and let us know which CD you would like.

We will then send you the CD on receipt of your cheque or money order made out to Nu Country Music.
WIN BROOKS & DUNN CDS
Sony-BMG has also given us extra copies of the Cowboy Town tour souvenir CD and bonus Greatest Hits CD.

Viewers who become members or renew membership for just $22 including postage can win the double CDs.

Please email us at music@nucountry.com.au with your pledge.

Important note - please email first - don't send your membership until you have been confirmed as a winner.

Brooks & Dunn have sold more than 30 million album since releasing their debut disc in 1991.

TAYLOR SWIFT FEARLESS CD OFFER
Universal Music has donated copies of teen sensation Taylor Swift's huge selling second album Fearless to Nu Country TV.

Viewers who become members or renew their membership can win the Fearless CD.

Swift, 19, played capacity audiences on her debut Australian tour in March and plans to return in 2010.

Please email us at music@nucountry.com.au with your pledge.

Important note - please email us first.

Don't send membership cheque until you have been confirmed as the winner.
WIN CATHERINE BRITT CDS
MIKE BRADY TOO
We have Catherine Britt's third CD Little Wildflower for viewers who wish to become members or renew membership.

Catherine, Adam Brand and Mike Brady were among artists who donated their talent to the Whittlesea Bushfire benefit on Saturday April 4.

Brady donated autographed copies of his Country To Country CD to viewers who become members or current members who renew their membership.

Mike was also a VIP guest host of Nu Country TV during our eighth series.

So for your membership you can win Mike's CD Country To Country or Catherine Britt's Little Wildflower CD.
WIN JASMINE RAE & STEVE FORDE CDS
We have the following CDS for viewers who email our web page and pledge $22 membership at music@nucountry.com.au .

Telstra Road To Tamworth winner Jasmine Rae's debut CD Look It Up.

We also have Steve Forde's fifth album Guns & Guitars.

Both Rae and Forde performed at the CMC Rocks The Snowy festival at Thredbo.

Jasmine also supported Brooks & Dunn and Bentley on some of their Australian concerts.
KACEY JONES CD, DVD, POSTER & TEE SHIRT PRIZES
Internationally renowned country comedienne, singer-songwriter and producer Kacey Jones has given us a box of autographed merchandise for viewers and members who renew their membership.

A highlight is her acclaimed tribute disc Kacey Jones Sings Mickey Newbury that is scheduled for Australian release in July.

We have autographed collectors' copies of the CD for viewers who want to become members of Nu Country TV.

She also autographed tee shirts and posters for Nu Country members.

For your $22 membership and postage you can take your pick of Kacey memorabilia. We have limited supplies so please email us at music@nucountry.com.au first.
WILLIE NELSON EXCLUSIVE BOOK
We also celebrate Shotgun Willie Nelson's 75th birthday on April 30 with a special giveaway of his collectors' book.

We have limited stock of Willie Nelson - The Collected Writings Of A Living Legend - The Facts Of Life And Other Dirty Jokes.

The book, featuring yarns, jokes and Willie Nelson song lyrics, is the latest addition to out prize treasure trove.

It's available for viewers wanting to become members or current members wishing to renew their membership.

Please email us at music@nucountry.com.au for a chance to win a copy of this book with your membership.

We also have other CDS in our library as rewards for your valued membership - we rely on membership for our survival.