DAVE'S DIARY - 13/7/09 - PREVIEW OF EPISODE 6 - SERIES 12
JOE NICHOLS HEADLINES NU COUNTRY TV
Arkansas born country star Joe Nichols upstaged Taylor Swift when he headlined the second CMC Rocks The Snowy festival at Thredbo in March.

So it's fitting that he headlines Nu Country TV this Saturday - July 18 - on C 31 at
9.30pm.

North Carolina singer Kellie Pickler also returns to the show with the video for Best Days Of Your Life - a song she wrote with teen sensation Swift.

South Carolina singing actor Josh Turner also returns after impressing in the latest movie about evangelist Billy Graham.

Alabama born singer and latter day New Mexico jeweller Mose McCormack debuts on the show with a live gospel song.

South Australian chanteuse Talia Wittman and Blue Mountains belle Karen Lynne also strut their stuff on a show repeated at 3.30 on Wednesday.

And we have a sneak preview of North Carolina born singer-songwriter Malcolm Holcombe from a documentary.
FROM ARKANSAS TO BROADWAY
Nichols had plenty of welcome hints when chosen to play the lead in the Broadway version of 1992 George Strait movie Pure Country.

Strait, 57, played the role of Dusty in the movie - Nichols, 32, is cast as Rusty.

"I got a lot of great advice from Reba McEntire, who was very serious when she looked me dead in the eye and said, 'It's the hardest thing I have ever done in my life'," says Joe of the singing actress and TV host who made her Broadway debut in 2001 as Annie Oakley in Annie Get Your Gun.

"She told me, 'On your day off you think you're going to go sightseeing, you think you're going to go to the Statue of Liberty, you think you're going to do all this fun stuff. You won't. What you will do is laundry and then you'll sleep."
<Photo by Carol Taylor
Nichols begins rehearsals in October for the show that begins its season in 2010.
Joe had plenty of sleep before he cut the video for recent single Ain't No Crime from his seventh album Real Things.

Nichols exhibited nifty footwork as chicks and chooks chased him on the dock of the bayou - but he didn't chance his boots on the skateboard heading into the drink.

Joe also previewed four new songs from his pending eighth album at the recent CMA festival in Nashville in June.

They were new single, Believers, up-tempo Give Me That Girl, comedic Cheaper Than a Shrink and the poetic Goodbye to an Old Friend of Mine.

That was after a 10 day Iraq tour of duty on June 1 for a ten-day visit with the men and women serving there.

Meanwhile Strait releases his 38th new album, Twang, on August 11.

First single Living for the Night was written by Strait, his son Bubba and veteran songwriter Dean Dillon.

The trio also wrote He's Got That Something Special while the younger Strait wrote Arkansas Dave.

Bubba and George Strait also co-wrote Out of Sight Out of Mind.

CLICK HERE for a Joe Nichols live review at the CMC Festival on March 7.

JOSH TURNER SINGER, ACTOR AND SIRE
South Carolina singing actor Josh Turner won acclaim for his role as gospel singer George Beverley Shea in the latest movie about famed evangelist Billy Graham.

Baritone Turner, 32, was cast as Graham's sidekick Shea in Billy:The Early Years.

The movie opened on October 10, 1988 - Graham's 90th birthday.

It starred Armie Hammer with a supporting cast including Martin Landau, Lindsay Wagner and Stefanie Butler.

The movie chronicled Graham's life through his decision to be a minister and the tumultuous decade that followed.

"They were looking for actors who actually had a relationship with God and that were Christians," Turner said.
With his comparable voice and on-camera experience, Turner was an obvious choice to be cast as Shea.

"I think they were actually looking for an artist, too, so it wasn't completely foreign to me," he added.

"I intentionally neglected to read the whole script because I wanted to be surprised," he said. "It's my first movie role, my first acting debut. I want to be just like the next person at the premiere. I don't want to know what's coming next."

It was a good entrée to his performance in the video of his song Another Try from his third album Everything Is Fine.

Turner and wife Jennifer celebrated the recent birth of their second son Colby Lynch Turner.

Colby arrived after Turner finished recording his fourth album in the first week of July.

"We finished the album last Thursday at 6 p.m." Josh reveals. "After I got home, Jennifer went into labour and we were at the hospital by 10:30 p.m. that night. Now that's what I call perfect timing."

CLICK HERE for a Turner CD review from the Diary on December 11, 2007.
MOSE MCCORMACK - FROM SINNER TO JESUS
Mose McCormack followed in the footsteps of convict country stars David Allan Coe, Jeff Bates and late Johnny Paycheck when he was rescued from life as an outlaw by his music.

In 1970 he flew from California to Hawaii and robbed a bank - he flew back to the mainland and the FBI arrested him in Arizona.

Mose was granted probation and soon found solace and creativity in his music.

McCormack also kept the wolves and deputies from the door by exploiting his dual talent as a jeweller.

"My probation officer told me I had to do something for a living, something besides playing music in bars," Mose recalled.

"So I learned how to make jewellery. My teachers were the Hopis and the hippies. I started doing that for a while and people kept telling me I could sell more jewellery if I moved to Santa Fe."
So McCormack moved to the New Mexico in 1973 and released debut disc Beans And Make Believe on the CMH label in 1976.

Since then he released four albums - Old Soldiers Home (1979), Mosey Mack (1981), Santa Fe Trail (1995) and After All These Years.

The Alabama born singer debuts on Nu Country TV with his evocative live tune about a carpenter who had a best selling book down the years.

McCormack performs a live version of his gospel song Jesus Is The Hammer.

Further info - www.myspace.com/mosemccormack
CLICK HERE for a Mose feature in the Diary.

KELLIE PICKLER
North Carolina chanteuse Kellie Pickler performs the video for The Best Days Of Your Life from self-titled second album on Nu Country.

Pickler wrote the song with teen superstar and touring partner Taylor Swift.

Kellie's album also includes Catherine Britt song Lucky Girl that was also on Britt's third album Little Wildflower.

It's a welcome change of karma for Pickler from tiny town Albemarle whose mother abandoned her at the age of two and her father Bo spent time in gaol.

That inspired a previous song I Wonder.

Pickler's cyberspace identity was also stolen after she recently adopted a Marmoset monkey.
But the singer has some solace at home - her menagerie includes a Chihuahua Moo, Moo - a cat Pickles and a python she adopted last year.

But her luck changed at the recent CMT Awards in Nashville.

"Did y'all see my earrings fly off?" she asked backstage.

"My earrings flew off, but the fans gave them back to me!"
Kellie's left earring wound up in the front row at the Sommet Centre but was returned to her by her performance's end.

Since topping charts Kellie has been reunited with her mum and dad Bo who did time in a Florida prison for some illegal knife tricks.

Pickler, an American Idol loser, Kellie battled depression because of family problems and split with hockey star Jordin Tootoo.

More info - www.kelliepickler.com
TALIA WITTMAN
Adelaide born singer-songwriter Talia Wittman returns to Nu Country with her video for Nothing But The Wheel from her debut CD Reckless Side Of Me.

Talia grew up at West Beach near Glenelg and won the 2008 Starmaker Quest and the 2009 best new talent Golden Guitar.

The 24-year-old Adelaide born singer wrote six songs on her Compass Brothers CD, produced by label boss Graham Thompson.

Wittmann chose The Reckless Side Of Me by Dead Reckoners singer-guitarist Mike Henderson and Chris Stapleton as her first single.
She also covered Lay A Little Love On Me - a song recorded by stone country singer Lacy J Dalton who has appeared on Nu Country with David Frizzell.
Expatriate Australasian publisher Barry Coburn - former manager of Lacy - is also the publisher of Angaleena Presley who wrote Ladylike and Ain't No Man - highlights of the Wittman album.

Talia began vocal and guitar lessons and competed in South Australian talent quests during primary school.

In 2003 she completed Certificate III in music at TAFE and studied a Bachelor of Music by correspondence for 12 months through Mackay Conservatorium of Music.

She then moved to Mackay for a further semester of study on campus.

The singer, now living on the NSW Central Coast, is also a graduate of the 2007 Australian College of Country Music in Tamworth.

Further info - www.taliawittmann.com
KAREN LYNNE
Blue Mountains singer and multi-instrumentalist Karen Lynne performs in the video for the title track of her fourth album Second Wind.

Alabama bluegrass singer Claire Lynch, 54, penned the song - Karen performed it at the 20th Bunyip Country Music festival in February this year.

Karen also spent time songwriting in Nashville, Tennessee, before and after release of her debut CD, Labour of Love.

Her collaborators included Music Row writer Mark Selby who has written with other Australians.

Her debut featured three Karen originals and version of Henry Lawson's poem Water Lilly and Enda Kenny's Colours Of Australia.

In 1999 Karen teamed with Sydney singer-songwriter, Pat Drummond.

They released duet album Six Days in December - featuring 10 originals - in January 2000.
Lynne has released seven albums including 2007 album Mountain Rain, The Singles compilation and a 2008 Drummond duet disc Long Journey Home.
Further info - www.karenlynne.com
MALCOLM HOLCOMBE DOCCO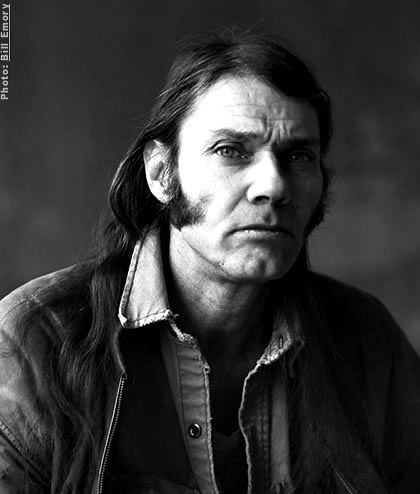 We also have a snippet from a documentary featuring North Carolina born Malcolm Holcombe.

Holcombe hails from Weaverville, North Carolina - a tiny town just 10 miles north of Asheville.

Shock Records released his albums Gamblin' House and Wager in Australia and New Zealand on July 5, 2008.

Holcombe eulogised wife Cyndi in Baby Likes a Love Song and Cynthia Margaret.

They followed his 2005 release I Never Heard You Knockin'.

Holcombe's new CD For The Mission Baby is released in the U.S. on September 29 and the UK/Europe on October 5, 2009.

Ray Kennedy, an Atlantic recording artist, produced, recorded and mixed the CD at his Room and Board Studios in Nashville.

Buffalo, New York, born Kennedy, 55, won a Grammy for his production of Steve Earle's 2005 CD The Revolution Starts Now.

He followed his self-titled 1989 debut disc with What A Way To Go (1990), Guitar Man in 1992 and landed his song Bad Man in the Uncommon Valour movie.

Further info - http://www.malcolmholcombe.com/
WIN DIERKS BENTLEY CD

EMI Records has provided Nu Country TV with Arizona born Dierks Bentley's fifth chart topping CD Feel That Fire.

Bentley won an enthusiastic following on his debut Australian tour in May with superstars Brooks & Dunn.

Feel That Fire has already produced two U.S. #1 hits - the title track and Sideways.

Bentley, 33, has scored seven #1 hits since leaving Phoenix for Nashville as a teenager.

Dierks trails only expatriate Australasian superstar Keith Urban as most played male artist on U.S. country radio so far this year.

The father of two is currently blitzing the U.S with West Virginia born star Brad Paisley on his American Saturday Night tour.

Bentley plans to return to Australia for a second tour to capitalise on his growing fan base.

The singer has broadened his music by including bluegrass - featuring the famed McCoury family - on albums dating back to his indie debut Danglin' Rope.

He has also recorded duets with prolific Grammy winner Alison Krauss and Texan chanteuse Patty Griffin.

Win Feel That Fire by becoming a member of Nu Country or renewing membership.
It only costs $20 including postage.

Please email us first at music@nucountry.com.au

We will then send you the CD on receipt of your cheque or money order made out to Nu Country Music.
WIN FELICITY URQUHART AND TROY CASSAR-DALEY

You can win autographed copies of the acclaimed new CDS by Felicity and Troy Cassar-Daley.

Felicity's sixth album Landing Lights is available here in shops on Shock.

Troy's seventh CD I Love This Place is on Liberation - the new recording home of Kasey Chambers and singing spouse Shane Nicholson.

All you have to do is become a member of Nu Country TV or renew membership.

It only costs $22 and includes postage.

Please email us first at music@nucountry.com.au and let us know which CD you would like.

We will then send you the CD on receipt of your cheque or money order made out to Nu Country Music.
WIN BROOKS & DUNN CDS
Sony-BMG has also given us extra copies of the Cowboy Town tour souvenir CD and bonus Greatest Hits CD.

Viewers who become members or renew membership for just $22 including postage can win the double CDs.

Please email us at music@nucountry.com.au with your pledge.

Important note - please email first - don't send your membership until you have been confirmed as a winner.

Brooks & Dunn have sold more than 30 million album since releasing their debut disc in 1991.

TAYLOR SWIFT FEARLESS CD OFFER
Universal Music has donated copies of teen sensation Taylor Swift's huge selling second album Fearless to Nu Country TV.

Viewers who become members or renew their membership can win the Fearless CD.

Swift, 19, played capacity audiences on her debut Australian tour in March and plans to return in 2010.

Please email us at music@nucountry.com.au with your pledge.

Important note - please email us first.

Don't send membership cheque until you have been confirmed as the winner.
WIN CATHERINE BRITT CDS
MIKE BRADY TOO
We have Catherine Britt's third CD Little Wildflower for viewers who wish to become members or renew membership.

Catherine, Adam Brand and Mike Brady were among artists who donated their talent to the Whittlesea Bushfire benefit on Saturday April 4.

Brady donated autographed copies of his Country To Country CD to viewers who become members or current members who renew their membership.

Mike was also a VIP guest host of Nu Country TV during our eighth series.

So for your membership you can win Mike's CD Country To Country or Catherine Britt's Little Wildflower CD.
WIN JASMINE RAE & STEVE FORDE CDS
We have the following CDS for viewers who email our web page and pledge $22 membership at music@nucountry.com.au .

Telstra Road To Tamworth winner Jasmine Rae's debut CD Look It Up.

We also have Steve Forde's fifth album Guns & Guitars.

Both Rae and Forde performed at the CMC Rocks The Snowy festival at Thredbo.

Jasmine also supported Brooks & Dunn and Bentley on some of their Australian concerts.
KACEY JONES CD, DVD, POSTER & TEE SHIRT PRIZES
Internationally renowned country comedienne, singer-songwriter and producer Kacey Jones has given us a box of autographed merchandise for viewers and members who renew their membership.

A highlight is her acclaimed tribute disc Kacey Jones Sings Mickey Newbury that is scheduled for Australian release in July.

We have autographed collectors' copies of the CD for viewers who want to become members of Nu Country TV.

She also autographed tee shirts and posters for Nu Country members.

For your $22 membership and postage you can take your pick of Kacey memorabilia. We have limited supplies so please email us at music@nucountry.com.au first.
WILLIE NELSON EXCLUSIVE BOOK
We also celebrate Shotgun Willie Nelson's 75th birthday on April 30 with a special giveaway of his collectors' book.

We have limited stock of Willie Nelson - The Collected Writings Of A Living Legend - The Facts Of Life And Other Dirty Jokes.

The book, featuring yarns, jokes and Willie Nelson song lyrics, is the latest addition to out prize treasure trove.

It's available for viewers wanting to become members or current members wishing to renew their membership.

Please email us at music@nucountry.com.au for a chance to win a copy of this book with your membership.

We also have other CDS in our library as rewards for your valued membership - we rely on membership for our survival.