DAVE'S DIARY - 29/6/09 - PREVIEW OF EPISODE 4 - SERIES 12
DARIUS IS CHARLEY'S PRIDE ON NU COUNTRY TV
Former Hootie & Blowfish singer Darius Rucker has a unique claim to fame when he headlines Nu Country TV on Saturday July 4 at 9.30 p m on C 31.

Rucker's previous pop group sold more than 25 million albums in their 22-year career that started at college in South Carolina in 1986.

But when Rucker scored with Don't Think I Don't Think About It he became the first Afro-American artist to top country charts as a solo artist since Charley Pride 29th smash Night Games in 1983.

Florida singer Jake Owen also performs thinking song Don't Think I Can't Love You.

Bill and Kasey Chambers also honour another famous Floridian Gram Parsons with a live song about the long deceased country icon.

Show host expatriate Californian maths lecturer and chef Bob Olson might opt for a drinking song or two in the Beer Can Hill delta as he celebrates independence down under on a show repeated Wednesday at 3.30 p m.

Queensland singer Shari Williams returns with her new band The Mice, Mornington Peninsula group The Distance showcase a new video and colourful Melbourne singer-songwriter Waz E James debuts on the show.

HOOTIE COUNTRY SONGS
Darius Rucker had a few problems when signed to Capitol at 42 as a solo artist.

First there was his age - he was older than the teen country demographic.

The there were the original songs - all 150 of them.

They were mostly traditional country ballads and swing shuffles - too country for the narrow confines of country radio.

So, all those stone country songs are in limbo until he can dictate his destiny.

Instead for Rucker's first country album, Learn To Live, he wrote new songs, most with veteran Nashville tunesmiths.

His first single, Don't Think I Don't Think About It, written with Clay Mills, was a No. 1 smash.
His second single, It Won't Be Like This For Long, penned with Chris DuBois and Ashley Gorley, also hit #1.

Rucker attributes his success to his rural roots and family.
"It comes from growing up in South Carolina the way I did," the baritone says.

"My mom and my grandmother were real, real hard workers. They were people that worked hard every day of their lives, and I think that's where I got it from."

Rucker has succeeded where fellow Afro-American artists, dating back to cardiologist Cleve Francis with three albums from 1992-4, failed to top charts.

Louisiana singer Trini Triggs tried again in 1998 and more recently Rissi Palmer from Jacksonville, North Carolina released a self-titled debut CD and three singles that did not succeed.

Cowboy Troy's short-lived success was more about novelty of a black-country rapper than about being a country artist.

The late Ray Charles was the last black artist to have a No. 1 country single - it was a duet with Willie Nelson on Seven Spanish Angels in March 1985.

Rucker is no stranger to Nashville music.

Hootie & The Blowfish recorded Radney Foster's A Fine Line, he has sung in concert and on albums with Nanci Griffith and the Blowfish's 2005 Looking for Lucky album featured a co-write with Matraca Berg.

Hootie also cut Foster & Lloyd tune Before the Heartache Rolls In and Texan Cindy Walker's Dream Baby.

More info - www.dariusrucker.com
JAKE OWEN - TWIN TALENTS
Florida country singer Jake Owen shares his rural roots with fellow Floridian John Anderson but has a penchant for iconic country stars - late Eddie Rabbit and Waylon Jennings.

Owen wore a Rabbit tee shirt on the cover of his debut CD Startin' With Me and he modelled a Waylon tee shirt on his second CD Easy Does It.

Jake, real name Joshua Ryan Owen, and his band perform in a parking lot video for their single Don't Think I Can't Love You.

Owen says his music is steeped in the traditional sound, pre-dating country pop.
"If you listen to my record, there are a lot of '70s influences on it," Owen says.
"Eddie Rabbitt and Waylon, I just love that sound. I love that era, love the honesty of the music. I love the different artists of the time. Waylon is completely different than Rabbitt. They were around somewhat of the same era, but Waylon obviously made it a little before that. I just like paying tribute to the people that I look up to."

Owen, now 27, grew up in Vero Beach and was set to become a professional golfer until a water-skiing injury snuffed out that dream.

Jake, the younger of fraternal twins by 15 minutes, enrolled as an English major at Florida State University and began playing local clubs.

A mere nine credit hours from completing his degree, Owen dropped out of school and pursued music full time.

It worked.

Owen wrote most songs on Easy Does It and all 11 on his debut with writers such as producer Jimmy Ritchey, Brett James, Bob Regan, Casey Beathard and Chuck Jones.

He has toured with Kenny Chesney, Brad Paisley and Carrie Underwood and opened the 2007 Alan Jackson/Brooks & Dunn tour with Australian star Catherine Britt.

Further info - www.jakeowen.net
BILL & KASEY CHAMBERS LIVE
Bill and Kasey Chambers and her singing spouse Shane Nicholson enjoyed a return tour of the U.S before returning here for a national tour.

We have exclusive live footage of Bill and Kasey doing their Gram Parsons tribute Just Like Yesterday.

Canadian Harry Manx guested on the tune that honoured Gram who died, aged 26, on September 19, 1973.

Kasey and Shane recently won Country Work of the Year for the title track of Rattlin' Bones, at the APRA Awards in Melbourne.

The Chambers-Nicholson U.S. tour included dates with expatriate Tasmanian Audrey Auld Mezera.

They perform famed Texas venues Gruene Hall, Cactus Café, Threadgills, Cheatham St Warehouse, the Woody Guthrie festival in Okema, Oklahoma, and in Nashville.

CLICK HERE for a Chambers-Nicholson interview in the Diary on July 19, 2008.
CLICK HERE for Anne Sydenham's concert review on August 14, 2008.

WAZ E JAMES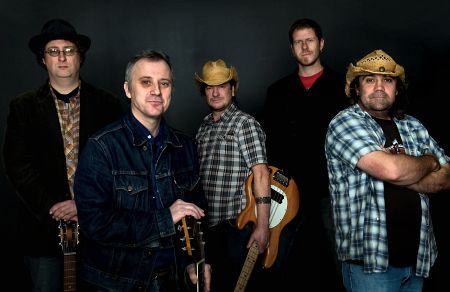 Waz E James is a man with immaculate timing.

He lived in Mexico long before swine flu - because of visa problems during a U.S. trip.

The former architecture student was on the team who designed our famous Federation Square.

Waz E also performed with Tracey Bunn & her Toe Sucking Cowgirls at one of our Christmas parties at Hotel Kew.

This time he brandishes his belt buckle in a car trip on the video for Plainsman from his third CD Watermelon on Gravel Road Records.

Multi-instrumentalist James plays guitar, mandolin, banjo and bass in a band featuring
Pete Fidler on dobro and lap steel, drummer Dave Major, bassist Scoota Owen and Shonky Tonk refugee Dave Moll on guitar and piano.

James started at 17 as a guitarist for Greg Hildebrand, Francesco Henry and Dutch Tilders at the Green Man Café in Melbourne.

He later did solo gigs and played with The Bushwackers before joining punk grunge band Black Ruxton.

James also performed with blues bands in Los Angeles and San Francisco before he settled in Mexico in exile after visa issues.

He drew from his Mexico experience and introduces a Tex Mex feel to much of his writing.

The colourful bon vivant expands on his illustrious career on his wondrous web page.

Further info - http://www.waz.com.au/
THE DISTANCE
Mornington Peninsula band The Distance - one of many bands to donate their talent to the Whittlesea bushfire benefit festival in April - returns to Nu Country.

The quartet performs a video for Cowgirl from its second album Grounded.

Expatriate American musician Scott Randall replaced long time bassist Jim Mournian in the band that filmed live footage on March 21 at the famed Meeniyan Hall.

The Distance posted the footage on its web page, plans to release a live EP and also performs at Mt Dandenong Hotel on July 25.

A rural Victorian tour, including a return to Meeniyan, Longwarry and Heathcote, is scheduled for October.

Further info - www.thedistance.com.au

SHARI & THE MICE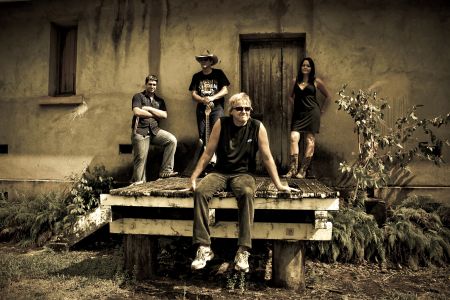 North Queensland chanteuse Shari Williams and her new band The Mice perform a video for their new single Dusty Boots on Nu Country.

Williams previously appeared on the show with a video for her single - Out Of Here from her debut album Sunny.

The former nurse was born into a family of musicians.

Her dad cut a vinyl record when he was at school and her mum sang in school choirs, her sister is a songwriter and plays the guitar along with her uncle and cousins.

Shari's dad hails from Cooma and her mum was from inner Sydney.

But Shari was born in Canberra and lived on Sydney's Northern Beaches from the age of two and now resides in Far North Queensland.

She began performing at just three years of age with jazz/modern ballet and tap and loved it!

Shari learned piano, guitar, flute, saxophone, recorder, kazoo and even bagpipes.

"Then puberty came along and it was more like fantasia," Shari revealed.

"You know the hippo in the tutu rather than the delicate fairy say no more!'

Not long after, Shari left school she studied nursing and sang in a popular Sydney corporate band Don't Ask.

They played hotels and functions including Backyard Blitz, SBS, Sydney University Law Society Balls and Manly Rugby Union parties.

Further info - www.shariwilliams.com.au
WIN BROOKS & DUNN CDS
Sony-BMG has also given us extra copies of the Cowboy Town tour souvenir CD and bonus Greatest Hits CD.

Viewers who become members or renew membership for just $22 including postage can win the double CDs.

Please email us at music@nucountry.com.au with your pledge.

Important note - please email first - don't send your membership until you have been confirmed as a winner.

Brooks & Dunn have sold more than 30 million album since releasing their debut disc in 1991.

TAYLOR SWIFT FEARLESS CD OFFER
Universal Music has donated copies of teen sensation Taylor Swift's huge selling second album Fearless to Nu Country TV.

Viewers who become members or renew their membership can win the Fearless CD.

Swift, 19, played capacity audiences on her debut Australian tour in March and plans to return in 2010.

Please email us at music@nucountry.com.au with your pledge.

Important note - please email us first.

Don't send membership cheque until you have been confirmed as the winner.
WIN FELICITY URQUHART AND TROY CASSAR-DALEY

You can win autographed copies of the acclaimed new CDS by Felicity and Troy Cassar-Daley.

Felicity's sixth album Landing Lights is available here in shops on Shock.

Troy's seventh CD I Love This Place is on Liberation - the new recording home of Kasey Chambers and singing spouse Shane Nicholson.

All you have to do is become a member of Nu Country TV or renew membership.

It only costs $22 and includes postage.

Please email us first at music@nucountry.com.au and let us know which CD you would like.

We will then send you the CD on receipt of your cheque or money order made out to Nu Country Music.

WIN CATHERINE BRITT CDS
MIKE BRADY TOO
We have Catherine Britt's third CD Little Wildflower for viewers who wish to become members or renew membership.

Catherine, Adam Brand and Mike Brady were among artists who donated their talent to the Whittlesea Bushfire benefit on Saturday April 4.

Brady donated autographed copies of his Country To Country CD to viewers who become members or current members who renew their membership.

Mike was also a VIP guest host of Nu Country TV during our eighth series.

So for your membership you can win Mike's CD Country To Country or Catherine Britt's Little Wildflower CD.
WIN JASMINE RAE & STEVE FORDE CDS
We have the following CDS for viewers who email our web page and pledge $22 membership at music@nucountry.com.au .

Telstra Road To Tamworth winner Jasmine Rae's debut CD Look It Up.

We also have Steve Forde's fifth album Guns & Guitars.

Both Rae and Forde performed at the CMC Rocks The Snowy festival at Thredbo.

Jasmine also supported Brooks & Dunn and Bentley on some of their Australian concerts.
KACEY JONES CD, DVD, POSTER & TEE SHIRT PRIZES
Internationally renowned country comedienne, singer-songwriter and producer Kacey Jones has given us a box of autographed merchandise for viewers and members who renew their membership.

A highlight is her acclaimed tribute disc Kacey Jones Sings Mickey Newbury that is scheduled for Australian release in July.

We have autographed collectors' copies of the CD for viewers who want to become members of Nu Country TV.

She also autographed tee shirts and posters for Nu Country members.

For your $22 membership and postage you can take your pick of Kacey memorabilia. We have limited supplies so please email us at music@nucountry.com.au first.
WILLIE NELSON EXCLUSIVE BOOK
We also celebrate Shotgun Willie Nelson's 75th birthday on April 30 with a special giveaway of his collectors' book.

We have limited stock of Willie Nelson - The Collected Writings Of A Living Legend - The Facts Of Life And Other Dirty Jokes.

The book, featuring yarns, jokes and Willie Nelson song lyrics, is the latest addition to out prize treasure trove.

It's available for viewers wanting to become members or current members wishing to renew their membership.

Please email us at music@nucountry.com.au for a chance to win a copy of this book with your membership.

We also have other CDS in our library as rewards for your valued membership - we rely on membership for our survival.