DAVE'S DIARY - 22/6/09 - PREVIEW OF EPISODE 3 - SERIES 3
TROY CASSAR-DALEY HOSTS NU COUNTRY TV
Troy Cassar-Daley returns to Nu Country TV as host and featured artist this Saturday June 27 at 9.30 p.m. on C 31.

The ARIA award winning country singer-songwriter played a prominent role in fund raising after the horrific Black February bushfires in Victoria.

So it's no surprise Troy, 40, and father of two sons, also performs in the all-star video for Tangerine Sky - a song penned about the bushfires by popular Goulburn Valley born singer Tamara Stewart.
Cassar-Daley and singing spouse Laurel Edwards also credit expatriate Australasian superstar Keith Urban as a source for his new single and video Big, Big Love.

The singer reveals more about his seventh album I Love This Place in an exclusive interview with Nu Country, repeated on Wednesday at 3.30 p m.

Cassar-Daley plays new videos about good old country boys by Georgian stars Alan Jackson and Luke Bryan.

Troy also expands on one of his biggest influences - late Texan Lefty Frizzell - in rare footage of the icon in concert.
TROY AND FELICITY ON TOUR TOGETHER
Cassar-Daley and fellow Nu Country TV host Felicity Urquhart are touring together to promote their new albums that you can win by becoming a member of Nu Country or renewing your membership.

The duo hosted the 2009 Australian Country Music Awards in Tamworth and share select dates over winter and spring.

Troy and Felicity return to Victoria later in the year as the economy improves in rural and urban areas.

Felicity won wide acclaim for her national tour with Ohio born singer Kim Richey and Texan Rodney Crowell.

CLICK HERE for an exclusive interview with Troy in the Diary on May 7, 2009.
CLICK HERE for our Membership page to win CDS by Troy and Felicity.
TANGERINE SKY CELEBRATION
Mooroopna minstrel Tamara Stewart was so moved by the Victorian bushfires that she wrote her song Tangerine Sky after a visit to her Goulburn Valley roots.

Stewart, a long time resident of NSW, recruited a brace of peers to record the song and a documentary about the project.

The track - recorded with James Blundell, Troy, Darren Coggan, Dianna Corcoran, Pete Denahy, Tommy Emmanuel, Anne Kirkpatrick, Lianna Rose, Sunny Cowgirls and Talia Wittmann - is now on sale through Shock Records.
"Like all Australians, I was in shock," Stewart said of the bushfires.

"We watch these tragedies on our TV screens from all over the world every day but being born and raised in country Victoria there's a reality that rings loud and clear.

"To be able to call on so many talented friends and colleagues that I have worked with over the years just goes to show the massive amount of respect and empathy this industry is willing to extend to our fellow Aussies. Tangerine Sky speaks of the unity of all Australian's and the helping hand mentality that has been carved as a trait in our Aussie heritage."

Video director Ross Wood volunteered his talent to produce the video, Ted Howard and Don Bartley donated recording engineering services and Garth Porter his Rancom Studio.
Stewart produced the track as well as appearing on the recording.

The enhanced single contains the audio track, video clip and special making-of mini-documentary.

All proceeds of the single are donated to the Salvation Army.

Further info - www.tamarastewart.com.au
CLICK HERE for a Tamara feature from the Diary on February 26, 2008.

The St Vincent De Paul CD After The Fire - featuring Kane-Welch-Kaplin recording of the Kevin Welch bushfire song Marysville, Shane Howard new tune Carry Me and Ross Buchanan's Salty Tears - are the major country music projects raising funds for fire victims.

Buchanan, singer for Country Paydirt, lost a son and daughter in the Kinglake fires.

CLICK HERE for the full After The Fire CD details in our Diary on March 15, 2009.

ALAN JACKSON - STILL A COUNTRY BOY
Georgian superstar Alan Jackson plans an Australian tour - just three decades after fellow Newnan born singer-songwriter Steve Young's first visit.

But the lanky, laconic singer has more baggage than Young, now 65, who was armed with little more than an acoustic guitar on his four tours.

Jackson recently celebrated his 50th birthday by selling more than 50 million albums.

Expat Australasian promoter-publisher Barry Coburn signed Alan to his management stable in 1987 and laid the first tour plans.
But multi-millionaire Jackson rarely tours overseas - except for occasional European sojourns.

Instead Jackson performs in cinematic car, truck and tractor adorned video in Country Boy from his 17th album Good Time.

Alan uses his 40 plus videos as a surrogate for international tours - we have a new clip for Sissy's Song later in this series.

Meanwhile Jackson, son a small town motor mechanic, and best-seller memoir author wife Denise are preparing to sell their slice of paradise near Nashville.

The couple plans to put its massive Franklin estate, Sweetbriar, on the market and rebuild on a smaller lot nearby.

Their massive compound and home for more than a dozen years is a honky-tonker's interpretation of Tara.

The 10-acre lakeside estate has an air-conditioned gym, horse stalls, 130-car garage, log cabin and an airplane landing strip.

"It's just like a Disney World out here," Jackson, father of three daughters, joked recently.

"But we realised, as our girls got older, that they don't really use the property much. Once they get to be teenagers, they're mostly hanging out with their friends and on the iPod and cell phones in their rooms. If I'd had three boys instead of girls, they might be out here fishing and riding four-wheelers or something."

CLICK HERE for a Jackson feature from the Diary on May 28, 2008.
LUKE BRYAN - PEANUT FARM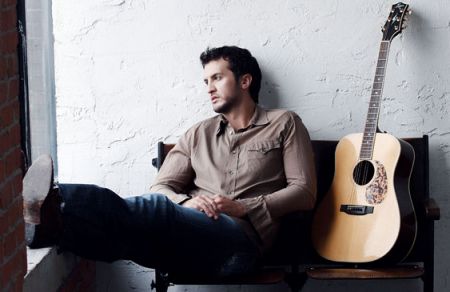 Luke Bryan, song of a Georgian peanut farmer, was raised growing his own groceries and salt curing ham.

Bryan, born in Leesburg and performing in bands at 16 with a brother Chris, chose college ahead of music initially.

He planned to move to Nashville when he finished high school but Chris was killed in a car accident.

Bryan remained at home - he worked in his family's farming businesses and enrolled at Georgia Southern University, Statesboro.

Luke won acclaim as lead singer in Neyami Road in 1997.

Neyami Road played "two or three nights a week," says Bryan, now 33.

"Everybody split the proceeds at the end of the night. We recorded a CD in Athens and sold two or three thousand copies of it around Georgia Southern. I wrote all the songs on it. It was my first taste at recording."

When he hit Nashville in September 2001 he had his degree in business management and passion for songwriting.

He wrote 10 of 11 songs on his debut CD - I'll Stay Me - and performs the video for Country Man on his Nu Country TV debut.

Bryan's big breakthrough as a writer came when Billy Currington recorded his Good Directions and took it to No. 1.

Luke recorded the song for his own album but dropped it after the Currington smash was a healthy earner.

Bryan first showcased his catalogue in Nashville two weeks before Christmas in 2003 at BMI's Nashville headquarters as a staff writer at Murrah Music.

Both songs Bryan sang that day got recorded - Currington hit Good Directions - and Tacklebox - a highlight of his 2007 Capitol album.

"There are no complaints in the world of Luke Bryan out here," he joked after his debut single All My Friends Say peaked at #5.

Further info - www.lukebryan.com
LEFTY FRIZZELL HONOURED
Host Cassar-Daley has long been a huge fan of the late Lefty Frizzell - also mentor for Troy's Australian touring partner Merle Haggard and John Anderson.

It's fitting that we found exclusive footage of Lefty performing one of his many huge hits If You've Got The Money, I've Got The Time.

It was his debut 1950 #1 hit and features in the Louisiana Hayride concert by Lefty's younger brother David, 68, and Hank Williams' daughter Jett, 56.

Born William Orville Frizzell, Lefty was the spiritual source for many protégées.

He earned his stage name Lefty from a schoolyard fracas at 14 and died from a stroke at 47 on July 19, 1975, at the peak of his career.
His songs stood the test of time - 34 years after his death, with help from younger brothers David and Allen.

Lefty shared his East Texas hometown Corsicana with outlaw Billy Joe Shaver who last toured here with singing Texan crime novelist Kinky Friedman in 2002.

He moved to El Dorado, Arkansas, with has family until the early forties and won a talent quest on local radio station KELD.

Lefty performed fairgrounds and honky tonks, developing a unique, soulful voice.
He followed his father into the oilfields - at 19 he hosted a half-hour show on a small Texas radio station, getting a big break when record producer, Don Law signed him to Columbia.

In 1950, he played the Grand Ole Opry and later Louisiana Hayride radio show from Shreveport, Louisiana - he and Cowboy Ralph Spicer then began touring with Hank.

Frizzell had four songs in the top ten at the same time in 1951 - a feat not repeated on any chart until The Beatles scored with five songs in 1964.

In the early 1970s, Frizzell moved to Bakersfield, California, recorded more hits and was first country singer to perform the Hollywood Bowl.

But, like Hank, he lost his battle with the bottle, suffered mood swings and died of a massive stroke and was buried on Music Row at Forest Lawn Memorial Gardens in Goodlettsville, Tennessee.

In October 1982, Lefty was posthumously inducted into the Country Hall Of Fame.

CLICK HERE for a David Frizzell feature on December 30, 2008.

WIN BROOKS & DUNN CDS
Sony-BMG has also given us extra copies of the Cowboy Town tour souvenir CD and bonus Greatest Hits CD.

Viewers who become members or renew membership for just $22 including postage can win the double CDs.

Please email us at music@nucountry.com.au with your pledge.

Important note - please email first - don't send your membership until you have been confirmed as a winner.

Brooks & Dunn have sold more than 30 million album since releasing their debut disc in 1991.

TAYLOR SWIFT FEARLESS CD OFFER
Universal Music has donated copies of teen sensation Taylor Swift's huge selling second album Fearless to Nu Country TV.

Viewers who become members or renew their membership can win the Fearless CD.

Swift, 19, played capacity audiences on her debut Australian tour in March and plans to return in 2010.

Please email us at music@nucountry.com.au with your pledge.

Important note - please email us first.

Don't send membership cheque until you have been confirmed as the winner.
WIN FELICITY URQUHART AND TROY CASSAR-DALEY

You can win autographed copies of the acclaimed new CDS by Felicity and Troy Cassar-Daley.

Felicity's sixth album Landing Lights is available here in shops on Shock.

Troy's seventh CD I Love This Place is on Liberation - the new recording home of Kasey Chambers and singing spouse Shane Nicholson.

All you have to do is become a member of Nu Country TV or renew membership.

It only costs $22 and includes postage.

Please email us first at music@nucountry.com.au and let us know which CD you would like.

We will then send you the CD on receipt of your cheque or money order made out to Nu Country Music.

WIN CATHERINE BRITT CDS
MIKE BRADY TOO
We have Catherine Britt's third CD Little Wildflower for viewers who wish to become members or renew membership.

Catherine, Adam Brand and Mike Brady were among artists who donated their talent to the Whittlesea Bushfire benefit on Saturday April 4.

Brady donated autographed copies of his Country To Country CD to viewers who become members or current members who renew their membership.

Mike was also a VIP guest host of Nu Country TV during our eighth series.

So for your membership you can win Mike's CD Country To Country or Catherine Britt's Little Wildflower CD.
WIN JASMINE RAE & STEVE FORDE CDS
We have the following CDS for viewers who email our web page and pledge $22 membership at music@nucountry.com.au .

Telstra Road To Tamworth winner Jasmine Rae's debut CD Look It Up.

We also have Steve Forde's fifth album Guns & Guitars.

Both Rae and Forde performed at the CMC Rocks The Snowy festival at Thredbo.

Jasmine also supported Brooks & Dunn and Bentley on some of their Australian concerts.
KACEY JONES CD, DVD, POSTER & TEE SHIRT PRIZES
Internationally renowned country comedienne, singer-songwriter and producer Kacey Jones has given us a box of autographed merchandise for viewers and members who renew their membership.

A highlight is her acclaimed tribute disc Kacey Jones Sings Mickey Newbury that is scheduled for Australian release in July.

We have autographed collectors' copies of the CD for viewers who want to become members of Nu Country TV.

She also autographed tee shirts and posters for Nu Country members.

For your $22 membership and postage you can take your pick of Kacey memorabilia. We have limited supplies so please email us at music@nucountry.com.au first.
WILLIE NELSON EXCLUSIVE BOOK
We also celebrate Shotgun Willie Nelson's 75th birthday on April 30 with a special giveaway of his collectors' book.

We have limited stock of Willie Nelson - The Collected Writings Of A Living Legend - The Facts Of Life And Other Dirty Jokes.

The book, featuring yarns, jokes and Willie Nelson song lyrics, is the latest addition to out prize treasure trove.

It's available for viewers wanting to become members or current members wishing to renew their membership.

Please email us at music@nucountry.com.au for a chance to win a copy of this book with your membership.

We also have other CDS in our library as rewards for your valued membership - we rely on membership for our survival.