DAVE'S DIARY - 16/6/09 - PREVIEW OF EPISODE 2 - SERIES 12
SUPERSTAR CHESNEY HEADLINES NU COUNTRY TV
East Tennessee born superstar Kenny Chesney headlines Nu Country TV this Saturday June 20 at 9.30 p m on C 31.

Chesney, 41, harvested pain of divorce from Cold Mountain actress Renee Zellweger - source of many songs on his new Greatest Hits CD.

He made $90 million from touring last year and a cool $68 million since - it has been boosted by new hit Out Last Night that you can catch on our show that is repeated on Wednesday at 3.30 p m.

Chesney is competing on charts with the teenage daughter of singing actor Billy Ray Cyrus who returns to the show.

Cyrus, 47, enlisted son Trace - not famed daughter Miley - in the video for spiritual Somebody Said A Prayer.

Expatriate Scot singer-songwriter Karl Broadie teamed with touring partner Kim Richey, producer Craig Ross and others for songwriting on his recent U.S sojourn.

Broadie performs in the video for his collaboration with Richey on Once In Your Life from fourth album Branches, recorded in Austin, Texas.

Former Portland rodeo rider Shea Fisher followed Broadie to Nashville where she cut her self titled second album with hit producer Richard Landis.

Fisher, just 21, performs in the video for Suitcase - a song that depicts her travels way beyond her Great Southern Ocean roots.

Fellow Victorian born belle Victoria Baillie, 23, returns with Make Me from her debut disc.

The Moe raised singer was discovered at Bunyip Country Music festival in Gippsland before heading north across the Murray.

Another Victorian born star Sara Storer joins fellow multiple Golden Guitarists Gina Jeffreys and Beccy Cole for a live song from the concert DVD Songbirds.

The trio perform James Taylor song You've Got A Friend in Tamworth during the 2009 festival.
CARIBBEAN CHESNEY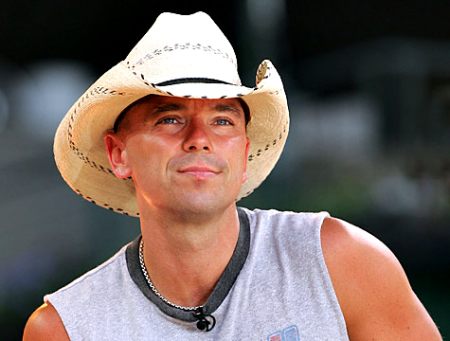 Kenny Chesney may not be lucky in love but long ago arose from his humble rural roots to attain international success.

The singer's 16 #1 country hits in 15 years have boosted his career sales beyond 25 million and enabled him to follow Jimmy Buffett as a Caribbean island hopper.

So he was able to release his second Greatest Hits with a little help from rocker Dave Matthews.

"The most personal is the track with Dave Matthews, I'm Alive, just because of where I was in my life when I wrote it," Chesney recently revealed.

"Most of the songs on this record are really fun, but I wrote I'm Alive after my breakup with Renée Zellweger. I woke up one day and realized, even though I'm going through all this stuff and don't feel good about it, the outer shell of my life is really great. I'm alive; I get to make music; I've got a lot of great friends. That's the message of the song."

Chesney's success is now in the hands of Eagles manager Irving Azoff.

Azoff recently took over management of Chesney, Big & Rich and Gretchen Wilson from Dale Morris who has represented Chesney since his debut in 1993.

Morris was also Alabama's manager until the band retired in 2004.

CLICK HERE for a Chesney feature from the Diary on December 15, 2008.

CYRUS VIRUS NO SWINE
Kentucky born singer Billy Ray Cyrus chanced his arm on acting to compliment his music during his chart hiatus.

Cyrus, 47, cut bluegrass disc Trail of Tears and played a GP in TV series Doc as his music in his hiatus from the charts.

Somebody Said A Prayer from his 11th album Back To Tennessee was an artistic leap from his albatross Achy Breaky Heart.

Cyrus, a regular in diverse movies and TV shows, recently returned to Tennessee with superstar daughter Miley for Hollywood movie Hannah Montana.

The singer has also been moonlighting in super group Brother Clyde with Boy Howdy icon Jeffrey Steele, singer Phil Vassar and John Waite, once front man for rock band The Babys.

Waite, also a member of Bad English, recorded a duet with Alison Krauss on historic hit Missing You.
Click Here for a Billy Cyrus feature in the Diary.
KARL BROADIE-KIM RICHEY NASHVILLE SKYLINE
Expatriate Scot Karl Broadie is indebted to a cancellation of a writing session with a Nashville songsmith for one of two songs he penned with Ohio born Kim Richey, 53.
"My publisher Chrysalis organised for me to write every day for four weeks," Broadie explained.
"On day one the guy cancelled because he was out of town and they contacted Kim Richey. I thought are you kidding me? One of the songs I wrote with Kim - Once In Your Life - she has also recorded for her new album Wreck Your Wheels. It's a stunning version."
Broadie's version is on the market first and he performs a video of it on Nu Country this week.
It's from his fourth album Branches that he recorded in Austin while a house pest at the home of another touring partner Patty Griffin.
"I was singing the title before I went away," Broadie, 39, added.
"It was embryonic, what have I got to lose, maybe we only pass this way but once. So we took that idea and added a chorus. Kim jumped on it straight away. You have to be cautious jumping into adventure but then you get up and dance."
The session was so successful Broadie and Richey wrote Drink The Bottle Down.
"She came and picked me up and went to her house in Nashville and we wrote it. A few weeks ago she was in Australia, stayed with me and we wrote another one - Oh Proud Heart. I reckon I'll cut on my next record."
Broadie said Drink The Bottle Down reached back to an uncle. "Kim and I both had stuff going on - not just personal," Broadie recalled.
"Just a few stories thrown into the one song - we were able to help each other with that. It's a very heavy song, inspired by bad situation. I tried to save it but didn't work. It dates to childhood in Edinburgh. It was also about Uncle Billy - a great man who taught me so much about life. But he was a chronic alcoholic, tragically gone now."
Broadie also wrote Angela – about the suicide of his stepsister when he was a child - for his fourth album Branches, recorded in Austin, Texas.
CLICK HERE for a Broadie feature from the Diary on May 3, 2009.
SHEA FISHER
As a child Shea Fisher went on the rodeo road with her parents Eddy & Joanne - Australian bull riding & barrel-racing champions.

That was when they lived in Great Southern Ocean city Portland - latter day home of Dead Livers singer Marty Atchison.

The champion barrel racer was a huge fan of Reba McEntire and moved to the U.S. at 10 to follow her father's professional bull riding career.

Over the next 10 years, Fisher went from singing covers at rodeo events to touring Australia.

Now Shea has signed with revered producer James Stroud for her self-titled second album for his Nashville label Stroudavarious.

The Trey Fanjoy-directed music video for Don't Chase Me hit #1 is on CMC but we have her video of Suitcase.

"The minute I heard Shea's music, I knew I wanted to sign her," said label founder James Stroud.
"Our label is all about the music, and Shea comes to the table with her A-game. She has done what many young artists don't accomplish until later, which is to find her own voice and make a record that reflects her vision."

Former Grenfell rodeo rider and singer-songwriter Steve Forde and Nashville session supremo Richard Landis produced Fisher's album.

Landis produced artists diverse as Neil Diamond, Vince Gill, Eddie Rabbitt, Kenny Rodgers, Juice Newton and Forde.

"To have somebody like James, who's had so many hits and has produced albums that have sold millions of copies, being so supportive of what I do is really incredible," Shea said.

"I've been so lucky for a girl my age, being able to travel the world with my parents and now have the experience to live my dream and give it a real shot. I'm an everyday girl with a really cool job."

She performed the 2007 CMA Festival in Nashville with Fawkner filly Jasmine Rae.

Now, to maximise her appeal pop versions of her singles are released to radio.

Further info - www.sheafisher.com.au

VICTORIA BAILLIE RETURNS TO VICTORIA
Moe minstrel Victoria Baillie earned her big break at Bunyip Country Music festival in talent quests.

Baillie graduated to the main stage at festivals with stars Adam Harvey, Beccy Cole, The Wolverines and Michael Carr before moving to Wamberal on the NSW Central Coast.

She returned to the festival this year for the swansong of dairy belle Joy Batchelor who celebrated her 20th year at the managerial and promotional helm.

Victoria honed her skills in 2005 at Tamworth Country Music College - sibling of sorts of the famous South Plains College in Levelland, Texas.

She released an EP featuring the song Lord, Don't Take Me Yet and has been writing with peers diverse as Felicity, Drew McAlister, Lianna Rose, Jay Collie and Jasper Sommerville-Collie.

They created a brace of songs for her debut album, recorded at Matt Fell's Love Hertz Studio in Sydney.
Victoria has toured with former Mascot accountant and Golden Guitar winner Amber Lawrence who also played Bunyip last year with Jayne Denham.
She opened for former Nu Country TV host and Australian Of The Year and national star Lee Kernaghan in 2005.

That was three years after Victoria and Barbara performed the National anthem at the Rod Laver arena for the Motor Cross Masters.

Further info - http://www.victoriabaillie.com/
SARA, GINA AND BECCY - GOLDEN GUITARS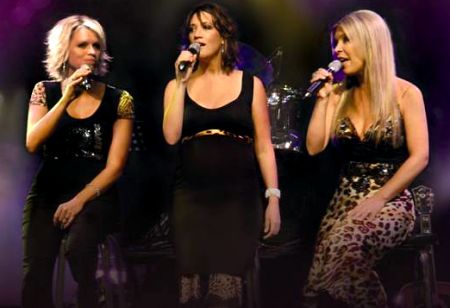 Sunraysia raised Sara Storer joins forces with Gina Jeffreys and Beccy Cole for a live concert DVD recorded at their concert in Tamworth in January.

Sara, 34 and a new mother, once lived near her sisters in song at hillbilly HQ on the NSW Central Coast.

But the former teacher whose folks moved their farming HQ from Wemen to beyond Dubbo, between Warren and Gulargambone many moons ago, now lives in Darwin suburb Larrakeya.

Storer and partner David O'Hare became parents of a son Harry on April 21.

It was just before the birth of Songbirds: You've Got a Friend DVD that Toowoomba born Jeffreys and Adelaide hills refugee Cole, now 38, cut at the TREC theatre.

The trio of singing mothers, with collective 26 Golden Guitars, are touring to promote the DVD - guests include Kasey Chambers, Troy Cassar-Daley and John Williamson.

We feature the video for the James Taylor penned title track on Nu Country this week.

"We decided to film the concert in Tamworth for a lot of reasons," Gina, 41, said.

"It was the place where we all met each other, and where I met my husband Rod McCormack and Beccy met ex-husband Mick Albeck. Both of them are on the DVD, which is only appropriate."

CLICK HERE for a Storer feature from the Diary on October 29, 2007.
CLICK HERE for a Jeffreys feature from the Diary on March 25, 2007
CLICK HERE for a Cole feature from the Diary on April 16, 2005.

WIN BROOKS & DUNN CDS
Sony-BMG has also given us extra copies of the Cowboy Town tour souvenir CD and bonus Greatest Hits CD.

Viewers who become members or renew membership for just $22 including postage can win the double CDs.

Please email us at music@nucountry.com.au with your pledge.

Important note - please email first - don't send your membership until you have been confirmed as a winner.

Brooks & Dunn have sold more than 30 million album since releasing their debut disc in 1991.

TAYLOR SWIFT FEARLESS CD OFFER
Universal Music has donated copies of teen sensation Taylor Swift's huge selling second album Fearless to Nu Country TV.

Viewers who become members or renew their membership can win the Fearless CD.

Swift, 19, played capacity audiences on her debut Australian tour in March and plans to return in 2010.

Please email us at music@nucountry.com.au with your pledge.

Important note - please email us first.

Don't send membership cheque until you have been confirmed as the winner.
WIN FELICITY URQUHART AND TROY CASSAR-DALEY

You can win autographed copies of the acclaimed new CDS by Felicity and Troy Cassar-Daley.

Felicity's sixth album Landing Lights is available here in shops on Shock.

Troy's seventh CD I Love This Place is on Liberation - the new recording home of Kasey Chambers and singing spouse Shane Nicholson.

All you have to do is become a member of Nu Country TV or renew membership.

It only costs $22 and includes postage.

Please email us first at music@nucountry.com.au and let us know which CD you would like.

We will then send you the CD on receipt of your cheque or money order made out to Nu Country Music.

WIN CATHERINE BRITT CDS
MIKE BRADY TOO
We have Catherine Britt's third CD Little Wildflower for viewers who wish to become members or renew membership.

Catherine, Adam Brand and Mike Brady were among artists who donated their talent to the Whittlesea Bushfire benefit on Saturday April 4.

Brady donated autographed copies of his Country To Country CD to viewers who become members or current members who renew their membership.

Mike was also a VIP guest host of Nu Country TV during our eighth series.

So for your membership you can win Mike's CD Country To Country or Catherine Britt's Little Wildflower CD.
WIN JASMINE RAE & STEVE FORDE CDS
We have the following CDS for viewers who email our web page and pledge $22 membership at music@nucountry.com.au .

Telstra Road To Tamworth winner Jasmine Rae's debut CD Look It Up.

We also have Steve Forde's fifth album Guns & Guitars.

Both Rae and Forde performed at the CMC Rocks The Snowy festival at Thredbo.

Jasmine also supported Brooks & Dunn and Bentley on some of their Australian concerts.
KACEY JONES CD, DVD, POSTER & TEE SHIRT PRIZES
Internationally renowned country comedienne, singer-songwriter and producer Kacey Jones has given us a box of autographed merchandise for viewers and members who renew their membership.

A highlight is her acclaimed tribute disc Kacey Jones Sings Mickey Newbury that is scheduled for Australian release in July.

We have autographed collectors' copies of the CD for viewers who want to become members of Nu Country TV.

She also autographed tee shirts and posters for Nu Country members.

For your $22 membership and postage you can take your pick of Kacey memorabilia. We have limited supplies so please email us at music@nucountry.com.au first.
WILLIE NELSON EXCLUSIVE BOOK
We also celebrate Shotgun Willie Nelson's 75th birthday on April 30 with a special giveaway of his collectors' book.

We have limited stock of Willie Nelson - The Collected Writings Of A Living Legend - The Facts Of Life And Other Dirty Jokes.

The book, featuring yarns, jokes and Willie Nelson song lyrics, is the latest addition to out prize treasure trove.

It's available for viewers wanting to become members or current members wishing to renew their membership.

Please email us at music@nucountry.com.au for a chance to win a copy of this book with your membership.

TANIA KERNAGHAN AUTOGRAPHED CDS
Tania Kernaghan offered autographed copies of fourth album Higher Ground to viewers who either become new members or renew their membership.

The album was produced in Santa Monica, Franklin, Nashville and the Gold Coast with Daniel Kresco.

Tania recorded 11 songs written by younger sister Fiona and producer Kresco on the acclaimed disc.

If you wish to be rewarded for membership with Tania's new CD please email us at music@nucountry.com.au.

We also have other CDS in our library as rewards for your valued membership - we rely on membership for our survival.