DAVE'S DIARY - 24/8/09 - PREVIEW OF EPISODE 12 - SERIES 12
MIRANDA AND MARTINA HEADLINE NU COUNTRY TV
We have two dynamic divas - with stark differences - headlining Nu Country TV this Saturday August 22 - at 9.30 p m on C 31.

Texan fireball Miranda Lambert is a hot tip to tour here over summer to promote her fourth album Revolution.

Lambert may bring her Oklahoma singing sweetheart Blake Shelton on the festival circuit.

We also have Kansas born Martina McBride who did a promo tour here the previous millenium - she and a brother performed a low-key gig in the Melbourne CBD.

Singing Sydney actor Craig Morrison, Cabramatta cowboy Chuck Stokes and sin city saddletramps The Yeehaa Boys perform on a show repeated Wednesday at 3.30 p m and Tuesday at 3.30 am
DEAD FLOWERS FOR REVOLUTION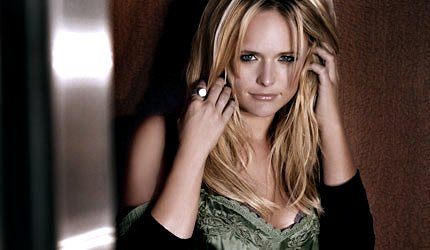 Miranda Lambert showcases the video for new hit Dead Flowers - it did not sprout from under rolling stones.

Lambert, 25, planted a floral February farewell for fourth disc Revolution, released on September 29.

"This was really one of those songs that just hit me," she said.

"It just wrote itself. It was about 30 minutes - and I'd written it. I'd thrown the flowers in the yard that I got for Valentine's Day. It was sad, you know. They weren't dead, but I had to leave and go on the road. They were going to be dead when I got back, so that's kind of where the song came from."

Miranda reunited with director Randee St. Nicholas to shoot the video after success with previous clip More Than Her.

Randee is a photographer whose video credits include another flower tune - Alan Jackson's Like Red on a Rose.

"The video is basically written around every single lyric of the song from dead flowers to Christmas lights to the wind. It's just a kind of a going through your house type of thing - just being really introverted and just really depressed about the state of your relationship. I love it when video directors take the lyrics of your song and really portray every single little detail because, as a writer, that's my baby, and I want it to be a real depiction."

Miranda emulates ex Sony label stable mate Gretchen Wilson by keeping Christmas lights up all year round and goes hunting with beau Shelton when not tossing out his flowers.

Like McBride, she has six wine lines.

Her mother Bev sells vino from her East Texas hometown Lindale with her jewellery range.

It's a more fashionable lubricant than those seized by guitarist dad Rick in his former career as an undercover narcotics officer in Dallas.

That was the city where fellow singer Jon Randall was sired by a cop before joining Emmylou Harris's Nash Ramblers and becoming one of Lorrie Morgan's five ex-husbands.

Lambert recently showcased Revolution at the famed Ryman - the mother ship of the original Grand Ole Opry.

The singer wrote most of her new disc but revived two songs by John Prine and Julie Miller.

CLICK HERE for a Lambert feature from the Diary on May 5, 2007.

MARTINA SHINES ON WINES
Kansas born chanteuse Martina McBride performs the video for I Just Call You Mine off her 10th album Shine.

McBride, 43 and mother of two, sources her Blackbird wine line from the famed Napa Valley north of San Francisco.

Martina and sound engineer husband John, whom she wed on May 15, 1988, operate Blackbird recording studio in Music City.

The singer, whose career began in family band The Shiffters in hometown Sharon, population 250, has also written new music she hopes to land in an upcoming film.

"I wrote this song with Rachel Thibodeaux and Tommy Lee James, and it just seems like it fits a movie, so we're trying to pitch it to some movie people," Martina said.
"The title is Unbreakable. We don't have particular movie in mind. We're just getting a really good demo so we could go out there and let people hear it, and see if they want to put it in their movie.

I've had a song in a film, but not a song that I've written. I Love You was in Runaway Bride and There You Are was in Where The Heart Is, but those songs were pulled off of albums, and I thought it would be fun to record a song specifically for a movie."

McBride produced her new album with Dan Huff - studio boss for expat Australasian superstar Keith Urban.

CLICK HERE for a Martina McBride in the Diary on July 31, 2007.
CRAIG MORRISON TURNS BACK
Sydney singer Craig Morrison was well equipped to act in the video clip for Turn Back from his album Heaven Knows.

Craig has appeared in Australian TV shows A Country Practice, Sons and Daughters, Earth Watch, Secret Valley and the movie Mull Earth Watch.

After 15 years on stages the multi-talented artist spent a year lived on the cutting edge of music in country HQ Nashville to source songs.
That was after a stint with pop group De Mont.

Craig had good genetics for both careers - he's the son of Lucky Starr who had a big hit with late Geoff Mack's song I've Been Everywhere.

Further info - www.craigmorrison.com.au
CHUCK STOKES - LIPSTICK & SIN
Chuck Stokes, like Craig, followed his dreams to the U.S. where he performed in Texas, California and Colorado.

Chuck recently drove his wagon south down Highway 31 to Brunswick to launch his band's second album Lipstick & Sin.

Chuck's Wagon, not to be confused with seventies band Chuck Wagon & The Wheels, perform the video for Black Road.

Stokes grew up in Sydney's wild west badlands beyond urban sprawl of Cabramatta.

It was there he learned guitar from a cricket teacher, wrote songs while working as a boilermaker, went to hell and back on booze and dope and indulged his love of roots music as a writer for street magazine On The Street.
But it was ascension to the mountain air of Wyoming that spiked Chuck's wagon.

"I fell in love with a cowgirl from Wyoming," Stokes revealed.

"I went and lived there for a few months, and that got me into country rock - bands such as Outlaws, Pure Prairie League, Marshall Tucker Band, Flying Burrito Brothers. I have loved country rock ever since."

"When I perform I like to say I grew up out west, Cabramatta West," quips Chuck.

"I was the eldest in a family that was not really into music, but my mum says I use to stand in front of the TV, and rock back and forth to Gene Autry. She was in Maroubra women's banjo club and they recorded one record so maybe I get country from there."

Further info - www.chuckswagon.com.au
YEEHAA BOYS IN RED CHUCK WAGON
Sydney's Yeehaa Boys return to Nu Country with new single Red Wagon.

The boys, headed by Mick Buckley, are refugees from rock bands diverse as Ted Mulry Gang, Noiseworks and Radiators.

Buckley graduated from rock to country while living in the U.S. for more than six years.

He was based in Louisiana and toured the south before coming home.

The Yeehaa Boys filmed their new video for Red Wagon at Randwick racecourse where Mascot singer Amber Lawrence filmed her clip for The Mile.

The red wagon rolled off their recent self-titled Blue Pie Records CD without any free promotion from the Chinese diplomats.

Further info - www.theyeehaaboys.com
MARYSVILLE COLLECTORS CD BONUS
New and renewing members of Nu Country TV will receive a copy of the Kane-Welch-Kaplin CD collectors' single Marysville during August and September.

The Kevin Welch penned single, recorded at Salt Studio in East Brighton, is a bonus gift to viewers - as well as the CD you choose from our rewards listed below.

It compliments our TV show mini-docco on the trio's donation of their song to the Vinnies After The Fire CD.

After The Fire is available at Vinnies centres in Victoria and Tasmania, The Last Record Store - Collingwood, Capricorn Records Warrnambool and J B Hi-Fi stores.

WIN DIERKS BENTLEY CD

EMI Records has provided Nu Country TV with Arizona born Dierks Bentley's fifth chart topping CD Feel That Fire.

Bentley won an enthusiastic following on his debut Australian tour in May with superstars Brooks & Dunn.

Feel That Fire has already produced two U.S. #1 hits - the title track and Sideways.

Bentley, 33, has scored seven #1 hits since leaving Phoenix for Nashville as a teenager.

Dierks trails only expatriate Australasian superstar Keith Urban as most played male artist on U.S. country radio so far this year.

The father of two is currently blitzing the U.S with West Virginia born star Brad Paisley on his American Saturday Night tour.

Bentley plans to return to Australia for a second tour to capitalise on his growing fan base.

The singer has broadened his music by including bluegrass - featuring the famed McCoury family - on albums dating back to his indie debut Danglin' Rope.

He has also recorded duets with prolific Grammy winner Alison Krauss and Texan chanteuse Patty Griffin.

Win Feel That Fire by becoming a member of Nu Country or renewing membership.
It only costs $20 including postage.

Please email us first at music@nucountry.com.au

We will then send you the CD on receipt of your cheque or money order made out to Nu Country Music.
WIN SLIM DUSTY CLASSIC BOX SET
We have more good news for viewers - EMI Records has given us an invaluable collectors' item - a brace of the 4 Box sets by late Australian country legend Slim Dusty.

Sittin' On 80 features a lost, classic track discovered by Slim's widow Joy McKean.

Joy found Give Me Room from a 1997 recording at their home studio Columbia Lane.

It was written by one of Slim's favourite writers John Dohling - outback station hand and good mate who passed away in November last year.

Sadly he never heard the final version of Slim's recording of his classic trucking song.
It has now been released as a single and included on Sittin' On 80.

Slim's legendary Travelling Country Band played on the song that has been digitally re-mastered by Australia's mastering guru Don Bartley.

All you have to do to win Slim's 4 CD Box set is become a member of Nu Country TV or renew your membership.

It only costs $20 and includes postage.

Please email us first at music@nucountry.com.au

We will then send you the CD on receipt of your cheque or money order made out to Nu Country Music.
WIN BROOKS & DUNN CDS
Sony-BMG has also given us extra copies of the Cowboy Town tour souvenir CD and bonus Greatest Hits CD.

Viewers who become members or renew membership for just $22 including postage can win the double CDs.

Please email us at music@nucountry.com.au with your pledge.

Important note - please email first - don't send your membership until you have been confirmed as a winner.

Brooks & Dunn have sold more than 30 million album since releasing their debut disc in 1991.

TAYLOR SWIFT FEARLESS CD OFFER
Universal Music has donated copies of teen sensation Taylor Swift's huge selling second album Fearless to Nu Country TV.

Viewers who become members or renew their membership can win the Fearless CD.

Swift, 19, played capacity audiences on her debut Australian tour in March and plans to return in 2010.

Please email us at music@nucountry.com.au with your pledge.

Important note - please email us first.

Don't send membership cheque until you have been confirmed as the winner.
WIN CATHERINE BRITT CDS
MIKE BRADY TOO
We have Catherine Britt's third CD Little Wildflower for viewers who wish to become members or renew membership.

Catherine, Adam Brand and Mike Brady were among artists who donated their talent to the Whittlesea Bushfire benefit on Saturday April 4.

Brady donated autographed copies of his Country To Country CD to viewers who become members or current members who renew their membership.

Mike was also a VIP guest host of Nu Country TV during our eighth series.

So for your membership you can win Mike's CD Country To Country or Catherine Britt's Little Wildflower CD.
WIN JASMINE RAE & STEVE FORDE CDS
We have the following CDS for viewers who email our web page and pledge $22 membership at music@nucountry.com.au .

Telstra Road To Tamworth winner Jasmine Rae's debut CD Look It Up.

We also have Steve Forde's fifth album Guns & Guitars.

Both Rae and Forde performed at the CMC Rocks The Snowy festival at Thredbo.

Jasmine also supported Brooks & Dunn and Bentley on some of their Australian concerts.
KACEY JONES CD, DVD, POSTER & TEE SHIRT PRIZES
Internationally renowned country comedienne, singer-songwriter and producer Kacey Jones has given us a box of autographed merchandise for viewers and members who renew their membership.

A highlight is her acclaimed tribute disc Kacey Jones Sings Mickey Newbury that is scheduled for Australian release in July.

We have autographed collectors' copies of the CD for viewers who want to become members of Nu Country TV.

She also autographed tee shirts and posters for Nu Country members.

For your $22 membership and postage you can take your pick of Kacey memorabilia. We have limited supplies so please email us at music@nucountry.com.au first.
WILLIE NELSON EXCLUSIVE BOOK
We also celebrate Shotgun Willie Nelson's 75th birthday on April 30 with a special giveaway of his collectors' book.

We have limited stock of Willie Nelson - The Collected Writings Of A Living Legend - The Facts Of Life And Other Dirty Jokes.

The book, featuring yarns, jokes and Willie Nelson song lyrics, is the latest addition to out prize treasure trove.

It's available for viewers wanting to become members or current members wishing to renew their membership.

Please email us at music@nucountry.com.au for a chance to win a copy of this book with your membership.

We also have other CDS in our library as rewards for your valued membership - we rely on membership for our survival.