DAVE'S DIARY - 22/7/08 - PREVIEW OF EPISODE 8 - SERIES 10
DALE WATSON AND GARTH BROOKS HEADLINE NU COUNTRY TV
We feature Texan singer Dale Watson and the Oklahoma born superstar dubbed the anti-Hank headline Nu Country TV this Saturday - July 26 - at 8.30 p m on C 31.

Watson, 45, performs satirical tune Hollywood Hillbilly from his 14th album From The Cradle To The Grave on a show hosted by Mid Pacific Bob Olson.

And Garth Brooks, also 45, debuts his video for More Than A Memory from triple platinum Ultimate Hits.

Texan singer LeAnn Rimes also returns to Nu Country with Nothing Better To Do off her 10th album Family.

Canadian band Emerson Drive debuts with #1 hit Moments on a show, repeated on Thursday at 9.30 am and Saturday at 4.30 am.

Popular rural reared Australian chanteuses Dianna Corcoran and Nicki Gillis also perform their new videos.
DALE WATSON NO HOLLYWOOD HILLBILLY
Tattooed troubadour Dale Watson has won a passionate army of fans on his five tours of Australia.

Controversial actor Johnny Knoxville, who played Gram Parsons tour manager Phil Kaufman in cult movie Grand Theft Parsons, directed Watson's video of Hollywood Hillbilly.

Kaufman, long time tour manager of Emmylou Harris, and little Aussie mate Michael Martin stole Gram's body from Van Nuys airport and burned it in the desert at Joshua Tree.
Parsons died at 26 from a booze and dope overdose on June 19, 1973.

The creative cut-rate cremation was a sequel to a death pact made two months earlier by Parsons and Kaufman at the funeral of Byrds guitarist Clarence White, killed by a drunk driver.

< photo by Linda Di Nola
Ironically, Grand Theft Parsons featured at the Nashville film festival on the same bill as the Nick Brenner directed docco on Nu Country FM.

Knoxville owns the cabin, once a retreat for Watson's mentor - the late Johnny Cash - where Billy Joe Shaver also recorded his gospel album Everybody's Brother.

The Cash Cabin Studio - on 40 acres of woods near Hendersonville - was also locale for Carlene Carter's recording demos for 10th album Stronger.

Watson is no stranger to movies.

He scored a cameo in the 1993 Bluebird Café film The Thing Called Love starring the late River Phoenix and Sandra Bullock with cameos by Kevin Welch, Pam Tillis and Brooks second wife - Trisha Yearwood.

Art imitated life for Dale when cast with David Carradine in the movie Austin Angel.

Director Zalman King (9 1/2 Weeks and Red Shoe Diaries) decided Watson's tragic life was worthy of a documentary and made it instead.

CLICK HERE for a Watson feature from the Diary on February 21, 2007.
CLICK HERE for a review from our concert reviews on February 28, 2007.
GARTH BROOKS MORE THAN A MEMORY
Oklahoma born superstar Garth Brooks - third husband of Georgian born star Trisha Yearwood - has not been idle in retirement.

Brooks attained quintuple platinum status with his Ultimate Hits disc that featured his song More Than A Memory and pushed career sales beyond 128 million.

The singer performs the video of More Than A Memory on Nu Country this week.

Working For A Living and honky-tonkin' Midnight Sun are the other new songs on the Hits compilation
Garth, father of three daughters, and singing spouse Trisha, 44, have bought a Malibu beachfront mansion that was listed for sale at $5.45 million.

The house is behind gates and on half an acre with beach access and three bedrooms and 3 1/2 bathrooms.

The master bedroom has hardwood floors; flooring elsewhere is stone and carpet.

In 1997 Yearwood won Grammys for best female country vocal performance for How Do I Live and best country vocal collaboration (with Brooks) for In Another's Eyes.

Her latest album was Heaven, Heartache & the Power of Love in 2007 for indie label Big Machine.

Universal also released a compilation from her 12 albums and 16 years on that label.

Keith Urban sang backing vocals on Let the Wind Chase You from the Big Machine disc by the singer who was wed to Mavericks bassist Robert Reynolds for five years.

Brooks told Nashville singer-songwriter-radio star Gerry House in a recent interview he's working on some screenplays for possible films.

"I haven't got anything green-lit yet," he said.

CLICK HERE for a Brooks-Yearwood story from The Diary on August 31, 2005.

LEANN RIMES - NOTHING BETTER TO

Texan child star LeAnn Rimes also recorded a version of Yearwood's Grammy award wining hit How Do I Live from the Con-Air movie.

But this week she performs a video for Nothing Better To Do from 10th album Family.

It was filmed at the historic, long closed Tennessee State Penitentiary with input from Dean Sheremet - her actor husband of six years.

Dean Miller, son of the late country legend Roger, appeared in The Last Castle movie with Robert Redford and James Gandolfino at the jail.

Recently deceased Porter Wagoner filmed the video for his Johnny Cash penned hit Committed To Parkview at the same locale.
"I was this girl who grew up in Pelahachie, Mississippi, until I was 6 years old," Rimes said in recent interview.

"I grew up across the street from the shop that sold bait, chips, beer and ammunition.

What would have happened if I would've never left that small town, with nothing better to do?"

The video features Rimes, all pin curls and finger waves, kicking and preening in a women's prison, circa 1930.

The clip has Chicago-inspired dance sequences, choreographed by Sheremet.

It was a 22-hour shoot that culminated on death row at that infamous locale.

Rimes, now aged 25, has sold 26 million albums since having her #1 hit Blue at 13.

Rimes co-wrote all of Family's 12 new tracks, including several with husband Dean.

Longtime producer Dan Huff helmed the disc.

Two bonus duets, featured on recent albums by Reba McEntire and Jon Bon Jovi, also are included.

Rimes appeared in the Coyote Ugly movie and wrote two illustrated books about a jaguar named Jag; an animated TV series.

She was also in Good Intentions - a film that also stars Luke Perry who played rodeo champ Lane Frost in the 1994 movie 8 Seconds.

Rimes reinvented herself on recent CDs - This Woman (2005) and Family (2007) - after an ill-fated pop foray on Twisted Angel in 2002.

Rimes had a public falling out with her father Wilbur - the key for her early career.

The new disc features a song What I Cannot Change that may cover that topic.

"Yeah I don't know my father," she sings.

"Or my mother well enough/it seems like every time we talk/we can't get passed the little stuff/the pain is self-inflicted/I know it's not good for my health/but it's easier to please the world/than it is to please myself."

So does the title track.

"We're best of friends and worst enemies/we're all to blame, we're all the same," she sings.
"Make no apologies/This is my family."

CLICK HERE for a Rimes story from the Diary on October 25, 2003.
EMERSON DRIVE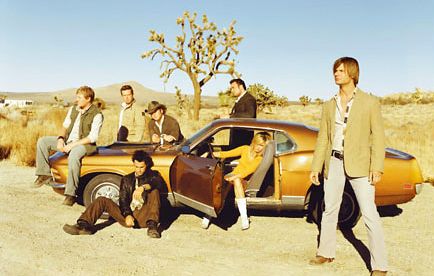 Canadian band Emerson Drive debuts on Nu Country with Moments - a song inspired by an episode of the Twilight Zone.

It had a #1 hit with the song from third album Countrified before former bassist Patrick Bourque committed suicide last year at the age of 29.

Bourque resigned from Emerson Drive in August of 2007 and returned to Canada to work.

He replaced Emerson Drive's original bass player, Jeff Loberg, in 2003.

Emerson Drive members learned of his death, on the eve of his 30th birthday, while travelling to a concert at a casino in Valentine, Nebraska.

Lead singer Brad Mates said the band was reluctant to record the song because of its topic - a war veteran contemplating suicide.

"I was a little scared of it in the beginning just because I hadn't gone through anything like that in my life before where it was really traumatic," Mates said.

"I wanted to make sure that if I was going to sing this song, it was believable. It's obviously pretty ironic now that we have a song about suicide go No. 1, and we lose one of our members Patrick to suicide in the same year. It's crazy, and obviously meant for this band for a reason. I'm just so excited to know it still carries on."

The song's writers Sam and Annie Tate and Dave Berg vividly recalled their source.

"I remembered I had seen an old episode of The Twilight Zone, and it's about a guy who is very rich and is blind," Sam Tate revealed.

"And they've developed this new operation that would give him sight, but he had to take someone else's eyes. And this little guy comes in and someone tells him, You know you're going to be blind.' And he says, 'Look, I've seen it all. I saw DiMaggio hit the home run in '54." And he's going through these things that he said he had seen and it just kind of clicked in my head and I said, "Like that plane ride coming home from the war. Like that summer my son was born."

"And I said, "I've got it. A guy comes out of a cardboard box on a bridge," and Dave and Annie just looked at me. And after we finished the song, Annie looked at me and said, "That's the guy you would have been if I hadn't married you." And I said, "The guy in the box?"

Annie Tate said Sam Tate had a personal connection with the song.

"Sam really identifies with the song because he was in Vietnam. So when he said, 'The plane ride coming home from the war, and the summer my son was born. 'He has a son, and I realised, "Oh my gosh, Sam is connecting to this song." That's when I knew it was going to be good."

Further info - http://emersondrive.musiccitynetworks.com/
NICKI GILLIS
Nicki Gillis returns to Nu Country with Honey I Don't Have Time from second album Lucy's Daughter.

She grew up on a market garden at Wanneroo near Perth and played Red Hill festival in January.

Former Bushwackers member Roger Corbett produced the disc at Valley Studio.

Nicki recently released the album's second single Remember Me and calls the Blue Mountains home.

Gillis won a Gympie Muster talent quest in 1996 and previously released Don Walker penned Flame Trees as a single.

Nicki recorded that song as a tribute to Australian troops in Iraq where she toured in 2006 with Lee Harding and country artist Stacey Morris.

The singer also headlined the World Women's Hockey Championships in 2002 and performed via satellite to viewers in 16 countries.
Nicki previously joined Newcastle-based artist Brooke Leal in the duo Velvet Moon.
Further Info - www.nickigillis.com.au
DIANNA CORCORAN
Parkes born Dianna Corcoran performs the video clip of If You Hear Angels from her second album Then There's Me.

Dianna won a best new talent Golden Guitar in Tamworth in 2003 for I'll Fly Away - first single from her independent debut disc Little Bit Crazy.

It was produced by Adelaide based Quentin Eyers and showcased her sweet soprano and song writing.

Now the singer, on Compass Bros Records, followed fellow Golden Guitar winner Kylie Sackley to Nashville to chance her vocals and writing in the big league.

Corcoran won a $10,000 prize at the 2nd APRA Professional Development Awards in March of 2004.

She also performed a duet with Karl Broadie on his song Count Your Blessings from his third album One Millon Emeralds.

The duo met through a songwriting sojourn.
"We were asked to write with each other for Diana's latest album," Broadie revealed.

"We wrote a few songs. All Gone Blue made it onto her new album Then There's Me. During those sessions I heard a side to her voice - a real raw voice. My producer Matt Fell and I were floored by her voice. Man she can sing. I didn't know about her yodelling until much later. She's a wonderful singer and wonderful girl."

Further info - www.compassbros.com.au
KACEY JONES CDS AND TEE SHIRTS TOO
Kacey Jones has donated autographed copies of her acclaimed tribute CD to the late, legendary Texan singer-songwriter Mickey Newbury to Nu Country.

Nu Country has featured the CD video clips San Francisco Mabel Joy and Lie To Me Darlin' featuring Texan singer-songwriters Kris Kristofferson and Waylon Payne.

The CD - to be released here in July - is one of many rewards for viewers to become members or renew their much-appreciated memberships.

Kacey also autographed tee shirts and posters for Nu Country members.

For your $22 membership and postage you can take your pick of Kacey memorabilia. We have limited supplies so please email us at music@nucountry.com.au first.
WIN ADAM BRAND CD-DVD PRIZES
We have more good tidings for viewers wanting to join Nu Country TV and keep us on air in Victoria, Queensland, South Australia and New Zealand.

Major independent label Compass Brothers has donated autographed copies of Adam Brand's seventh disc Blame It On Eve for viewers who become Nu Country members or renew their membership.

The CD has a bonus DVD of the making of the album and the video clip of Get On Down The Road that we aired on our show.

Adam also did an exclusive interview with Nu Country TV that we have broken up into two episodes during Series #10.

We have limited supplies of Adam's big selling CD-DVD so please email us first at music@nucountry.com.au so we can allocate your reward.

Adam performs at Crown Casino in Melbourne on August 2 with Compass Brothers stable-mates James Blundell and The Sunny Cowgirls.

CLICK HERE for the Adam Brand interview from the Diary on March 3, 2008.
WIN CATHERINE BRITT AND MELINDA SCHNEIDER DISCS
We also have the latest CDS by Aussie stars Melinda Schneider and Catherine Britt as a reward for new members and renewing members.

Melinda hosts an upcoming episode of Nu Country and has donated copies of her fifth CD Be Yourself.

And Catherine and her record company ABC-Warner provided autographed copies of her third CD Little Wildflower.

We have limited supplies of Melinda and Catherine's big selling CDs so please email us first at music@nucountry.com.au so we can allocate your reward.
WILLIE NELSON BOOK PRIZES
We also celebrated Shotgun Willie Nelson's 75th birthday on April 30 with a special giveaway of his collectors' book.

We have limited stock of Willie Nelson - The Collected Writings Of A Living Legend - The Facts Of Life And Other Dirty Jokes.

The book, featuring yarns, jokes and Willie Nelson song lyrics, is the latest addition to our prize treasure trove.

It's available for viewers wanting to become members or current members wishing to renew membership.

Please email us at music@nucountry.com.au for a chance to win a copy of this book with your membership.

We also have autographed copies of Mike Brady's new album Country To Country and others by Troy Cassar-Daley, Tania Kernaghan and Arizona singer Billy Wyatt.

CLICK HERE for our Membership Page.