DAVE'S DIARY - 15/7/08 - PREVIEW OF EPISODE 7 - SERIES 10
KACEY JONES & BECKY HOBBS LIVE CONCERT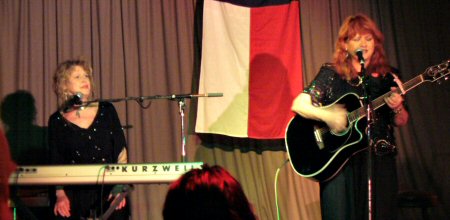 Kacey Jones & Becky Hobbs - Noise Bar
International country stars Kacey Jones and Becky Hobbs headline the Nu Country TV concert from the Noise Bar, Brunswick, this Saturday - July 19 - at 8.30 p m on C 31.

The duo won wide acclaim for the exclusive concert on Friday February 1 during their first Australian tour that began on the famous Tamworth Train.

Our Series #10 editor Sean Tierney and Timothy Cole filmed the two stars after their major concerts in Tamworth and Sydney.

Jones and Hobbs were touring to promote their rich country catalogues dating back to the eighties on a show that is repeated Thursday - 9.30 am - and Saturday 4.30 am.

Californian born Kacey fronted Ethel & The Shameless Hussies when they cut debut disc Born To Burn in 1988.

She proved depth of her talent by showcased hilarious songs from her comedy albums and her evocative Mickey Newbury tribute disc, out here this month.

Fellow Californian born Mid Pacific Bob Olson hosts this week's show for Jones who also performed on Derek Guille's popular nocturnal show on 774-AM on the ABC.

Comedienne Jones also landed three songs in Olivia Newton-John movie Sordid Lives that has now inspired a sit-com on U.S. cable television.

Kacey and Becky also reached way back into their musical history for a memorable performance on David Heard's eclectic Acid Country show on PBS-FM.

Hobbs, born in Bartlesville, Oklahoma, turned 58 in Tamworth, and impressed with a vast variety of songs from Best Of The Beckaroo Part 1 and her rich back catalogue.

Beckaroo features songs from her albums from 1988-2001 - All Keyed Up, The Boots I Came To Town In, From Oklahoma With Love, Swedish Coffee & American Sugar and Hottest Ex In Texas.

CLICK HERE for a Kacey Jones feature from the Diary on January 20, 2008.
CLICK HERE for a Becky Hobbs feature from the Diary on December 15, 2007.
CLICK HERE for their Noise Bar review from our concert section.
CLICK HERE for our exclusive on the road feature on Kacey and Becky from
our Diary on February 11, 2008.
KACEY JONES CDS AND TEE SHIRTS TOO
Kacey Jones has donated autographed copies of her acclaimed tribute CD to the late, legendary Texan singer-songwriter Mickey Newbury to Nu Country.

Nu Country has featured the CD video clips San Francisco Mabel Joy and Lie To Me Darlin' featuring Texan singer-songwriters Kris Kristofferson and Waylon Payne.

The CD - to be released here in July - is one of many rewards for viewers to become members or renew their much-appreciated memberships.

Kacey also autographed tee shirts and posters for Nu Country members.

For your $22 membership and postage you can take your pick of Kacey memorabilia. We have limited supplies so please email us at music@nucountry.com.au first.
LESLIE AVRIL AND BONA FIDE TRAVELLERS
Former Nu Country FM DJ and singer Leslie Avril joined Becky and Kacey on stage in Tamworth and at the Noise Bar for riveting versions of the Hobbs classic Cowgirls Heart.

Leslie recorded the evocative song on her debut disc Champagne & Desolation - first of three Avril albums released here.

Snowy Townsend's Bona Fide Travellers, featuring Nu Country audio technician and Dead Livers guitarist Rodger Delfos, also performed on the marathon concert.

Hobbs played Delfos's daughter Connie's Kurzweil piano at their Noise Bar concert.

WIN ADAM BRAND CD-DVD PRIZES
We have more good tidings for viewers wanting to join Nu Country TV and keep us on air in Victoria, Queensland, South Australia and New Zealand.

Major independent label Compass Brothers has donated autographed copies of Adam Brand's seventh disc Blame It On Eve for viewers who become Nu Country members or renew their membership.

The CD has a bonus DVD of the making of the album and the video clip of Get On Down The Road that we aired on our show.

Adam also did an exclusive interview with Nu Country TV that we have broken up into two episodes during Series #10.

We have limited supplies of Adam's big selling CD-DVD so please email us first at music@nucountry.com.au so we can allocate your reward.

Adam performs at Crown Casino in Melbourne on August 2 with Compass Brothers stable-mates James Blundell and The Sunny Cowgirls.

CLICK HERE for the Adam Brand interview from the Diary on March 3, 2008.

WIN CATHERINE BRITT AND MELINDA SCHNEIDER DISCS
We also have the latest CDS by Aussie stars Melinda Schneider and Catherine Britt as a reward for new members and renewing members.

Melinda hosts an upcoming episode of Nu Country and has donated copies of her fifth CD Be Yourself.

And Catherine and her record company ABC-Warner provided autographed copies of her third CD Little Wildflower.

We have limited supplies of Melinda and Catherine's big selling CDs so please email us first at music@nucountry.com.au so we can allocate your reward.
WILLIE NELSON BOOK PRIZES
We also celebrated Shotgun Willie Nelson's 75th birthday on April 30 with a special giveaway of his collectors' book.

We have limited stock of Willie Nelson - The Collected Writings Of A Living Legend - The Facts Of Life And Other Dirty Jokes.

The book, featuring yarns, jokes and Willie Nelson song lyrics, is the latest addition to our prize treasure trove.

It's available for viewers wanting to become members or current members wishing to renew membership.

Please email us at music@nucountry.com.au for a chance to win a copy of this book with your membership.

We also have autographed copies of Mike Brady's new album Country To Country and others by Troy Cassar-Daley, Tania Kernaghan and Arizona singer Billy Wyatt.

CLICK HERE for our Membership Page.