DAVE'S DIARY - 7/7/08 - PREVIEW OF EPISODE 6 - SERIES 10
TIM MCGRAW HEADLINES NU COUNTRY TV
Singing actor Tim McGraw headlines Nu Country TV - Saturday July 12 at 8. 30 p m on C 31 - with a song made famous by the late Eddie Rabbitt in 1979.

Recently wed Dancing With The Stars diva Sara Evans also returns to the show that is repeated on Thursday at 9.30 a.m. and Friday at 4.30 am.

The show also features the debut of renowned Melbourne soul singer Kerri Simpson and Darwin damsel Tracy Bunn.

Series #10 editor Sean Tierney filmed Tracy, famed for her Northern Territory band Toe Sucking Cowgirls, at our 2007 Christmas party at Hotel Kew.

Well-travelled singing teacher Luke O'Shea also returns with The Medicine Wheel.

And we also feature Johland miner's son Rob Black who came in from the coal after graduating from Queensland Conservatorium of Music.

TIM - MOVIES AND MAYHEM
Louisiana born superstar and latter day actor Tim McGraw revives Suspicions - a #1 hit for Brooklyn born star Eddie Rabbitt who died at 56 on May 7, 1998.

It's also on McGraw's ninth album Let It Go.

Tim, son of late baseball star Tug McGraw, is also a prolific actor.

He stars in his fifth movie Four Christmases with Reese Witherspoon, Robert Duvall, Vince Vaughn & Dwight Yoakam.

McGraw, who plays Vaughn's brother, also had roles in Black Cloud, Friday Night Lights, Flicka and The Kingdom.

The husband of singing actress Faith Hill now has cologne McGraw by Tim McGraw on the market with Coty.
But that's not the reason his stage was invaded by a fan in Auburn, Washington, on June 24.
McGraw helped members of his stage crew eject the fan who assaulted a woman.

A video of the incident surfaced on several Internet sites.

McGraw was performing 1994 hit, Indian Outlaw, when he stopped singing.

He yelled, "Get rid of this guy! Security!"

At that point, McGraw knelt down and began pulling the man onstage.

Members of his stage crew showed up immediately to assist McGraw.

The fan Marcus Nirschl, 30, was wearing a wife-beater T-shirt.

McGraw returned to singing the song.

He began with the line that began, "I'm not lookin' for trouble."

Nirschl, 30, a union glazer from Kent, Washington still likes Tim McGraw.

"I had a third row seat I paid $120 for," Nirschl said.

"I showed them my ticket, but they still made me leave," he said.

McGraw's perfume is well hyped - in the advertising.

"The sleek silver cap to the black leather-like collar, which resembles the brim of his signature cowboy hat, the McGraw bottle is masculine and sophisticated."

CLICK HERE for a Tim McGraw CD review in the Diary on June 11, 2007.
SARA EVANS - LOVE AND OTHER BRUISES
Missouri minstrel Sara Evans returns to Nu Country with a video for As If - one of four new songs on her latest Greatest Hits disc.

The Boonesville belle was shopping for men in the video.

In real life she found one - latter day radio talkback host Jay Barker.

Sara hired a wedding planner to organise her marriage to Jay - the quarterback of University of Alabama's 1992 championship team.

Sara pulled out of Dancing with the Stars in 2006 after filing for divorce from Craig Schelske - her husband of 13 years.

Evans, 40 and mother of three daughters, vividly recalls making the video for As If.

"That particular day was a stressful day, personally, for me," Evans revealed.

"There was a lot of stuff going on. I remember thinking, 'Oh, I just don't want to be here.
I'm not in the mood. I'm probably going to hate everything that I wear.' It was the first time we worked with Roman White and, instantly, he changed my whole attitude, and it was the best video shoot ever. I mean, seriously, it was so much fun. His concept was so funny - shopping for men. We had a great time, and my part only took about 10 hours, which is relatively short for a video shoot. I was mad, though, that I literally couldn't buy one of those men to take home."
Evans has broadened her music since debuting with Peter Anderson produced stone country album Three Chords And The Truth.

"It was really, really traditional, and even retro to a certain extent," Evans says.

She landed a tune in the Joaquin Phoenix-Janeane Garofalo-Vince Vaughn movie Clay Pigeons and cut I Don't Want Play House for the Tammy Wynette tribute disc and performed on the Yoakam Sing For Food tribute disc.

CLICK HERE FOR A Sara Evans feature from the Diary on July 18, 2007
TRACEY BUNN - FROM DARWIN TO KEW
Tracy Bunn made the ultimate sacrifice - she flew from Darwin to the Hotel Kew to ignite our 2007 Christmas party with her song Little Girl, Big Heart.

Tracy lives in the Northern Territory and made three albums with her Toe Sucking Cowgirls before a solo career with Bareback Riders.

Bunn on rhythm guitar and Glenyss Rae Virus - fiddle and squeezebox - gave the band an accessible sound in its six-year career.
In November 2001, Tracey and Glenyss recorded debut 15 track CD Flamin' Sheilas with producer Michael Vidale (Feral Swing Katz, Whitlams, Jimmy & the Boys) and Marcus Holden (Fiddlers Festival).
Their independent CD featured memorable tunes My Friends The Bottle And George Jones, Austin Syndrome, Timber Creek and Heart Of Our Town.

It made top ten for group/duo & instrumental sections of 2003 Golden Guitar Awards in Tamworth.

The disc was also a Victorian Country Music Awards finalist in Best New Talent and Instrumental.

They also released 2005 CD Thirteen Thongs with Two Pot Screamer, Tennant Creek, Hippy Shampoo and Plastic Jesus among highlights.

ARIA Award winner Richard Pleasance produced the disc that featured pedal steel by Ray Cullen of the Red Hot Poker Dots and mandolin by Lindsay Martin.

The music featured bluegrass, swing, polka, blues, ballads and bawdy tales of lust, liquor and life on the road.

Glenyss has since fronted Tamworth Playboys and performed with former Git gals Sara Carroll and Suzannah Espie in The Junes in Victoria and ABC quiz show Spicks & Specks.

Nu Country TV Series #10 editor Sean Tierney filmed Tracey and her band on a star studded bill at the lavish Christmas party.

Further info - http://www.myspace.com/traceybunnmusic
KERRI SIMPSON DEBUT
Melbourne blues and soul singer Kerri Simpson dips her toes into the country genre with the title track of her seventh album Maybe My Midnight.

The acclaimed chanteuse has a rich musical heritage with frequent overseas tours and TV shows.

She spent her formative years playing and writing in the US and Europe where she was showcased on Chicago radio.

In 1998 she recorded ARIA nominated CD Confessin' the Blues that also won airplay in the U.S. and Canada.

Shortly after Kerri supported Dr John and Keb Mo on their national tour and worked in New Orleans where she performed with Aaron Neville Jr at 1999 Jazz and Heritage Festival.
Simpson preceded expatriate Australasian superstar Keith Urban as one of the first homegrown acts to appear at the prestigious festival.

She was also the first Australian female to perform there.

In 1998 Kerri travelled to Haiti and New Orleans to make field recordings of Vodou rituals and compose songs for her Songs of the Spirits album.

Compositions for the album were co written with David Bridie, Ollie Olsen, Ray Periera, Chris Wilson, Paul Kelly, Lou Bennett, Simon Polinski, Norman Caesar, Jason Neville and Tajee Quilens.

The recordings were featured on US documentary Island of Salvation.

Kerri recently played Kingston Harvest festival in Carrum and recorded with her band - Prodigal Sons

Further info - http://www.kerrisimpson.com/

LUKE O'SHEA
Well-travelled schoolteacher and troubadour Luke O'Shea returns to Nu Country TV with the title track of his second album Listen To The Words.

Luke has developed a vast catalogue of songs after teaching stints in Japan, Korea, Ireland, U.S., Far North Queensland and the Torres Strait.

He debuted on Nu Country back in 2003 when he performed at the Buck N Bull in Tottenham and Armadale Hotel in our first series.

O'Shea appeared during a rare Victorian tour in 2003 to build on his national TV and community radio exposure.

The Sydney singer was discovered on ABC TV show Live At The Basement.
The Basement shows are broadcast live to the net and feature artists diverse as singing Texan crime novelist Kinky Friedman, fellow Texan legend Billy Joe Shaver, Kieran Kane & Kevin Welch and former U.S. President Bill Clinton playing air saxophone at a concert by Canadian jazz legend Maynard Ferguson.

Further Info - http://www.lukeoshea.com/

CLICK HERE for a Luke O'Shea feature from the Diary on May 12, 2004.
ROB BLACK TURNS UP RADIO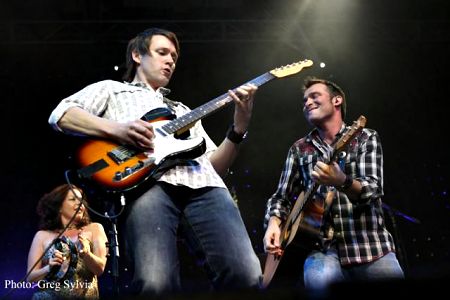 Rob Black & Adam Brand
Queensland country singer Rob Black debuts on Nu Country with the video for Turn Up Your Radio from his new album The Regular Guy.

At 17 Rob studied at Queensland Conservatorium of Music - he grew up in the Cental Queensland town of Middlemount where his dad was a miner.

Rob's father used to pick guitar to prepare him for working in the mines.

Rob honed his talents on guitar and taught himself complicated Chet Atkins solos one note at a time using the pause button on a cassette player.

Black arrived at the Conservatorium to do a Diploma of Music in classical guitar - but he almost came without a guitar.

"I was riding in on my pushbike, my $180 classical guitar - in its classy vinyl case - in my right hand," Rob recalled.

"I turned a corner and the end of the guitar caught in the spokes, snapping the headstock as I went over the handlebars. Luckily it was a low speed accident, and with a little D.I.Y fix-it job, I was able to get through those first few months."

When Rob began his career as a performer gaffer tape again played a part.

"I had set up my guitar as a bit of a stunt guitar so I could throw it around my head," Rob says. "But there was this time at the Tamworth Country Music Festival when I failed to do my routine maintenance check. I threw the guitar and it just kept going, ending up in a tangled mess of wires at the bass player's feet."

Rob played on after taking a short break to tape up his guitar but had to spend the next day - a memorable birthday - searching Tamworth for guitar parts.

Black's big break came when he entered the Toyota Starmaker competition.

"I decided to have a go because it had helped other artists, including Keith Urban," he says. "I didn't win but the head of Compass Bros was one of the judges and he was impressed enough to phone two days later to talk about a deal. It was one of those phone calls that every unsigned artist dreams about. It seemed that all those nights of reading myself Anthony Robbins motivational bed time stories had finally paid off."

Further info - http://www.robblackmusic.com/
WIN ADAM BRAND CD-DVD PRIZES
We have more good tidings for viewers wanting to join Nu Country TV and keep us on air in Victoria, Queensland, South Australia and New Zealand.

Major independent label Compass Brothers has donated autographed copies of Adam Brand's seventh disc Blame It On Eve for viewers who become Nu Country members or renew their membership.

The CD has a bonus DVD of the making of the album and the video clip of Get On Down The Road that we aired on our show.

Adam also did an exclusive interview with Nu Country TV that we have broken up into two episodes during Series #10.

We have limited supplies of Adam's big selling CD-DVD so please email us first at music@nucountry.com.au so we can allocate your reward.

Adam performs at Crown Casino in Melbourne on August 2 with Compass Brothers stable-mates James Blundell and The Sunny Cowgirls.

CLICK HERE for the Adam Brand interview from the Diary on March 3, 2008.
KACEY JONES CDS AND TEE SHIRTS TOO
We'll feature highlights of the Kacey Jones-Becky Hobbs concert at the Noise Bar as a preview for our special later in this series.

Kacey Jones has donated autographed copies of her acclaimed tribute CD to the late, legendary Texan singer-songwriter Mickey Newbury to Nu Country.

Nu Country has featured the CD video clips San Francisco Mabel Joy and Lie To Me Darlin' featuring Texan singer-songwriters Kris Kristofferson and Waylon Payne.

The CD - to be released here in July - is one of many rewards for viewers to become members or renew their much-appreciated memberships.

Kacey also autographed tee shirts and posters for Nu Country members.

For your $22 membership and postage you can take your pick of Kacey memorabilia. We have limited supplies so please email us at music@nucountry.com.au first.
WILLIE NELSON BOOK PRIZES
We also celebrated Shotgun Willie Nelson's 75th birthday on April 30 with a special giveaway of his collectors' book.

We have limited stock of Willie Nelson - The Collected Writings Of A Living Legend - The Facts Of Life And Other Dirty Jokes.

The book, featuring yarns, jokes and Willie Nelson song lyrics, is the latest addition to our prize treasure trove.

It's available for viewers wanting to become members or current members wishing to renew membership.

Please email us at music@nucountry.com.au for a chance to win a copy of this book with your membership.

We also have autographed copies of Mike Brady's new album Country To Country and others by Troy Cassar-Daley, Tania Kernaghan and Arizona singer Billy Wyatt.

CLICK HERE for our Membership Page.