DAVE'S DIARY - 30/6/08 - PREVIEW OF EPISODE 5 - SERIES 10
WILLIE NELSON JULY 4 CELEBRATION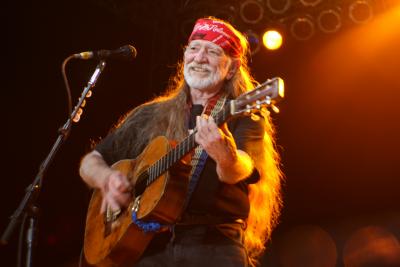 Willie Nelson - Texas - photo by Carol Taylor
Shotgun Willie Nelson celebrates his July 4 picnic on Friday so we honour him the night after at 8.30 on Nu Country TV on C 31.

But when host Heather Rutherford introduces Willie on Saturday it will still be July 4 at his star-studded picnic near San Antonio.

Willie, who tuned 75 on April 30, performs a Dave Matthews song Gravedigger from new disc Moment Of Forever.

Nelson won't be the oldest person on his picnic - that honour is bestowed on fellow Texan Ray Price who treads the boards at 82.

Tennessee born superstar Kenny Chesney produced Willie's album with Music City veteran Buddy Cannon.

Willie also has a 100 song 4 disc boxed set One Hell of a Ride - a four-CD, 100-song box set that covers 60 albums on a dozen different labels.

It's on the market at the same time as Texan writer Joe Nick Patoski's acclaimed 567-page biography An Epic Life.

His collaboration Two Men With the Blues - with jazz star Wynton Marsalas - is also out on July 8 on the Blue Note label.

And in our spring the singer releases has another disc Live at San Francisco's famed Fillmore with singing actor Waylon Payne - son of his long time guitarist Jody Payne and late country star Sammi Smith.

Payne, who played Jerry Lee Lewis in the Johnny Cash movie Walk The Line, won best actor at Colorado's Breckenridge Film Festival for his portrayal of guitarist Hank Garland in Crazy.

Waylon is also in upcoming movies Kingshighway and Hindsight, and will film a Ray Wylie Hubbard-penned movie later this year with Kris Kristofferson and Jack Ingram.

CLICK HERE for a Willie CD review from the Diary.
GARTH BROOKS WORKING FOR A LIVING
Oklahoma superstar Garth Brooks came out of retirement for select concerts to promote his Ultimate Hits disc that has pushed his total sales beyond 128 million.

Brooks and San Francisco legend Huey Lewis perform Huey's song Working For A Living from his rock era with his band The News.

Working For A Living and honky-tonkin' Midnight Sun are two of three new songs on the Hits compilation.
Garth and singing spouse Trisha Yearwood, 44, don't have to work for a living but both have released new albums.
Trisha released Heaven, Heartache & the Power of Love on Big Machine last year and Universal recently released a compilation from her 12 albums and 16 years on that label.

Keith Urban sang backing vocals on Let the Wind Chase You from the Big Machine disc by the singer who was wed to Mavericks bassist Robert Reynolds for five years.

Brooks, 45 and father of three daughters, told Nashville singer-songwriter and radio star Gerry House in a recent interview he's working on some screenplays for possible films.

"I haven't got anything green-lit yet," he said.

CLICK HERE for a Brooks-Yearwood story from The Diary on August 31, 2005.
CHUCK WICKS STEALS CINDERELLA
Prolific young singer-songwriter Chuck Wicks debuts on Nu Country with Stealing Cinderella - one of his 10 original songs on debut album Starting Now.

Wicks character asks his belle's dad for her hand in marriage in the video.

Chuck, just 28, grew up on a Smyrna, Delaware, spud farm and was tipped $50 by superstar Kenny Chesney for parking his car in a previous career as a valet.

Local country star Adam Brand recorded a Wicks song Get On Down The Road on his seventh album Blame It On Eve.

It was a collaboration with frequent Australian tourist David Lee Murphy and Rivers Rutherford.
RCA Records signed Wicks to a development deal about five years ago - the reason he left Florida Southern College and moved to Nashville.
But instead of a contract, the deal led to a valet parking job at Fleming's Steak House.

"I would work there, and I would write during the day," Wicks said.

"I didn't have a publishing deal or anything anymore, so my only source of income was parking cars and then writing. And the weird thing was it was a blessing, because through that development deal I was able to establish great relationships with songwriters. Some of the best songwriters in the world took me under their wing. I had a lot of motivation and a lot of great people helping me steer the ship and helping me figure this out."

Now, instead of parking cars for Paisley, he has been touring with him to promote his album that was produced by Dan Huff and Monty Powell.

Further info - http://www.chuckwicks.com/site.php
SARA STORER
| | |
| --- | --- |
| | |
Sunraysia born singer Sara Storer returns to Nu Country with Long Live The Girls off her fourth album Silver Skies.

The singer headlined concerts with Beccy Cole and Gina Jeffreys after her support on the Suzanne Vega tour and being one of the headliners at the Geelong Stampede.

Storer's rural suicide anthem Land Cries Out also won two Golden Guitars at the 36th Australian Country Music Awards in Tamworth in January.

It brings her tally to 11 but equally importantly the former teacher wins more praise for her song about the drowning of four Aboriginal students in the Northern Territory.

Storer vividly recalls all the victims from her first year of teaching at Kalkaringi near Katherine - her song Cold River also explores the flashbacks for one of the survivors.

Although Storer, now 32, changed the name of the Victoria River to Cold River to mitigate pain for the families it was one of those left behind who inspired the song.

CLICK HERE for a Storer feature from the Diary on October 29, 2007.
SUZIE DICKINSON
Suzie Dickinson also returns to Nu Country with a song she performed with her trio at our Christmas party at Hotel Kew.

Suzie performed at the party, filmed by our editor Sean Tierney, with an eclectic cast including Leslie Avril, Susan Lilly and Snowy Townsend's Bona Fide Travellers.

Suzie is one of the genuine survivors of the Aussie scene.

She made her video debut with expatriate Kiwi singer P.C Caulton & The Pick-Ups in the halcyon era of the Spurs cowboy bars in Melbourne, Canberra and Geelong during the eighties.
Suzie also won renown for her work with Banshee, The Cisco Kids and Goanna.

Now she has a new CD 19 Steps that is accessible through her My Space web page.

CLICK HERE for a Suzie story from the Diary on November 17, 2004.
DANNY MACK
Expatriate Canadian Danny Mack performs his version of Billy Joe Shaver classic Ride Me Down Easy.

Danny, known as the Cement City Cowboy, migrated here from Vancouver in 2005 with his Australian wife Bonnie, originally from Sydney.

That's something Texan Billy Joe, now 68, can't do until he beats bar room shooting charges.

Bill Chambers produced most of Danny's 2006 album Ride Me Down Easy - three songs were cut in Canada.

Among the musicians are multi-instrumentalist Justin Brady, pedal steel guitarist Michel Rose, bassist Simon Johnson and Katie Briana on harmonies.

Further info - www.dannymack.com

WIN ADAM BRAND CD-DVD PRIZES
We have more good tidings for viewers wanting to join Nu Country TV and keep us on air in Victoria, Queensland, South Australia and New Zealand.

Major independent label Compass Brothers has donated autographed copies of Adam Brand's seventh disc Blame It On Eve for viewers who become Nu Country members or renew their membership.

The CD has a bonus DVD of the making of the album and the video clip of Get On Down The Road that we aired on our show.

Adam also did an exclusive interview with Nu Country TV that we have broken up into two episodes during Series #10.

We have limited supplies of Adam's big selling CD-DVD so please email us first at music@nucountry.com.au so we can allocate your reward.

Adam performs at Crown Casino in Melbourne on August 2 with Compass Brothers stable-mates James Blundell and The Sunny Cowgirls.

CLICK HERE for the Adam Brand interview from the Diary on March 3, 2008.

KACEY JONES CDS AND TEE SHIRTS TOO
We'll feature highlights of the Kacey Jones-Becky Hobbs concert at the Noise Bar as a preview for our special later in this series.

Kacey Jones has donated autographed copies of her acclaimed tribute CD to the late, legendary Texan singer-songwriter Mickey Newbury to Nu Country.

Nu Country has featured the CD video clips San Francisco Mabel Joy and Lie To Me Darlin' featuring Texan singer-songwriters Kris Kristofferson and Waylon Payne.

The CD - to be released here in July - is one of many rewards for viewers to become members or renew their much-appreciated memberships.

Kacey also autographed tee shirts and posters for Nu Country members.

For your $22 membership and postage you can take your pick of Kacey memorabilia. We have limited supplies so please email us at music@nucountry.com.au first.

WILLIE NELSON BOOK PRIZES
We also celebrated Shotgun Willie Nelson's 75th birthday on April 30 with a special giveaway of his collectors' book.

We have limited stock of Willie Nelson - The Collected Writings Of A Living Legend - The Facts Of Life And Other Dirty Jokes.

The book, featuring yarns, jokes and Willie Nelson song lyrics, is the latest addition to out prize treasure trove.

It's available for viewers wanting to become members or current members wishing to renew their membership.

Please email us at music@nucountry.com.au for a chance to win a copy of this book with your membership.

We also have autographed copies of Mike Brady's new album Country To Country and others by Troy Cassar-Daley, Tania Kernaghan and Arizona singer Billy Wyatt.

CLICK HERE for our Membership Page.