DAVE'S DIARY - 16/6/08 - PREVIEW OF EPISODE 3 - SERIES 10
SUPERSTAR KENNY CHESNEY HEADLINES NU COUNTRY TV
Nashville superstar and latter day Willie Nelson producer Kenny Chesney headlines Nu Country TV this Saturday - June 21- at 8.30 pm on C 31.

Host Mid Pacific Olson also welcomes Oklahoma born stone country singer Becky Hobbs live at The Noise Bar at the Railway Hotel in Brunswick.

Gippsland raised Davidson Brothers, former Portland rodeo queen Shea Fisher and Golden Guitar winners Travis Collins and Kirsty Lee Akers also return to the show.

Travis and Kirsty performed recently at the Geelong Stampede and will be seen at 9.30 am on Thursday when the show is repeated.
CHESNEY THANKS WILLIE AND GOD
Kenny Chesney shares his East Tennessee hometown Luttrell with famed late session supremo and guitarist Chet Atkins.

Now Chesney has emulated Atkins by spreading his wings to production with a joint role with Buddy Cannon on Moment Of Forever - the new album by Shotgun Willie Nelson who turned 75 on April 30.
The singer performed a duet with Willie on Guy Clark classic Worry B Gone on the disc that also featured a song Chesney co-wrote - I'm Alive.

"When I produced that record for Willie I was probably in the biggest personal funk of my life," Chesney, 40, revealed in a recent interview.

"Nothing inspired me. After my divorce with Renée, I was completely uninspired. God could have laid the best song in front of me and I wouldn't have known. I sat there with Willie Nelson the first day and realised all that was going to change. I was never so inspired in my life. When I got done with that record, two or three months with him, I was never more inspired by a person, an artist and a songwriter. I left that whole session and that whole album looking at things in different ways.
"When I was looking for inspiration in my life, God gave me Willie Nelson. I left that whole session with a new commitment to being a better songwriter and a better person. It was just a great thing for me in my life.

Chesney was voted entertainer of the year for the fourth successive year at the recent Academy Of Country Music Awards in Las Vegas.

He also scored awards for best male vocalist and best video for Online, featured in our previous series.
SHIFTWORK VIDEO
This week Chesney performs in the video for Shiftwork from his huge selling 10th album Just Who I Am - Poets & Pirates.

Duet partner Texan George Strait, who recently scored his 56th #1 hit with I Saw God Today from his 37th album Troubadour, was not in the video.

And Chesney, son of a teacher and a hairdresser, was not present when Strait cut his vocals for the duet.

"I wish I could've been in the studio when he did it, but I was actually filming the video for Don't Blink and couldn't be in two places at once," Chesney confessed.

"That was the only time that he could do it because he was on his way to get on his boat and go fishing. So I couldn't be there when he did it."

Chesney, who graduated with a marketing degree from East Tennessee University, has sold more than 30 million records with and had 30 Top 10 hits since She Thinks My Tractor Is Sexy in 1994.

He sold more than 1 million tickets to his concerts each year for the past six years.

Chesney's 2007 tour out-grossed every rock show of the year, and this summer he is running the only stadium tour in the business.

But he recently suffered a painful injury at the start of a concert in Columbia, South Carolina, when his foot was crushed between a hydraulic lift and the stage.

CLICK HERE for a Kenny Chesney feature from the Diary on April 7, 2004.
BECKY HOBBS AT NOISE BAR
Becky Hobbs returns to Nu Country this week with Are There Any More Where You Came From - a song she performed at the Noise Bar with Kacey Jones on Friday February 1.

Hobbs also made a big impression in Queensland when her performance of Talk Back Trembling Lips aired on C 31.

The office of National Party Senator Ron Boswell emailed us for details of the song - penned by veteran hit writer J D Loudermilk - and singer.

That was long after Becky celebrated her 58th birthday with a huge chocolate cake at the Family Hotel in Tamworth on January 24.

Becky, born in Bartlesville, Oklahoma, was promoting Best Of The Beckaroo Part 1 and her rich back catalogue.

Beckaroo features songs from her albums from 1988-2001 - All Keyed Up, The Boots I Came To Town In, From Oklahoma With Love, Swedish Coffee & American Sugar and Hottest Ex In Texas.
Hobbs, voted Cashbox Magazine's indie Country Music Female Artist for 1994 wed guitarist Duane Sciacqua - now touring with chart topper Rodney Atkins - in 1996.

Duane produced her 1998 album From Oklahoma With Love and her 2005 disc Songs From The Road Of Life.

He has also played guitar with Eagles co-founder Glenn Frey and guitarist Joe Walsh and Paul McCartney.

Atkins won the best new male vocalist trophy at the 2007 Academy of Country Music Awards where he was nominated in six categories.

His third album If You're Going Through Hell featured four #1 hits including the wry Cleaning This Gun (Come On In Boy).

CLICK HERE for a Becky Hobbs feature from the Diary on December 15, 2007.
KIRSTY LEE AKERS AT THE BEACH
Hunter Valley born Golden Guitar winner Kirsty Lee Akers return to Nu Country with the video of her single. It's a highlight of her debut album Little Goin' To The Beach.

Things on the indie Compass Brothers label.

The diminutive diva made a big impression with a dynamic performance at the recent Geelong Stampede at Eastern Park.

Kirsty was 19 when she won the 2007 Starmaker after busking on streets to finance her debut single, Bashed Up, Beaten, Battered, Broken Heart.

She is now touring nationally with Chic Frontier - a quartet featuring Diana Corcoran, Amber Lawrence and Aleyce Simmonds

CLICK HERE for a review of Kirsty at Geelong Stampede from the Diary on April 15, 2008.
DAVIDSON BROTHERS BRING RAIN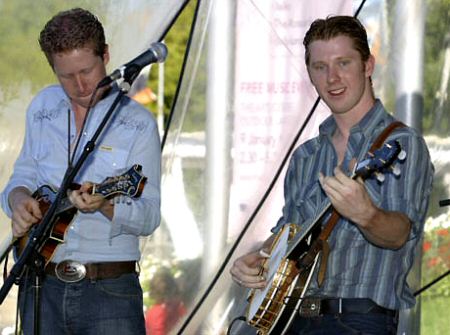 Davidson Brothers at the Arts Centre 2005 - photo by Andrew Wuttke
The Davidson Brothers have made a huge impression on their frequent tours of the home of bluegrass in the U.S.

The duo performed at the eclectic Kingston Music Festival in Melbourne.

They also play Redlands Bluegrass Festival at Redland Bay in Queensland on July 12 and headline Beechworth bluegrass festival on August 16.

The Davidson Brothers also supported U.S. rockabilly singer Deke Dickerson & The Eco-Fonics at their Corner Hotel gig on Friday June 13.

The duo also returns to the U.S. in September of 2009 for prestige gigs at some major festivals in Indiana and Missouri.

This week on Nu Country they perform the video of new single I Hear The Sound Of Rain from their self-titled fourth album, released here by Shock Records.

Hamish and Lachlan duo hail from Yinnar where rain is an essential ingredient.

The boys and band also played our Arts Centre concert in 2005.

CLICK HERE for a Davidson Brothers feature from The Diary on January 12, 2005.
SHEA FISHER BUCKS
Shea Fisher is the most exciting export from Shipwreck Coast city Portland since the giant squid.

Shea was born in the Alcoa cove where she started riding bulls and barrel racing as a three year old.

She has fine rodeo credentials as daughter of Australian bull riding & bareback riding champ Eddie Fisher and barrel racing belle Joanne Fisher.

Fisher performs the video for Everyday Girl from her debut indie EP.

She recently performed at the CMA Festival in Nashville where she is recording an album with top producer Richard Landis.

Landis has produced albums for major artists diverse as Neil Diamond, Vince Gill, Eddie Rabbit, Kenny Rodgers, Juice Newton and fellow former local rodeo rider Steve Forde.
"I'm hoping this album will show my growth as an artist over the past three years
not only in my songs but also vocally," Fisher says.

"I have learnt a lot in this time, had many new experiences, ups and downs and I think this album will show a real fresh side of me."

Fisher recently scored exposure on Country Music America on the popular GAC Pay TV channel.

Storme Warren hosted the special with a 40 million audience that was filmed at the CMC Rocks The Snowys festival at Thredbo in March.

It has also featured on local Pay TV channel CMC.
TRAVIS COLLINS RIPS IT UP
Travis Collins busked as a teenager on mean streets of Campbelltown and MacQuarie Fields before winning the 2004 Starmaker quest in Tamworth.

More recently he shaved his head for charity and performed at the Geelong Stampede with a star-studded cast.

This week he performs Rip It Up from his second album No Boundaries.
Travis, 24, toured Europe last year after writing a bunch of songs in Nashville with major chart-topping songsmiths.

CLICK HERE for a Travis CD review from The Diary.

Further info - www.traviscollins.com.au
WIN KACEY JONES CDS AND TEE SHIRTS
We'll feature highlights of the Kacey Jones-Becky Hobbs concert at the Noise Bar as a preview for our special later in this series.

Kacey Jones has donated autographed copies of her acclaimed tribute CD to the late, legendary Texan singer-songwriter Mickey Newbury to Nu Country.

Nu Country has featured the CD video clips San Francisco Mabel Joy and Lie To Me Darlin' featuring Texan singer-songwriters Kris Kristofferson and Waylon Payne.

The CD - to be released here in July - is one of many rewards for viewers to become members or renew their much-appreciated memberships.

Kacey also autographed tee shirts and posters for Nu Country members.

For your $22 membership and postage you can take your pick of Kacey memorabilia. We have limited supplies so please email us at music@nucountry.com.au first.

WILLIE NELSON BOOK PRIZES
We also celebrated Shotgun Willie Nelson's 75th birthday on April 30 with a special giveaway of his collectors' book.

We have limited stock of Willie Nelson - The Collected Writings Of A Living Legend - The Facts Of Life And Other Dirty Jokes.

The book, featuring yarns, jokes and Willie Nelson song lyrics, is the latest addition to out prize treasure trove.

It's available for viewers wanting to become members or current members wishing to renew their membership.

Please email us at music@nucountry.com.au for a chance to win a copy of this book with your membership.

We also have autographed copies of Mike Brady's new album Country To Country and others by Troy Cassar-Daley, Tania Kernaghan and Arizona singer Billy Wyatt.

CLICK HERE for our Membership Page.