DAVE'S DIARY - 10/6/08 - PREVIEW EPISODE 2 - SERIES 10
REDNECK AND RED HAIRED WOMEN HEADLINE NU COUNTRY
We have a Redneck Woman and a red-haired comedienne headlining Nu Country TV this Saturday - June 14 - at 8.30 p m on C 31.

Gretchen Wilson performs in a video for hot new single You Don't Have To Go Home from her third album One Of The Boys.

And Kacey Jones gives a sneak preview of a new song from her Nu Country TV live concert at The Noise Bar in Brunswick on Friday February 1 with Oklahoma honky tonker Becky Hobbs.

Expatriate Australian starlet Catherine Britt and Geelong born country star Adam Harvey, who opened for Brook & Dunn on their Australian tour, also perform their latest videos.

Sydney band The Flood, enjoying a national tour, showcase their new video on a show, repeated on Thursday at 9.30 am.

And host Mid Pacific Bob Olson reaches deep down for his latest recipe Potato & Leek soup, also know as West South West.

The mathematics lecturer glides through his recipe with the ease of an unbeaten Hawk on the wind.
GRETCHEN WILSON
Illinois born star Gretchen Wilson proves that natural talent and blood, sweat & tears can beat a deprived secondary education.

Wilson, a single mother, tended bar in honky tonks as a teenager with a shotgun for protection while her peers graduated from school and went to college.

She dropped out of school in 9th grade - same day she left home and moved in with her lover.

After selling more than seven million copies of her first three albums, she returned to study part time on her tour bus between concerts.

It was well worth it - on May 15 at the age of 34 she graduated from high school.
Famed fiddler Charlie Daniels presented Wilson with her GED certificate, equivalent to a high school diploma at the First Baptist Church in Lebanon, Tennessee.

Gretchen wrote of her challenging childhood in 2006 book, Redneck Woman: Stories From My Life.

It was a childhood filled with love from her extended family but of a home that was unstable, violent and unpredictable.

Wilson, brother, Josh, and their mother bounced back and forth from their roots in a cluster of small towns in southern Illinois to Miami.

Her stepfather moved from one job to the next.

"If I had to sit down and list all the schools I went to I'd never even be able to remember them all," Wilson says.

"There were that many schools. We moved every three months. So in a school year, Josh and I went to three different schools every year."

Wilson, born when her mother was 16, began singing in bars at 15 in Southern Illinois while juggling jobs.

She now lives with her daughter Grace and her partner at their rustic Wilson County home on 400 acres they call Wilson Mountain.

Her debut 2004 single, Redneck Woman, spent five weeks at #1 on Billboard, earned her a 2005 Grammy and pushed her sales of her debut album Here For The Party way beyond five million.

Wilson also released a behind the scenes DVD Undressed and has recorded her fourth album.

Next single Don't Do Me No Good, which she wrote with Wade Kirby and Ashley Gorley, is due in July.

CLICK HERE for a Wilson DVD Review from the Diary on November 26, 2006.
KACEY JONES LIVE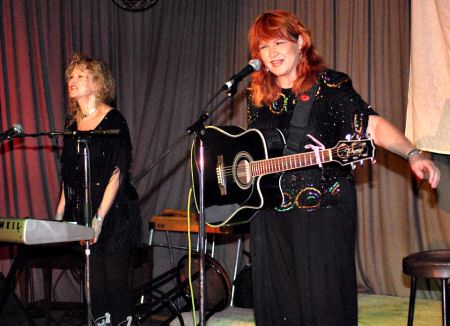 Photo by Kip Karpik
California born comedienne Kacey Jones returns to Nu Country with Down At The Piggly Wiggly - performed live at the Noise Bar on Friday February 1.

Kacey wrote the song with touring partner Becky who accompanies her on a tune that also appears on Kacey's album Nipples To The Wind.

Nu Country TV Series #10 editor Sean Tierney and Tim Cole filmed Kacey and Becky at the epic concert.

Hobbs also made a big impression in Queensland when her performance of Talk Back Trembling Lips aired on C 31.

The office of National Party Senator Ron Boswell emailed us for details of the song - penned by veteran hit writer J D Loudermilk - and singer.

But back in Nashville another songwriter upstaged Kacey who was born at Los Gatos near Gilroy - the Garlic capital of the world.

Kacey's former co-writer Richard Fagan was charged with the murder of publisher Gaetano Thomas Oteri on April 27.

Fagan, 61, allegedly stabbed his mentor Oteri, 69 - father of former Saturday Night Live star Cheri.

It would appear that Fagan, like Billy Joe Shaver, was not considered a huge risk to the community.

He was released on $20,000 bail on condition he be admitted to a Nashville substance abuse facility.

Kacey recorded several songs that Fagan wrote or co-wrote with her - they included Every Man I Love Is Either Married, Gay Or Dead, A Woman's Mantra, Put the Seat Back Down, I Miss My Man But My Aim's Getting Better and Up Against Your Love.

Fagan also wrote big hits for John Michael Montgomery, Moe Bandy, Neil Diamond B.B. Watson and Mel McDaniel - he also landed his songs in five movies.

But none of them graced Olivia Newton-John movie Sordid Lives, now a TV series that featured three Kacey Jones songs.

Jones and Sharyn Lane wrote the songs for the movie that also starred Leslie Jordan, Delta Burke, Kirk Geiger and Earl Houston Bullock.

Their songs Someone to Grow Young With, No Fault Love and Get Off the Cross, We Need the Wood were also on the soundtrack.

CLICK HERE for a Kacey Jones feature from the Diary on January 20, 2008.


ADAM HARVEY ALRIGHT
Gregarious country star Adam Harvey, born in Geelong suburb Leopold, returns with a video of I'm Alright - title track of his seventh album.

It also won a seventh Golden Guitar for Harvey who toured with Brooks & Dunn and John Fogerty.
Harvey, 32 and father of two, led an Aussie posse to Nashville month for the CMA festival last week.

And then he is doing a joint Victorian and NSW tour with fellow Nu Country guest Catherine Britt late this month and early July.

The singer has also joined The Fred Hollows Foundation as Ambassador after being inspired by the late icon to write previous hit Someone Else's Dream.

"I got the idea for the song after watching footage about Fred and The Foundation," Adam revealed recently.

"He was such a down to earth, regular bloke who had a dream and followed it through. I really felt inspired by Fred's story and put pen to paper hoping that my song would encourage other people to stand up and make a difference; to do what they believed in, instead of just sitting back and letting life go by."
Harvey was also mentor vocalist to TV weather presenter Sara Groen on the Seven Network show It Takes Two and headlined the 19th Bunyip Country Music Festival.
CLICK HERE for an Adam Harvey feature from the Diary on October 18, 2007.
CATHERINE BRITT
Newcastle born starlet Catherine Britt performs a video of the title track of her third album Little Wildflower.

Catherine, just 23, splits her time between Australia and Nashville where she cut her last two albums.

Prolific hit writer Keith Stegall and Bill Chambers collaborated on production of her first Nashville album Too Far Gone.

Chambers produced her debut indie album Dusty Smiles and Heartbreak Cures - later released by ABC - here when she was just 17.

It was the successor to her EP In The Pines that included That Don't Bother Me - her co-write with Kasey Chambers - when Britt was 14.

Brett Beavers - producer of bluegrass refugee chart topper Dierks Bentley - was at the studio controls of Little Wildflower.

Beavers also wrote six songs, including the title track, with Britt.

Expatriate Australasian superstar Keith Urban played guitar on the disc that features harmonising by Buddy Miller, Jon Randall and Hilary Lindsay.

We also have another Britt video for hedonistic fuelled tale of regret What I Did Last Night later in the series.

CLICK HERE for a Catherine Britt feature from The Diary on February 20, 2008.
THE FLOOD
Acclaimed Sydney band The Flood return with a video of their single Can't Work No Longer.

It's from their third album The Late, Late Show.

The Flood won 2006 Vocal Group of the Year Golden Guitar at the Country Music Awards in Tamworth for Hello Blue Sky.

The Flood upped the social conscience quota on their album after backing prolific Nashville songwriter Kevin Welch on Aussie tours and a live DVD Live Down Here on Earth.

They also recorded the DVD Plenty of Time with Kevin during his Australian tours.

The Flood's second concert at The Basement and performance at the launch of Dig Country were recorded by ABC for broadcast on Live at the Basement (TV) and Live on Stage (radio).

The band also has since released another CD Everybody's Favourite.

More info - www.theflood.com.au

WIN KACEY JONES CDS AND TEE SHIRTS
We'll feature highlights of the Kacey Jones-Becky Hobbs concert at the Noise Bar as a preview for our special later in this series.

Kacey Jones has donated autographed copies of her acclaimed tribute CD to the late, legendary Texan singer-songwriter Mickey Newbury to Nu Country.

Nu Country has featured the CD video clips San Francisco Mabel Joy and Lie To Me Darlin' featuring Texan singer-songwriters Kris Kristofferson and Waylon Payne.

The CD - to be released here in July - is one of many rewards for viewers to become members or renew their much-appreciated memberships.

Kacey also autographed tee shirts and posters for Nu Country members.

For your $22 membership and postage you can take your pick of Kacey memorabilia. We have limited supplies so please email us at music@nucountry.com.au first.
WILLIE NELSON BOOK PRIZES
We also celebrated Shotgun Willie Nelson's 75th birthday on April 30 with a special giveaway of his collectors' book.

We have limited stock of Willie Nelson - The Collected Writings Of A Living Legend - The Facts Of Life And Other Dirty Jokes.

The book, featuring yarns, jokes and Willie Nelson song lyrics, is the latest addition to out prize treasure trove.

It's available for viewers wanting to become members or current members wishing to renew their membership.

Please email us at music@nucountry.com.au for a chance to win a copy of this book with your membership.

We also have autographed copies of Mike Brady's new album Country To Country and others by Troy Cassar-Daley, Tania Kernaghan and Arizona singer Billy Wyatt.

CLICK HERE for our Membership Page.