DAVE'S DIARY - 26/2/08 - PREVIEW OF EPISODE 13 - SERIES 9
KACEY JONES AND BECKY HOBBS LIVE IN CONCERT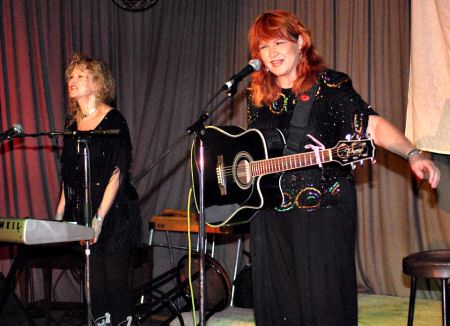 Photo by Kip Karpik
Internationally acclaimed Nashville comedienne Kacey Jones and fellow country star Becky Hobbs headline the finale of Series #9 of Nu Country TV.

The duo appears live in concert from the Noise Bar, Brunswick, this Saturday - March 1 - at 8 p m on C 31.

Jones and Hobbs perform two classics in an episode hosted by Mid Pacific Bob Olson who doubled as merchandiser and door bitch at the gig at the historic Railway Hotel.

Nu Country TV camera crew Sean Tierney and Tim Cole filmed the entire concert by the two Nashville icons.

This segment is a preview for an entire episode of the concert we will feature during Series #10 of Nu Country TV when we return in June.

California born Jones performs I'll Get Over Him When I Get Under You - a song plucked from her deep recording catalogue.

And Oklahoma refugee Hobbs reaches deep into her inner psyche for her parental eulogy She Broke Her Promise.

The duo donated their talents to Nu Country during their debut Australian tour that began on the Tamworth Country Music Train in Geelong and ended at the Bayleaf Restaurant in Dandenong.

Jones and Hobbs toured as The Shameless Hussy and The Cowgirl and plan to return down under to build on their audience.

Meanwhile our concert segments are the surrogate for fans who missed them and a flashback for those lucky enough to see them.

CLICK HERE for a concert review on February 1, 2008.
CLICK HERE for a Diary feature on the tour on February 11, 2008.
CARRIE UNDERWOOD
Oklahoma born superstar Carrie Underwood burst onto the international scene after she won reality TV show American Idol in 2005.

Underwood returns to Nu Country with the video of new hit So Small from her huge selling second album Carnival Ride.

The Oklahoma oriole star turns 25 this month and is definitely not small.

She sold seven million copies of debut album Some Hearts and wrote four songs on her new disc - it sold more than two million and is likely to prompt an Australian tour.

Some Hearts is the best-selling solo female country debut in history.

Underwood recently performed award-winning song Before He Cheats on the 2008 Grammy Awards in Los Angeles.

Chris Tompkins, one of the writers, said backstage that when he began writing the song, he envisioned it being perfect for Gretchen Wilson.
But fate intervened when the writers' publishers pitched the song to Underwood who immediately embraced it.

Underwood and fellow Grammy winner Brad Paisley, who performed his song Ticks, were the only country artists to perform live on the show.

CLICK HERE for an Underwood story from the Diary on January 29, 2007.
KARL BROADIE AND DIANNA CORCORAN
Expatriate Scot singer-songwriter Karl Broadie returns to Nu Country with a video of his duet on Counting Your Blessings with 2008 Tamworth Golden Guitar winner Dianna Corcoran.

They perform Counting Your Blessings from Broadie's acclaimed third album One Millon Emeralds.

Broadie supported Austin singer Patty Griffin on her first Australian tour last year.

She returns for a concert at The Palais on March 28 and Snowy Mountains, Point Nepean and Byron Bay music festivals.
Corcoran won the best female artist of the year Golden Guitar for her second album Then There's Me at the recent 36th Australian Country Music Awards in Tamworth.

The singer, born at Parkes in western NSW, has released two albums for Compass Brothers Records.
CLICK HERE for a Broadie feature from the Diary on July 14, 2007.
WOLVERINES HEADLINE WANDONG
Sydney trio The Wolverines return to headline the famous Wandong Country Music Festival that ran for more than a decade from 1972 and was resurrected in 2001.

Also performing at Wandong are The Sunny Cowgirls, Tim Farren, Prairie Oysters, Ruckus, The Dalton Gang and many more.

The Wolverines also return to Nu Country with a video of their song Up & Done Died from fourth album Good Times on ACMEC Records.
Expatriate Kiwi singer-songwriter and guitarist Darcy LeYear, pianist Chris Doyle and drummer John Clinton are best known for their country boogie.

But they broke on TV, radio and the print media with evocative Lee J Collier cystic fibrosis awareness song 65 Roses.

CLICK HERE for a Wolverines feature from the Diary on June 19, 2003.
TAMARA STEWART DRIVES
Goulburn Valley born singer Tamara Stewart also returns to Nu Country with a video of her single Drive from her third album Love Laughter Lessons.

The Mooroopna minstrel wrote all except one of the tracks and produced the album.

"Producing this album has been an amazing experience," Stewart, now 33, recently revealed.
"I needed to re-acquaint myself with what I do. I have had to nurture these songs from conception and it has been a joy getting the guys in to play on the album and to be the one in the drivers seat. "

Those musicians include bassist Ian Lees, drummer fiancé Bradley Bergen, organist and pianist Mark O'Connor and Michel Rose on pedal steel, dobro and mandolin.

The album was launched at the Regent Theatre in Tamworth on January 25 this year.

It included Stewart's collaboration with Nashville writer Angela Stewart on Company Of Strangers and guest vocals by Camille Te Nahu and French on Joni Mitchell epic Both Sides Now.

Stewart released her debut disc The Way The World Is in 2000 and won 2001 APRA Country Songwriter of the Year Award that also landed her a UK tour.

APRA also sponsored her writing trips to the U.S. in 2001 and 2003.

She co-produced her self-titled second album in 2005 with Rick Price.

CLICK HERE for a Tamara story from the Diary.