DAVE'S DIARY - 27/8/08 - PREVIEW OF EPISODE 13 - SERIES 10
DOLLY AND KACEY HEADLINE NU COUNTRY TV
Singing actress Dolly Parton and Nashville comedienne Kacey Jones headline Nu Country TV this Saturday August 30 on C 31 at 8.30 p m.

Dolly, 62, performs a video for her new single Better Get To Living at her Pigeon Forge theme park Dollywood in East Tennessee.

And Jones is captured live at the special Nu Country concert at the Noise Bar at the Railway Hotel In Brunswick.

Alabama independent artist Wayne Mills kicks off the show with a humorous video for his single That's What Dancers Do.

And Newcastle singer Catherine Britt and Blue Mountains belle Jayne Denham also perform their videos for new singles on a show repeated on Thursday at 9.30 am.

Britt's single is from her third album Little Wildflower and Denham showcases her debut disc Sudden Change In Weather.

Perth born star Adam Brand also performs the video for the title track of his seventh album Blame It On Eve.

You can win the new CDS by Brand and Britt by visiting our web page and becoming members of Nu Country TV.

CLICK HERE for details on our membership page.

DOLLY STILL WORKING NINE TO FIVE
Spritely senior citizen Dolly Parton is proof that pure talent and re-invention ensure longevity.

The singer recently wrote the music for new Broadway show Nine To Five between acting and singing roles.

She performed therapy for comedian Amy Sedaris in the video for Better Get To Living from new album Backwoods Barbie.

The disc is being touted as her first mainstream disc for 17 years with the same hype as her previous discs being her first bluegrass albums.
But long time Parton fans will attest that she has played bluegrass from the start of her career at Sevierville in the Smoky Mountains since she was a child.

And bluegrass has always been mainstream for those who followed the genre long before Allison Krauss made it cool for the casual listeners.

Dolly's first performance as a 13-year-old at Grand Ole Opry inspired encouragement from an observant listener standing behind those famous curtains: "Go where your heart takes you, and don't care what others think."

That the man was Johnny Cash hasn't been lost to history - that's his version of the story.

Dolly developed her unapologetically camp humour on the set of The Porter Wagoner Show in 1967 under the watchful eye of Wagoner, who plucked Dolly from relative anonymity to replace country singer Norma Jean as his hostess.

Wagoner and Parton's tempestuous relationship ended seven years later in 1974, just after Dolly's first solo blockbuster, Jolene, but not before she had honed her delivery of the bawdy stage banter that would later distinguish her.

Wagoner and Parton produced 14 Top-Ten hits together including the flamboyantly accessible Coat of Many Colours in 1971.

Dolly promoted it as an intimately autobiographical window into the poverty of her childhood in Sevierville, Tennessee.

Later came Jolene, the small-town jukebox standard that has filled dusty bars with wailing angst of her jealousy over her husband Carl Dean's affair.

Dolly is Aunt Granny to her nieces and nephews, whose parents she helped raise with her husband.

She was Doralee in 1980 movie Nine to Five, and she's now Aunt Dolly, godmother to Miley Cyrus on Hannah Montana.

Her role as an under-appreciated working woman in Nine to Five resonated with feminist ideologies just as lyrics to the movie's chart-topping theme song did.

Dolly managed to absorb the paradox without alienating listeners, a feat she pulled off with slick vulnerability offstage.

She also practiced - rather than spoke about - her feminist strength.

In 1974 she refused to relinquish half the publishing rights for I Will Always Love You - an intimate account of her breakup with Wagoner - to Elvis Presley's shonk manager Colonel Tom Parker, a man notoriously unable to accept "no" for an answer.

When the song reared its hoary head in Whitney Houston's squalling version nearly two decades later, it earned Dolly a reported $6 million in revenue and contributed to her nickname in showbiz circles as the Iron Butterfly.

"I had to get rich to sing like I was poor again," she joked during her 2002 Halos & Horns tour.

Critical acclaim met the pure acoustics of 1991's The Grass is Blue and 2001's Little Sparrow because they were refreshing glimpses into the past of a genre - country music.

The genre, like popular music, was becoming plagued by modern conception of music as a commercial enterprise.

Both albums were also hauntingly beautiful - proof that seasoned musicianship can bask in the giddy pleasure of making the music that feels right.

CLICK HERE for a review of Dolly's latest CD Backwoods Barbie in the Diary.
KACEY JONES SMOKES UP A STORM
Californian born Kacey Jones returns with comedic classic Oh Holy Smoke live from the Noise Bar at the Railway Hotel in Brunswick.

Kacey and Oklahoma stone country singer Becky Hobbs performed the memorable concert on their debut Australian tour that began in Geelong on the Tamworth Train in January.

Our Series #10 editor Sean Tierney and Timothy Cole filmed the two stars after their major concerts in Tamworth and Sydney.

Jones fronted Ethel & The Shameless Hussies when they cut debut disc Born To Burn in 1988.

She proved depth of her talent by showcased hilarious songs from her comedy albums and her evocative Mickey Newbury tribute disc.
Jones also landed three songs in Olivia Newton-John movie Sordid Lives that has now inspired a sit-com on U.S. cable television.

Jones and the late Sharyn Lane wrote songs for the movie that starred Leslie Jordan, Delta Burke, Kirk Geiger and Earl Houston Bullock.

Their songs Someone to Grow Young With, No Fault Love and Get Off the Cross, We Need the Wood were also on the soundtrack.

But back in Nashville another songwriter upstaged Kacey who was born at Los Gatos near Gilroy - the Garlic capital of the world.

Kacey's former co-writer Richard Fagan was charged with the murder of publisher Gaetano Thomas Oteri on April 27.

Fagan, 61, allegedly stabbed his mentor Oteri, 69 - father of former Saturday Night Live star Cheri.

It would appear that Fagan, like Billy Joe Shaver, was not considered a huge risk to the community.

He was released on $20,000 bail on condition he be admitted to a Nashville substance abuse facility.

Kacey recorded several songs that Fagan wrote or co-wrote with her - they included Every Man I Love Is Either Married, Gay Or Dead, A Woman's Mantra, Put the Seat Back Down, I Miss My Man But My Aim's Getting Better and Up Against Your Love.

Fagan also wrote big hits for John Michael Montgomery, Moe Bandy, Neil Diamond B.B. Watson and Mel McDaniel - he also landed his songs in five movies.

CLICK HERE for a Kacey Jones feature from the Diary on January 20, 2008.
CLICK HERE for a Becky Hobbs feature from the Diary on December 15, 2007.
CLICK HERE for their Noise Bar review from our concert section.
CLICK HERE for our exclusive on the road feature on Kacey and Becky from our Diary on February 11, 2008.
KACEY JONES CDS AND TEE SHIRTS TOO
Kacey Jones has donated autographed copies of her acclaimed tribute CD to the late, legendary Texan singer-songwriter Mickey Newbury to Nu Country.

Nu Country has featured the CD video clips San Francisco Mabel Joy and Lie To Me Darlin' featuring Texan singer-songwriters Kris Kristofferson and Waylon Payne.

The CD - released here in July - is one of many rewards for viewers to become members or renew their much-appreciated memberships.

Kacey also autographed tee shirts and posters for Nu Country members.

For your $22 membership and postage you can take your pick of Kacey memorabilia. We have limited supplies so please email us at music@nucountry.com.au first.

WAYNE MILLS BAND DEBUT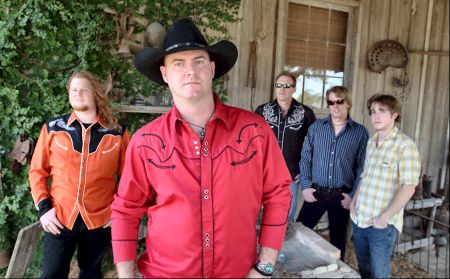 Alabama singer Wayne Mills and his outlaw country band enjoy making tall stories grow in video clips.

The singer, standing 6 ft 4 in the old scale, fronts his band in a special barroom gig of their new video of That's What Dancers Do.

But Mills loses the girl to 2 Ft Fred, on loan from Big & Rich and the Music Mafia, in the getaway limo.

The song is from Mills fifth album Someday on World Records in Nashville.

Mills hails from the tiny Alabama town Arab.

"The fan-base for our brand of music is growing every day," says Mills.

"Since my first gigs in Tuscaloosa, Alabama, during the mid 90's, I've seen southern rock and outlaw country slowly re-gain momentum and now it seems to be steam rolling."

The Wayne Mills Band has won widespread airplay on many Americana and alternate country radio stations.

Mills backs this up with heavy touring of Texas, Mississippi, Tennessee, Virginia, the Carolinas, Florida, Louisiana, Arkansas, Oklahoma, Kentucky, Iowa and Missouri.

Further info - www.waynemillsband.com
JAYNE DENHAM
Jayne Denham continued the carnival theme started by Dolly Parton in the video for her new single Country Girl With A Rock'n Roll Heart is off her debut album Sudden Change In Weather.

What a stunning band - all women.

This is the third video from the album.

She debuted with the video for Ute Chick before another for mother trucker - Cousin Jude.

Cousin Jude, a companion song of debut single Ute Chick, is on her CD, produced by John Kane and Mark Walmsley.

The Cousin Jude video was shot at Somerton - 35 kilometres west of Tamworth - at the Moo Cow Inn.

Denham's career began with Boy From Blackhill - a song inspired by a poem penned by her father Don Carter.
Further info - WWW.JAYNEDENHAM.COM
WWW.MYSPACE.COM/JAYNEDENHAM
CATHERINE BRITT A LUCKY GIRL
Newcastle born starlet Catherine Britt performs a video of new single Lucky Girl from third album Little Wildflower.

Britt filmed the glamorous retro video at the Marble Bar at the Sydney Hilton.

That's the same locale where she filmed her first video for Hillbilly Pickin' Ramblin' Girl as a teenager.

Also in the video are Britt band members - Telstra Road To Tamworth Songwriting winner Mark Wells on drums, Peter Cooper and Ben Park.

Britt is pursued by a dapper chappie in the video but lands a vocal role with expatriate Kiwi veteran Max Merritt in an upcoming episode of Rockwiz on SBS.

Catherine and Max revive his hit Slipping Away on the AFL Grand Final night show - Saturday September 27.

Meanwhile Catherine has enrolled in an Open Foundation University course and is studying Australian History and Literature and Film.

Catherine, just 23, splits her time between Australia and Nashville where she cut her last two albums.

Prolific hit writer Keith Stegall and Bill Chambers collaborated on production of her first Nashville album Too Far Gone.

Chambers produced her debut indie album Dusty Smiles and Heartbreak Cures - later released by ABC - when she was just 17.

It was the successor to her EP In The Pines that included That Don't Bother Me - her co-write with Kasey Chambers - when Britt was 14.

Brett Beavers - producer of bluegrass refugee chart topper Dierks Bentley - was at the studio controls of Little Wildflower.

Beavers also wrote six songs, including the title track, with Britt.

Expatriate Australasian superstar Keith Urban played guitar on the disc that features harmonising by Buddy Miller, Jon Randall and Hilary Lindsay.

CLICK HERE for a Catherine Britt feature from The Diary on February 20, 2008.
CLICK HERE for a Geelong concert review on June 28, 2008.
WIN CATHERINE BRITT AND MELINDA SCHNEIDER DISCS
We also have the latest CDS by Aussie stars Melinda Schneider and Catherine Britt as a reward for new members and renewing members.

Melinda hosts an upcoming episode of Nu Country and has donated copies of her fifth CD Be Yourself.

And Catherine and her record company ABC-Warner provided autographed copies of her third CD Little Wildflower.

We have limited supplies of Melinda and Catherine's big selling CDs so please email us first at music@nucountry.com.au so we can allocate your reward.
ADAM BRAND BLAMES IT ON EVE
Adam Brand performs a video for the title track of seventh album Blame It On Eve.

The singer, raised in Colac and Wallington - south of Geelong - recently performed Palms @ Crown Casino a with fellow Compass Brothers artists James Blundell and the Sunny Cowgirls.

Brand, now 38 and winner of 11 Golden Guitars with millions of kilometres on the clock, knows the journey has many rewards.

He wrote eight of 15 songs on Blame It On Eve that he promoted on his return tour of Victoria - the state where he spent his school days.

The former sign-writer, dental technician and sprint car driver performed in Colac in July.

Brand wrote with Nashville songsmiths Travis Meadows, Mark Steven Jones and Erin Enderlin and Australian collaborators Michael Carr and Sam Hawksley.
Sunny Cowgirls Celeste and Sophie Clabburn were raised on a farm near Dunkeld in the Grampians outside Hamilton before also heading to W.A.

They took their name from their Dunkeld farm and recently released third album Dust Will Settle.

CLICK HERE for the Adam Brand interview from the Diary on March 3, 2008.
WIN ADAM BRAND CD-DVD PRIZES
We have more good tidings for viewers wanting to join Nu Country TV and keep us on air in Victoria, Queensland, South Australia and New Zealand.

Major independent label Compass Brothers has donated autographed copies of Adam Brand's seventh disc Blame It On Eve for viewers who become Nu Country members or renew their membership.

The CD has a bonus DVD of the making of the album and the video clip of Get On Down The Road that we aired on our show.

Adam also did an exclusive interview with Nu Country TV that we have broken up into two episodes during Series #10.

We have limited supplies of Adam's big selling CD-DVD so please email us first at music@nucountry.com.au so we can allocate your reward.

Adam performed at Crown Casino in Melbourne on August 2 with Compass Brothers stable-mates James Blundell and The Sunny Cowgirls.
WILLIE NELSON BOOK PRIZES
We also celebrated Shotgun Willie Nelson's 75th birthday on April 30 with a special giveaway of his collectors' book.

We have limited stock of Willie Nelson - The Collected Writings Of A Living Legend - The Facts Of Life And Other Dirty Jokes.

The book, featuring yarns, jokes and Willie Nelson song lyrics, is the latest addition to our prize treasure trove.

It's available for viewers wanting to become members or current members wishing to renew membership.

Please email us at music@nucountry.com.au for a chance to win a copy of this book with your membership.

We also have autographed copies of Mike Brady's album Country To Country and others by Troy Cassar-Daley, Tania Kernaghan and Arizona singer Billy Wyatt.

CLICK HERE for our Membership Page.