DAVE'S DIARY - 18/8/08 - PREVIEW OF EPISODE 12 - SERIES 10
MELINDA SCHNEIDER HOSTS NU COUNTRY TV
Multi-award winning Australian star Melinda Schneider hosts Nu Country TV this Saturday - August 23 - at 8.30 p m on C 31.

The singer also features in an exclusive interview on the show, repeated on Thursday at 9.30 am and Saturday at 4.30 am.

Melinda is promoting the title track of her fifth album Be Yourself on her own indie label after four discs with Compass Brothers.

The singer also previews videos by fellow Australian artists including Mornington Peninsula band The Distance with guest vocalist James Reyne, Bec Willis, Melissa Barjic and Sydney singer Jeremy Edwards and Dust Radio.

Schneider and yodelling mother Mary recently appeared on Andrew Denton's ABC-TV show, Enough Rope.
Melinda has also kindly donated copies of her new CD to C 31 viewers who become members or members who renew their membership.

CLICK HERE for details on our membership page.
CLICK HERE for a Melinda interview from The Diary on July 26, 2008.
CLICK HERE for a Melinda CD review - also on July 26, 2008.
BEC WILLIS
Melinda reveals that Bec Willis revisited her back pages to write Toohey Road about her former home in Brisbane.

Willis, 32, performs in a video of the song from her self-titled album, released here by Shock Records.

Bec was born long before the Big Lobster surfaced as the tourist lure for the serenity of her old hometown Kingston on the South Australian coast.

She debuted as a rock band bassist in the far more remote outpost of Ceduna and sold her electric jaffle maker for a bus fare from her Brisbane fish and chip job to the NSW Central Coast to cut demos for her debut disc.

Unlike the other Johland fish fryer Pauline she had fertile country song fodder - a Port Lincoln TAFE course, uni stint, bank career and a brace of ruptured romances.
It's no surprise she whipped up 12 original songs suitable for producer mentors Bill and Kasey Chambers.

Willis now lives near her producers who head for the U.S. in September on a tour to promote the Kasey-Shane Nicholson CD Rattlin' Bones.

CLICK HERE for a review of Bec's CD from the Diary.

THE DISTANCE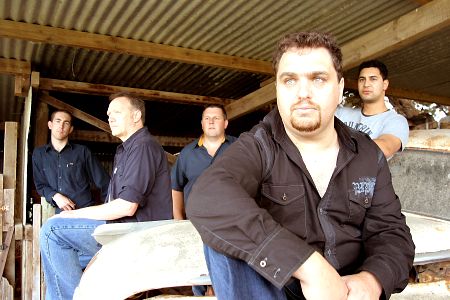 Mornington Peninsula band The Distance enticed neighbour James Reyne to join them in the video for Country Life from their second indie CD Grounded.

Reyne did his time in Australian Crawl before returning to chart tops in 1992 on his duet with James Blundell on Dingoes hit Way Out West.

Here he struts his stuff among a vast cast in a barn featuring all varieties of harvested hay - round and square bales - except the turbo methane charged silage.

There's no burping butter fat friendly Friesians in the audience but quite a few young heifers without calves at feet.

The musical marriage of The Distance and Reyne was far from a farm gate friendship.

"I met James through our family business," lead singer and long Distance writer Gavin Leadbetter revealed.

"We sell guitars and James is a regular customer. We've become mates over the years. He loved our first album Don't Look Back so we are always talking about gigs and recording.

When we were talking about the new Distance album he suggested we do a song together. I said cool. He is a great bloke, very casual and amazingly talented which all makes him very easy to work with."

The song details the trauma of a country boy tired of chasing success in smog choked cities and mental midgets in the traffic and dance clubs.

"I just love my farm and my rural life," says Leadbetter whose band mates are Darren Shiels, Jim Mournian, Mitchell Dean and Peter O'Keefe (not the Nu Country DJ and membership officer.)

"I go to the city and everything is too fast; it doesn't stop. It might be fun for a little while but going home is always better."

The Distance, popular on the rodeo and Ute circuit, launched its album at the famed Kinross Woolshed at Thurgoona in southern NSW.

Further info - www.thedistance.com.au

JEREMY EDWARDS

Jeremy Edwards and his band Dust Radio perform their song You Need Love live at the Vanguard Hotel in suburban Sydney.

The song is from Edwards' second indie CD Stay Hungry that he promoted on his recent east coast tour that included Victoria.

That was long after he performed in 2005 at the Nu Country TV Arts Centre concert with Corinna Steel who sang harmonies on the song Caroline from his previous 11 track CD Wires and accompanying DVD.

Dust Radio won the Garth Porter Producer Award at The MusicOz awards at Enmore Theatre in Sydney for Wires.

Edwards played guitars - including slide, bass and acoustic - and mandolin on a disc he produced with drummer George Brugmans at his western Sydney home studio.

Further info - www.jeremyedwards.com.au

MELISSA BAJRIC

Hunter Valley singer Melissa Bajric is well qualified to perform in the video for her song Luckiest Girl from her second album Small Town Girl.

Melissa, just 24, was raised in a small village in the Hunter Valley wine belt.

The singer shares geographical roots with 2007 Starmaker winner and 2008 best new talent Golden Guitars winner Kristy Lee Akers, now 20.

Both singers earned their stripes in talent quest in towns in the former coal fields and way beyond.

Melissa released her debut album Believe In Me in 2001.

And in 2003, with Bob Easter and Graham Rodger, she released popular duets album Drovin' All Over.

All of Melissa's albums have been produced by multi award winning music producer Lindsay Butler.

Further info - www.melissabajric.com


KACEY JONES CDS AND TEE SHIRTS TOO

Kacey Jones has donated autographed copies of her acclaimed tribute CD to the late, legendary Texan singer-songwriter Mickey Newbury to Nu Country.

Nu Country has featured the CD video clips San Francisco Mabel Joy and Lie To Me Darlin' featuring Texan singer-songwriters Kris Kristofferson and Waylon Payne.

The CD - released here in July - is one of many rewards for viewers to become members or renew their much-appreciated memberships.

Kacey also autographed tee shirts and posters for Nu Country members.

For your $22 membership and postage you can take your pick of Kacey memorabilia. We have limited supplies so please email us at music@nucountry.com.au first.

WIN ADAM BRAND CD-DVD PRIZES

We have more good tidings for viewers wanting to join Nu Country TV and keep us on air in Victoria, Queensland, South Australia and New Zealand.

Major independent label Compass Brothers has donated autographed copies of Adam Brand's seventh disc Blame It On Eve for viewers who become Nu Country members or renew their membership.

The CD has a bonus DVD of the making of the album and the video clip of Get On Down The Road that we aired on our show.

Adam also did an exclusive interview with Nu Country TV that we have broken up into two episodes during Series #10.

We have limited supplies of Adam's big selling CD-DVD so please email us first at music@nucountry.com.au so we can allocate your reward.

Adam performs at Crown Casino in Melbourne on August 2 with Compass Brothers stable-mates James Blundell and The Sunny Cowgirls.

CLICK HERE for the Adam Brand interview from the Diary on March 3, 2008.

WIN CATHERINE BRITT AND MELINDA SCHNEIDER DISCS

We also have the latest CDS by Aussie stars Melinda Schneider and Catherine Britt as a reward for new members and renewing members.

Melinda hosts an upcoming episode of Nu Country and has donated copies of her fifth CD Be Yourself.

And Catherine and her record company ABC-Warner provided autographed copies of her third CD Little Wildflower.

We have limited supplies of Melinda and Catherine's big selling CDs so please email us first at music@nucountry.com.au so we can allocate your reward.

WILLIE NELSON BOOK PRIZES

We also celebrated Shotgun Willie Nelson's 75th birthday on April 30 with a special giveaway of his collectors' book.

We have limited stock of Willie Nelson - The Collected Writings Of A Living Legend - The Facts Of Life And Other Dirty Jokes.

The book, featuring yarns, jokes and Willie Nelson song lyrics, is the latest addition to our prize treasure trove.

It's available for viewers wanting to become members or current members wishing to renew membership.

Please email us at music@nucountry.com.au for a chance to win a copy of this book with your membership.

We also have autographed copies of Mike Brady's new album Country To Country and others by Troy Cassar-Daley, Tania Kernaghan and Arizona singer Billy Wyatt.

CLICK HERE for our Membership Page.