DAVE'S DIARY - 4/8/08 - PREVIEW OF EPISODE 10 - SERIES 10
DALE RETRO - A MOOT POINT
Retro American country singers Dale Watson and Moot Davis headline Nu Country TV this Saturday - August 9 - at 8.30 p m on C 31.

Snowy Townsend's Bona Fide Travellers reached back further when they performed live at the Nu Country Christmas party at Hotel Kew.

But eastern suburbs Melbourne band Jetty Road headed north to make the video for new single City Lights.

Joe Camilleri struts his stuff with his roots country band Black Sorrows and Sydney swing combo the Yee Ha Boys return with their new video clip.
JAMIE DENTON JOINS DALE
Revered Texan roots country singer Dale Watson performs in the video for his social conscience song Justice For All off his 14th album From The Cradle To The Grave.

Watson shot the video in Los Angeles with Desperate Housewives star James Denton - childhood sweetheart of country singer Deanna Carter.

Denton, a part time guitarist, was the lead in the clip directed by fellow singing actor James Intveld who appeared with Watson in the 1993 Bluebird Café film The Thing Called Love.

That movie starred the late River Phoenix and Sandra Bullock with cameos by Kevin Welch, Pam Tillis and Garth Brooks second wife - Trisha Yearwood.

Watson recorded his album at a Hendersonville cabin - once owned by the late Johnny Cash - and now occupied by another Johnny, actor Johnny Knoxville.
The Cash Cabin Studio - on 40 acres of woods near Hendersonville - was also locale for Carlene Carter's recording demos for 10th album Stronger and also where fellow Texan Billy Joes Shaver recorded his gospel album Everybody's Brother.

Knoxville, who also played the late country singer Gram Parsons' body snatcher Phil Kaufman in the Grand Theft Parsons movie, missed out on his video cameo.

"Johnny Knoxville got held up at the airport," Dale revealed of the song inspired by a trial that he saw on television about a real life revenge killing.

"James Denton played the avenging father whose child was killed but the guy gets off on technicalities and father grabs the jailer's gun and shoots the guy. He's sentenced to death and is vilified by the state. So it's not justice at all - but in their eyes it is."

Instead he appeared in another Watson video Hollywood Hillbilly after winning fame for his role as Kaufman in Grand Theft Parsons.

Kaufman and Australian road manager Michael Martin stole the body of Parsons, 26, from Van Nuys Airport in Los Angeles in September, 1973, and burned it at Joshua Tree in the California desert.

The creative cut-rate cremation was a sequel to a death pact made two months earlier by Parsons and Kaufman at the funeral of Byrds guitarist Clarence White, killed by a drunk driver.

Ironically, Grand Theft Parsons featured at the Nashville film festival on the same bill as the Nick Brenner directed docco on Nu Country FM.

Watson, 44 and father of three daughters, is no stranger to movies.

Art imitated life for Dale when cast with David Carradine in the movie Austin Angel.

Director Zalman King (9 1/2 Weeks and Red Shoe Diaries) decided Watson's tragic life was worthy of a documentary and made it instead.

CLICK HERE for a Watson feature from the Diary on February 21, 2007.
CLICK HERE for a review from our concert reviews on February 28, 2007.

MOOT DAVIS
New Jersey born retro country singer Moot Davis returns to Nu Country TV with live footage of his song Last Train Home from second album Already Moved On.

Pete Anderson produced the Davis disc for his Little Dog Records label.

Anderson toured here as lead guitarist for famed Kentucky born singing actor Dwight Yoakam on his first Australian sojourn in 1996.

Another Davis song Whiskey Town was used in academy award winning Hollywood movie Crash.
Davis's music was also featured in the second Dukes Of Hazzard movie in 2005 with Texan legend Willie Nelson, Jessica Simpson and many more.

The original TV show featured the late, great Waylon Jennings as narrator and also performing his song The Good Ole Boys.

Davis's music is deeply rooted in the Bakersfield sound.

But Moot, born in famed Jersey city Trenton, recently boomeranged to Nashville where he first settled in 2001.

At one stage he planned to relocate to New Zealand.

The former pool builder also earned royalties from his songs in horror hit The Hills Have Eyes and an Irish independent film Small Engine Repairs.

Moot scored his break on WDVR-FM - a radio station in Sergeantsville - in his home state.

He was featured on a live weekly hillbilly radio show Heartlands Hayride and cut a demo that lured him to Nashville.

Fellow retro Texan honky-tonker Rosie Flores, who scored airplay on Nu Country FM and High In The Saddle and Acid Country on RRR and PBS-FM, suggested Moot send his demos to Anderson.

Davis credits Flores, who toured here early in the millennia, for his launch and desire to perform here.

Further info - www.mootdavis.com
JOE FINDS COMFORT IN BLACK SORROWS
Legendary Melbourne singer-songwriter Joe Camilleri debuts on Nu Country TV with his band The Black Sorrows.

The group performs a video of their song Comfort Me from 2006 CD Roaring Town.

Joe produced the first country album by prolific Geelong born Golden Guitar winner Adam Harvey.

Camilleri and writing partner Nick Smith have collaborated on a vast variety of songs during for the Black Sorrows and The Revelators.

Joe and Nick also wrote eight new songs on Bakelite Radio (Volume 3).

Camilleri, who arrived in Australia from Malta at the age of two, started in a quartet at university with Captain Matchbox guitarist Dave Flett - latter day musical partner of country singer Suzie Dickinson.

Former Nu Country FM DJ Gary Young was also the drummer in Camilleri's band Jo Jo Zep & The Falcons.

Further info - www.theblacksorrows.com.au/
JETTY ROAD
Melbourne band Jetty Road - featuring twin sisters Lee and Paula Bowman - returns to Nu Country TV with its video for second album title track City Lights.

The quartet - featuring multi-instrumentalists Julian Sammut and Simon Ross - filmed it in the shadows of the Sydney Harbour Bridge and other exotic locales.

Dirt Road-City Lights features 11 of their original songs.

Also on the album is modern day, real life Gothic murder song Brother Sister.

The Bowman sisters hail from Nungurna near Lakes Entrance and Bruthen in far East Gippsland.
The song was written after Lee heard the true story of a brother and sister forced by their parents to bury their siblings in the backyard after the parents murdered them.
"The song doesn't spell out all the circumstances - it just refers to 'things of pure evilness' - but the story really disturbed me when I heard it," Lee Bowman revealed. "The girl involved, Luz Ricardo, is now a woman, and has managed to transcend her past and is studying for a law degree. She's a real inspiration, and her courage is really what made us write the song," Lee said.

Jetty Road performs extensively in Australia and New Zealand and this year played in Nashville and Canada at the Dauphin Country festival.

The band did two shows on the prestigious bill featuring Georgian born stars Alan Jackson and Travis Tritt and Emerson Drive - a Canadian band who also topped U.S. charts.

Dauphin is Canada's longest running country music festival.

Further info - www.jettyroad.com

YEEHAA BOYS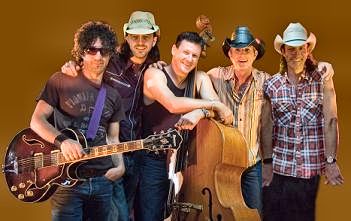 Sydney band The Yeehaa Boys also return with a video of new single Can Ya Feel It.

The band was formed from the ashes of Noiseworks, Ted Mulry Gang & Radiators.

Former Mulry Gang member Mick Buckley created the band after a six-year sojourn in the Deep South of the U.S.

Buckley soaked up western swing while working in Texas, New Orleans, Florida and Nashville
The Yeehaa Boys released two singles Playin' 8 Ball in mid-2006 and more recently Shake Baby (Do Ya Stuff).

Next came their self-titled The Yeehaa Boys album launched at the famed Basement in Sydney.

Further info - http://www.theyeehaaboys.com/

SNOWY TOWNSEND'S BONA FIDE TRAVELLERS
Snowy Townsend's organic Bona Fide Travellers return with a live song from our Hotel Kew Christmas party.

They perform their drinking ode 27 Years Of Beers.

The band later opened for celebrated American comedienne Kacey Jones and stone country star Becky Hobbs during our live concert special at The Noise Bar at the Railway Hotel in Brunswick.

CLICK HERE for a Bona Fide Travellers review from our concert section on February 1, 2008.
KACEY JONES CDS AND TEE SHIRTS TOO
Kacey Jones has donated autographed copies of her acclaimed tribute CD to the late, legendary Texan singer-songwriter Mickey Newbury to Nu Country.

Nu Country has featured the CD video clips San Francisco Mabel Joy and Lie To Me Darlin' featuring Texan singer-songwriters Kris Kristofferson and Waylon Payne.

The CD - to be released here in July - is one of many rewards for viewers to become members or renew their much-appreciated memberships.

Kacey also autographed tee shirts and posters for Nu Country members.

For your $22 membership and postage you can take your pick of Kacey memorabilia. We have limited supplies so please email us at music@nucountry.com.au first.
WIN ADAM BRAND CD-DVD PRIZES
We have more good tidings for viewers wanting to join Nu Country TV and keep us on air in Victoria, Queensland, South Australia and New Zealand.

Major independent label Compass Brothers has donated autographed copies of Adam Brand's seventh disc Blame It On Eve for viewers who become Nu Country members or renew their membership.

The CD has a bonus DVD of the making of the album and the video clip of Get On Down The Road that we aired on our show.

Adam also did an exclusive interview with Nu Country TV that we have broken up into two episodes during Series #10.

We have limited supplies of Adam's big selling CD-DVD so please email us first at music@nucountry.com.au so we can allocate your reward.

Adam performed at Crown Casino in Melbourne on August 2 with Compass Brothers stable-mates James Blundell and The Sunny Cowgirls.

CLICK HERE for the Adam Brand interview from the Diary on March 3, 2008.

WIN CATHERINE BRITT AND MELINDA SCHNEIDER DISCS
We also have the latest CDS by Aussie stars Melinda Schneider and Catherine Britt as a reward for new members and renewing members.

Melinda hosts an upcoming episode of Nu Country and has donated copies of her fifth CD Be Yourself.

And Catherine and her record company ABC-Warner provided autographed copies of her third CD Little Wildflower.

We have limited supplies of Melinda and Catherine's big selling CDs so please email us first at music@nucountry.com.au so we can allocate your reward.
WILLIE NELSON BOOK PRIZES
We also celebrated Shotgun Willie Nelson's 75th birthday on April 30 with a special giveaway of his collectors' book.

We have limited stock of Willie Nelson - The Collected Writings Of A Living Legend - The Facts Of Life And Other Dirty Jokes.

The book, featuring yarns, jokes and Willie Nelson song lyrics, is the latest addition to our prize treasure trove.

It's available for viewers wanting to become members or current members wishing to renew membership.

Please email us at music@nucountry.com.au for a chance to win a copy of this book with your membership.

We also have autographed copies of Mike Brady's new album Country To Country and others by Troy Cassar-Daley, Tania Kernaghan and Arizona singer Billy Wyatt.

CLICK HERE for our Membership Page.