DAVE'S DIARY - 25 OCTOBER 2003
DEAD LIVERS SURVIVE FOR 25TH ANNIVERSARY
"I want to be a working man just like good old Merle/ or work 9-5 like Dolly, she's a good old girl/ but one place that I don't want to be is in this factory/ that ain't no place for a stud like me/ all I want is a ticket saying I don't have to work." - Stud Like Me - Marty Atchison.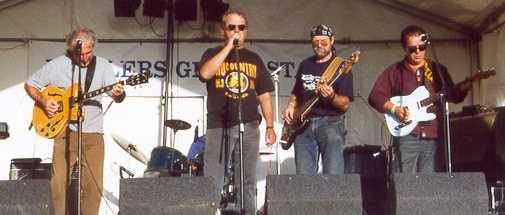 The Dead Livers belatedly celebrate their 25th anniversary at the Bush Inn Hotel in West Toorak - an oasis in the country music starved casino state capital.

Co-founders Michael Schack and Marty Atchison - boarders at Monivae College in the Western District wheat belt capital, Hamilton - originally played in progressive rock band 'The Dogs.'

The lads were knocked off in a sixties battle of the sounds by a band whose members later became the nucleus of Shipwreck Coast country act Nevada.

Ironically, Schack's latter day bands include Lost In Suburbia - a director descendant of Nevada - Old Spice, Louie & The Rustlers, Rusty Track, Ryegrass Staggers, Old Spice and Yarpturk Ramblers.

Schack - son of a soldier settler - and the wool classing prodigal son Atchison escaped unscathed from the Catholic colosseum, picked up a pair of Bachelors Of Art degrees and set about their real tasks in life - procreation and songwriting.

The duo formed the famed Dead Livers in 1978 and gave birth to the hell-raising band that has blazed a tortuous trail south and north of the Murray-Dixon for two decades.

Their songs were a riveting reflection of life in the hedonistic rural and urban fast lane - a passionate pasture fertilised with the fiery phosphate of rampant reality in a cloying scene tarnished by hillbillies and matching shirt bands.

They sang of bank robberies, recreational drinking & drugging, trucking, teaching, tripping, cheating, praying, cricket, football and unrequited love with a sardonic social conscience.
BEAUFORT DEBUT

They debuted in Beaufort and opened for artists diverse as 'Leon Russell & the Newgrass Revival,' 'Amazing Rhythm Aces' and Charley Pride.

They have also played controversial gigs at Tamworth and the famed Pub With No Beer Festival at Taylor's Arms on the NSW North Coast.

They have performed Shipwreck Coast tours over summer and also gave a touch of class to one of the last the Red Hill Country festivals.

Now, long after Schack retreated to Koroit satellite suburb Yarpturk and Atchison to the Moe Riviera in Gippsland and later to Portland, the sextet are on the road again.

The genetic gymnastics of Shack and Atchison - eight offspring - has been surpassed by their songwriting on a bunch of vinyl and cassette releases.
THE HITS

Schack and Atchison wrote most of the Dead Livers recorded material but reclusive pedal steel guitarist Brendan Mitchell penned the theme tune, Ballad Of A Dead Liver - the flip side of the Atchison penned debut vinyl single Grandpa (Take Me To The Cricket.)

And lead guitarist John Berto wrote the Continental cowboy classic, Mediterranean Moonlight, and its companion song Prairie Dog.

Atchison tunes Up And Down The Line & Hard Doing Ken, Schack songs Telegraph & Data Man and Moonlight - with Madder Lake keyboard player Jack MacKinnon as special guest - appeared on their first EP.

Marty's passionate period piece, Holy Mary, and Prairie Dog were cut in historic sessions at a Glenhuntly studio but held back for a later release.

His hedonism anthem, Stud Like Me, and Schack's Star Of The West (a celebration of 5 am sessions at former Collingwood rover Ronnie Wearmouth's former pub of that name at Port Fairy on the Shipwreck Coast.

Ronnie owned the Shipwreck Coast hotel with fellow VFL stars including Ricky Barham, Wayne Richardson and Craig Stewart.

The original version was produced by Gary Young - better know as a popular RRR and Nu Country DJ and a veteran rock, blues & country singing drummer and raconteur.
It also appeared on a 10 track Dead Livers Greatest Misses cassette, long a collectors' item.

GREATEST MISSES

Now, because of the wizardry Rodger Delfos - one of two Dead Livers guitarists - their Greatest Misses is available on CD.

Three bonus tracks - recorded at Coburn's Yarra Bank studio in 1981 - are also included.
They include the Bill Jackson penned Lamington Bros tune Keep On Rolling and two parodies of the Pat Alexander penned Slim Dusty penned No 1 hit, Duncan.

The first - I'd Love To Have A Joint With Willie (written by David Dawson) - earned a front page lead story in now defunct Truth, owned by Mark Day and Owen Thomson, and the Melbourne Herald and Adelaide Advertiser.
SHOTGUN WILLIE

Shotgun Willie Nelson adopted the tune as his 1981 Australasian tour theme after the writer flew to Auckland with a tape of the hastily recorded tune while covering the visit for the Sydney Daily Mirror and Daily & Sunday, Telegraphs.

The accompanying publicity, catalysed by intensive airplay on the major Sydney and Melbourne rock radio stations, elevated Dead Livers beyond cult status and they soon had Charley Pride, the Amazing Rhythm Aces & Leon Russell & the Newgrass Revival close shows for them.

Expatriate Kiwi cowpoke Peter Caulton and the late great A.P. Johnson - then hosting a country show on 3RRR - fanned the flames by parodying the parody with their politicised pearler, I'd Love To Have A Smoke With Malcolm.

Although The Dead Livers never quit their day jobs for the fools' gold of southern bands in the impossible dream of commercial success in the unlucky radio country they retained black belt karate drummer Richard O'Keefe - a chamber magistrate and pending lawyer - for security purposes.

O'Keefe's gems include Don't Hit Your Mother With A Shovel (It Creates A Bad Impression On Her Mind) and Randy The Ram (I'll Never Find Another Ewe.)
PEDAL STEEL TRIO

Pedal steel guitarist Brendan Mitchell, also in the Melbourne cast of Dolly Parton musical 'The Best Little Whorehouse In Texas,' recovered from a liver transplant more than three years ago.

Mitchell, a welder by trade, wrote their theme song, 'Ballad Of A Dead Liver,' and has played for diverse artists including A.P. Johnson.

The band has had three pedal steel players - Randy Broughton and Bob Suffern.
Broughton began his Aussie sojourn with Hit & Run and returned to the U.S. and played with roots country band, Gear Daddies, whose singer Martin Zellar enjoyed solo success.
Suffern followed his heart to Nashville where he plays banjo and runs an engineering business.
DEAD LIVERS REACH TO THE WESTERN SKY
"He told me his son worked for the shire/ lost his old house in that '83 fire/ his daughter nurses old folks in some country town/ he's had lots of troubles but he don't wear no frown/ gets dizzy spells from smoking too much/ uses wishing wells, just searching for luck. Doesn't drink any more, doesn't drink any less, just a happy in life, a survivor, I guess.' - Old Man On A Bar Stool - Mick Schack.

The band has frequently performed at Nu Country functions during its 25 year plus career that included TV stints on Seven Network music show Sounds and the John Singleton Show on the Ten Network.

Despite never performing full time there has been a constant demand for their music - a staple of Nu Country and progressive country shows on community radio.

This ensured the birth of a sequel to Greatest Misses.

'Star Of The West' was digitally remastered for their second album cut in 2000 at the Shipwreck Coast Warrnambool studio of producer Peter Bird of 'Nevada' and 'Lost In Suburbia' fame.

It features seven new Atchison tunes and Schack songs 'Old Man On A Bar Stool' and 'Standing Room Only' - penned by Schack and Bird.

Atchison wrote 'Sunshine' about riding a train daily to teach at a tough tech college in Melbourne's wild west and 'Daydreaming' about better days in St Kilda.

He parodied a myopic me-generation in 'What's In It For Me,' the girl that got away in 'Rosemary' and prophetic bliss of new home town Portland on Lucky Tonight.
The disc ensured survival status of the band - true survivors in a genre treated like lepers by Australian commercial radio and relegated to the back of the TV bus.
SURVIVORS

Band members are true survivors.

Not just as musicians, who play for the love - not the loot of the music - but also in human terms.

Singer Marty Atchison's first wife, Lottie, mother of his two eldest children, tragically died in an electrical accident in Adelaide.

And his second wife Jane, mother of their three youngest sons, has fought a spirited battle with cancer for more than three years.

Pedal steel guitarist Brendan Mitchell is making the most of his recovery after a liver transplant more than three years ago.

Mitchell checked himself out of the Austin Hospital after a liver transplant in 2000 to make the 22nd anniversary of his band at the Bush Inn.

On Brendan's return to the Heidelberg heights hospital he had to ring the emergency bell to be escorted back to his bed.

Harmonists on Reaching To The Western Sky are Lost In Suburbia singer Wendy Goyen, Sophie Barratt, Hannah Schack, guitarist John Berto, pianist Chris Shanley and famed Koroit singer-signwriter Duncan McKenzie.