DAVE'S DIARY - 26 MARCH 2018 - PETER CAULTON OBITUARY
PIONEER KIWI OUTLAW PETER CAULTON RIDES INTO SUNSET
"Oh Willie you busted my heart with your songs/ Waylon you made me a rover/ tomcatting around every night of the week with friends I've never seen sober/ a mysterious cowboy with tattoos and rhinestones/ taught me how to live and love it/ that old nine to five soon flew out the door/ when I told the foreman to shove it." - No Account Cowboy - David "Speedy" Hampson.
When pioneer Kiwi outlaw country singer-comedian Peter Caulton died of a heart attack on March 13, 2018, shortly after his 71st birthday in Auckland suburb Forrest Hill it was a fatalistic boomerang of sorts.
The father of five hailed from Gisborne - reportedly the first place in the world the sun shines each day.
It was the nation where his colourful 50 plus year career, that embraced 26 countries, started and finished.
The gregarious gaucho performed a hedonistic hybrid of country, comedy and diverse original tunes and peers gems in his dynamic live shows.
Caulton fronted New Zealand bands Country Flyers, Stage Door Trio and Good News with Midge Marsden in his embryonic era.
He also performed solo on major TV shows, P & O Cruise ships and international casino circuit including Wrest Point in Hobart.
So it was no surprise that the singer-songwriter was signed to fellow expat Kiwi Barry Coburn's White Cloud Management in Toorak and soon hosted the Peter Caulton Country Music show on 3RRR-FM .
Caulton earlier gained exposure in his homeland on TV shows Touch of Country , Ray Columbus New Faces, C'mon, Happen Inn and That's Country that Columbus created and sold to a US cable network.
He appeared with peers diverse as Alison Durbin, John Rowles, Murray Grindlay, aka Monte Video & The Cassettes , and The Tourists who became 33 South in Australia.
Caulton also performed on TV during tours of Switzerland , England , Canary Islands, Scandinavia, Asia and Germany.
That was where he lived with wife Bea whom he met in the Canary Islands and honoured with love song Las Americas recorded with German band Truck Stop.
In Australia he was featured on Mike McClellan's ABC-TV Country Road show in 1978 and won a major 1980 Southern Hemisphere Country Music Award at Myer Music Bowl.
He also opened for international artists diverse as Emmylou Harris, Jerry Jeff Walker, Kenny Rogers, Sheb Wooley, Slim Whitman, George Hamilton 1V, Burrito Brothers and performed here at Wandong, Gympie, Tamworth and Red Hill festivals.
P.C. Caulton & The Pick-Ups and Suzie Dickinson were also headliners on Coburn's Spurs Cowboy bar network that began at the Southside Six in Moorabbin and expanded to the Meadow Inn at Campbellfield, Canberra and Norlane Hotel, Geelong .
The Norlane Spurs launch attracted country fans diverse as Geelong VFL team captain-champion Michael Turner and high profile team-mates including latter day National Party Federal MP Damian Drum, Dwayne Russell, Paul Couch and Andrew Bews.
The Pick-Ups included guitarist-vocalist Martin Hope, bassist Andrew Forrer, guitarist-keyboardist Craig Reeves and drummers Gary Young, Dave Williams and Nick Pittman.
Late Fairport Convention singer-songwriter Trevor Lucas also produced a Caulton album that cost $40,000 but was never released.
It included Richard Thompson song Living On Borrowed Time and late Panton Hill Umbrella Club member and the late Sunday Herald journalist David "Speedy" Hampson's tune No Account Cowboy that appeared on the J & B compilation Country Outlaws.
Caulton, who lived outside former mining hamlet Costerfield near Heathcote, also appeared on a Wandong Country Music album and fronted the 16 piece Vic State Opry who released a live cassette.
COWBOYS AND OUTLAWS
"I'm wet and I'm hungry and I'm mean/ the last friend I had was the jailer/ I realise I must have been out of my head to listen to Willie and Waylon." - No Account Cowboy - David "Speedy" Hampson.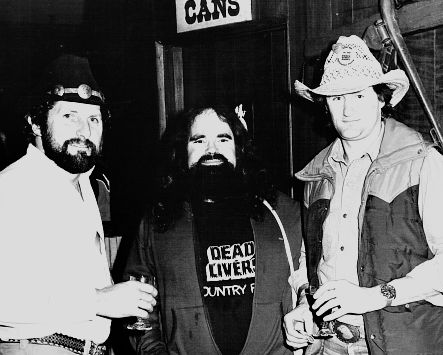 Peter Caulton with David Dawson & Michael Turner
Caulton was best known in Australia for his outlaw spirit and humour.
It peaked when he was banned from Tamworth Workers Club on an eighties sojourn with fellow expat Kiwi Tex Nobody, aka Glen Crosse, the Dead Livers , the late A.P. Johnson and singing cartoonist Fred Negro & The Gravy Billies.
The troupe's sin was to perform David Allan Coe country porn songs to celebrate birthdays of a NSW Vice Squad sergeant and fellow late expat Kiwi author and journalist Jim Oram.
But it was in Melbourne Caulton teamed with fellow outlaw Artimus Paul Johnson who chanced his arm on banana plantations and bull riding before joining Brisbane blues band The Bay City Union at 17.
Johnson also worked as a singing roadie and opening act for Moose Malone & The Country Cassanovas with whom he moved to Melbourne in 1977.
That was four years before Caulton and Johnson, who died of pneumonia at 49 in October, 1995, featured on the Dead Livers Greatest Misses CD in their duet on I'd Love To Have A Smoke With Malcolm.
They wrote the song - a parody of Slim Dusty-Pat Alexander hit I'd Love To Have A Drink With Duncan - after playing the Dead Livers satiric spoof I'd Love To Have A Joint With Willie on Caulton's RRR-FM show.
Shotgun Willie, 85 on April 29, adopted Love To Have A Joint With Willie as his pre-concert tour theme song on his 1981 tour that began in Auckland before his shows in Wellington , Christchurch and Australia.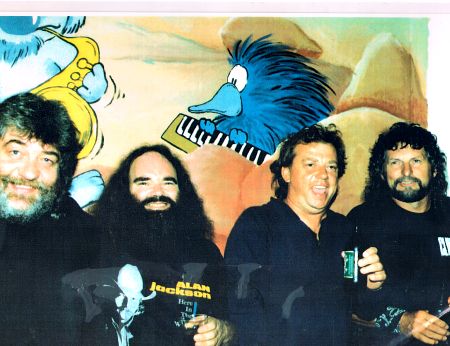 Peter Caulton, David Dawson & Marty Achison
Caulton & The Pick-ups also released Dead Livers singer Marty Atchison's tune Grandpa Take Me To The Cricket as a single in 1983.
His version of Redgum bassist Hugh McDonald tune Spirit Of The Land Survives and Murray Grindlay song You're Still Walking Out On Me scored bootleg airplay.
Ironically, he also recorded an 11 track album Hard Road , Tough Country in 1996 in Austin , Texas , for BSW Records and Bear Family.
It featured original Caulton songs If You Ever Leave Me, Can I Come Too and Frühstücken , Kenny Joe Blake tunes Who Drove That Mystery Train and Days Work Done and the Chris Stockley-Gary Young-Steve Hoy penned title track.
Caulton performed Nu Country FM DJ Kenny Joe's song Who Drove The Mystery Train live on a German TV show.
You can view it this Youtube link. https://www.youtube.com/watch?v=GhEyfufbTu0
Guest musicians included Austin A team session players - guitarist Larry Sayer, pedal steel guitarist Marty Muse, bassist Glenn Funkunaga, fiddler Gene Elder, organist Joe Guzman, drummer Freddy Steady Krc and Gary Primich on harmonica.
Back-up vocalists were Christine Albert, Bob Livingston, Ray Ramos and Kenny Williams.
" Frühstücken is German for breakfasting," Caulton explained to me in a 1996 letter from San Antonio after he finished recording.
"I ripped off Mental As Anything as the title for another song If You Leave Me Baby Can I Come Too . It's a completely new song, only the title is pretty much the same. It is a Texas swing song and the boys in Austin did it proud. I finally got to play with the big boys and they all loved the material. I'm feeling pretty good. We are off for a major tour of Europe ."
Caulton returned to Hechtausen in Lower Saxony, Germany, with his wife Bea for many tours that included Europe and Scandinavia with his Johnny Cash tribute Ring of Fire Show.
It was a far cry from his humble vinyl embryonic recording debut in New Zealand .
He recorded Six Days On The Road/Truck Drivin' Son Of A Gun in 1967 for Viking and two singles for Tree.
The first was Diddle Diddle Dumpling/Everybody Wants To Be Somebody Else in 1971, recorded as Peter Caulton with Rosemary And Friends.
The second was Pickin' White Gold/My World Keeps Changing with Midge Marsden in 1972.
The two Tree singles were also combined onto a 1972 EP - Pickin' White Gold.
THE LAST WALTZ
"On Sundays touring Germany/ come breakfast time the band and me, we shuffle on down to a favourite spot/ where the rolls are warm and the coffee's hot/ from Berlin town to Dusseldorf, and Munich south to Hamburg north/ you've got to love what's cooking." - Frühstücken - Peter Caulton.
Caulton's family and friends - including his partner Robyn Alexander - celebrated his life at the Purewa Cemetery All Saints Chapel in Meadowbank, Auckland , on Monday March 26.
That service was followed by a joyous musicians' session at the Churchill Club in Glendowie.