DAVE'S DIARY - 3 JUNE 2012 - MICK THOMAS FEATURE
MICK THOMAS - MALTBY MAGIC
"They left Willie and Waylon waiting in the van/ Willie and Waylon waiting on the man/ for the light to fade for the camera crew/ ah c'mon John, there's work to do." - Maltby By-Pass. - Michael Thomas.
Merry minstrel Mick Thomas and his elderly mother were visiting his dad on his deathbed in Geelong hospital when the TV news broke - Johnny Cash had died.

Less than two hours later on September 12, 2003, the Thomas patriarch, a former SEC electrical engineer, was also dead.

"I remember looking at the TV and saying 'mum I reckon this is it,'" Thomas recalled of telling his mother of the parallel of the two deaths.

"I thought people are a world apart but they're not that far apart."

Thomas's father, a Cash fan, was 78 and Cash was 71.

"Dad was a Johnny Cash fan all his life," Thomas, now 53, told Nu Country TV when promoting his 12th CD Paddock Buddy in 2006 with his band The Sure Thing.

"Cash died of Parkinson's and Dad died of a similar illness. Dad wasn't a man who loved music full stop. Cash was the artist he loved."
Raconteur Thomas didn't have to dig deep into his memory bank for a fertile musical and geographical nexus between the two septuagenarians for his song Maltby By-Pass.

He vividly recalled the day in the seventies when the family's powder blue EK wagon broke down in the same area where Cash shot cover pictures for an album.

"We were left waiting for hours by Dad's car with our dog while dad climbed under it as we waited for the RACV," Thomas recalled.

"Two decades later Cash was touring here with The Highwaymen and needed a photo for the cover of American Recordings. He was on the way to Geelong and Willie and Waylon were left waiting in the van until the light was right for the photographer. I verified the dogs on the cover were called Sin and Redemption."
TOMMY EMMANUEL'S GUITAR
"But when I left you in a cab down on Brunswick Street/ for the longest week you stayed away from me/ but I got you back, it didn't seem long/ like the way you came, I got you for a song." - Tommy Didn't Want You - Michael Thomas.
Thomas, a master story teller, has used his B.A. in English literature to great effect in a 30 year career preceded by pit-stops in towns diverse as Yallourn, Horsham, Colac and Geelong suburb Herne Hill.

He blazed a trail with Weddings Parties Anything that produced his sole commercial radio hit Father's Day and morphed into solo projects, musicals, plays and overseas and national tours.

Monday's Experts, a regular earner on TV, still has legs on radio and Saturday Night In Halifax ignited a royalty stream as it embroidered a Canadian beer commercial.

The Sure Thing album was destined to extend his longevity in an industry where many artists have a shelf life of less than five years.

Once again it's the strength of songs, littered with a rich history and delivered with a credible passion, that impact.
Especially love laments - like passion for a guitar in Tommy Didn't Want You.

"You want love songs to justify themselves," Thomas revealed.

"This song is really about my guitar. It was made for Tommy Emmanuel but he didn't want it so Maton sold it to me cheap. I got a feeling can I really buy this guy's guitar? But when it comes down to it can you afford it? I could. I bought it in 1993-4 and did leave it in a cab in Brunswick Street and we were apart for a week. Someone else will play that guitar in 30 years. B. B. King wrote about Lucille and Johnny Cash wrote of his guitar. With passing of time and playing this guitar has got really good."

Although it's 15 years since Thomas enjoyed commercial radio exposure his ability to connect through songs on ABC and community radio and TV has been enriched in the print media oft distracted by fickle fads.
TIRED LITTLE SHOP
"They put the highway around this town/ it's time to pull the shutters down/ pulled the shutters down on this tired littler shop/ they put the highway around this town." - Tired Little Shop - Michael Thomas.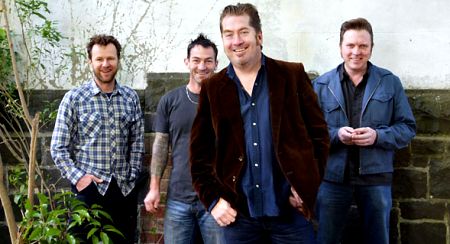 Subjects embrace movie directors' youth fantasies in a duet with Angie Hart on Lust In Translation, latter day domicile in Half Way Up The Hill, love metaphor in A Coat Of Paint and passing of time in Forgot She Was Beautiful.

Tired Little Shop, inspired by a road trip, impacts on two levels - death of towns by-passed by highways and differences between houses and homes.

"It was written after driving down to Melbourne from Mildura and stopping in towns doing it tough," Thomas recalled.

"It's a generic town akin to Richard Thompson's Withered & Died but not the same league.

It was more a feeling in your heart about opening a shop each day and no-one comes in - no-one wants to buy. There is nothing sadder. But there is more to it. You see these ads about new estates and selling of homes. But you can't sell a home - a home can only be made. It's insidious houses are advertised and mistaken for homes."

Thomas and his new band The Roving Commission recently finished a national tour to promote 20th CD The Last Of The Tourists they premiered at the 36th Port Fairy Folk Festival in March.