DAVE'S DIARY - 23 JULY 2020 - BOB TAYLOR OBITUARY
ADIOS TO BELOVED GOOD MORNING DJ - BOB TAYLOR
"I am the morning DJ at WOLD/ playing all the hits for you/ wherever you may be/ the bright good morning voice/ who's heard but never seen/ feeling all of 45 going on 15." - WOLD - Harry Chapin.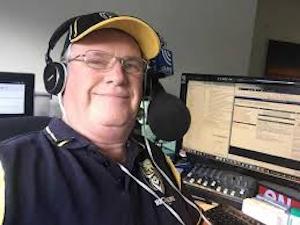 The deep radio voice on the phone came just after high noon on July 18 and the news was shocking.
Veteran radio DJ and Announcers academy trainer Bob Taylor had died at the age of 79 - just four months short of his 80th birthday on November 27.
The bearer of sad tidings was Bob's benefactor Rod Boyd - the former manager of Stereo 974 FM - who turned the community station into the Melbourne country music radio HQ.
It was the end of a 68 year radio career that began when Bob, then 11, caught a tram into the city from school to attend Crawford radio school.
That was then.
Now Boyd, a retired police officer and former midnight to dawn DJ on the long lamented country music station 3UZ, was alerting Bob's peers of his passing.
Boyd recruited Bob as radio host, announcer trainer and programmer on the Brooklyn radio station that began in 1978 and closed on January 16 this year.
Rod and his extended family - Bob's Burnside Heights neighbours - had looked after the incapacitated radio and TV mentor, who walked with a frame, before and after he suffered falls.
Rod's daughter Kim Grech - also Stereo 974 sales manager, DJ and community liaison officer - did Bob's shopping and gardening while the much loved larynx lubricator baby-sat their young children and trained them to enunciate and dictate Stereo 974 station IDS.
Rod hosted a midnight to dawn trucking talkback show on 3UZ from 1990 after his six years as a police officer in the western suburbs.
He became general manager of Stereo 974 FM in 1996 and won several major radio and community awards solo and teaming with Bob.
Stereo 974 was the first Emergency Response Broadcaster in Victoria and Rod created a small business program in the Young Offenders Unit at Port Phillip Prison.
Doin' Time was based on business principles and practices where all inmates took on roles from General Manager to Human Resources.
Bob and Rod also trained 11 separate ethnic group shows in his 24 years on the station.
It was a match made in radio heaven for Taylor who was raised by his single mother Joyce in inner northern Melbourne suburb Northcote until she died in 1998.
Joyce toiled as a cleaner at the Melbourne Metropolitan Board of Works for four decades to support Bob on a joyous journey that took him on the rural and interstate AM radio station circuit from Swan Hill, Hobart, Hamilton, Traralgon, Maryborough and many towns in between.
But back to his radio launch in in 1953.
Bob attended Crawford School of Broadcasting and did 300 live school broadcasts on the ABC.
At 14 Bob caught a tram from Essendon Grammar to work at 3KZ as an office boy and panel operator.
He left school that year and was a child compere on Stars Of Tomorrow on 3XY.
Taylor scored his 3KZ job from Kevin O'Gorman after he phoned his favourite radio station from a phone box near his home with "tuppence." He was hired the day he arrived for his interview and worked as an office boy and panel operator from 1955-8 under the tutelage of DJS diverse as Stan Rofe, Norman Swain, who later hosted Tarax TV show, and BBC announcer Alan Freeman MBE.
At 15 Bob attended Vincent radio school in Little Collins St where he gained entry to the building when a fishing line, replete with key, was dropped onto the street.
In 1960 Bob, aged 18, become the youngest DJ on Victorian radio when he hosted the afternoon shift at 3XY in the slot before famed TV host Mike Walsh.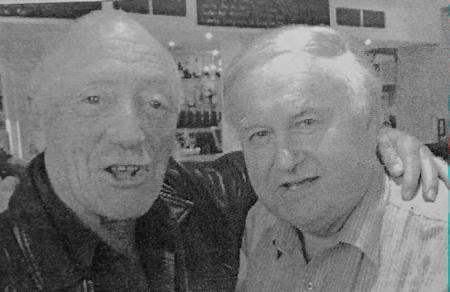 Ian Nicholls & Bob Taylor
He spent seven years at 3XY with DJs diverse as Dennis Scanlan and Ian Nicholls before heading to 7HT in Hobart for 13 months.
Bob and Nicholls worked together on 7HT in 1965.
"We were young and fancy free, happy times, even though we both missed Melbourne and family," Nicko revealed this week from his latest radio station KLFM in Golden Square.
"We were a team, Bob on drive and music director and me on breakfast. In many ways we remained a team for life."
Shortly before Bob died he and Boyd hosted a 79th birthday party for former 3HA colleague John Browne and his wife Robyn.
VICTORIA SHAW AND MANY MORE
"I got a spot on the top of my head/ just begging for a new toupee/ there's a tyre around my gut from sitting on my butt/ but it's never gonna go away/ thinking that I should stop disc jockeying/ and start that record store/ maybe I could settle down/ if you'd take me back once more." - WOLD - Harry Chapin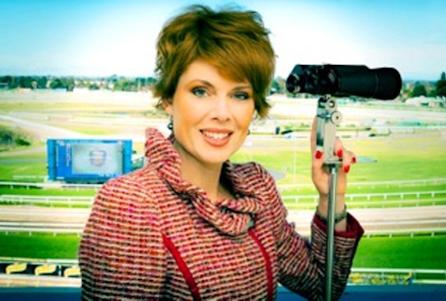 Victoria Shaw
Bob hosted 300 discos and dance concerts in Hobart including the last Easybeats show at Hobart Town Hall before they went to England.
He became program director on the VBN radio network for 10 years on major AM stations 3SH Swan Hill, 3HA Hamilton, 3TR Traralgon and 3CV Maryborough before returning to his hometown and mother.
Taylor was drafted by major commercial TV channels and radio stations to teach many on and off air stars and voiceover aces to learn the vocal gymnastics that prevented them falling through the cyber cracks
Bob joined the Nine Network in 1985 as voice coach for stars diverse as Lou Richards, Jennifer Hanson and Max Walker
He also trained indigenous announcers in Alice Springs and Darwin at CAAMA (Central Australian Aboriginal Media Association) while operating the famed Announcers Academy in Caulfield for 27 years.
It was the long heralded vocal training launch pad of many radio and TV careers.
Among his many recent successes were latter day Seven Network hosts Mike Amor and Sean Sowerby, Nine Network presenter Justine Conway, 3AW peers including news reader-journalist Tony Tardio, Jane Holmes, Andrew McLaren, John Paige and 3DB veteran John Allan.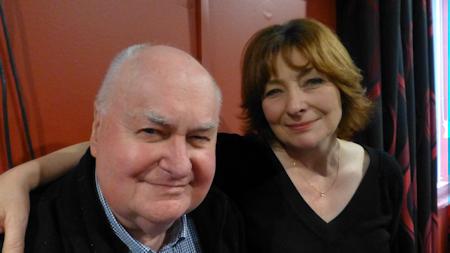 Bob Taylor & Jane Holmes
"When Andrew McLaren and I walked through the door of the newly formed Announcer's Academy in early 1976 we were Bob's first students," Allan revealed.
"Ten lessons later, Bob found me a job in radio! I am indeed indebted to him. However there was, of-course, no debt, as we remained close friends ever since. A few months ago, Bob asked me to collect his 60 year old reel-to-reel radio tapes of his air checks and transfer them to disc for him. They dated from the late 50s at 3XY, 1964 at 7HT, and 1970 at 3HA.
Due to Corona, I postponed delivering the discs to Bob, and eventually mailed them 2 weeks ago. Bob was very anxious to hear them, after nearly half a century, and thanked me for sending them.
Therefore I was a little surprised when he didn't phone to chat about the discs as soon as listened to them.
So, did he hear them before he died? I'll never know.
I'll really miss our regular hilarious phone calls, and just knowing Bob is always there.
An underrated talent, an inspiration to hundreds, and al-round good fellow. And most importantly to me, my friend."
Equally indebted was Victoria Shaw who debuted on air at Nu Country FM before becoming the first female horse race caller on radio and TV.
In 1993 Victoria visited 3TR Traralgon and saw a photo of Bill Collins in the foyer - it inspired her to sign up with Bob who was also training on air staff at 3TR.
Taylor knew she enjoyed her days at the races and was a friend of John Russell so he rang him.
Russell invited Victoria to the Flemington races and call the 1997 Grand National into a tape recorder for practice.
Russell organised for Victoria to use an empty broadcasting box next to his.
"I was completely naïve" she recalled. "I set up my binoculars and tape recorder and away I went."
Victoria called her first race on course on New Year's Day in 1998 at Hanging Rock.
She recalled "You really need to do a couple of years practicing before you take the challenge at race meetings."
Victoria later met Pamela Knox O'Connor who called at Hanging Rock in 1948 - 50 years to the day earlier.
She was asked to take over from the course broadcaster who had become 'tired and emotional'.
BOB GOT HIS THRILL ON BEER CAN HILL
"I'm making extra money doing high school sock hops/ I'm the big-time guest MC/ you should hear me talking to the little children/ and listen to what they say to me/ sometimes I get this crazy dream that I just take off in my car/ but you can travel on 10, 000 miles/ and still stay where you are." - WOLD - Harry Chapin.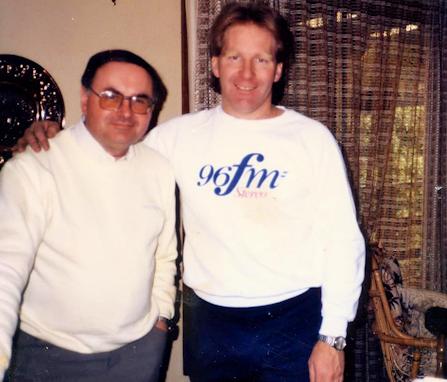 Bob Taylor & Gary Turner
Victoria joined many of Bob's trainees at Nu Country FM where she fronted shows alongside radio veterans Sandy Roberts, Craig Willis, Peter Hosking, Bobby Bright, Gary Young, Rusty Bertha of Scared Weird Little Guys fame, Rod Stone, Doug Cummins, David Heard and Denise Hylands.
My experiences with Bob began about the same time at 3UZ where he recruited me as a regular guest on evening shows.
Bob also did voiceovers, commercials and station IDS for Nu Country at Beer Can Hill (aka Ruckers Hill) - up the road from where he lived with his mum in the Beer Can Hill delta.
My radio birth was at 10 on 3YB in Warrnambool where I guested on Red Cross Calling with my aunt Thelma - local Red Cross head honcho.
I graduated to guest roles on 7BU - Burnie - as a Launceston Examiner cadet journalist with Bob's peers including latter day Minister For Police, Jim Cox and my other radio flat mates Rod Stone and Greg Smith.
And later, while on the now defunct Sydney Daily Mirror from 1980-85, I was a regular guest on Malcolm T Elliott's 2UE radio show and Donnie Sutherland's TV shows.
On my return to Melbourne in the eighties I co-hosted country music flag bearer High In The Saddle on 3RRR-FM for 10 years, four months, and later presented the show of the same name on 3PBS-FM for two years.
That enabled me to learn valuable lessons from Bob - never drop your voice at the end of sentences and don't come out of an ad break with a ballad.
I must have passed as I was a regular guest on his Stereo 974 FM shows for many years.
John Paige & Bob Taylor
But because of COVID-19 there will be no public farewell for our much loved radio mentor.
The funeral will be held online on July 28 from 12.25pm to 1.35pm at Fawkner Cemetery Crick Chapel.
His ashes will be deposited in his mother's grave at Fawkner Cemetery where we bid adios to her in 1998.