DAVE'S DIARY - 26 JULY 2009 - MATT JOE GOW INTERVIEW
FROM DEAD LIVERS DEAD LEAVES SPROUT
"Up on the hill, back on the land/ an old gray house, it sits/ my mama don't live there no more/ my father left town years before /some memories ain't good." - Up On The Hill - Matt Joe Gow.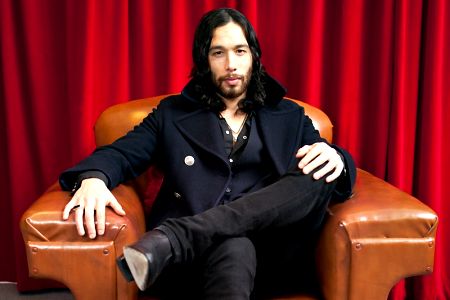 Matt Joe Gow makes one thing clear from the outset - he didn't purloin his band name from the iconic group co-founded by former pedal steel guitarist Brendan Mitchell.

Gow had already named his Melbourne band The Dead Leaves when Mitchell exited seventies outlaws The Dead Livers to join the expatriate Kiwi's road band.

"I didn't discover Brendan had played in a band called the Dead Livers until after he joined us," Gow told Nu Country TV on the eve of the Dead Leaves release of its CD The Messenger.

"We didn't steal the name from him. There were posters of him playing with the Dead Livers in his house."

But nothing to indicate Mitchell played in the house band for Australian production of The Best Little Whorehouse In Texas or wrote Ballad Of A Dead Liver two decades before having a liver transplant.

"It's difficult to find pedal steel players at the best of times," Gow revealed.

"When I put the word out this guy turns up on my doorstep. He said he could play some pedal steel and was little older than me but that didn't bother me. I wanted to just get the band together and get the songs out there. He came on board. It was really interesting, me on acoustic guitar, him on pedal steel and a drummer. People were really surprised to see that line-up in some of these rock'n roll bars. The standard line-up was a couple of electric guitars, bass and drums. It probably gave us an edge at the start when we weren't that tight."

The parallels with Mitchell's pioneer band now celebrating 31 years in the saddle, are not just cosmetic.

Mitchell's hombres blazed a trail by writing about life on the edge - a true alternative to peers raised on covers who searched U.S. road maps for song titles.
They lived the life they wrote and sang about - fast women, hard liquor, soft drugs, footy and cricket, drudgery of riding trains to work, heading to the bush and coast and ultimate mystical mama song, Holy Mary.

It scored them support roles on tours by artists diverse as Leon Russell & Newgrass Revival, Amazing Rhythm Aces and Charley Pride.
FROM DUNEDIN ACADEMIA TO BAR WARS
"Spent most of my life it seems/ in and out of bars/ from one side of the world to the other, child." - At The Bar - Matt Joe Gow.
But Gow, born in New Zealand music mecca Dunedin, tilled a broader geographical terrain for his song sources.

The singer hit the road, visiting his ancestral roots in Asia, and living in Canada and U.S as his father leapfrogged continents in his professorial pharmaceutical pursuits.

"My father is a professor (in pharmaceuticals) but still sings in a choir," Gow confessed.

"It's very different to what I do."

Well not exactly - Gow studied philosophy at university in New Zealand before hitting his lost highway.

The Gow careers may be vast contrasts but not flight patterns - they travelled frequently in the patriarch's academic research.

Matt spent a year living in Syracuse in the Finger Lakes area of New York State with his family and returned there.

But so far his GPS has not zeroed in on Austin or Nashville.

Gow recorded two EPS - one in Canada and another in England - as he returned to the scene of his rhyme and further afield as an older explorer.

"My mum and dad put me into learning classical piano when I was five years-old," Gow recalled.

"That gave me a taste of performing on stage and got me more used to it."
FLAMING YELLOW HILLS

"If the rivers run dry/ lead you to the rusted beach/ that lie beneath the rising tide/ let it be you who lay me down/ from the flaming yellow hills/ through the valley of our scars." - Land Is Burning - Matt Joe Gow.
New Zealand sired country acts diverse as Keith Urban, Midge Marsden, P.C. Caulton & The Pick-Ups, Ritchie Pickett's In-Laws, Murray Grindley aka Monte Video and 33 South, nee The Tourists.

There was also Ray Columbus's famed TV show That's Country and Christchurch born star maker, promoter-publisher and former Atlantic Records Nashville CEO Barry Coburn.

That was when country became cool in the seventies.

But Gow emerged from an indie rock scene in a city - home to Flying Nun record label that hosted The Chills and Straitjacket Fits.

"Dunedin was known as place where bands could really make a difference," Gow recalled.
"There was a vibe in air that you can still make it."
So Gow chose music ahead of sport at an all boys' school after taking up guitar at 13 and blending music and poetry.

"I left home straight after university after studying philosophy," he added.

"I travelled through Asia and China, my grandfather was from China, through Europe then back to Canada where I also lived as a child in Toronto. I went to Vancouver. My father does a lot of research. It was where I developed my love for Americana and alt.country."

Gow, like predecessor Urban, chose burning midnight oil in gigs rather than menial tasks many peers revert to as a means of keeping wolves from doors.

"It was more about getting out and playing," Gow confessed.

"I just played four or five days a week, getting my chops up. I didn't do any other job."

It meant road testing original material while connecting with audiences with nocturnal covers.

"I don't play covers I don't like," says Gow whose album has only one revamp - Grant Lee Phillips Come To Mama, She Say.

"I played material by Pink Floyd, Jackson Browne, Eagles and Townes Van Zandt."

His previous band Tearlighter released an EP of original songs in Canada and another in England.

"In England there were not opportunities, energy or connection - it was too far from home.

The band fell apart. Melbourne is like home. We're a Melbourne band. Melbourne's done a lot for us."

His trio morphed into a quartet with Croydon reared guitarist Andrew Pollock, bassist Kane Borlase and drummer Joel Witenberg.

By now Mitchell, also pedal steel guitarist in Andre Camilleri's Broken Hearts band, had walked the plank.
NASH CHAMBERS
"Now you're seized up like a dirty old machine/ got a heart falling apart at the seams." - At The Seams - Matt Joe Gow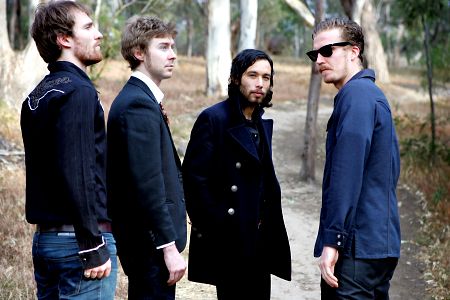 Gow signed with Nash Chambers label Essence.

He joined sister Kasey and her singing spouse Shane Nicholson and Troy Cassar-Daley in Michael Gudinksi's Liberation stable.

Nash became album producer and hired father Bill on lap steel for the NSW Central Coast tracking.

Session serfs included Michel Rose on pedal steel, fiddler Mick Albeck, drummer John Watson and Huckleberry Swedes producer Jim Moginie on guitar, mandolin, harmonium and organ.

Gow used Sing Sing Studio in inner eastern Melbourne suburb Richmond for his vocals, guitar and harmonica.

"We tinkered around with songs, arranging vocal harmonies," said guitarist Pollock, joined in the studio by bassist Borlase.

"I also track my harmonica live," Gow added. "It's fundamental to the song."

A welcome surprise is Newcastle singer-songwriter Catherine Britt, discovered and produced by Bill Chambers, before having her wings singed by the Nashville fame flame.

Britt, 23 and a three-album veteran, added her vocals to Things Fall Apart and At The Seams.

So back to the songs - many torn from Gow's recent back pages.

"Some songs are almost completely autobiographical, they vary from song to song," Gow confessed of finale Up On The Hill.

"I write around an idea, an emotion I want to express. I draw on personal experiences and fill in the other parts. That's closest to being about me as any other song."
MAMA, TRAINS AND RIVERS
"Steady train passing by my window/ shakes the very floor boards/ ain't sleeping though, it ain't the noise." - Steady Life - Matt Joe Gow.
OK what about the trusty template of songs about mama, trains and rivers, long given a workout by former convict country star Merle Haggard, 72 and holding everything he can?

"Yes, I write about mama, trains and rivers but not just because they're country staples but because they're close to my heart in terms of the land and my mother. I tended to live next to trains everywhere I lived. Even in England I had trains run past my window - but I like trains."

And there's a wanderlust thread embroidering that Gow fabric.

"My parents still live in Dunedin but they travel a lot and were a source for my wanderlust songs," Gow confessed.

"They're snapshots of my life. I find best way to write honestly is to write about your own experiences. It's easy to express that live. People can see that is coming from somewhere within you. I wanted the album to have bittersweet sentiment, looking back on things. Not necessarily depressing - that's quite a common occurrence in country music. Steady Life, Things Fall Apart and It's Not Hard will have that same emotion. That's the way I tend to reflect on things. I look back a lot."

But what about the assertive leaving song I Let You Be?

"It's one of the songs on record about letting go of things, that's on a few tracks," Gow admitted.

"I Let You Be is one of the darker moments on the record - kind of almost a self loathing song, kind of solitary. It's haunting. It's also about finding solace. It works out better for both parties. I tried to use some of the visceral elements. I think there's enough references to trains in there and heaven or hell."
VIDEOS
"Stood in the doorway, all chipped of paint/ throw up your hands and turn on your heels/ you had the child so you gave a couple years more/ but now it's time, fell it tugging at your sleeve." - Come What May - Matt Joe Gow.
Gow & The Dead Leaves filmed a video for Come What May in Melbourne.

"Duncan Tombs filmed it at Sing Sing and it's been on CMC, Rage & also Juice in New Zealand," Pollock revealed.

"We also have Greg from a band called Ryder who played lap steel in the video," Gow added.

"We were going to ask Catherine to be in the video. We have also been filming live footage for At The Bar and rehearsal footage."

TV exposure and ABC and community radio exposure boosted their profile in the all-important rural and regional areas.

"The music we play and listen to doesn't feature on mainstream stations," Gow explained.
"I find it hard to imagine me there and don't see why I should. If it gets there it won't be from marketing and lots of dollars thrown at it - it will be there on its own merits under its own steam. We're trying to get to rural areas - believe there is a big audience out there in regional towns. Hopefully people enjoy good songwriting and connect with that and come and see us live."

Pollock agrees.

"We did a support for Pete Murray and played places like Traralgon and Ballarat and other regional centres," Pollock said.

"You forget how big folk and country music is outside the cities. There's a lot of loyalty from going out and doing gigs in those towns. People appreciate the fact you have made the effort to go there - they have CMC."

And, of course, Nu Country TV in suburbia and southern coastal areas of Victoria, Queensland, South Australia and pockets of New Zealand.

Nu Country TV airs Come What May in August - check out the show streamed on the C 31 web page.