DAVE'S DIARY - 23 FEBRUARY 2015 - BILLY JOE SHAVER CD REVIEW
2015 CD REVIEW
BILLY JOE SHAVER
LONG IN THE TOOTH (LIGHTNING ROD-PLANET).
BILLY JOE SHAVER - NOT HARD TO BE AN OUTLAW WITH WILLIE
"Some super stars nowadays get too far off the ground/ singing 'bout the back-roads they never have been down/ they go and call it country, but that ain't the way it sounds/ it's enough to make a renegade want to terrorize the town." - Hard To Be An Outlaw - Billy Joe Shaver-Willie Nelson.
Faux outlaws have been a broad target in country music for decades since Waylon, Willie & the Texan boys rode the rebel range as a fertile alternative to Nash trash treacle back in the seventies.

So it's ironic that when Shotgun Willie, 81, and fellow Texan Billy Joe Shaver, 75, both included their satiric song Hard To Be An Outlaw on new albums they reached the peak of exposure by performing it on the syndicated David Letterman Show.

Letterman, like Don Imus, has long been a fan of cutting edge country music so it was perfect marketing for Shaver's 23 rd album Long In The Tooth.

The Shaver and Nelson duet is an earthy entrée to the album that also features political parody The Git Go they both recorded.
Despite recurring health crises Shaver has not slowed down.
But, unlike Willie, his drug of choice is now energy drinks.
"I drink 10 to 11 a day sometimes," Shaver says.
"Other times, three or four. It's an old man's bumper jack. It lifts me up."
This beverage might not be advisable for a man who had a heart attack onstage at Gruene Hall , Texas , in 2001 on the eve of his 2002 Australian tour with singing Texan crime novelist Kinky Friedman, now 70.
"I had a four-way bypass and I have stents, but I figure if there's new stuff in there it oughta not hurt it. It's better than the old one."
Shaver's prolific writing, dating back to childhood poetry in Corsicana , is also therapeutic.
"Not everyone can be dedicated to it, I'm a songwriter first and then whatever else I do second," Shaver revealed.
"I enjoy the heck out of entertaining and I all the aspects of what comes with it, but the song is like the cheapest psychiatrist there is. And I pretty much need one all the time."
Shaver has had more than enough heartache to require therapy.
In 2007, he shot a man in the face during an altercation outside Papa Joe's honky tonk at Lorena south of Waco , Texas , and was charged with aggravated assault.
He was acquitted and turned the ordeal into a song, Wacko From Waco with Willie.
When he was 21, he lost two fingers on his right hand in a sawmill accident.
"I ain't no finger-pointer," he quips, "I can't".
He married first wife, Brenda, three separate times and lost her to cancer in 1999.
Around that same time, his mother Victory died.
Then on the morning of December 31, 2000, his son and creative partner Eddy Shaver, a fiery guitarist reminiscent of Stevie Ray Vaughan, was found dead of a heroin overdose.

A grieving Shaver performed that same evening at a New Year's Eve concert with Nelson.

"Willie put a band together. My band just went nuts, they all flaked out and went off crying and stuff. But Willie called me up and said, 'Billy, you gotta get back on the horse,'" Shaver says.
"And I'm an old cowboy, I know what he's talking about. So I got up there. Most people that came didn't even know about Eddy passing away. Every once in a while, later on at night, you'd see some couple going out crying. They had heard about it."
LONG IN THE TOOTH
"Long in the tooth, long in the tooth/ I'm telling you telling I'm long in the tooth/ I had an alligator kiss my ass/ it's mostly luck he's runnin' that fast." - Long In The Tooth - Billy Joe Shaver-Paul Gleason.
Despite his seeming composure, Shaver was incensed and considered revenge for his son's death.

"I spent the night over at Willie's house and we sat up and talked all night about it. I was going to go back out there, 'cause I knew where the drugs came from - that drug dealer, I would have shot him up and killed him instead of calling the police," Shaver recalled.

"I was going to go kill that bunch. But Willie talked me out of it. He said, 'You're best just leaving it alone.' And I did. I just left it alone. But you don't ever forget something like that."

So it's no surprise Shaver is resurrected on Long In The Tooth - first album since Everybody's Brother in 2007.
Billy Joe released the final album he and Eddy recorded, The Earth Rolls On , in April 2001, and Freedom's Child in 2002.
Louisiana swamp rocker and frequent Aussie tourist Tony Joe White guests on Long In The Tooth .
And the origin of the name?
"It's just a thing about horses and people, too, their gums recede as they get older," Shaver explained.
"They get long in the tooth. I use it as a symbol that I'm a little bit wiser now, but as for horses, it don't help them much. A Smooth Mouse is a horse over eight years old, their teeth indentations smooth out. So any horse you check his mouth out and he's got smooth teeth he could either be eight or over, or even twenty years old, you never know. Sometimes you can't tell by looking at a horse.
"I used to rodeo around. Well, I wasn't all that good at rodeo-ing, but I was a real cowboy for sure. Still a cowboy, even if I don't have any cattle or horses or anything.
Billy Joe had a surprise co-writer on the title track - actor Paul Gleason, gruff principal in The Breakfast Club movie, who died in 2006.
"We were friends for a long time. He liked to play and sing a little bit," Billy Joe recalled.
"He had the idea for the song and I think he already had a poem written for it. I told him, 'Shoot, let's write a song around that.' It's about getting old and kind of owning up about it. We got on it and didn't finish it all the way. When I went into the studio to do a demo for what we had, I got word that he passed away from cancer and that about killed me. I hated losing a good friend like that. So, I thought the best thing to do in his honor was to go ahead and finish it and record it. It took me a little while to get it done. It wound up being the title of the album."
TODD SNIDER SHOTGUN RIDER
"What I used to do all night / takes me all night to do and I used to be so wild and free." - Long In The Tooth - Billy Joe Shaver-Paul Gleason.
Shaver didn't have to look far for motivation to retrieve his pen.
Inspired by friends like Todd Snider, whom Shaver says "kicked his ass" to record again and who oversaw the early sessions in Nashville , he began writing original material.
"Sometimes when you're a singer, you don't lose interest in the singing, but all that it takes to get that song into the world further than just the sound of your voice can get gruelling," says Snider who wrote Deja Blues with Billy Joe for Freedom's Child.
"I could tell he wasn't wanting to do anything, but that if somebody did it for him, he'd do it. But he's not going to pick up the phone and do things like that. That's just not him. So I called him and said, 'I'll put this all together.'"
Ray Kennedy and fellow Texan Gary Nicholson produced the finished version of Long in the Tooth , but Snider worked with Shaver on the demo tracks.
"Which proved to him that he had enough material," Snider says.
"But I'm not a producer - I'm a fan."
Snider, also close to Eddy, says he looks up to Shaver.
"He terrifies me," Snider admits.
"Billy started being a father figure in my life. And by that, I mean threatening to beat me up sometimes. The same way he would threaten to beat up Eddy sometimes. He'd also threaten to beat us both up sometimes. And he'd yell at me if he heard I fucked up at a gig. One time I dyed my hair black and he called me: 'What are you fucking doing?'"
THE GIT GO
"He told the truth, and they hung him up to die/ The son of God who created you and I/ He said it in the Good Book and letters in red/ but we keep on forgettin' everything He said/ Jesus Christ hung on the cross for you and I/ it's been that way since the git go." - The Git Go - Billy Joe Shaver.
Shaver's Biblical bent under-pins harmonica fuelled The Git Go.
"That right there was a challenge to me. I'd been over about that forever because I like a lot of history and people always say, "It's been like that since the git go," Shaver explained.
"I thought how in the word would you write that song? I decided to write it because I like a challenge. I got started on it and had a whole lot of it wrote. I went and gave Dickey Betts a chance to help me on it, and he kept slapping my hand every time I'd go to the regular E chord. Finally, I wound up on the E minor and that's what helped the attitude of the song.
"We did it a few years ago on the Live from Billy Bob's record and pulled it off. None of us in the band thought we did our best at that show, but I must have been good enough because of everyone went kinda cuckoo over it. You can't hardly hurt a great song. It's kinda like an egg: any way you cook it, it seems to be alright."
And the other songs?
"I wrote, and wrote, and wrote. A lot of it was written there in the studio," Shaver recalled.
"We needed a certain kind of song, we knew what it was. I already had something written. I wrote just about every word in most of the songs. They had to be finished at a certain time because we had to get in there and record them. I had a little help from Gary and Ray, a whole lot of help to tell you the truth. It all came together quickly because it had to. I had other songs, I had nearly five hundred songs. It was a labor of love and it was for the sake of the song, really. Of course, that's where it all begins, really. For me, I'm a songwriter of course. I think I sang real good on this one, though."
What about recording?
"I just keep hacking at it," Billy Joe confessed as he name-checked Elvis who recorded his song You Asked Me To for his 1975 album Promised Land.
"There were some on there that I insisted on singing over and over and over. I believe in taking just one take. A lot of people don't, but Elvis did it that way. Sometimes he'd do twenty-six, twenty-seven passes at one. I don't do that many, but we did as much as I could stand. I think we got it as good as we could get it.
And his influences?
"Well I've always listened to Bob Dylan, and I've always listened to Todd Snider, I like him real well. Jackson Taylor, this guy from down here in Texas , he's really great," Shaver explained of an artist featured heavily on Nu Country TV .
"He's a rough guy, he reminds me of me when I was young. You've probably never heard of him. My guitar player now, he's real good, his name's Jeremy Woodall. He hasn't done anything but be my guitar player, but he's great, he'll probably break loose pretty quick. They usually do. He's been with me about five years."
So what about his own health?
"Right now I need a new shoulder and I just got a new knee April 22 and it ain't quite well yet," Shaver added.
"I've got stents, I had a heart attack. I've got screws in my shoulders. You could junk me and get more than what I'm worth. I don't play much, it's more like a three-piece band with me singing. I can concentrate on my singing real hard and make sure that I've got all my words correct and that way people can hear me. They come to hear the words anyway, and the music's really great. I've got a great band."
LOVE EMBRYOS
"You want everything love can bring/ if you'll leave me now I'll understand/ I just want the best for you darlin'/ I'll love you as much as I can/ I just want the best for you darlin'/ I'll love you as much as I can." - I'll Love You As Much As I Can - Billy Joe Shaver.
Shaver says the first new song written was I'll Love You As Much As I Can .
"There's a song on this album called I'll Love You As Much As I Can ," he confessed.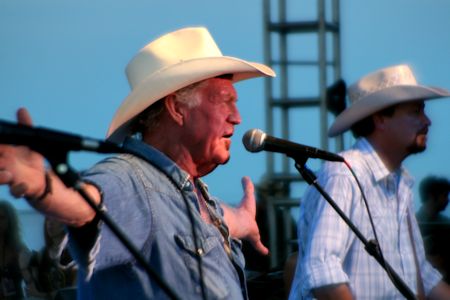 Photo by Carol Taylor
"See, I married my first wife, Brenda, three times. She passed on. My son passed on. Dogs died. Everything died. I had a heart attack at Gruene Hall and a four-way bypass. I run into this girl, Wanda Lynn, and she's just about as crazy as me. She said, 'I love you.' That made my head swell up. I said, 'I'm gonna love you just as much as I can.' That's all you can do. I've married her three times. She has moved back in and we're getting along. I'd given up my heart to Brenda and didn't think there was enough left for her. But she's hung in there. We've been married and divorced three times, and she's back in the house again. Divorces just don't seem to work out. I don't know what's gonna happen to me. I guess whatever she wants. Women make a fool out of me."
So did it set the tone for the disc that features sibling song I'm In Love?
American Me is an evocative love song that explores a south of the border romance with a senorita left behind after a brief Rio Grande river bed passion play to a soundtrack of mission bells, embroidered with mariachi-style accordion and fiddle.
It's probably the peak of Billy Joe 's love song triangle here
"I try to get as far away from it as I can. I've told many, I guess I was born to be a songwriter, I'm real lucky God blessed me with his talent, and I've done the best I can with it," Shaver explained.
"The best time to write a great song is right after you write a great song. Your energy is up, your confidence is up, your pencil is sharp. That's the time to keep writing 'til you fall out.
CHECKERS AND CHESS
"I'm playing Checkers while they're playing Chess/ they make the big moves and make me a little less/ even when I win, beat the pants off of the best/ I'm still playing Checkers while they're playing Chess." - Checkers And Chess - Billy Joe Shaver.
So is Checkers and Chess about inequality between the powerful and poor?
"It's a lot about the music industry," Shavers says.
"They do these funny things. I can't tell you what all they do because I'll sound all paranoid, but I'm not. I can tell when someone kills you with kindness and it happens up there a lot. There's a lot of back stabbing going on. Of course, down in Texas you don't have that because true Texans all have the big egos that they think their shit's the best in the world and they wouldn't dare steal anything because they think it ain't worth a crap. All the people who helped me in Nashville were Texans."
Sunbeam Special is a rollicking train song down nostalgia laced misty history tracks propelled by hot bluegrass licks on fiddle, banjo, and guitar.
Last Call for Alcohol is a pun fun nod to honky tonk songs of yesteryear.
So does Shaver deserve his fiery reputation now he's Long In The Tooth ?
"Half the stories are a blown-up bunch of bullshit. One time these two guys tried to roll me in the alley behind the old Ryman in Nashville and I whipped 'em and left 'em lying there," Shaver scoffed.
"By the time I'd walked to the other end of town, people were already saying I'd beat up five guys, fucked 'em up so bad, kicked a hole in their damn car - all kinda crazy shit! The more I tried to deny it, the worse it got. And there's a guy in Nashville that goes around telling people he's me! That don't help me none either. Making out with girls and writing hot checks. Lot of people call me up and say, "Hey man you're really cookin' tonight!" I always tell 'em, "Look at his hand and see if he's got anything gone." If he went and chopped his fingers off to be me, he's a pretty dedicated motherfucker!"
MUSIC CITY USA
"Can't you hear the music ringing/ can't you hear the singers singing/ can't you hear somebody humming on my homemade melody/ the lost and found are searching here/ and some new face from everywhere/ is come to capture Music City, U.S.A./ one Sunday evening found me Lord/ in a corner booth at Limebaugh's/ drinking black coffee and eating chili/ like Marty Robbins and Ernest Tubb/ set there tuning up my guitar/ Lord, I couldn't wait until Monday morning/ figured if I couldn't make it then nobody could." - Music City USA - Billy Joe Shaver-Bobby Bare.
The album ends with autobiographical 1972 song Music City USA.

"It was written with Kris Kristofferson in mind," Shaver says of the track that romanticizes the journey of aspiring country singers and songwriters.

"It's fun. They are all coming up here to do exactly that. To have fun doing it and harvest the doggone stuff. That's what I'm doing right now. I'm harvesting. I work really hard and make sure those songs hopefully live forever."
"I came here back in '66, or something like that. Came here on a cantaloupe truck. I got a job writing songs for Bobby Bare for $50 a week. Kris Kristofferson was a bartender then, at the Tally Ho Tavern , where they had a guitar hanging on a nail in the bar. First night I met Bare, he puked in my truck and I tried to get him out of the truck and he went sliding down a hill into a ditch. I was thinking, 'I have got myself into a mess,' but it was the best thing that could have happened, being around Bobby Bare.'
Shaver ponders the Country Music Hall of Fame that has yet to induct him.
He pulls no punches when asked if he would like to be invited to join the Hall.
He is already a Nashville Songwriters Hall of Famer and Texas Country Music Hall of Famer .
"It kind of bothers me that I'm not. When I got inducted into Nashville Songwriters Hall of Fame people told me it wouldn't be more than a couple of weeks and I'd be in the Country Music Hall of Fame . That's what happened to Kris," he says.
"I think I ought to be in there. If you don't want to put me in there, that's fine. But I just don't understand it to tell you the truth.
"I feel like I am part of the foundation and maybe even a cornerstone. I think I'm that much. People can argue with me if they want to, I don't care. I have put in a lot here and everybody oughta at least say thank you, because I worked hard."
Shaver shares songwriting acclaim with the late Texan Townes Van Zandt.
"My wife just hated Townes Van Zandt," Billy Joe confessed.
"I met him when she and I lived in Houston , and me and him got into LSD. All these kids were into it, and they had places where you could hit it and watch movies, with mattresses on the floor where you laid down because after you took that shit, you couldn't walk. My wife would have to come and almost scrape us off the pavement.
"Years later, after she'd had cancer a couple years and was getting close to death, a doctor told me she wasn't going to make it through the night. So I told her I'd had a dream that she had passed and that Townes was up there to greet her. She hated that guy so bad she said, 'I ain't going.' She lived another year almost."
Shaver has never attracted the wide fame of Van Zandt or Guy Clark, nor scored as many hit song-writing credits as they did.
But Waylon Jennings's 1973 album of Shaver covers, Honky Tonk Heroes , is a classic tribute.
Shaver says his song I'm Just an Old Chunk of Coal (But I'm Going to Be a Diamond Someday ) that John Anderson took to #4 in 1981, still pays lucrative royalties.
He's always had his own priorities.
His goal for Long in the Tooth is to remind listeners what real country sounds like - it received highest possible praise when Willie Nelson covered two of its songs on his Band of Brothers .
"When a great songwriter does your songs, that's a big deal," he says.
"I wouldn't trade that for any award.
"Waylon told me once that if he ever caught me writing a song in order to win a trophy, he'd shoot me right between the eyes. I believed him. But he didn't have to threaten me, because I never did do that. Still don't. And sure enough, I ain't got no awards either."
CLICK HERE for a previous Billy Joe CD review in The Diary on April 11, 2007.