DAVE'S DIARY - 1 FEBRUARY 2005 - JAMES BLUNDELL INTERVIEW
JAMES BLUNDELL WAGES PEACE ON WAR
"My brother had a dream/ my brother wore the jungle green/ my brother went to Vietnam for Harold Holt and Uncle Sam." - Postcards From Saigon - Terry McArthur-James Blundell.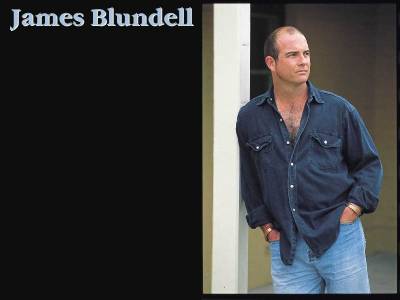 When James Blundell returned to Amsterdam last year he selected different digs from the attic above a brothel that he used for creative stimulation on a previous sojourn.

"We stayed in an hotel," Blundell, 40, told Nu Country TV on the eve of Tamworth On Tour concert at Hamer Hall on Saturday February 12.

"Things are improving."

The former singing stockman has changed his style since who won a brace of Golden Guitars in mainstream country days.

Blundell is touring nationally to promote eighth album Deluge on his independent label Revenge.

The one time choir boy and jackeroo, who took up singing professionally after being bucked one too many times by ferocious bulls, is enjoying a better ride with second wife Lydia who hails from Belgrade.

James and Lydia met about seven years ago during a two-year European busking stint in a Kombi Van.

This time they left their son Briar, aged six, at home while he spent four days writing in Dublin with Rory Coleman, had a six-day break in Amsterdam and shopped his new disc at MIDEM in Cannes.

"It looks we'll get it released in Germany and France and we're waiting to hear about Canada," says Blundell.

"We're licensing it to small and agile labels and starting the fire."

Blundell cut Deluge with Phil Rigger and Terry McArthur from Sydney spoken word outfit The Cube who also penned songs for Tina Arena and John Farnham.

The duo wrote Any Other Way, Love Gets In The Way and the title track of the disc produced and mixed by Rigger.

But Blundell spread his wings by writing or co-writing the bulk of the eclectic album anchored by two provocative anti war songs.
POSTCARDS FROM SAIGON
He created a fictitious brother for the main character in Postcards From Saigon - a saga about post war Vietnam.

The character's best friend dies in his arms in battle, later suffers a divorce and shares tragedy with a new wife who miscarries twice.

"That wasn't my brother," says Blundell whose elder sibling Peter, 42, helps their dad run their Stanthorpe farm - in the family since 1932.

"It's more metaphoric. I have been intrigued by the Australian role in war service. My grandfather and father were in World War 1 and 11.
This is based on a documentary being made about Australia's role in Vietnam since the war. It's totally shot from an Australian perspective. A lot of Australians went back there. It's an interesting culture but the super powers are embroiled in same scenario again. I'm hoping to Christ that they're learning something from it but doesn't seem to be the case."

So Blundell wrote another song Back It Up with Paul Soussan - bassist for Billy Idol and Ozzie Osborne - while working on another Los Angeles project.

"War was brewing in the background in the U.S. when I was there," says Blundell.

"How do you convince the fundamentalists that they're wrong, at one stage one is going to kill the other? We're living in an age with access to much enlightenment but we're still too stupid to pick up the pieces. What breaks my heart is you rationalise until you're blue in the face and they'll call you a heretic and four years later they'll say you were right. But it's too late. A lot of people are dead. Once blood's spilled you can't go backwards. I was astounded by the deafening silence from the music community during that process"
ROCK THE WAR
Blundell performed his song at Sydney's Rock The War concert and posted it on the web as a free download.

The live version, spliced with war footage, will be a video on his planned DVD and created a 75-25 split among his web page hits.

"Seventy five per cent of emails said war was a stupid thing to do as a culture," says Blundell.

"The others were saying you have to stand and deliver. But we've woken up in this country, we're an egalitarian society. The national psyche has developed more rapidly in last five or six years than in the 30 years preceding it. We realise we're not fucked up but a lot of other countries are. I love living here - so glad we live on a big island because it's turning to shit everywhere else."

Blundell wrote a brace of love songs on this disc - Be Strong was a ruptured romance requiem inspired by his second marriage.

"Believe me during periods in the creative process you put love well and truly to the test," Blundell said.

"We seemed to have sorted all those dramas out."
SOLACE IN SONG
Blundell found solace in his song writing when his mother Marjorie Ruth, now 74, was diagnosed with Alzheimer's disease.
Marjorie - a Queensland chorister - enlisted her son in choirs at seven and was his major mentor.

"Mum had to go into a home for dementia, Alzheimer's," Blundell revealed.

"In a bush family that's real drama because that's half the support system taken away.
The big flag is when your parents start to age. She is a dear friend, a great singer and totally fearless. I owe her the lot. Our family was very musical like the Waltons. When she was cooking dinner we would sing. She would stand in church and sing so loud, brother Peter would get embarrassed."

Blundell and fellow Tamworth Golden Guitar winners Sara Storer, Felicity, Travis Collins, Carter & Carter, Feral Swing Katz & Dianna Corcoran perform in Tamworth On Tour at Hamer Hall at 8 p m on Saturday February 12. Phone Bookings 1 300 136 166

JAMES BLUNDELL INTERVIEW FROM 1999.
BLUNDELL RECOVERY
When James Blundell went through a painful divorce after a fairy tale marriage he harvested hay from hell.

Blundell fled to Europe where he found solace in a new wife and busking to road test a brace of songs he wrote to purge his pain.

And he firmly shares the belief of major peers - seven times wed David Allan Coe, six times betrothed Steve Earle and the late Harlan Howard - that divorce is fertile fodder for song.

"It's the world's worst bumps and bruises, a double whammy," says Blundell.

"It was complete naivete. I never expected that would be an option, that is like the fairy tale bubble bursting without any kind of coming back from it. Secondly, when you get through it you realise that you're one of pretty much half the planet who have been through that incredibly intense situation. It gives you a great understanding of why people develop attitudes or concepts about relationships."

Blundell was the subject of a True Stories feature on pay TV channel CMT before it ceased operations in Australia.

That coincided with the release of his sixth album Amsterdam Breakfast, released shortly after the birth of his son Briar.

The singer busked throughout Europe and the U.S. with his Belgrade born bride Lydia - source of many of his new songs.

LOVE SONGS

"A number of people have said 'how the hell can your remarry, having just been through a divorce?' Blundell said.

"By the time I had excised it all out of my mind I had a rough idea of what had gone wrong. I wasn't frightened of it."

Blundell said the divorce enabled him to meet the demand of record companies.

"I've copped a lot of flack over the years for not writing enough love songs, mainly from record companies because love songs sell, " he revealed.

"By the same token love is such a serious issue in my perspective you don't write songs that aren't real. The song Memory Lane tells it as it is. Our walk to the altar (Lydia and I) was anything but rose strewn, it was thorn strewn. As a result you value the relationship so much more and because you make the conscious choice to make it work it's a much more valuable relationship."

Blundell, whose family have owned and worked a 9,800 acre mixed grazing property at Stanthorpe since 1932, fell from riches to rags after the gloss was burned from his many golden guitar awards in Tamworth.

The singer was almost signed by a major U.S record label after his national hit with James Reyne on the Dingoes classic Way Out West but he changed musical direction to a more rootsy sound.
BUSKING IN EUROPE

Now, after three years touring Europe in a Kombi van and the U.S. on Greyhound buses he has hit the road again here.

"This is the first time in more than four years that Lydia and I have been seriously wondering how we can pay the bills," Blundell added, "we had to get back to London in 1997 to sell the Kombi which we bought for $4,000. The vendor said he would buy it back when we returned but when we were coming to London but he had gone out of business and no-one wanted to know where he went. We got cheap air fares to New York but had to take a Greyhound 26 hours each way from New York to Nashville."

The trip inspired Greyhound Buses - another original tune - but not all his new songs please fans raised on traditional tunes.

"There's been quiet a lot of knee jerk reaction from fans," says Blundell, "it never ceases to amaze me, because as vocal as I've been about not being a bona fide traditional in the tram tracks country artist. And I haven't been since the second or third record but people still expect that. On the other hand the people who listen to the songs say 'this makes perfect sense seeing what you have been through.'"
NO MORE BULL RIDING
It's a far cry from his days as a jackeroo that ended when he was managing a cattle station New Guinea and inspired the song Heaven's Gate.

"It was there I had an encounter with a raging bull," Blundell recalled.

"I got this bull into the yard and he just turned around and came back. I ended up flat on my back with this hard wood gate on top of me. The bull wound up kneeling down in the dirt on top of me. There we both were eyeball to eyeball but his fearsome horns were unusually shaped and saved me because he couldn't get at me through the gate."