DAVE'S DIARY - 13 DECEMBER 2010 - JETTY ROAD CD REVIEW
2010 CD REVIEW
JETTY ROAD
LIFE AT A MILLION MILES (COMPASS BROS-SHOCK)
"There's an old man by a corner store/ collecting change for a living/ and banging on his guitar/ telling tales from when he was young/ singing if I could have my time again/ I tell you what I would have done." - Rolling Stone - Lee & Paula Bowman-Julian Sammut-Simon Ross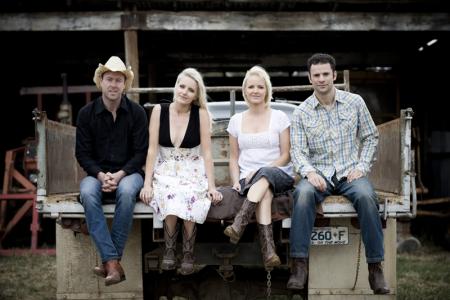 It's a long journey from Nungurner on the banks of the picturesque Gippsland Lakes to the music halls of France and honky tonks of Lower Broadway in Nashville.

Not to forget the rolling prairies of Canada and the high peaks and valleys of Switzerland, Germany, Belgium, Norway, Denmark and Austria.

But Victorian quartet Jetty Road, featuring twin sisters Lee and Paula Bowman, made the trip a time or two to research and showcase its music.

Multi-instrumentalists Julian Sammut and Simon Ross help the group act out the title track entrée of its third album.

But instead of factory floors greener pastures of foreign lands become launch pads of a band confined here to ABC and community radio and CMC and Nu Country TV.

Jetty Road exudes liberation from serfdom to challenges of the road in Good Times and anthemic Running With The Wind.

But, even out on the lost highway, there are hurdles and roadblocks - the character in Rolling Stone trades 40 years of 9 to 5 servitude for a cash challenged raconteur's life of busking.

He may be luckier than descendants of the bush battler in pathos primed World Keeps Turning who loses a sire to cancer while at secondary school.

This Time Around is a sardonic slice of social comment about image driven marketing of the music industry.

Sure, there's the freedom to eke out dreams in travelling to far off locales to maximise success but there's also the not so subtle pressures to play the genre game.

They punctuate message metaphors with diverse shades of love - regret in I Never Knew What I Had, jubilation in Something To Believe and liberation in I Have Been.

The narrator in What A Beautiful Day rises above peers chained to $12 an hour work wheels.
ROAD TO NOWHERE
"I wasn't built for slowing down/ this life's too sweet for just one town." - Road To Nowhere - Lee & Paula Bowman-Julian Sammut-Simon Ross.
So it's no surprise art imitates life in the hedonistic finale Road To Nowhere.

OK that's the song synopsis from afar - what about the music of a band distinguished by a democratic four way split on songwriting with Sammut in the production chair?

Well, this is accessible country driven by Sammut guitars and keyboards and whipped up by Ross's dexterity on mandolin, ganjo, piano accordion and harmonica.

Expat Queenslander Mark Moffatt - former Saltbush pedal steel guitarist and prolific producer - and Music City ace Larry Franklin add guitar, mandolin and fiddle on the finale of a disc countrified by Scotty Sanders pedal and lap steel.
The Nungurner twins, whose quartet won best band Golden Guitar at Tamworth in January, sing with sibling sweetness sown in a not so distant childhood.

They emerged from the ashes at resurrected Whittlesea Country Festival from February 12-14 and perform the festival circuit here over summer.