DAVE'S DIARY - 31 AUGUST 2020 - THE CHICKS CD FEATURE
THE CHICKS, nee Dixie Chicks 2020 CD Feature
THE CHICKS
Gaslighter (Columbia-Sony)
CHICKS IGNITE HEXES FOR EXES
"Gaslighter, denier, doing anything to get your ass farther/ Gaslighter, big timer repeating all of the mistakes of your father/ we moved to California and we followed your dreams/ I believed in the promises you made to me/ swore that night 'till death do us part/ but you lie-lie-lie-lie-lied/ Hollywood welcomed you with open doors/ no matter what they gave you, you still wanted more/ acting all above it when our friends divorced/ what a lie-lie-lie-lie-lie/ you're such a Gaslighter, denier/ doing anything to get your ass farther." - Gaslighter - Emily Strayer-Jack Antonoff-Martie Maguire-Natalie Maines.
Here is a wry warning to anyone who crosses Texan Natalie Maines and her trio siblings in The Chicks.
Your payback will be a brace of songs that are even more painful than having your Dixie castration televised internationally in lockdown.
That's what Natalie's ex-spouse - actor Adrian Pasdar - learned after he lured her from Texas to that foreign land of Hollyweird.
He suffered a fate worse than former U.S. President George W Bush on Natalie's nocturnal public shaming of him on stage in London on March 10, 2003 - nine days before the U.S. invasion of Iraq.
Maines said, "Just so you know, we're on the good side with y'all. We do not want this war, this violence, and we're ashamed that the President of the United States is from Texas ."
That led to immediate backlash, including protests, death threats and the burning of their records.
Many radio station chains refused to play songs by The Chicks who formed in 1989 and took their name from the song Dixie Chicken by Lowell George of Little Feat.
Now Taylor Swift has followed the Chicks with a well-publicised body blow to the Trump Chump for putting his ambitions to be a repeat hair apparent above his pandemic punished peers.
But that's another story.
This time Pasdar tried to prevent release of The Chicks tenth album and its video clips after a 14-year studio recording hiatus.
It was punctuated with two Court Yard Hounds albums - a self-titled 2010 disc and 2013 sequel Amelita - by Chicks sisters Martie Maguire and Emily Strayer, nee Erwin.
Maines also released a solo album Mother in 2013.
Pasdar's prevention push failed so it was history repeating.
In 1997 Natalie married her South Plains College boyfriend, bassist Michael Tarabay, and moved to Nashville but within two years they filed for divorce.
Maines met Pasdar at the wedding of Texan troubadour Charlie Robison and Emily Strayer, nee Irwin, in 1999 and moved to California to start a family with him.
The couple have two children and divorced in July of 2017.
For those of us without a blow by blow view of the aftermath of Maines' mayhem just listen to this 12-track disc that features nine co-writes by producer Jack Antonof.
NO SLEEP AT NIGHT
"My husband's girlfriend's husband just called me up/ how messed up is that?/ it's so insane that I have to laugh/ but then I think about our two boys trying to become men/ there's nothing funny about that/ how do you sleep at night? / how do you tell those lies? / looking me in the eye, living a double life/ tell me, how do you sleep at night?" - Sleep At Night - Teddy Geiger-Emily Robison-Justin Drew Tranter-Martie Maguire-Natalie Maines.
If this disc songs read more like a Maines disdain diary than the radio friendly tunes that scored the trio international acclaim including tours of Australia don't turn the page expecting surprises.
Gaslighter segues into Sleep At Night that details the not so delicate debris of adultery and by-products for all participants and the damage to the sons of the soiled.
Yes, the singer, now 45, depicts a cheater bringing his lover to a concert at the Hollywood Bowl and a reported conversation between the new belle and old flame after the gig.
This is the sort of stuff that will be studied by writers of tomorrow and way into the future.
In Texas Man the singer pleads for a patient Lone Star state lover to bide his time in her recovery.
Even more sleepless nights recur in Everybody Loves You and a plea for maternal strength in For Her.
But this is not just about Maines memories and regrets.
The trio reaches the feisty black lives matter anthem March March that delves deep into damage cleaned up by the widows and offspring of victims.
The Chicks march to the beat of their own drums leading their ardent army that seeks power from Helsinki to hell and back for a new generation.
It also reveals this is no traditional country song with instrumentation reaching a crescendo driving the beat.
The video included various images of marches for civil rights, women's rights, climate change and LGBTQ rights along with rioting.
It includes the names of those killed in police actions or racial incidents including Floyd, Rayshard Brooks, Trayvon Martin and Breonna Taylor.
The video closes with " Use Your Voice. Use Your Vote. The Chicks ."
WEDDINGS PARTIES ANYTHING
"Met you at my best friend's wedding/ there was something about you/ you set off fireworks that evening/ with a flicker of untruth/ jump twenty years, jump twenty years, twenty years, yeah/ looking back, in retrospect/ I was never safe, still not safe, yeah/ you'd torch me any chance you'd get." - My Best Friend's Weddings - Martie Maguire-Natalie Maines-Emily Strayer-Jack Antonoff-Justin Tranter.
The 13-time Grammy winning trio turns regret into the solace of solitude as life regenerates in My Best Friend's Weddings.
Then it's a vast vat of vitriol for the vanquished villain in Tights On My Boat as he is sentenced to a much worse fate than dying in his sleep.
The singer sinks the boot into a banished beau who delegates his mother to match socks and deliver messages and is dependent on his sire to pay his taxes.
Julianna Calm Down is delivered as comfort of sorts to other spurned senoritas who may have fallen under the spell of a sleazy Svengali.
But there's light at the end of this turbulent tunnel as the singer provides guidance and wry wisdom to a son to not let history repeat and be damaged by her ruptured romance in Young Man.
That journey has a clear escape route in future in the freedom finale Set Me Free that follows her song writing therapy in Hope It's Something Good .
OK that's a rough replay of the trials and tribulations of the daughter of famed producer and multi-instrumentalist Lloyd Maines, aided and abetted by her long- time partners in rhyme - Emily and Martie.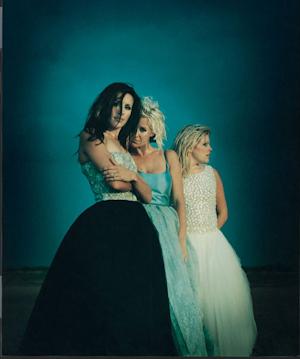 What about the music - well, Emily and Martie provide banjo, ukulele, viola, violin and vocals and Lloyd's pedal steel countrifies rock rhythms driven by Jack and his session serfs on drums, bass, keyboards, organ and programming.
Producer Antonoff is credited with 73 separate instrumental and programming contributions
But hang on a second - there's also a Beckett Pasdar on drums on Sleep At Night.
Who could that be?
This may not be a huge hit on country radio as previous releases in their love affair with international air waves.
But The Chicks created For Her Alliance - a collection of female visual artists who collaborated with them to create visualizers for select tracks on the album.
They include Miranda Burke on Tights On My Boat , Lucy Dyson on Texas Man, Cosima Elwes on Everybody Loves You, For Her, Set Me Free, Hope It's Something Good, Julianna Calm Down and Paloma Grim, Sam Cutbush and Milly Constanti on For Her.
The Chicks collaborated on visualizers for My Best Friend's Weddings and Young Man.
These videos will ensure a nirvana nest egg exposure for these plucky chicks who are not whistling Dixie.