DAVE'S DIARY - 17 AUGUST 2020 - WILLIE NELSON CD REVIEW
2020 CD FEATURE
WILLIE NELSON
FIRST ROSE OF SPRING (SONY)
WILLIE SPROUTS ROSES AT 87
"The first time that he saw her/ he knew everything had changed/ overnight love started blooming/ like the first rose of spring/ auburn hair like a sunrise/ sweetest smile he'd ever seen/ butterflies, they danced around her/ like the first rose of spring/ summertime would've never started/ and wintertime would never end." - First Rose Of Spring - Randy House-Allen Shamblin-Mark Beeson.
Shotgun Willie Nelson emulates the name of the title track of his 144th album at the ripe young age of 87.
The singing actor may be in isolation on his Luck movie town ranch near Austin with family and friends but has more projects in progress than most peers in all genres.
Although release of this 11-track disc - his 70th solo studio album - was delayed it's definitely not a swan song for Willie and long-time producer and co-writer Buddy Cannon.
But, unlike fellow late Texan Phil Ochs who died at 35 in 1976, this is not a sibling of Ochs 1969 album Rehearsals For Retirement .
Ochs toured here long before Willie's epic 1981 Australasian debut visit but Willie is wired and inspired with new side projects.
Willie and pianist-singer sister Bobbie, now 89 and band boss on that tour, have new memoir Me And Sister Bobbie: True Tales of the Family Band, set to publish of September 15 via Random House.
The book details the siblings' story of being abandoned by their parents as young children and their resulting tight-knit, eight-decade bond.
The dual memoir, told in alternating chapters, shares recollections of their personal lives and careers.
Bobbie joined Willie's band in the seventies and joined him on gospel albums including I'd Rather Have Jesus (1986), Gospel: Old Time Religion (1992), How Great Thou Art (1996), and Farther Along: The Gospel Collection (2013).
In 2008 she released her own album, Audiobiography.
A picture book from Willie and Bobbie, penned with Chris Barton and titled Sister, Brother, Family: Our Childhood in Music , is set for release in 2021.
The book will be edited by Frances Gilbert, Editor-in-Chief of Doubleday Books for Young Readers.
The Nelson family fables arrive five years after David Ritz and Willie wrote the Texan's second memoir - It's a Long Story: My Life .
First memoir, Willie: An Autobiography with Bud Shrake came out in 1988.
It preceded The Facts of Life And Other Dirty Jokes in 2003 and The Tao of Willie: A Guide to the Happiness In Your Heart with Turk Pipkin in 2007.
Roll Me Up And Smoke Me When I Die (Musings From The Road ) with foreword by singing Texan crime novelist Kinky Friedman and illustrations by son Micah followed in 2013.
Willie revealed he has new tribute albums planned to his late compadre Roger Miller and musical hero Frank Sinatra.
He is also no stranger to duets with younger artists from diverse genres including rapper Snoop Dogg.
They included Roll Me Up and Smoke Me When I Die, Superman and My Medicine with another in the pipeline, so to speak.
"Man, we got a song coming out in a couple of weeks, how 'bout it? How 'bout it!" Snoop recently revealed about Willie who welcomed Charley Pride on stage with a kiss early in his career.
"Man, that's my big brother. And the reason we're gonna make this record is because black and white matters right now. The love that we have for each other. Me and Willie Nelson, you see Snoop Dogg is the blackest of the blackest, the most militant, the most toughest, but he can work with anybody. He can work with the whitest of the whitest because it's not about colour, it's about love.
"It's the appreciation of humanity. I love you as a person Willie, I love your music. Let's become friends, let me go to your house, let me meet your family. Let me become a part of your world. When you build that brotherhood, colour is out the window. I love you. I don't look at colour, I look at you."
WILLIE AND BILLY JOE SHAVER RIDE HIGH IN THE SADDLE
"We are the cowboys the true sons of freedom/ we are the men who will get the job done/ we're picking our words so we won't have to eat them/ we're rounding them up and then driving them home/ cowboys are average American people/ Texicans Mexicans black men and Jews/ they love this old world and they don't want to lose it/ they're counting on me and there counting on you." - We Are The Cowboys - Billy Joe Shaver.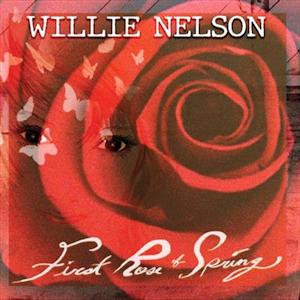 Meanwhile back to First Rose of Spring whose title track entrée segues into Willie-Cannon co-write Blue Star and Sanger Shafer-Doodle Owens 1969 song I'll Break Out Again Tonight .
Willie also resurrects Don't Let The Old Man In , penned by Oklahoma singer-actor Toby Keith, about Clint Eastwood, now 90, after a game of golf with him.
Keith wrote the song for the finale of Eastwood's 2018 movie The Mule.
Willie and his famous guitar Trigger joined Keith and his band as they explored perils of bus travel on the legendary lost highway on previous song videos Waccy Tobbacy and Weed for Willie on Keith's 2013 album The Bus Songs.
Willie and Toby, now 59, also appeared with Texan comedian Rodney Carrington in their 2008 movie Beer For My Horses.
Equally evocative is Willie's resurrection of fellow Texan singing actor Billy Joe Shaver's 1981 classic We Are The Cowboys.
Willie also recorded it with Billy Joe, Kris Kristofferson and the late Waylon Jennings on Shaver's 2000 album Honky Tonk Heroes.
They revamped Shaver songs Oklahoma Wind, Tramp on Your Street and You Asked Me To that Elvis Presley cut in 1973 for his 1975 album Promised Land.
Micah - one of Willie's three sons - filmed the video for We Are The Cowboys at their Luck ranch.
It captures Willie riding and feeding his horses and walking the grounds of his old cowboy town.
There are also subtle nods to Nelson's own white-hatted heroes, in the forms of cardboard cut-outs of Roy Rogers and Gene Autry.
Shaver, 80, also appeared with Robert Duvall, 89, in his 1996 movie The Apostle , Second-Hand Lions (2003) and The Wendell Baker Story in 2005.
In 2008 he co-starred with Bill Engvall and Billy Ray Cyrus in the TV movie Bait Shop and in 2016 had a cameo in TV series Still the King with Cyrus.
Billy Joe was also spiritual adviser for his 2002 Australian touring partner Kinky Friedman when he ran for Texas governor in 2006 as an independent.
PAYCHECK AND PETE GRAVES RESURRECTED
"I can tell my mama's short on loving me/ I guess that's why she let me go so far/ mama tried to stop me short of stealing/ I guess that's why I had to steal that car/ she told me not to smoke it/ but I did and it took me far away/ and I turned out to be/ the only hell my mama ever raised/ well, I rolled into Atlanta, stolen tags and almost out of gas/ yeah, I had to get some money, lately I'd learned how to get it fast/ those neon lights was calling me and somehow I just had to get downtown/ so I reached into the glove box, another liquor store went down." - I'm The Only Hell My Mama Ever Raised - Wayne Kemp-Bobby Borchers-Mack Vickery.
Willie raises the tempo on his revamp of fellow outlaw Johnny Paycheck hit I'm The Only Hell My Mama Raised that was penned by Wayne Kemp, Bobby Borchers and Mack Vickey in 1975.
The song was a hit on Slide Off Your Satin Sheets - 16th of Johnny's 35 albums.
Willie and Paycheck were both members of late Texan Ray Price's Cherokee Cowboys early in their Nashville careers as song writers.
Paycheck died at 64 in 2003 after having a huge hit with fellow former convict country star David Allan Coe's epic song Take This Job And Shove It.
His hit inspired the 1981 movie starring Art Carney, Robert Hays and Barbara Hershey with Coe, Lacy J Dalton, Charlie Rich and Paycheck in cameos.
Even more historic was the original version of Willie's new take on Pete Graves 1952 song Just Bummin' Around.
It was a Top 5 hit for Jimmy Dean as Bumming Around in 1952 - another version by T. Texas Tyler also reached No. 5 in 1953.
Graves took the lyrics from a rodeo song he wrote when he was a rodeo rider, including the lines "free as a breeze, I do as I please, nothing to lose and not even the blues, and added them into Just Bummin' Around."
Graves also said he pulled the line "I got an old slouch hat" from an Ernest Tubb song, Blue Eyed Jane.
Dean Martin also recorded it in 1965 as the B side of his single Houston and included it on his 1965 album ( Remember Me) I'm the One Who Loves You.
Deano reprised it in 1967 television special, Movin' With Nancy , starring Nancy Sinatra.
Perry Como also recorded the song in 1965 but it was not released until his compilation CD Yesterday and Today in 1993.
Bobby Darin also recorded it in 1965 but remained unreleased until it surfaced on the album Bobby Darin - The Unreleased Capitol Sides in 1999.
Willie recently revealed he turned down an offer to record Don Schlitz song The Gambler that became a hit for fellow late Texan Kenny Rogers in 1978.
"He tried to get me to record The Gambler ," Willie says of Rogers, who died at 81 on March 20.
"We were somewhere, I don't know. He said, 'I got this song here, I think you should do it.' And he played it for me, and I said 'It's a great song, but I don't think I'll do it' because I was doing every night a song called The Red Headed Stranger which has 100 verses in it, and it's a long song. And I said I just don't want to do another long song, and I can't quit doing Red Headed Stranger . So he said, 'Okay, I'll record it myself.' And so he did, and there it is."
But not all the album are vintage classics.
Willie cuts Our Song - a 2020 tune penned by former Steel Drivers co-founder and solo chart topper Chris Stapleton, yet another Kentucky coal-miner's son.
Not quite as new but almost biographical is 2002 tune Stealing Home , penned by Cannon's daughter Marla Cannon-Goodman, Casey Beathard and Don Sampson.
Willie finishes his disc with a ruptured romance requiem Love Just Laughed that he penned with Cannon.
And the even more fitting finale is Yesterday When I Was Young - the 1965 song by Charles Aznavour and Herbert Kretzmer.
The Redheaded Stranger is being honoured by the Academy Of Country Music single On The Road Again featuring all 10 of the 55 TH ACM Awards New Female and New Male Artist nominees.
Willie joins Ingrid Andress, Gabby Barrett, Jordan Davis, Russell Dickerson, Lindsay Ell, Riley Green, Caylee Hammack, Cody Johnson, Tenille Townes and Morgan Wallen on the release.
Proceeds benefit ACM Lifting Lives COVID-19 Response Fund to be disbursed to individuals in the country community currently in need of pandemic relief assistance.
The ACMs take place on September 16 for the first time in Nashville from the Grand Ole Opry House , the historic Ryman Auditorium and Bluebird Café and are hosted by expatriate Australasian superstar Keith Urban.
Willie may no longer be a colt but has a youthful spirit and legacy kept alive by his sons and peers.
First Rose Of Spring is a true testament to one of our living legends.
Amen.