DAVE'S DIARY - 27 AUGUST 2013 - CHARLEY PRIDE FEATURE

CHARLEY PRIDE AND THE LATE COWBOY JACK CLEMENT
"I've been washed down the sink of your conscience/ in the theatre of your love I lost my part/ and now you say you've got me out of your conscience/ I've been flushed from the bathroom of your heart." - Flushed From The Bathroom Of Your Heart - Cowboy Jack Clement.
When country music legend Charley Pride toured here in 2001 he and wife Rozene were celebrating 45 years of marriage after helping their eldest son Carlton recover from a cocaine habit.

Charley crossed all genre borders - he wore late outlaw icon Waylon Jennings' ring on his finger and accepted a public kiss on the lips from Shotgun Willie Nelson as a badge of honour.

Pride, now 76 and fourth of 11 children raised in Sledge - the same Mississippi town as fellow country singer and Australian tourist Kate Campbell - is on the verge of his 17th Australian tour.

But now, 12 years down the Lost Highway, Charley is mourning the loss of his Nashville mentor Cowboy Jack Clement who died at 82 on August 8.

Clement had earlier recorded Jerry Lee Lewis, Johnny Cash, Elvis Presley and Carl Perkins in Memphis at Sun Records.
He also added horns to Johnny Cash's super hit Ring Of Fire in 1964 and toured Australia with him in 1981.

And, of course, he wrote Dirty Old Egg Sucking Dog and Flushed From The Bathroom Of Your Heart for Johnny Cash Live From Folsom Prison album in 1968.

But in 1965 Clement established his production and publishing company to discover and nurture new talent.

The Memphis legend's first client was retired baseball player Pride, who pitched for the Memphis Red Sox in 1952 in a career punctuated by two years in the Army.

Pride moved to Nashville after working in a zinc smelter in Montana when he was discovered singing in a night club by the late Red Foley and Red Sovine.

Jack Johnson of Cedarwood Publishing, told Clement about Pride and on one cocktail-fueled evening Clement agreed to leave his stool at Music Row's Professional Club and listen to a tape of Pride singing.

"I could tell the guy could sing and that he was for real and that he was really country," Clement said.

"So we went back to the Professional Club and had a few more cocktails and I said, 'Get him in here. I'll cut a song on him.'"

Pride did come in, and Clement gave him some songs to learn.

Five or six days later, Clement paid for a Pride recording session at RCA Studio B.

"After that, I had the only Charley Pride record in town," Clement recalled at the time.

"I had an office with these big speakers, and I'd get people in there and play Charley's record. Loud, man. Like, really loud. I'd play that record and then I'd show 'em his picture.

That was fun."

The rest is history.

Pride signed to RCA and became a Country Music Hall of Famer on the strength of a career that included numerous Clement songs and productions.

He refers to Clement as "the genius."
SNAKES CRAWL AT NIGHT

"So I waited in the shadows until morning/ and the gun I held was trembling in my hand/ no, I did not plan to give them any warning/ for the devil on my shoulder had command/ Oh, the snakes crawl at night, that's what they say/ when the sun goes down then the snakes will play." - The Snakes Crawl At Night - Mel Tillis-Fred Burch.
Pride's first single, The Snakes Crawl At Night, produced by the late Chet Atkins, was released with no accompanying photo.

The ruse worked.

It scored airplay and in 1967 Pride became only the second African American to appear on the Grand Ol Opry - harmonica wizard De Ford Bailey was the first in the twenties.

Charley's song launched the recording career celebrated on his 17th Australian tour in November with a 40 song double CD 40 Years Of Pride released by Sony Music.

It includes his first single and 39 other classics that began with debut #1 hit - All I Have to Offer You (Is Me) through to 1984 when he commanded top spot again with Every Heart Should Have One.
Pride scored more than 36 #1 country hits - his incredible legacy includes over 70 million albums sold, 31 gold and four platinum albums including one quadruple platinum.

On RCA, Pride is second in sales only to Clement protégé - the late Elvis Presley.

The album includes Kiss An Angel Good Morning - a million-selling crossover hit that helped Pride win CMA Entertainer of the Year in 1971 and Top Male Vocalist in 1971 and 1972.

Other memorable Pride standards included are Is Anybody Goin' To San Antone, I'm So Afraid of Losing You Again, Someone Loves You Honey, When I Stop Leaving I'll Be Gone, Does My Ring Hurt Your Finger, Burgers and Fries and You're So Good When You're Bad.

In 1994 Charley released his autobiography Pride: The Charley Pride Story (published by William Morrow).

Aside from detailing great moments of his amazing career and stint as a ballplayer, Pride: is a moving, sometimes hilarious tale of his almost improbable dream come true and journey to the top of charts.

Pride told me in a 1993 interview of an excerpt from his upcoming book - as a child in the Sledge delta town he wasn't allowed to attend the same school as Caucasian boy Harold Dorman who wrote many Pride hits including Mississippi Cotton Pickin' Delta Town and Mountain Of Love.

"The only time Harold and I were allowed to speak when we were kids was when my family went to town to pick up groceries from his parents' store," Pride told me.

"We didn't meet again until Harold moved to Nashville. Harold has since passed on but he was writing for my ex-producer Cowboy Jack Clement."

Pride lost his recording deal when 16TH Avenue Records folded in the eighties but was back recording at Clement's Cowboy Arms and Recording Spa studio on the eve of his 1993 tour.
PRIDE BIOGRAPHY - ROLL ON MISSISSIPPI
"Walking along, whistling a song, bare foot and fancy free/ a big riverboat, passing us by, she's headed for New Orleans/ There she goes, disappearing around a bend/ roll on Mississippi, you make me feel like a child again." - Roll on Mississippi - Rhonda Kye Fleming-Dennis Morgan.
Four years later in another interview with me, he revealed he had been a manic depressive all his life and took mood modifying drugs to cope.

"My wife Rozene convinced me it wouldn't hurt to reveal in my book that I had been a manic depressive," Pride told me.

"They didn't pin it down until the eighties.

Even now it's one of those deals you still want to be in denial. You don't want to think you are. But I'm on lithium."

It was 15 years after he quit drinking.
None of this destroyed Pride's business empire - the couple owned four radio stations, created the Charley Pride Sausage Company, Pride Music Group, a 130 seat music theatre in Branson, Missouri, a $134 million majority stock in The First Texas Bank of Dallas and a 500 acre ranch near Dallas.

And, along the way, Pride helped launched careers of the late Gary Stewart, Dean Dillon, Ronnie Milsap and Neal McCoy who toured here with Charley and recently released a Pride tribute disc.

On May 1, 1993, Pride accepted a long-standing invitation to join the Grand Ole Opry, 26 years after he first played there as a guest - the first African-American in its over 70 year history.

In January 1996 Charley was honored with a Trumpet Award by Turner Broadcasting, marking outstanding African-American Achievement.

In between his Roll On Mississippi became official song of his home state, a stretch of Mississippi highway was named after him and he headlined a special Christmas performance for former President Bill Clinton and wife Hilary at the White House.

That was long after being refused admission to Royal Oaks Country Club in Dallas in 1979.

"I was also invited to appear at President Clinton's inauguration," Pride told me.

"They called my office and I appeared and sang some of my hits."

But Pride is lucky to still be alive - on the eve of his 1980 Australian tour his Fairfield 27 executive jet collided with a Cessna 172, killing two passengers.

It was en route to a concert for 600 nuns in Dallas.

"We felt the impact and knew something had hit us," Pride, then 43, told me in a call from Florida.

"The plane seemed to want to fly sideways - we were in a descent. But our pilot was really cool. Despite the tragedy we played that night for the nuns."

Pride performed at Penrith Park on Easter Monday - April 12 - with Anne Kirkpatrick, The Dead Livers, Digger Revell, Lee Conway, Eddie Low and Rosewood.

PRIDE IN THE FAMILY
"When ever I chance to meet, some old friends on the street/ they wonder how does a man get to feel this way / I've always got a smiling face, anytime & any place/ and every time they ask me why I just smile and say/ You've got to kiss an angel good morning/ and let her know you think about her when you're gone/ kiss an angel good morning/ and love her like the devil when you get back home." - Kiss An Angel Good Morning - Ben Peters.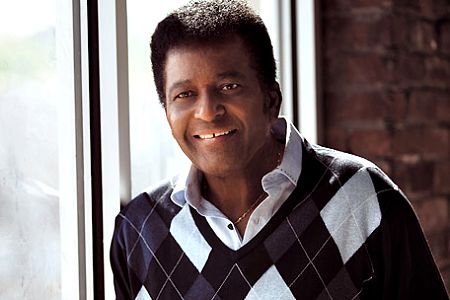 On Pride's 2001 tour the late Hans Herdina - musician, photographer and Nu Country FM DJ - photographed Pride behind the microphone in our studios at the Paris, Texas, end of Collins St in Harley House.

It was there that Pride revealed he bonded with his elder son Carlton after he belatedly learned of his battle with substance abuse which began as a teenager before he won a university sporting scholarship.

"When he was a student I said 'never ever let anyone talk you into drugs," Pride told me.

"But he was already into them before he went to college and got the scholarship. But I didn't know. Later when I found out I supported him but I wouldn't give him anything he could spend on drugs. I would give him food but nothing else. He beat it on his own."

The trail blazing country star and proud father flew to Jamaica and sang one of his biggest country hits, Kiss An Angel Good Morning, on the debut album by his dread locked son's band, Zion Reggae Music.

The Prides performed together in the Montego Bay studio used by the late Bob Marley - the major inspiration for the recovery of the junior Pride.

Ironically, Pride named his son Carlton after a brand of cigarettes popular in the sixties.

"Carlton is his first name," Charley confided.

"I picked that name off a billboard for cigarettes. Carlton Cigarettes in Oklahoma. I liked that name Carlton - I didn't necessarily like the cigarettes but I liked the name Carlton so I named my son Carlton."

Pride played Rod Laver Arena on April 14, 2001, to promote his album - a tribute disc to the late Jim Reeves who died in a plane crash on July 31, 1964.

Charley met and wed his wife at 19 when he was a semi professional baseball player for the Memphis Red Sox.

But neither parent was aware until much later of racial abuse suffered by their two sons and daughter during their childhood in an affluent area of North Dallas.

"I've just found about a year or so ago - especially since Carlton had his band - how hard it was for them growing up as sons of me," Pride revealed, "fame is a two edged sword thing.

I found out some things they endured and went through. Sometime kids can be tough on other kids. They never told their mother and I anything of that magnitude. They kept it to themselves."

None of the members of Zion Reggae Music, who had been performing for five years, knew the identity of their leader's father until the three time Grammy winner attended a recent Bob Marley festival in Dallas.

"Moving to Dallas was really bad for me because Dad played country music and he was a black man," Carlton Pride said then in an interview about his childhood.

"The black kids called me an Uncle Tom and an Oreo. The white kids called me 'nigger'.

But despite the abuse Pride followed in his father's sporting and musical footsteps at Jesuit High School in Dallas where he won a university sports scholarship before a career in radio, film sound production and now reggae music.

"I never pushed him - my dad never told me what to do." Pride recalled.

"I said 'I don't care what you major in. I just want you to minor in business because Dad's going to have some businesses that I want you to be a part of."
DION PRIDE AND MOVIES
"When that neon sun comes up in the evening/ and that warm red wine and the memories start to flow/ you'll find me there with all the others/ just looking for love the only way we know/ Oh, we're playing night games/ love at first sight games." - Night Games - Norro Wilson-Blake Mevis.
When Pride's younger son Dion cast for a part in the movie The Double McGuffin he didn't reveal the identity of his dad.

"Dion had a small part in the movie but he didn't tell them he was my son when he did the first reading but they brought him back and he got the role," says Pride, "it was a cute little suspense type comedy movie."

Although Pride released his autobiography in 1994, plans for a movie progressed slowly.

"All things have to be right." says Pride, "casting, the script. We're still looking the right person to play me. Dion did his movie when he was 15. I thought he could play me as a young man till I was 25 then let me take it from there."

Pride cleared the way for other African American country singers include Cleve Francis, also a cardiac surgeon, and Trini Triggs.

But his biggest successor is former Hootie & The Blowfish singer Darius Rucker who made his Grand Ole Opry debut in July 2008.

Rucker's song Don't Think I Don't Think About It became first top 20 hit for an African American on country charts since Pride's last Top 20 hit in 1988.

It reached #1 in September, 2008, making Rucker first solo, African-American artist, to reach #1 since Pride's Night Games in 1983.

Rucker has since scored a double platinum smash with his version of the Bob Dylan-Old Crow Medicine Show song Wagon Wheel.
WAYLON & WILLIE
"Sleeping under a table in a roadside park/ a man could wake up dead/ but it sure seems warmer than it did/ sleeping in our king sized bed/ is anybody going to San Antone or Phoenix, Arizona/ any place is all right as long as I can forget I've ever known here." - Is Anybody Going To San Antone - Glenn Martin-Dave Kirby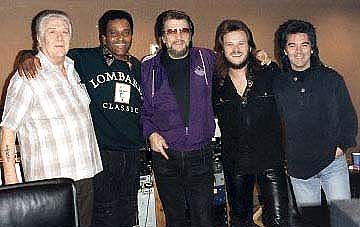 Outlaws Shotgun Willie Nelson and the late Waylon Jennings were among the first peers to show a genuine love for Pride and his music.

"Waylon met me and immediately liked me," Pride told me in the 1997 interview.

"He was playing a club and we did a song together on stage and we just hugged one another. I said I don't love this guy like a brother, he is my brother. On my way home this car pulled up beside me and asked me to pull over. He said "I want you to have this ring. If you don't take it I won't love you anymore. It's been that way ever since and I never took it off. It's just one of those things."

So what about singing actor Willie Nelson - did he kiss Charley on stage at a festival?

"Willie did kiss me but it wasn't on stage. It wasn't that sloppy. It was just before we checked into the motel in the town that we were playing that particular night. It was either Waco or Austin, Texas."

Pride is among a vast cast of peers whose progeny suffered substance abuse.

Nelson's eldest son Billy, 33, hanged himself on Christmas Day, 1991 and John Carter Cash Jr was admitted to a drug and alcohol rehabilitation centre after an Australian tour in the nineties.

Billy Joe Shaver's son Eddy, 38, died at 2.58 am on New Year's Eve, 2000, of a heroin overdose - just six years after they toured Australia as the band Shaver.

And Hank Williams 111 - grandson of Hank Williams and son of Hank Williams Jr (both drug and alcohol victims) - was admitted to a drug rehab centre shortly before release of his debut album Rising Outlaw at 27.

Hank Sr died at 29 on New Year's Eve, 1953, in the back seat of a Cadillac after a long battle with booze and pills.

And Hank Jr, now 64 and four times wed, won a long war with booze and drugs after having his face and body rebuilt after he suffered horrific injuries when he fell down Ajax Mountain, Montana, in 1975.

CLICK HERE to win 40 Years Of Pride on our Membership Page.