DAVE'S DIARY - 12/8/12 - VERY HANDSOME MEN CD REVIEW
NIPPER - VERY HANDSOME BIG MACK
"If you've come to hear songs from the radio/ songs you've seen or heard on MTV/ I'm about to save you time/ and in turn you'll be saving mine/ so listen up this is how it's gonna be/ we don't do contemporary Top 40/ Bryan Adams or Khe Sahn, Smoke On The Water is not in our repertoire/ Very Handsome Men is who we are." - We Don't Do - Nipper Mack-Vic De Marco.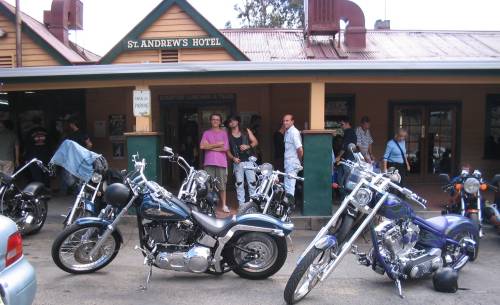 Nipper Mack - the more hirsute half of Melbourne duo Very Handsome Men - has long backed his words with action.

And money.

The sardonic singer-songwriter bought the Jam Hut studio in Preston to cut his duo's third album Cold And Lonely Road.

And then Nipper and guitarist Vic De Marco splurged their promo budget on a Texas trip to launch it.

The duo and tour manager Colin Weidner made such a big impression on their 2005 Texas search and destroy mission that they were paid for their gigs.

That included a major role at the prestigious Tommy Alverson Texas Music & Family Gathering at Tres Rios River Ranch at Glen Rose.

The duo shared billing with heavy hitters - legendary singer-songwriter Steve Fromholz, Johnny Bush, Cooder Graw, Trent Summar, Cornell Hurd, David Ball, Ed Burleson, Rusty Wier, Adam Carroll, Walt Wilkins, Brian Burns, Kevin Deal, Eleven Hundred Springs and many more.

Alverson, a veteran outlaw country artist, won widespread airplay on Nu Country for his five albums including two live discs and Me On The Juke Box.

"The promoter grabbed me and took me to the main campfires, and said "This here's Nipper from Australia, and he can play with the big dogs", which warmed the very cockles of my heart," says Nipper whose music CV since 1994 includes Stinky Taylor and diverse party bands.

"I performed Tattooed Girl and This Life. Both were big hits as well as a new song Jesus And Me. Things are looking very good for being booked at the gathering next year as well as some shows around Dallas. I had a good drink with the legendary Rusty Wier and an even bigger one with his son Coby who is quickly becoming a guitar legend."

Sadly, Rusty went to God at 65 on October 9, 2009, at Coby's home in Driftwood, Texas, after a two-year battle with liver cancer.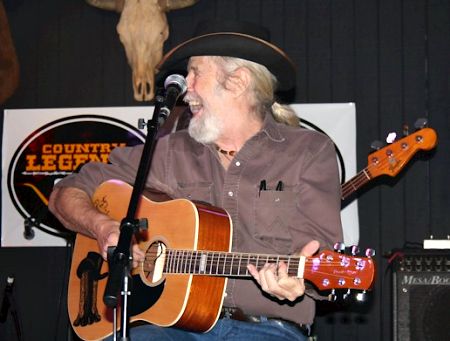 Rusty Weir
Wier is best known for his 1975 anthem Don't It Make You Wanna Dance that earned double platinum status via Bonnie Raitt's version on the Urban Cowboy soundtrack.

The Corpus Christi born songwriter moved to Austin when he was six days old and found music at Southwest Texas State University.

In Austin he helped found the cosmic cowboy movement with Michael Martin Murphey, Jerry Jeff Walker and Steve Fromholz with his hit I Hear You Been Laying My Old Lady.

Shotgun Willie Nelson, Hubbard and singing Texan crime novelist Kinky Friedman were revered with the quartet in Jan Reid book The Improbable Rise Of Redneck Rock.

Wier cut 13 albums in his five-decades-long career that included his 1974 classic, Stoned, Slow, Rugged and 1976 Black Hat Saloon.

I interviewed Wier on a 1978 Texas sojourn - long after The Hawking Brothers also recorded Don't It Make You Wanna Dance.

Those acts may not be big on mainstream radar here but scored healthy airplay on radio shows by Nipper, brother Grant and Weidner on Nu Country FM.

They surface on David Heard's Acid Country on PBS-FM and Weidner's Texas Time Travelling show on North West FM in Glenroy.
COWTOWN OR BUST
"I'm going back, back down to old Bandera to see catch Rusty Wier while I'm having a beer."
Very Handsome Men's act impacted so much they scored a support for Oklahoma born Redneck Mother legend Ray Wylie Hubbard.

They kicked the dew off the glass for our Behind Bars concert icon as he promoted 12th album Snake Farm at the famous White Elephant Saloon in Cowtown - Forth Worth.

Sadly Weidner didn't make the gig - like mentor Billy Joe Shaver, he had a quadruple heart by-pass on his return home after his previous tour.

But like his charges his art lives on in interviews he and Nipper did with yet another icon - Georgian born Steve Young - a frequent Australian tourist who appeared at Northcote Social Club with latter day Texan Mary Gauthier.
The interview appeared on Nu Country TV on C31 as a prelude to the now defunct Harvest festival at Red Hill.

Meanwhile back to that Cold And Lonely Road - an audio snapshot from the lives of Nipper and Vic here and abroad that opens with George and ends appropriately with self parodies I've Given Up Drinking and If I Was A Woman.

And if you want to learn what is not in the duo's repertoire check out We Don't Do.

Yes, a roll call of requests for every cover band here and way beyond the big smoke.

They also parody organised religion in Jesus And Me, pay homage to their lives in the slow lane in the title track and Riding Out A Storm and cross the border for Yo Qiero Ir.

They name check mentors in John T Floore's - a song about a famous Texas country venue in Bandera, hometown of Robison brothers Charlie and Bruce.

Nipper Mack later joined the bill at the 10th Nu Country Christmas Party in 2004 with his band Very Handsome Men.

Now eight more years down the Lost Highway the Very Handsome Men return to the TV show - live and dangerous.