DAVE'S DIARY - 10 AUGUST 2009 - HEIDI NEWFIELD CD REVIEW
2009 CD REVIEW
HEIDI NEWFIELD
WHAT AM I WAITING FOR (SONY-CURB)
JOHNNY AND JUNE - A NEW TUNE
"Oh there's something 'bout a man in black/ makes me wanna buy a Cadillac/ throw the top back and roll down to Jackson Town/ I wanna be there on the stage with you,
you and I can be the next rage too/ hear the crowd roar, make them want more and kick the footlights out." - Johnny And June - Heidi Newfield.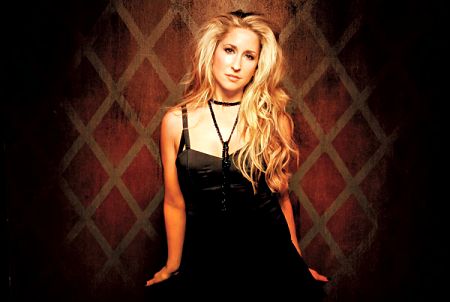 Music history is littered with artists hitching wagons to country icons with tribute songs and discs.

Many are refried rockers with a disdain for - and tenuous links - to the genre where they fled after pop careers faded.

Quite often those tributes are dreary as their retreat into dark niches and cliches.

Luckily, former Trick Pony singer Heidi Newfield, like Buddy & Julie Miller and Oklahoma born Becky Hobbs, had credible insight for her tune Johnny And June.

The Millers cut Julie's tune June on their latest disc Written In Chalk.

And Hobbs wrote (There Will Never Be (Another Johnny Cash) for her 2005 disc Songs From The Road Of Life that she showcased on her 2008 Australian tour with Kacey Jones.

Fellow Highwaymen Kris Kristofferson recorded Good Morning John for Cash about the man in black's struggles with addiction early in his life for his new album Closer To The Bone.

Newfield fled the Trick Pony stable and stayed with the Cash clan at their Jamaica and Nashville homes in their final five years.

"I want the Cash family to look at this song and be proud of it," says Newfield, 38.

Sure, Heidi and co-writers Deanna Bryant and Stephony Smith, adorn it with Cash song titles.

But they weave the Cash demolition of concert footlights into a song - a metaphor for yearning love strong as twice wed Johnny and thrice wed singing spouse June Carter.

The Cash tribute won five nominations in the Academy Of Country Music Awards in Las Vegas in April.
TRICK PONY BOLTS
"I got a street light green, I got an old mustang/ I got a small town get out anywhere but here dreams/ and an open road, what am I waiting for/ well I'm five years in to a two year plan/ still standing here with the walls closing in." - What Am I Waiting For - Heidi Newfield-Ira Dean-Keith Burns-Jeffrey Steele.
"I had some trepidation," Newfield revealed of her decision to go solo.

"I wasn't sure if the industry would look at it as a positive and support me or say, 'She's been out there and done her thing and had her shot.'"

But the Cash eulogy is just one genuine gem on the debut by the Northern California equestrian farm graduate.

Newfield had a brace of hits with Trick Pony in their decade long reign from 1996 but she chose to walk the plank in 2006 and blaze her own trail in 2007.

The band's peak was On a Night Like This that reached No. 4 in 2001.
It was worth dismounting from a trio that featured Cash and Willie on its discs - her album peaked at #2 on debut and the Cash tune, replete with video, reached #11.

Her album title track is a salient signpost to her dreams of freedom and independence. The character in song penned by Heidi and former Trick Ponies Ira Dean, Keith Burns and former Boy Howdy refugee Jeffrey Steele, is trapped in the prison of a faded love.

Or, as she confessed to Dean and Burns - even a fading band.

Newfield entrées with ruptured romance requiems Can't Let Go, penned by Randy Weeks and cut by Lucinda Williams, and original lament When Tears Fall Down as her prelude to her Cash tribute.
ENVY AND CURIOSITY
"What can of car does she drive/ is her hair as soft as mine/ where does she live, does she have any kids/ does her touch make you weak/ what's it like to love her and to lose me/ what kind of perfume does she like." - Love Her And Lose Me - Heidi Newfield-Dean Dillon-Dale Dotson.
Newfield covers diverse shades of love on a disc produced by Tony Brown - former Elvis and Rodney Crowell pianist - and studio czar for artists diverse as Kelly Willis, the early Steve Earle, Vince Gill, George Strait, Mavericks, Brooks & Dunn, Trisha Yearwood and Reba McEntire.

Brown and Gill were in Crowell's Cherry Bombs who doubled as the touring band for the Texan's former singing spouse Rosanne Cash.

Meanwhile back to Newfield.

There's curiosity about a new belle in Love Her And Lose Me, penned with Dean Dillon and Dale Dotson, fleeing alcoholic lovers in new single Cry, Cry, Cry and punishing partners in Lori McKenna's Wreck You.

She has already made a video for Cry, Cry, Cry.

Newfield's song sequencing is superb - lost love peaks in original Nothin' Burns Like A Memory - penned with Dean and Eric Silver - that segues into joyous All I Wanna Do (a Newfield collaboration with Al Anderson.)
KNOCKED UP AGAIN
"Here comes what Granny's been dreadin'/a bellyful of baby and a shotgun weddin'." - Shotgun Wedding - Angaleena Presley-Mark D Sanders.
But after jogging on jagged edges of heaving hearts her album finale is not gospel, like many peers, but the rollicking shotgun wedding tale Knocked Up.

No, it's not the Loudon Wainwright 111 movie theme.

But instead a vivid spoof by Mark Sanders and Angaleena Presley - also cut by Hunter Valley vamp Kirsty Lee Akers on second disc Better Days.

Presley is a prolific writer for Ten Ten Music - operated by expatriate Australasian Barry Coburn and singing spouse Jewel Blanch Coburn.

But in a twist of mirthful marketing Akers beat Newfield to the small screen with a video for that memorable song.

Not to worry - this is a delicious disc that grows on each listen.

It's absolute aural and cerebral joy.