DAVE'S DIARY - 2 AUGUST 2005 - GREENCARDS
GREENCARDS UNDER WEATHER AND WATER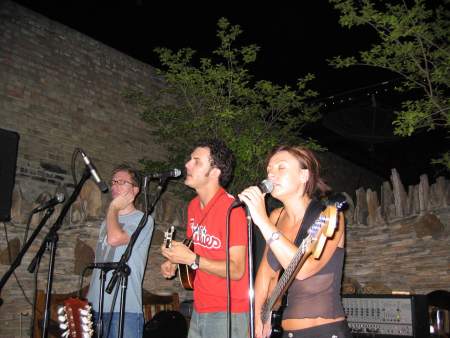 Greencards
Greencards mandolin player and singer Kym Warner appreciated the irony.

Fellow South Australian Jedd Hughes wrote the title track of the band's second CD Weather And Water after watching Bob Dylan movie Masked And Anonymous.

The trio then landed the support role on the prestige Dylan-Willie Nelson tour after the legend heard their song.

But after seven weeks on the road with their mentors, Warner, bassist singer Carol Young and fiddler Eamon McLoughlin had not met the reclusive superstar.

"Maybe it will be after the tour finishes tomorrow," Warner, 30, told Nu Country TV from St Paul in Dylan's home state of Minnesota.

"I'm sure he has seen us perform the song."

The Greencards, latest in the Aussie posse to impact in the toughest music market in the world, primed the sales pump by winning wide acclaim for their concerts and albums.

And after touring adoptive home state Texas, the latter day Nashville trio is now on the road with Kasey Chambers on her 2005 U.S. sojourn including the famed Newport Folk Festival.

"We'll have Rod McCormack playing in our band as well as with her," Warner added.

Kym teamed with Rod after studying bluegrass at South Plains College in Levelland, Texas, when he was an Adelaide teenager.

That was almost a decade before Hughes, 23, was discovered when he attended the same course.
AUSTIN LOUNGE LIZARDS
And, with further irony, Hughes guested with the Greencards when they debuted at the Cactus Café in Austin in 2003 as support for McLoughlin and his then band the Austin Lounge Lizards.

Hughes performed on their debut Movin' On and wrote The Ghost Of Who We Were with Dorrigo-Coffs Harbour reared Young for the new album.

Warner recruited Hughes to play guitar on his production debut of Texan singer Ben Atkins second album Mabelle.
Hughes is one of several Greencards guest guitarists on tours with artists diverse as Robert Earl Keen, Rodney Crowell, Bruce Robison and Kelly Willis.
"We lived in Jedd's house in Nashville when we first moved from Austin," Warner added.

"Unfortunately someone broke in and stole my house and car keys and later that night stole our car."

Luckily the thieves didn't steal Warner's mandolin, Young's bass or McLoughlin's fiddle.

"The title track is a song that Jedd sent us funnily enough after watching a Bob Dylan movie called Masked & Anonymous," Warner says.

"It's a real fun film, and the music in it is really cool. I watched it and called Jedd and told him he had to watch it. He watched it over and over on his bus while he was on tour and later he wrote Weather & Water somehow he got inspired to write that song and sent it to us, and it became the title track."

The Greencards wrote 10 of 12 songs on the new disc produced by Gary Paczosa - engineer of albums by Alison Krauss, Nickel Creek, Dixie Chicks, Duhks and The Chapmans.
BILL WHITBECK
Warner and Young have a fruitful writing relationship with Keen's bassist Bill Whitbeck.

"We've written 30 songs together," Warner says of Whitbeck whose boss Keen's 1989 song Love's A Word I Never Throw Around was on Movin' On.

"We had five co-writes on the first album and four on this. Bill had the title for Long Way Down. We also wrote Time in about 40 minutes."

Time has already produced a video clip on healthy rotation on CMT and CMC.

"We made the video clip at an old ice skating rink at Lebanon near Nashville," Kym recalled.

"All the local kids came to the rink for the video directed by Roger Pistole from the West Coast."
They hope hefty exposure on Australian Pay TV network CMC will be its surrogate radio exposure in their homeland.
Warner and Young left Australia in 2001 and played in country bands in San Angelo and Abilene in West Texas for six months.

"We played in the band with Waylon Pierce whom I met at South Plains College. We didn't play bluegrass till we got to Austin. Not all West Texans like foreigners. Carol was ordered out of a shop in San Angelo because of her accent. We stayed there about six months."
JERRY SALLEY
Life imitated art when Warner was briefly deported from Los Angeles on return from a Tamworth trip with Young because of his Green Card paper work.

"I tried to write a song about that a couple of times but it came out too cheesy," Kym said.
"I'll have to sit down with a good writer like Jerry Salley."

Warner wrote Bordered On A Breakdown with Salley - a prolific collaborator with many Australian artists.

"Jerry had the title Bordered On A Breakdown and we sat for two days and wrote that song," Warner revealed.

"I met Jerry through Rod McCormack, I always wanted to write with him but never had the time. Jerry is meticulous - likes to go over things. He's a great guy - we wrote it in Nashville."
PATTI GRIFFIN
The Greencards tapped Dixie Chicks song source Patti Griffin for one of the few covers on the disc.

"The Patti Griffin song What You Are, we heard the first time driving through Utah at 2 or 3 in the morning heading out to the West Coast," Warner said.

"The sound guy that was with us at the time, who works with Patti Griffin, had a bunch of stuff he was playing us, and that was one of the songs.
We just loved that song, and we asked him whether she had recorded that, and he said, 'she's recorded that, but it hasn't been released.' He made a phone call the next day and let us know that Patti said we can have that song if we want. "We were looking for specific things for the record and we wanted a real slow, stripped down moody thing that we could take somewhere, and that song just presented that opportunity for us. We are very thankful to Patti for letting us do it."
AUSTRALIAN RADIO
Warner told a U.S. magazine about the woeful state of Australian commercial radio.

"The Greencards couldn't exist in Australia at all," Warner told All The Rage. "There's just not the population for it, and acoustic and bluegrass music is a minority music anyway, anywhere. Maybe it's better in the last couple of years with the success of O Brother and the video success that Alison Krauss and Nickel Creek have had, but there's not even a country station in Sydney, with five million or so people. What we do you might find on a university station on a Sunday morning for an hour."

So instead of toiling here the artists head north to the U.S. where radio has a voracious appetite for Australian music.

Catherine Britt, 20, debuted on U.S. charts at #49 with her duet with Elton John on Where We Both Say Goodbye - a tune she penned with Jerry Salley.

The posse reunites in Nashville during the U.S. autumn.

Greencards, Catherine, Felicity and Sam Hawksley headline the Australian Festival Down Under in Nashville - September 9-11

They also hope PAY-TV and ABC and community radio exposure will prompt a 2006 Australian tour.