ZAC BROWN BAND & PIERCE BROTHERS - MARGARET COURT ARENA - 19/4/17
APRIL 19 – 2017
CONCERT REVIEW
ZAC BROWN BAND
PIERCE BROTHERS
MARGARET COURT ARENA – MELBOURNE, AUSTRALIA.
LIFE IMITATED ART FOR PIERCE BROTHERS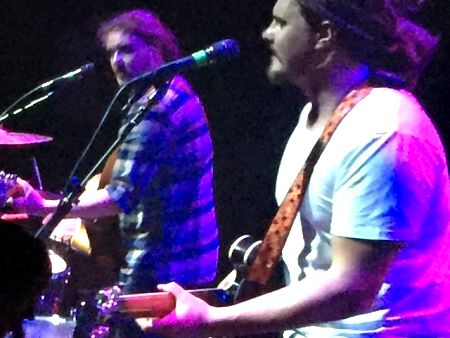 Photo by Carol Taylor
When Ringwood born twin brothers Jack and Patrick Pierce kicked the dew of the glass as the musical entrée for Georgian octet The Zac Brown Band they were probably unaware that art would imitate life on the means streets of Melbourne when they reached their second song Amsterdam.
The multi-instrumentalist siblings, now 28, sang of how a little boy playing with his father's gun shot himself in the stomach.
Just two days earlier alleged local crime czar Mohammed copped a stomach bullet outside a Coburg mosque after a high noon prayer session behind closed doors.
Unlike the character in the Pierce Brothers song the 41-year-old victim, unable to identify his assailants in their stolen silver BMW, was not holding the gun or singing the late Charlie Rich's closed doors hit.
But he may have taken solace from the siblings opening number I'm Alive that was introduced by Patrick Pierce's thanks to the custodians of our nation and energetic dexterity on didgeridoo and duelling drums.
And, of course, another timely tune mid-way through their set - Take A Shot At Me .
It was destined to be that sort of spirited soiree, kick-started by the energetic former buskers - youngest of five siblings - who have now released three EPS in their international career.
The Pierce Brothers appeared to be the perfect support.
Patrick's multi-tasking on harmonica, drums, percussion (replete with foot pedal) and didgeridoo, enabled rapid rapport with guitarist bro Jack.
They connected immediately to the fast growing audience with refreshing self-effacing humour and exuded unashamed delight to be sharing the bill with a band who soared from equally humble roots.
Their diverse repertoire included Black Dog , then a saga about a vanquished lover who disappeared with Patrick's Pearl Jam live album and western song Blind Boys Run .
Next was a song inspired by "a guy in the states who has a very funny haircut" followed by Take A Shot At Me .
The twins also paid homage to prolific ARIA winner John Butler with an inspired instrumental jam that climaxed with Patrick using the stage floor for percussive purposes before his well-executed somersault and rebound with no apparent injury.
At the end of the set I asked nearby spectator and celebrated Melbourne Storm NRL star Billy Slater, also known as Billy The Kid , if he had tried a stage somersault in the same sporting precinct.
He politely replied he had not - so the ball was back in Patrick and maybe Margaret's court.
The duo finished their set with an inspired romp on ruptured romance requiem Golden Times from their 2014 EP The Night Tree and evocative ballad Flying Home from 2015 EP Into The Dirt.
Patrick also announced another pending gig north of the Yarra at the Croxton in Thornbury and invitations to their nocturnal merchandise stall at the stadium.
And, of course, he thanked Van Diemen's Land born promoter Michael Chugg (tour promotion partner of Rob Potts), the Zac Brown Band and a fast growing army of early arrival fans.
ZAC BROWN BACK IN TOWN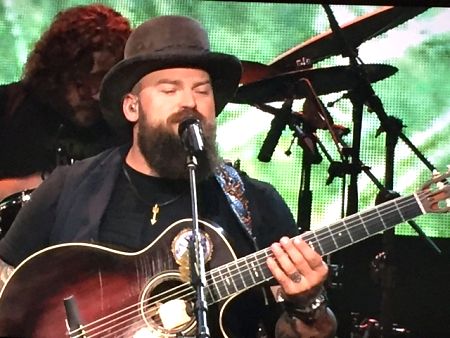 Photo by Carol Taylor
It was a perfect entrée for Brown's battle hardened band who flew south after the Houston Livestock Show And Rodeo and the 28 th Byron Bay blues festival.
They opened with their highly accessible originals Homegrown and Uncaged.
There was no repeat of Zac pre-concert nuptials in Houston where he and wife Shelly and four friends combined in a winning $330,000 bid for a mixed-breed reserve champion steer named Magic owned by the aptly named 16-year-old Stock Martin of Hereford, Texas.
Brown, a member of Future Farmers of America and poultry and livestock judge in his youth in Georgia, may be a generous benefactor of agrarian pursuits.
But Zac didn't appear to find any live-stock worth bidding for amongst the young heifers and steers in the audience outside Margaret's court or his city digs.
Instead he led his band, fuelled by father of four fiddler-violinist Jimmy De Martini, in a riveting revamp of The Devil Went Down To Georgia - premiered here by fellow multi-instrumentalist Charlie Daniels on his 1979 tour.
Despite receiving minimal commercial airplay here in the unlucky radio country salient sequencing of band originals Keep Me In Mind, Colder Weather, Loving You Easy, Let It Go and the beach bliss of Toes In The Sand reached an enthusiastic rural rooted audience with more than a little help from suburban fans.
It would appear they knew the artist's music from community and regional radio, PAY-TV channel CMC and Nu Country TV.
But Brown's first familiarity test was new tune My Old Man from seventh studio album Welcome Home , produced by Dave Cobb and out on May 12.
The singer's personalised introduction solved that problem - he explained it related to the influence of biological and adoptive fathers on future generations.
Zac, now 38 and father of five, paid credit to his dad Jim and male mentors who guided him through his adolescent and adult years and when he became a father.
"My old man, feel the callous on his hands and dusty overalls," Zac sang with his band harmonising to a now quiet audience, "my old man, now I finally understand, I have a lot to learn from my old man."
It was a hard act to follow but Brown did with other originals Whiskey's Gone and Knee Deep with accompanying beach video but no appearance from singing sailor and pilot Jimmy Buffett who appeared on the recorded version and Byron Bay gig.
Those originals were punctuated by a joyous choral version of historic Queen hit Bohemian Rhapsody.
FREE BORN IN BYRON BAY IN DAYS OF YORE
Brown added a touch of pathos when he reached back to his pre-fame holiday in Byron Bay more than a decade ago - source of his song Free.

The singer said when he first visited Australia as a cash strapped tourist he visited the Byron Bay beach but "a dear friend I met then died recently."

Free was the fifth single on the band's 2008 breakthrough album The Foundation.

"It was more than 10 years ago and I went to the top of Mount Warning - if you are up there it's the first place the sun rises in the whole continent of Australia," Brown recalled.

"I was also standing on top of Mount Warning as the sun starts to set in that orange and purple sky. It starts to wash down and spill over - that's where this song came from here in Australia. I wrote about that experience and took it back home and it later became this song."
Brown then sang of a couple, who "don't have a lot of money, all we need is love/ free as we'll ever be."
The singer revealed Halloween was his favourite holiday in his intro to The Day Of The Dead , wished happy birthday to his merchandising manager "who is working on her birthday" before revisiting other originals Sweet Annie and Tomorrow Never Comes .
Brown referenced the band's Dave Grohl sessions EP before performing Let It Rain , illustrated by a video replete with heavy precipitation similar to recent heart-breaking floods in Queensland and coastal northern NSW.
Zac and his energised band also performed a vibrant version of another original As She's Walking Away that featured fellow Georgian born Alan Jackson on their 2010 album You Get What You Give.
They also maintained the pace for Day That I Die from 2012 disc Uncaged and Neon/ Isn't She Lovely.
Their final pre-encore songs were pathos primed Goodbye In Her Eyes and metaphor fired love song Beautiful Drug .
Zac may have surprised fans with the encore first song Baba O'Riley - a cover of an historic song by The Who.
For this reviewer it appeared the song was superfluous when sonic distortion kicked in as the midnight hour loomed.
But few spectators remained seated for their edible hit Chicken Fried with its salute to returning servicemen and women even more relevant in this Trump muscle flexing era.
The verdict.
Zac performs with a dynamic band at the top of its game - a vibrant vehicle for driving home the messages of his memorable songs.
But sometimes it becomes audio and sonic over kill.
Distortion is not on my birthday wish list but it has also recently invaded sporting events - especially AFL games at major stadiums.
The proof will be in the content and strength of Welcome Home that also features Texan Kacey Musgraves.
SET LIST
1 - Homegrown
2 - Uncaged
3 - Kashmir
4 - The Devil Went Down to Georgia
5 - Keep Me in Mind
6 - Colder Weather
7 - Loving You Easy
8 - Let It Go
9 - Toes
10 - My Old Man
11 - Whiskey's Gone
12 - Bohemian Rhapsody
13 - Knee Deep
14 - Free / Into the Mystic
15 - Day for the Dead
16 - Sweet Annie
17 - Tomorrow Never Comes
18 - Let It Rain
19 - As She's Walking Away
20 - Day That I Die
21 - Neon / Isn't She Lovely
22 - Goodbye in Her Eyes
23 - Beautiful Drug
Encore:
24 - Baba O'Riley (The Who cover)
25 - Chicken Fried
Review by David Dawson with photos by Carol Taylor & Carbie Warbie