ZAC BROWN BAND - JASON MRAZ BAND - MYER MUSIC BOWL

ZAC BROWN CHICKEN FRIED ABOVE THE YARRA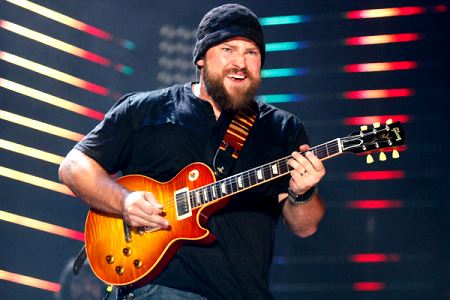 The full moon should have been an omen for those hardy heathens starting Easter early by rolling back their stones and ascending the King's Domain from the Yarra below on a balmy autumn Monday evening.

They came from the bush and beaches for all-star Georgian Zac Brown Band and a diverse mixed-cultural milieu for the blue-eyed soul funk pop of Jason Mraz and nine piece group.

It was a multi-genre mix that made sense as a predominantly youthful audience, occupying rugs and chairs scattered across the parched grass, soaked up the muse.

Tonight was reminiscent of the open air comfort and ambience of the recent 37th Port Fairy folk festival - on a smaller scale.

Sadly the sound was not up to the standard of Port Fairy but the muddy vocal mix for Zac quickly improved as the mixers kicked the dew off the glass.

This promised to be the gig of autumn - if not the first half of the year.

The Zac Brown Band has become a huge act in the U.S. - because of its eclectic mix of roots country, bluegrass, reggae, island rhythms and Dixie rock.

But here, in the unlucky radio country, they have played second fiddle or maybe violin to metropolitan mainstream corporate chain music.

Now, with a little lateral marketing, they were supporting fellow Grammy winners - the quirky Jason Mraz Band - in an effort to ride that Horse Of Troy across the myopic moat.

They were soon to prove they will return - as headliners.

The Georgians kicked off with Keep Me In Mind from their Get What You Give disc before Brown announced it was his first Australian tour and bassist John Driskill Hopkins played the vocal role of Alan Jackson on As She's Walking Away.

Brown tipped back Whiskey's Gone but it's unlikely the father of four would have heard or answered the lass on the grass who cried out "Zac, I want to have your baby."

Maybe he subliminally answered her call as he sang "had lips like candy, hair floated like water" as he started Natural Disaster.

THE BOSS IS BACKSTAGE TONIGHT

But the singer didn't take long to announce his first nocturnal surprise - "tonight we have Jake Clemons of the E Street Band joining us."

It's not clear if the sax player was replacing Trombone Shorty but he had full permission of Bruce Springsteen - enjoying his "boss-man's holiday" in the wings on his night off - on Dave Matthews Band cover Ants Marching.

Brown invited and received audience participation in Jump Right In before declaring "the answer is blowing in the wind" but Dylan did not spring from the wings as he did on his three night stand at the same venue in 1978.

By now the band was revelling in its eclectic mix of bluegrass, reggae and soulful country as Brown introduced ''all the way from Walhalla Clay Cook on electric guitar" for a strident solo as the light show also fired up The Wind and Who Knows.
Violinist Jimmy De Martini emerged from the no longer muddy mix in the beatific ballad Colder Weather before another audience singalong in the Jimmy Buffettesque Toes.
Then there was the evocative pathos primed Goodbye In Her Eyes before a tempo surge in sixth album title track Uncaged.

Brown paid tribute to the generosity of headliner Jason Mraz for sharing billing before a liberal lacing of violin and steel on Knee Deep without Buffett and Enjoy The Ride.

The depth of Brown's stellar band peaked in their riveting revival of The Devil Went Down To Georgia - penned by septuagenarian Charlie Daniels who last toured here in 1981.

Brown then stopped the show for an anecdote about his first visit to Byron Bay as a humble tourist a decade ago.

"I was on the beach with a beer from Boag & Sons and went to the top of Mount Warning - if you are up there it's the first place the sun rises in the whole continent of Australia. I was also standing on top of Mount Warning as the sun starts to set in that orange and purple sky. It starts to wash down and spill over - that's where this song came from here in Australia."
Clemons re-joined Brown's band as they performed Free with a cameo Van Morrison's Into The Mystic from their 2008 breakthrough album The Foundation.

Zac announced they had time for two more songs but didn't hear the grass pleas for Sic Em on A Chicken.

"Thanks to Jason Mraz for having us here tonight," Brown said, "we're going to come out and have a beer with y'all."

Before that the band performed Sleep With One Eye Open - recorded by Metallica as Enter Sandman.

They closed with a thundering rendering of their embryonic hit Chicken Fried, replete with vocal support for the military in far off fields.

It was a hard act to follow but I stayed to hear a band whose music I have never heard before.

SET LIST

1 - Keep Me In Mind
2 - As She's Walking Away
3 - Whiskey's Gone
4 - Natural Disaster
5 - Ants Marching
6 - Jump Right In
7 - The Wind
8 - Who Knows
9 - Colder Weather
10 - Toes
11 - Goodbye In Her Eyes
12 - Uncaged
13 - Knee Deep
14 - Quiet Your Mind
15 - The Devil Went Down to Georgia
16 - Free/Into The Mystic
17 - Enter Sandman (Metallica cover)
18 -Chicken Fried


JASON PLAYS CZECH MATE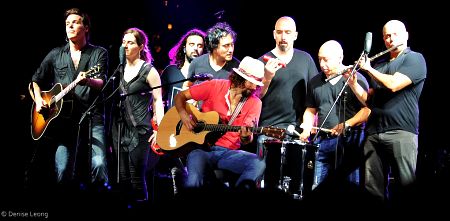 What better place to be a Mraz music virgin - the Kings Domain soundshell and legacy of the Myer family on a night blessed by the weather Gods?

When I explained to local musician Frank from Sons Of The Outback I had never heard Mraz music he kindly offered they played the song I'm Yours - music entrée for TV soapie Packed To The Rafters back in 2008.

Well, hell, I've never seen the TV show and neither had Mraz, he revealed in a March interview.

But being an open minded music buff and late blooming virgin I decided the night was still young and the natives were not restless so I stayed for the headliner.

I had no idea he was of Czech descent, grew up in Mechanicsville, Virginia, after his parents split when he was four, and debuted with 2001 album Live At Java Joe's in San Diego.

Well the San Diego connection was fitting - I first saw Springsteen play there in 1978 when singing actor Gary Busey gave me a joint backstage when he learned I was from Australia.

But that's another story - not quite as fascinating as Jason's surname Mraz means frost in Czech and the actor creator of Nu Country TV - Peter Hosking - now lives in Prague.

Mraz was an easy act to like - the vocal mix had improved to the extent I picked up on every lyric and learned the entrée I Take The Music was followed by The World As I See It and Make It Mine/ Live High.
Jason fronted the band on a selection of acoustic guitars and was complimented by a three piece horn section, two drummers, violinist, accordion player, bassist and cast of harmony singers.

They played an eclectic mix of blue-eyed soul, funk, reggae and pop that I'm now elated to learn invaded commercial radio with, I suspect, ABC and community airwaves exposure.

But the real catalyst appears to have been frequent use of Mraz songs in movies, Gap and Hilton hotel commercials and our TV shows.

The singer has also worked with Shotgun Willie Nelson whom he referenced in his hit Curbside Prophet.

The singer revealed he had fond memories of playing the equally regally named Prince of Wales and nearby St Kilda festival a decade ago before he introduced a tawdry tale - If The Plane Goes Down.
Mraz delivered warm stage patter, with equally illustrative video footage, as he interacted with band members and audience as he glided through Only Human, When We Die and Give Me Love.

There was also an element of on stage dancing but no cameo from very fit Kommotion and Go Show dancer Tony Healey celebrating a trip from Sorrento at the age of 66.

Frank D Fixer enabled Mraz to introduce cousin Chris Jordan on keyboards while a George Harrison cover received a psychedelic video illustration.

Mraz also added stretching exercises during another horn fuelled gallop while female band members added to the mix with violin and banjo and harmonies.

There was even a "naughty word" warning before the rollicking You Fckin Did It and his steel drummer was a perfect foil when she excelled with stick work on the singer's Love dubbed guitar.

It was a joyous celebration with flute and accordion to the fore as Jason assembled his entire nine piece band for a stage left acoustic number.

"I hate to leave Melbourne city but I just can't stay," he proffered as he introduced encore Song For A Friend, 93 Million Miles and recent hit I Won't Give Up - also featured in Packed To The Rafters.

This was an inspired set with appeal way beyond the mainstream - with 20 songs it ended right on 11 pm.

Time to catch the last bus and trains to the suburbs - but maybe not the bush.

JASON MRAZ BAND SET LIST

I Take The Music
The World as I See It
Make It Mine / Live High
Butterfly
Lucky
0% Interest
Plane
Only Human
When We Die
Give Me Love
Frank D. Fixer
Remedy
1000 Things
A Beautiful Mess
You Fckn Did It
I'm Yours
I'm Coming Over
Encore:
Song for a Friend
93 Million Miles
I Won't Give Up
Review by David Dawson