The Waifs

There's a fresh breeze when sisters joke of timing a five-week holiday with their family to coincide with the salmon fishing season on the south west coast of the nation.

Especially when Vikki and Donna Simpson delve in self-deprecation by quipping they're "trailer trash" - third generation of an Albany fisher family.

Not what you receive from image driven divas and drongos of unreality TV fads and city fashion.

But The Waifs have long been divorced from music industry chains - that's why they had a capacity crowd on a triumphant return to a city that was a launch pad for their career.

Augmented by drummer David McDonald and bassist Ben Franz, they responded to hush in the historic theatre by casting off with biographical Donna Simpson tune Fisherman's Daughter and guitarist Josh Cunningham's Flesh And Blood.
With Josh on acoustic guitar and Vikki Simpson injecting accessible tales with harmonica in a surreal light show there was no need for forced patter.

Vikki revealed a humorous harmonica deathbed chat with her grandpa before Donna tried out her new banjo, perched on a stool on Crazy Train.

Grandpa taught Vikki harmonica and encouraged Donna to strut her stuff on banjo - not clear if he had a hand in their duelling dance routines.

The trio punctuated tunes from fifth album Up All Night with Take It In from their debut disc and others from Sink Or Swim before the evocative Donna songs London Still and Highway One.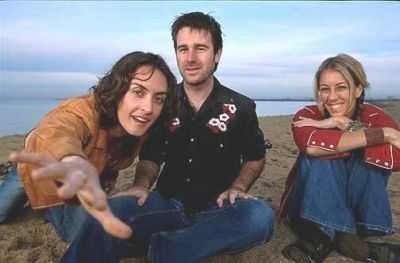 Vehicular imagery of life on the road, nationally and internationally, propelled some finer moments - Vikki Simpson harvested hay from hell in their Austin, Nashville and Jackson jaunt Three Down.

But a different journey of the sisters' grandmother Betty, with baby daughter, to join her Colorado chief petty officer husband Bob, steamed wheels of Vikki's tune Bridal Train.

Vikki, maybe jaded by pre-concert re-enactments of the journey source, began to explain her eulogy but decided to sing it instead.

Cunningham, perhaps happy to play third fiddle, impacted on the occasions when he sang lead on Lighthouse and A Brief History - a heartfelt homily about playing with the sisters since meeting 12 years ago in Broome.

This organic country folk mix ignites one of our best musical exports of a new millenium.
Fluid playing and droll dancing enhances their charm on original tunes and explains why they have graced stages with artists diverse as Dylan and Michelle Shocked.

It also hints that The Waifs are destined to expand overseas success after birth of Vikki Simpson's pending child.

And, yes, they exuded altruism by inviting support act Tim Rogers on stage to guest on guitar for second encore song - Dylan's Lonesome When You Go.

A fitting finale was their inspired rendition of When I Die (Won't You Bury Me In The Town I Was Born) - a sibling of Mississippi stable-mate Kate Campbell's Bury Me In Bluegrass.

This may be their last Aussie tour for 2004 - but a live album in May will be swift solace.

DAVID DAWSON 2004