AT LAST - THE ETTA JAMES STORY
The Athenaeum Theatre
MIDSUMMER MUSIC IN COLLINS ST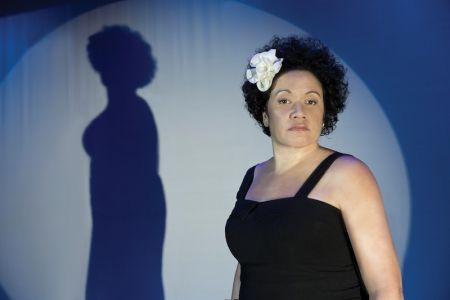 It was a steamy mid-summer evening in the heart of the smoky city where clown-hall prince Robert Doyle and octogenarian bon vivant Captain Peter Jansen reign after dark.

Folks came into the big smoke from the bush and suburbs by train, bus, tram and car to see Tongan born chanteuse Vika Bull pay tribute to an African American singer who died just a year earlier at 71.

The audience was a diverse cross section of music buffs and theatre lovers with a melange of musicians and radio and TV staffers.

None had lived on the edge like the subject of the show - Etta James.

Certainly not Vika and her sister in song Linda who recorded eight albums and fronted their own bands.

They were also vital vocal cogs in stage shows and recordings of Joe Camilleri, Paul Kelly, Hunters & Collectors, Archie Roach and other roots artists.

That was fertile phosphate for this challenging role.

But neither Vika or trumpet player Tibor Gyapjas were ready for the mike static that may be an occupational hazard in rock music - but not this majestic theatre stage.

Vika boomeranged into her narrator's role but as good a trumpeter Tibor may be he was out of his depth here.

Maybe a behind the curtain pro voiceover maestro could have filled the bill and allowed him to work on his musical strengths.

Grantley Dee sang the high notes behind the curtain for the late Del Shannon on his latter tours and Hit & Run singer Dan Robinson did the same from Skyhooks at their peak.

In other recent tributes Melinda Schneider proved an adept narrator, singer and dancer in the Doris Day show, Darren Coggan filled Cat Stevens shoes with ease and Jordie Lane was a better singer than narrator in his Gram Parsons tribute show at the same venue.
VIKA - NO BULL
Vika is a perfect match for Etta James - she was familiar with every dynamic of every song. Etta's music sits in the range that suits Vika's voice - she inhabited the upper register with delicious dexterity but wavered at times in the lower register.

For a happily married suburban chanteuse it was a tough task resurrecting the traumatic tribulations of an extremely talented but damaged diva living on the edge in a different era.

But Bull overcame most of those hurdles as she punctuated her angst fuelled anecdotes with a spirited vocal performance.

Vocally Vika embarked on a walk on the wild side from her entrée - Willie Dixon's I Just Wanna Make Love to You.

Her credible passion was her constant conduit to an avid audience - right through to the show's fitting finale At Last.
James was a major talent with a vast repertoire of songs that have stood the test of time but her music was never a staple of metropolitan mainstream waves in the unlucky radio country.

So it was refreshing the community and ABC radio fuelled audience had empathy with the music.

But not even veteran music buffs were fully conversant with all the tragedies that Etta rose above after her mother Dorothy Hawkins gave birth to her at 14 after a relationship with an absentee father - reportedly pool player Minnesota Fats.

Dorothy, born in The Great Depression, spent most of Etta's childhood in jail while leaving her daughter's raising to adoptive parents.

Etta's roller coaster life of addiction, love and loss, separation and reunion, hopelessness and redemption is the stuff that's made for Hollywood.

But it was also an eye opener for this far across the Pacific audience.

The co-narrators make no effort to act out the story - just reading the tale was a challenge.

Vika appeared less comfortable in her speaking role but her chronological trip down Etta's Lost Highway was well researched and never dull.

Bull told how Jamsetta Hawkins, a frequent phoenix in St Paul Baptist Church from the age of five, changed her name to Etta James at 15 at the instigation of famed singer-producer Johnny Otis.

Trombonist Ben Gillespie was a fitting vocal and dance partner in Roll with Me Henry - the song that first brought Etta attention as a 15 year old.
CHESS ERA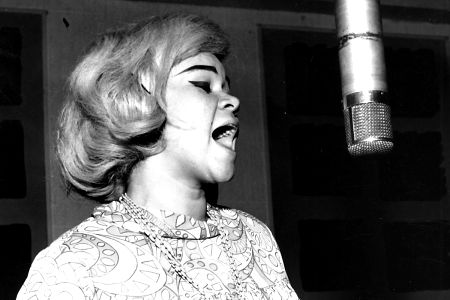 Vika then segued into her 1959 Chess era hits All I Could Do Was Cry and If I Can't Have You.

But, like many peers, her character was soon plunged into loveless liaisons, domestic violence and heroin addiction that landed her in psychiatric hospitals and rehab clinics.

Bull had no trouble delivering the narrative that detailed of Etta's extraordinary life and loves.

Her amazing vocal range and power resurrected Etta's classics with the riveting R&B Band that complimented - rather than overshadowed her.

Guitarist Dion Hirini accompanied Vika on It's a Man's World and rolled her into I'm a Woman.

Bull told how Etta survived the era in which she lived - tragic times riddled with racism, discrimination and rejection.

Many of her songs Fool that I Am, I'd Rather Go Blind and Lovesick Blues were tear soaked - so was the urgent I Want a Sunday kind of Love and Something's Got A Hold On Me.

Bull's versions of I Just Want To Make Love To You and All I Could Do Was Cry exuded sheer power - echoing James' distinctive vocals.

She was equally memorable on the energised Come To Mama, Good Rockin' Daddy and Sugar On The Floor.

Etta's soul and body were damaged but her passion and gutsy courage never wilted despite her recurring storms of life recounted in graphic detail by Bull.

It's just over a year since Etta James died, and she was making her voice heard right up until the end, recording her final album just a year before she died of leukaemia.

Bull updated the James story when she revealed how Etta jealously sniped when Beyonce - not herself - was asked to perform the Etta classic At Last at Barack Obama's inauguration.

The band, led by musical director-pianist John McAll, and also featuring saxophonist Remco Keijzer, was restrained.

At Last: The Etta James Story - directed by Simon Myers - has now ended its Athenaeum season

It begins a one week season at the Playhouse at the Sydney Opera House on April 30 - 2013.
Where: Playhouse, Sydney Opera House
When: 30 April to 5 May 2013
Bookings: Box Office 02 9250 7777 / sydneyoperahouse.com OR Ticketmaster.com.au
136 100
Tickets: Concession $79.00