TIM MCGRAW & THE DANCEHALL DOCTORS - FAITH HILL - ELI YOUNG BAND - ROD LAVER ARENA - MARCH 21- 2012

ELI YOUNG VETERANS - TRAFFIC TEDIUM
It was the calm between the autumnal storms as fans from the bush and suburbs battled horrific traffic jams to catch the Texan quintet kick the dew off the glass at the famed tennis court.

The traffic - well, there's renovations as far as the eye can see as the city fathers try to finish this Yarra bank sporting and entertainment HQ.

I hesitate to use the word mecca as public transport planning is pitiful with solitary tram and route march from either Richmond or Flinders St railway stations.

There were no stretch limos for the sons and daughters of the soil - just a fleet of Utes, people movers, sedans and bikes - motor and push.

Maybe Queensland mining magnate Clive Palmer could arrange for his CIA and Greens chums to parachute patrons into this sporting stadium.

Forget the carbon and mining taxes - patrons are already selling off the family farm to pay inflated prices for diverse drinks of multiple colours and concoctions.

Members of opening act - The Eli Young Band - met at the University of North Texas at Denton in 2000.
It was the first foray down under for the quartet who became a quintet after releasing its 14 track fifth album Life At Best in 2011.

The muddy mix would not have been tolerated at the Dallas-Fort Worth airport traffic control HQ.

But the lads exuded energy equal to the occasion by kicking off their set with Always The Love Songs and most recent hit Even If It Breaks Your Heart.

It segued into "the song that changed our lives and got us our major label record deal," singer Mike Eli told the fast growing floor patrons as they reached back to last decade for When It Rains.

They also plucked Oklahoma Girl - penned by Eli and bassist Jon Jones after a gig at the Wormy Dog Saloon in Stillwater, Oklahoma, from 2005 album Level - a disc that preceded 2008 disc Jet Black & Jealous.

"Made a 2-hour drive to stay one night/ a kiss on the lips made it all feel right/ her hands through my hair and her head on my chest/ the whole day we stayed in bed/ that's OK I don't mind/ this Texas boy just might find something in that Oklahoma girl."

Sadly the band's energy was not rewarded with a clear conduit for Eli or his partners in rhyme.

But latter day fans recognised regret riddled Skeletons - written by Eli and guitarist James Young from their new disc - and maybe Radio Waves.

Eli revealed drummer Chris Thompson, latter day Austin resident, was raised in South Texas and one of the writers of next song Small Town Kid.

"I'm a small town kid, driven by rock music/ and some honky-tonk, in the mix/ I like whiskey in coke, a double to the top/a shot of Cuervo now and then/ I never ask for a lot, I'll never need much/ just a good-looking lady who can drive my truck/ I'm not afraid to admit, I'm that small town kid."

By now the newest kid in the band Keith Davis may have wondered if anyone in the audience could hear his highly visible but barely audible pedal steel guitar.

His prayers were answered when they reached their finale - first #1 hit Crazy Girl penned by expatriate Port Douglas songwriter Kylie Sackley's former lover Lee Brice and Liz Rose.

The quintet, celebrating its 12th year on the lost highway, grinned and bared it as the crowd equally belatedly escaped the traffic, streamed in and screamed.

Audience reaction hinted the band's exuberance may have overcome the imperfections of the sound mix.

Perhaps Mary Chapin Carpenter's humorous Opening Act could have been pumped over the house P.A. instead of the rousing rock music.
FAITH IN HILL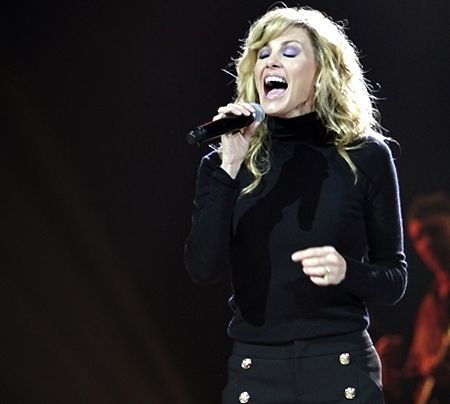 But all was forgotten when Audrey Faith Perry - the orphan from Star, Mississippi - strutted on stage in high heel boots and skin tight stretch pants that would have strangled a kennel of puppies.

The vivacious mother of three daughters, long known as Faith Hill, sang as well as she looked.

Here was an energised chanteuse eager to maximise returns from a seven year recording hiatus with singing superstar spouse Tim McGraw's road band The Dancehall Doctors.

There may been some plank-walkers from Tim's cast of musical medics who backed him on his 2010 tour but that was of little moment tonight.

The sound mixer picked up every note and nuance as Hill kicked off with John Rich penned hit Mississippi Girl and This Kiss - the Annie Roboff-Beth Nielsen Chapman-Robin Lerner tune.

Hill didn't need studio tricks to shoot the "centrifugal motion" lyric in her kiss classic beyond the radio moat before seguing into The Way You Love Me.

This was a joyous journey with mandolin and banjo audible in the mix and a black back-up vocalist enabling Hill to daub her country pop with a dash of soul and gospel.

Hill broke into a "more British than Australian accent" from her Adelaide foray to introduce new songs from unreleased eighth album Illusion.

She kicked it off with 600 Years - a song performed at a recent Nashville showcase - Amos Lee tune Flower and American Heart.

Hill also revived It Matters To Me before another Roboff-Chapman song Free from her Cry album.

"I feel like Oprah," Hill joked as she explained how the lyrics of Free - depicting childhood struggles and self-doubt - resonated with her long after she recorded the song in 2002.

"I felt captured in my hell before feeling free to be myself."

The singer and band revved up tempo with first huge hit Wild One before performing the hook heavy, radio magnet - new album title track Illusion.

This was, my partner whispered to me, a definite hit pick.

She also performed the Dianne Warren penned There You'll Be from the Pearl Harbour movie.

With that established, Hill revived previous hits Breathe and Stronger with a refrain from Amazing Grace that further proved her vocal prowess.

Hill was in top gear for Take Me As I Am and Bert Berns-Jerry Ragavoy song Little Piece Of My Heart - also a hit for the late Texan Janis Joplin.
QUICK DRAW MCGRAW
It was now song 14 so the singer began Let's Make Love - a song needing a duet partner.

Luckily, there was a thin bloke in black hat and holey jeans in need of a needle and thread from a southern seamstress, in the wings.

McGraw played his consensual role with a flourish and took the opposite end of the catwalk before thanking his singing spouse with a wave for her hour offstage on double time with her harmonist.

Dean Brown, now fiddling for a new master, kicked off Real Bad Boy as McGraw led into Big Kenny penned Last Dollar - one of many hits - and Where The Green Grass Grows.

This was the same song sequence as their 2010 tour so it was no surprise he revisited onstage patter when he said "we don't bullshit - we just play music."

But there was a spoken intro for Don't Take The Girl - "when I first moved to Nashville in 1989 this was one of my first hits."

That said, he invited the audience to sing the chorus of the tearjerker.

The pedal steel and fiddle also permeated Just To See You Smile before the honky tonk piano energised the barnburner Down On The Farm.

McGraw, unlike Hill, was not as keen to promote songs from his new album.
His protracted lawsuit with former label Curb over the belated release of Emotional Traffic - his 11th album - was his angst anchor.

But Tim dipped into that disc for Better Than I Used To Be - previously recorded by fellow Louisiana born star Sammy Kershaw.
PRE SEASON FOOTBALL KICK OFF
Then it was back to more hits - the once controversial dance floor ditty Indian Outlaw and I Like It I Love It that prompted the arrival on stage of a yellow football that he later kicked to his roadies.

Well, it was late at night and with memories of Geelong's 2011 victory no sign of a Collingwood or St Kilda football jumper like his last tour.

The singer kicked up another cog with dynamic delivery of geographical gems Everywhere and previous album title track Southern Voice - also the musical finale of one of his movies The Blind Side.

But he did revert to the present with Felt Good On My Lips - first hit from his new album - and Live Like You Are Dying that echoed the sentiments of the premature death of his baseball star dad Tug.

The entrée by Hill may have helped McGraw surpass the country quotient of his repertoire from his last Australian sojourn.
DUETS BY CANDLE LIGHT
By song 28 it was time to welcome back the good Stepford wife Hill for a brace of duets that began with Angry All The Time from the prolific pen of Texan Bruce Robison.
Then the couple dined out on Tim's new album with culinary delight One Part, Two Part written by soul singer Big Dee Irwin.

There was more than a passing melodic memory of the Ed & Patsy Bruce penned Waylon & Willie hit Mamas Don't Let Your Babies Grow Up To Be Cowboys when they kicked off Shotgun Rider that also shares title with different songs by Joe Sun (1980) and Delbert McClinton (1981.)

But this song was written by Boy Howdy co-founder Jeffrey Steele, expat Aussie Sherrie Austin and Anthony Smith and on 2007 album Let It Go.

"Horses are running wide open I just gotta ride/ to those honky-tonk bars that stay open way past closing time/ songs about free thinkin' and drinking sure light my fire/ that flame leaves a scar on my heart like an old branding iron/ between Texas and ranchers and old friends where do you fit in/ woman come lay down beside me and be my shotgun rider."
More familiar - but maybe not as visually vivid - was the couple's duet hit It's Your Love.

It was 31 songs and more than two hours since Hill first strode on stage as the couple and Dance Hall Doctors decamped in the dark.

But there was torchlight in the stable as the roadies carried two chairs and table to the front of stage catwalk.

Yes, an evocative encore as they strolled down the aisle and sat across the table.

They peered deep into each other's eyes as they ignited David Lee-Tony Lane hit I Need You.

McGraw ran his hands up and down Hill's slender legs while she found the holes in hubby's jeans when she reciprocated before they kissed.

"I need you like a needle needs a vein/ like my uncle Joe in Oklahoma needs rain/ I need you like a lighthouse on a coast/ like the Father and the Son need the Holy Ghost."

Hill and McGraw definitely found their vocal and aortic veins - it was a hard act to follow and luckily nobody tried.

Maybe the tabloid TV shows could have explored the McGraw-Hill diet recipe that enables the couple, both 44, to retain their figures and poise.

Nocturnal marathons on tennis courts and arenas are invaluable clues.
http://www.braindumps.com/350-018.htm
http://www.test-king.com/exams/642-457.htm
http://www.jhu.edu/
http://www.actualtests.com/exam-642-980.htm
http://www.certkiller.com/exam-1Y0-300.htm
http://www.intel.sg/