THE MAMMALS - EAST BRUNSWICK CLUB - 16 MARCH 2007
A SUPERB NIGHT OF SUBVERSIVE ACOUSTIC MUSIC
The putative divisions, which existed between folk and country music, seem to have completely disappeared with the emergence of new young artists, who blend the two types of music effortlessly to create, not necessarily a new sound, but a reinterpretation of roots music that is vigorous and sounds fresh and original. It is the blending of unusual instruments with imaginative arrangements that create this fresh new impression.
This was amply demonstrated on Friday night at the East Brunswick Club.
Dev'lish Mary - East Brunswick Club - 16 March 2007
Support act Dev'lish Mary, a local all girl band, opened the show with a sassy and sizzling set of lively folk and country songs. Comprising two fiddles, guitar, banjo and upright bass, the girls showed they could play with a vengeance. They are Ruth Hazleton, Liz Frencham, Sally Taylor, and Cat Moser and they profess to be old-time, bluegrass and western swing junkies.
They sang or performed about ten tunes in all. Highlights were the Jolie Holland song "Old Fashioned Morphine", "Blue Moon of Kentucky", "Black Eyed Suzie" where the band was joined by Emma Bee to "clog" i.e. dance, to the music. She returned several times and was an engaging performer to watch.
Dev'lish Mary has yet to produce a CD, but they had t-shirts and, of all things, tea towels for sale on the merchandise table.
After a short break, The Mammals took the stage. The first utterance from the band was
a query from Tao Rodriguez-Seeger on tea towels. When being informed that it was a dishcloth, he bemusedly stated that he never dried dishes - he played his banjo while
others did.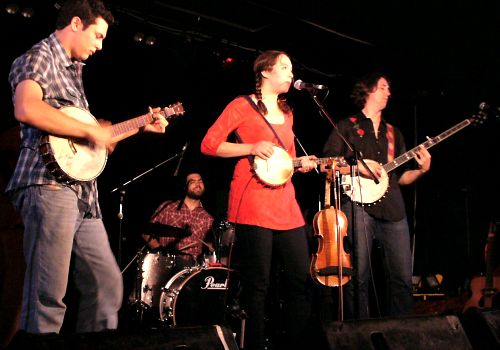 The Mammals - East Brunswick Club - 16 March 2007
The Mammals were, by all accounts, the highlight act at Port Fairy Folk Festival, so I was very interested in seeing them. They are from New York, a five piece, and mostly acoustic band. The Mammals describe their music as subversive acoustic traditionalist. The band is Mike Merenda (vocals, guitar and banjo), Ruth Ungar Merenda (vocals, banjo, fiddle) Tao Rodriguez-Seeger (vocals, guitar, banjo harmonica), Chris Merenda (drums) and Jake Silver (Bass).
From the first tune ""Hangman's Reel" it was obvious we were in for a great show. As I had not heard of the band until quite recently, I was surprised that I could recognise most of the songs. The second song was the old classic "Worried Man Blues" which has been covered by numerous artists, including the Carter Family, Woodie Guthrie and the Kingston Trio. A sensational cover of the Richard Thompson song "1952 Vincent Black Lightning" followed.
Ruth Ungar Merenda

A number of the songs were in the protest mode, no doubt as part of the tradition of Tao Rodriguez Seeger's family, especially his grandfather, Pete Seeger. Songs, such as "Profit" which deals with the evils of global warming and rampant capitalism, and a clever rewording of the old "Mockingbird Song" (Hush Little Baby) continued this theme.

A barrage of three banjos played all together at the same time, amply satisfied my fondness for the banjo as an instrument. These embellished the weird strangeness of the old folk song "House Carpenter" which was sung in an Appalachian wailing style by Beth Ungar Merenda and Mike Merenda.

The banjo appears to be a major instrument in all The Mammals songs adding a bluegrassy feel to the song John Henry, for instance. The combination of the banjo with Ruth's fiddle enlivened all the tunes, in a delightful mix of country/folk/rock that resists classification.
Other highlights included a stirring rendering of the Cuban song "Chan Chan", familiar from The Buena Vista Social Club CD, "Way Down the Old Plank Road", the dreamy "Stairway to the Stars" and the soulful "Satisfied Mind".
If this was subversive acoustic music, give me more. The Mammals rocked. As a live band they defy hyperbole, being multi talented and energetic performers. Their arrangements of old time American folk songs, played on a range of acoustic instruments was mind blowingly good.
They will be performing again in Melbourne on 27 March at Don't Tell Tom as part of the Brunswick Music Festival. I would encourage you not to miss them.
Review and photos by Anne Sydenham