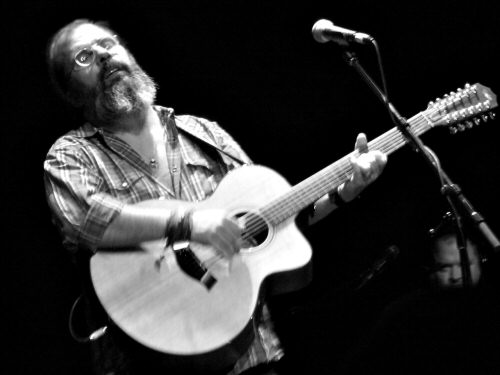 Steve Earle at The Forum - 6 November 2008
Why is it that Steve Earle always seems to tour in Australia at a time of political importance, be it upheaval or otherwise? When I first saw him perform in 1998 it coincided with the Dockers strike in Melbourne. This time it was more politically positive, being the day after Barack Obama's victory in the race for the American presidency.
Steve Earle and wife Allison Moorer last appeared here in Australia in November 2005, shortly after their marriage. At the time they were accompanied by the Dukes, but this time round they expressed a preference for a more intimate performance, playing to seated patrons in solo acoustic mode.
So the lovely old Forum Theatre was the venue chosen for the Melbourne show. It was a sell out and a rare chance for this reviewer, anyway, to see Steve Earle perform in civilized surroundings and sitting down.
I missed the early part of the show, i.e. Krista Polvere's set, but I managed to catch half of Allison Moorer's portion of the show.

As well as having an attractive stage presence, Allison is a fine singer, having a lovely expressive voice. Her latest CD, Mockingbird, is a collection of covers by women singer songwriters, so most of her set comprised songs from this album. She also sang a little ditty about Australia which was one of her own early compositions.

I was there to catch her rendition of Patti Smith's Dancing Barefoot, and Getting Somewhere the title track of her 2006 CD.

She ended her set with Change is Gonna Come by Sam Cooke, which she explained she had been singing for the last eight years in the hope that the American political climate would change for the better. She obviously shares her husband's leftist politics.
When Steve Earle took the stage shortly after 9.000 pm he gave generously of his time, performing for something like two hours. For the most part he played solo, accompanying himself on acoustic guitar and harmonica. Steve ran through a fine selection of his back catalogue which included several of my personal favourites - Goodbye and Ellis Unit One, a powerful and affecting anti death penalty song, to name a few. Also during the early part of the show he sang My Old Friend the Blues, Tom Ames' Prayer and Taney Town, which he admitted he'd been mispronouncing for years.

Interestingly enough, there were no songs from his two "protest" albums Jerusalem and The Revolution Starts Now. Steve and wife Allison Moorer both expressed their delight at the result of the American election, so perhaps Steve feels it is time to lay his hammer down, though we were encouraged to sing our hearts out when he sang his Pete Seeger tribute song, Steve's Hammer (for Pete).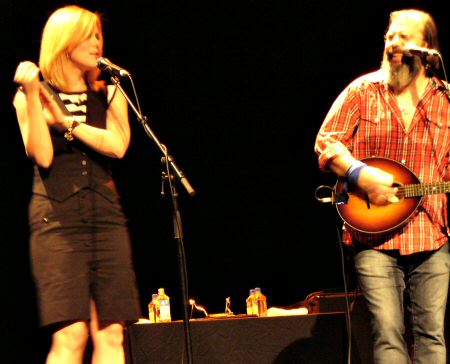 Steve Earle & Allison Moorer - Forum - 6 November 2008
Though there was no break in the performance, the show was roughly divided into two separate modes, so the second part was dominated by songs from his latest album Washington Square Serenade and Steve was accompanied by DJ, Neil McDonald (pictured in the background in the first photo) on a sound effects console at the back of the stage. Allison came out to sing her part in the duet Days Aren't Long Enough and stayed to provide harmony vocals on Down Here Below and City of Immigrants.

He slipped in a version of Galway Girl from the Transcendental Blues CD and wound up the show with Way Down In the Hole a Tom Waits cover which is included on the Washington Square CD.

Steve revealed that he was working on a new album, a tribute to his old friend and mentor Townes Van Zandt. The record will consist of all TVZ songs, and he sang a very good version of Pancho & Lefty during the encore as an example.

Though Steve Earle's voice sounded a little strained and hoarse early in the program, it strengthened as the evening wore on. It was a splendid night of music, and even if using a DJ is, to some Steve Earle purists, like Dylan going electric, I thought the sound effects enhanced the overall sound and were quite appropriate for the material.

Steve of course delivered several monologues, one quite timely -considering the recent execution of the Bali Bombers - on the Death Penalty, which Steve opposes vehemently and in which he includes Osama Bin Laden and 9/11 bombers as undeserving of the ultimate punishment.

As the audience filed out of the theatre at the end of the show, John Lennon's Power To the People boomed from the speakers, reminding us all that change can be brought about by pure democracy as witnessed the day before in the American Presidential elections.

Steve Earle Set List
1. Steve's Last Ramble
2. Devil's Right Hand
3. My Old Friend The Blues
4. Some Day
5. Taney Town
6. Goodbye
7. Tom Ames' Prayer
8. South Nashville Blues
9. Ellis Unit One
10. Tennessee Blues
11. Jericho Road
12. CCKMP
13. Transcendental Blues
14. Sparkle And Shine
15. Days Aren't Long Enough
16. Down Here Below
17. City of Immigrants
18. Oxycontin Blues
19. Galway Girl
20. Steve's Hammer
21. Satellite Radio
22. Way Down In The Hole

Encore
1. Guitar Town
2. Pancho & Lefty
3. Copperhead Road

Review and photos by Anne Sydenham