SARAH CARROLL - THE BASEMENT DISCS - 21 JULY 2006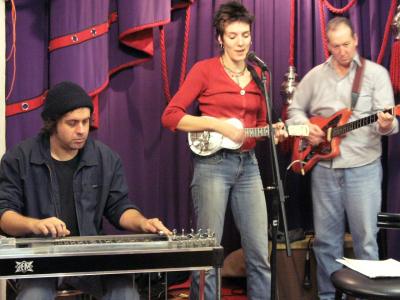 Sarah Carroll, Andy Baylor & Leigh Ivin at
Basement Discs - 21 July 2006
Regular attendees at the Basement Discs In-Store performances know that they are something special. I am such a one, and on Friday lunchtime I ventured down there as usual for a welcome hit of live music.
The performing artist was Sarah Carroll, there to promote, along with Basement Discs, her brand new CD Yippee. Sarah Carroll was a leading light in the recently defunct band GIT. All the GIT gals now pursue solo careers and Yippee is Sarah's first full-length solo recording.
Accompanied by Andy Baylor, recently recovered from serious illness, and pedal steel player Leigh Ivin from the Re-Mains, Sarah played for a tidy half hour or so.
"Accident Waiting To Happen" was the first song performed, then Sarah introduced the second called "Drunk Man" with an observation on her days playing in pubs, intimating that the notorious late A P Johnson was the inspiration for the song.
The next song, "Rosie" was written to console a child when the dog ate a pet chicken. "I'm Not Inclined To Try" came next then Sarah introduced Shula Hampson to the stage to sing harmonies on her song about Graceland and Elvis's private jet "The Lisa Marie"
Sarah played both guitar and ukulele and Andy Baylor provided accompaniment on fiddle and guitar. Leigh Ivin proved to be a wonderful pedal steel player.

In the audience I noticed quite a few other local musicians, Mick Thomas, Cyndi Boste and Susannah Espie to name a few.

Though it was only a quick taster of the new album, it all sounded pretty good in the half hour or so Sarah's performance lasted. She wound up with two songs "Closing Time" - about GIT's breakup, and "Dangerous" which Sarah says is about marriage.

Sarah Carroll is an entertaining performer, not only with her singing and instrumental virtuosity, but through her witty stage patter and her humorous stories between songs.
Visit Sarah's website for more information on gigs etc.
NB. This coming Thursday 27 July at 12.45pm, fabulous Adelaide band The Audreys take to the Basement Discs stage. Well worth seeing!
Review and photos by Anne Sydenham