PORT FAIRY FOLK FESTIVAL #37 - 2013
BIG TIME IN A SMALL SEASIDE TOWN
It was no surprise that Port Fairy was voted the most liveable small town under 20,000 people in the western world.

The Shipwreck Coast seaside village is fuelled by spuds, onions, fish, milk and diverse dairy products with an opium factory - for those who prefer old world delicacies - on the eastern gateway.

Then there is music - not just the eclectic folk genre that mushrooms the populace from 2,500 to 25,000 plus each Labour Day weekend.

There's also the Star Of The West Hotel - made famous in the Dead Livers song of the same name - and The Stump, one of the oldest pubs in Australia.

Former Star Of The West and Victoria Hotel publican and former Collingwood star Ronnie Wearmouth may have long decamped from the scene of the rhyme but his legend is etched in the juke boxes and memory banks of those left behind.

And there were plenty as local barista and singer Louise Clancy & her Rustlers kicked the dew off the glass on the eve of the festival on Thursday for locals and those who beat the big city traffic sprawl.

Latecomers, who arrived on Friday, were greeted by local lad Andy Alberts and his not so cryptically named indigenous band The Walkabouts who opened the festival at the Welcome To Country concert in the cavernous Tent 3.

I missed them but they didn't miss me as guitarist Lee Morgan, fresh from the Americana festival in Nashville, rode shotgun on their Willie Nelson style golf cart that resembled a Gulf War tank as they returned to base.

Irish lass Lisa Hannigan picked up the baton from The Walkabouts as fellow Celtic guitarist Sean Taylor launched his new CD in neighbouring Tent 4 and another Shipwreck Coast young gun Jackson McLaren & Triple Treat boomeranged to Tent 1.

GO JANE GO
Queens born multi-instrumentalist Kieran Kane, 63, drummer son Lucas and Irish born Canadian David Francey joined forces in new acoustic trio Go Jane Go.

Kieran and Francey wrote most of the songs on their debut CD at Kane's hideaway in upstate New York and recorded it in another retreat at Terip Terip near Yaark north of Melbourne on their 2012 tour.
Yaark - en route to the high country in the shadows of the Strathbogie Ranges - is a revenue raising jackpot for speeding motorists heading north to the snow.

There is no court there for Go Jane Go tour promoter and magistrate Annabel Hawkins to dispense justice or order sinners to give to the Vinnies poor box.

Kane and former sidekicks Kevin Welch and Fats Kaplin previously donated their Marysville song to the Vinnies After The Fire CD on their Black Saturday tour.

But there was ample acoustics to enable the trio to recreate its organic music on display in Tent 4.

They kicked off with the Kane song One Raindrop Fell before Francey preceded two of his tunes with personal anecdotes - being dumped by a girlfriend for When I'm Not Thinking About You.

"I watch the Fox News where news is turned into entertainment," Francey explained.

"They have these pretty gals who smile when they deliver tragic news about fire, flood and mud. I wrote Pretty Jackals about them."

This was the closest the trio got to social comment as Kane told of the recording of their debut CD in a rural lounge room on their last tour here two years ago.

He added the songs, written in his cabin in upstate New York State dated back further.

Francey said his invite included the caveat "you don't have to fix the roof" but he did anyway.

Equally localised was Anybody's Game - originally accompanied by a humorous Lucas Kane directed video with local photographer Kevin Rafferty and other local icons in Fitzroy, other Melbourne inner suburbs and Sydney.

Rafferty, waiting in the wings, was not required to reprise his role at Port Fairy where the lads also cut loose on a banjo fuelled instrumental and other new tunes.

The trio showcased Solitary Wave and other tunes from the new album but also vintage Kane song Somewhere Beyond The Roses and their finale - Flatt & Scruggs classic My Blue Ridge Mountain Home.

It was a subdued scenario repeated and expanded upon throughout the festival.

RUTHIE FOSTER - AUSTIN
The night was still young when South Austin based R & B, soul and gospel singer-songwriter Ruthie Foster took to the neighbouring but much larger stage 3 with her turbo charged band.

Her token male was Minnesota born keyboard ace Scottie Miller - a seven solo album veteran - who joined her four years ago when she hired him after seeing him play with Bo Diddley.
Since then Miller, featured in numerous solos tonight, has played on Foster's Live At Antone's album.

Houston drummer Samantha Banks picked up the tempo and fellow Houstonian Tania Richardson played five string bass.

It was an inspired set featuring tunes from her most fifth album The Truth and sixth CD Let it Burn.

She kicked off with Up Above In My Room I Hear Music before recalling the making of Let it Burn in New Orleans.

"I made the album in New Orleans, I love to record where I love to eat," Ruthie, now 48, joked as she set up the John Martyn ballad I Don't Want To Know before reviving the Los Lobos classic This Time.

"I wrote Aim For The Heart for Bonnie Raitt but recorded it myself," was her entrée to her swampy stomper.

Foster regaled her audience with homespun homilies from her road trips that have landed her here on four tours.

"I recall B. B. King saying "I play for free, I just get paid to get here."

And there was an equally apt intro to Trying To Find My Way Home and the gospel singalong on the Titanic inspired God Moves On The Water.

"The Titanic left Southhampton on April 14, 1912," Foster recalled of a song that featured The Blind Boys Of Alabama when she cut it in New Orleans.

"God moves on the water/ April the 14th day/ God moves on the water/ everybody had to run and pray."

It was easy for the audience to become Blind Boys Of Alabama for the night.

Foster, raised in a Baptist choir in the Brazos Valley in central Texas, had fond memories of her country roots.

"My dad was a big Johnny Cash fan," Ruthie revealed before she settled into a slow groove for Merle Kilgore-June Carter Cash penned classic Burning Ring Of Fire.

"I'll leave you with a little bit of Texas from the front porch," she declared she finished with the bouncy Small Town Blues as Miller swapped his keyboards for mandolin.

Ruthie was a hard act to follow so I hit the highway east to the banks of The Hopkins and the ghosts of cattle long since decamped to greener pastures.

SCORCHING STREETS OF ZEON
I slept the sleep of the just and arose at dairy farmer daylight time and headed west to soak up the street buskers music in preparation for moderating a Music Victoria Forum Workshop on how to get bookings at music festivals.

Port Fairy and sibling folk festivals have refreshingly different criteria to corporate rock festivals and ice fuelled dance decadence.

My entrée was unheralded acoustic quintet Zeon who stopped the traffic outside Isabella's café and the Francis giftware shop on scenic Sackville St.

I had known the Francis giftware proprietor Gary in a previous life when he photographed the same festival for me when I toiled for the long defunct Australasian Post.
Today I sat on the footpath as I was mesmerised by Zeon's version of Bruce Robison song Travellin' Soldier - a huge hit for The Dixie Chicks before singer Natalie Maines offered fellow Texan President George Dubya Bush an unsolicited character reference at a London concert.

It signalled the end of the Chicks radio career but Irish born Zeon singer Zenita O'Neill had no advice for new Victorian premier Dr Denis Napthine who was shooting the breeze - not his predecessor - in a nearby café.

The good doctor may have picked up the strains of Zeon's accessible treatment of Where You Gonna Sleep Tonight?

Or he may have preferred Old Crow Medicine Show's Wagon Wheel - adapted from an unfinished Bob Dylan song - and now a country hit for former Hootie & The Blowfish singer Darius Rucker.

It's a long time since Doc practised cattle castration in his previous career as a vet so he would not have been tempted to remove the calf tattoo from barefoot drummer Renee Russo who was a perfect foil for Zenita, fiddler Tommy O'Neill, mandolinist James McKenzie and guitarist-harmonica player Tom Buick.

Zeon may not have been on the official roster for the festival but their marketing was an object lesson for fellow buskers.

Spectators impressed by what they saw and heard in the 35 degrees heat exchanged $5 notes for the Zeon CD in the stage front guitar case.

There were plenty of takers and ammo for my music workshop.

Nearby Don Costa - one of the four Robinvale Costa Brothers - picked up the overflow with his smooth country vocals also giving a gallop to Paul Kelly's To Her Door.
AC SWELL AT THE RSL

The Port Fairy RSL was an oasis for the festival fans escaping the heat and hoping to learn how to get booked at future festivals.

Music Victoria host Andrew Kelly recruited Port Fairy artist of the year Suzannah Espie, Apollo Bay fest booker Lee Rosser, Woodford folk fest programmer Mandi McIntyre and Warrnambool musician and advertising and marketing ace Russ Goodear to give good advice on how to be booked for roots music fests.

Luckily for the audience your diarist merely moderated and didn't unleash journalistic secrets like the previous year.

Without wanting to individualise the panellists' advice we'll settle for a collective summary.
1 - Provide a concise press kit with sharp photos, recorded product and links to live Youtube versions of the artists music - the latter is important as it gives an accurate version of the act live without the studio tricks practiced by pop and rock artists.

2 - Send your press kit early so the bookers can study it before the pre-deadline rush hour.

3 - Don't restrict your musical summary to one genre - the broader the more chance of being booked.

4 - Allow flexibility in your fee as festival organisers and local venues may offer ancillary bookings in nearby towns.

5 - Publicists are not essential according to Suzannah who has only used them in recent times - a good manager-publicist in the case of her former band Git was a bonus.

6 - Aim your act at a geographical marketing tool for specific festivals - songs about oceans and seas are ideal for Port Fairy, Apollo Bay and Queenscliff.

Goodear revealed that he pitched a Gordon Lightfoot tribute show to Port Fairy in 2012 as a celebration of the performing career of a folk pioneer who was too ill to return here to tour.

The proposal was successful without having to add the tribute band bassist was the Honourable David O'Brien - a local Victorian Upper House National Party MP.

7 - Bookers don't necessarily believe positive newspaper, magazine and online reviews are integral - they prefer to see proof of the live act from footage.

8 - Give the bookers a newsworthy angle so it helps their marketing and publicity in all sections of the media - print, electronic and social.

Songs about local identities, landmarks and historical events or even freedom of the press might be timely.

BOSTOCKS AND SUZANNAH ESPIE
Altruism is also a handy goodwill weapon at festivals.

I followed panellist Goodear from the RSL to the nearby Railway Stage where a loaned Goodear guitar was brandished by Rob Bostock in his Gold Coast family band The Bostocks.

The quartet, fronted by bassist Sarah Bostock and fiddler sister Rachel, performed Another Lifetime, another original Behind Me and then the Albert Lee classic Country Boy.
Drummer Brendan Bostock was also on board for a previous journey from home at Upper Coomera in 2002 to Port Fairy that sourced the song Places We Have Seen.


"We hired a 1964 Dodge school bus that broke down in every place on its way here," Sarah told fans.

"On the way back it broke down at Narrandera."

The quartet, frequent visitors to Victoria, has released two albums In The Neighbourhood and Not By A Longshot with another on the way.

Next it was time to see another panellist in action on Stage 4.

Suzannah Espie was accompanied by sister in song Liz Stringer as they kicked off with a Van Walker-Charles Jenkins tune Blue Mountains and Queenscliff spawned song, Nobody Loves You Like I Do.

Equally poignant was Raining In Armidale and Other Side Of The Mountain penned with Chris Altman.

"He's living in Canada but now has a three month grant and is now writing songs in Nashville," Espie explained of the song featuring drummer Michael Barclay and mandolinist John Bedgood.

Espie, whose set was somewhat subdued, chanced her arm when she invited Van Diemen's Land refugee Van Walker to make a solo cameo.

Walker delivered a dynamic, chicken picking version of the late Townes Van Zandt epic White Freight Liner Blues with his fellow Livingston Daisies members Stringer and Barclay riding shotgun.

It was a hard act to follow and Espie chose her latest album title track Sea Of Life and Dolly Parton's Wildflowers to close her set.

SARAH LEE GUTHRIE-JOHNNY IRION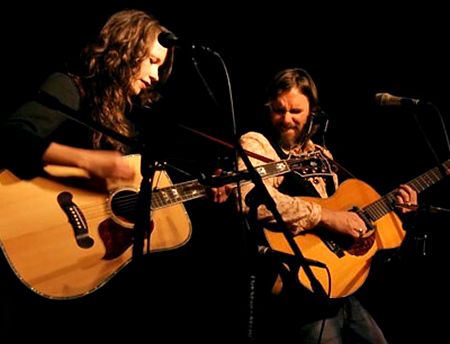 Sarah Lee Guthrie and singing spouse Johnny Irion returned to Port Fairy after taping another episode of RocKwiz with their Hurricane Windows song - inspired by Katrina - en route to the coast.

The Hurricane Katrina song with memorable lyrics - "The Big Easy Isn't Easy Anymore" - was also their entrée to a set featuring Target On Your Heart and new songs inspired by their young children.

Don't I Fit In My Daddy's Shoes and Pretty Serious - a song about their cat Chairman Meow - were reprised from their 2009 children's album Go Waggaloo.

But it was the death of Sarah's mum and Arlo's widow that inspired Seven Sisters from fifth album Bright Examples although their youngest daughter Sophia also had an eye in it.

"Sophie saw her nanna as an angel turned into a star," Sarah, 33, explained.

But Irion, 44 and a descendent of John Steinbeck, joked it was a lost bush walker who borrowed their rural home phone in the remote Berkshires in West Massachusetts and called Boston long distance that inspired A Friend In Boston.

The book Reason To Believe - "with all these end of the world days" - inspired Will You Be Left Behind and a copy of the Old Testament bought for $5 in Port Fairy on their previous tour seven years ago - sourced Speed Of Light.

The duo reached back two generations for Woody Guthrie's Pastures Of Plenty, showcased a new collaboration with Jackson Browne and chose When The Lilacs Are In Bloom as their finale.

RED MOLLY - BUGS AND BRINE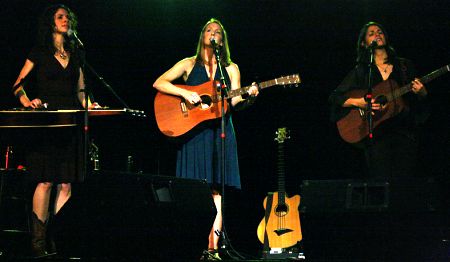 New Jersey based acoustic trio Red Molly were one of the many pleasant surprises at Port Fairy - with energised performances that immediately connected.

Laurie MacAllister - guitar-banjo-bass and Abbie Gardner - dobro and guitar - formed the trio in 2004 and replaced another original member Carolann Solebello with Austin based singer-songwriter guitarist Molly Ventner in 2011.

So it was a riveting reincarnation of the charming band fresh from opening spots on Shotgun Willie Nelson concerts that hit stage 4 on Saturday night - their second gig for the day.

They kicked off with Jezebel and Hello Goodbye from fourth CD Light In The Sky before praising local beaches.

"It was a nice clean beach - you don't swim in our beaches in New Jersey," Laurie joked before they honoured Dolly Parton with her hit Do I Ever Cross Your Mind.

They performed their dobro fuelled original Oh My Michael - penned with Johnathan Byrd - before revamping Buddy and Julie Miller classic Does My Ring Burn Your Finger.

They also paid homage to Gillian Welch and David Rawlings with an inspired a capela delivery of Dear Someone and equally poignant Annabelle from their new CD.

They ignited their original My Baby Loves Me, Hope - the title track of Abbie's solo CD - and another of her originals Break It Slow.

The trio also covered Mark Erelli tune Why Should I Cry Over You and Molly's original Willow Tree.

'We finally noticed these big bugs, thought we were back in New York City," Abbie quipped before they revived Doc Watson song Your Long Journey.

They reached back to 2010 album James for rollicking Lucinda Williams tune Can't let Go and closed with Susan Werner song May I Suggest from their 2008 album Love And Other Tragedies.

EUGENE HIDEAWAY BRIDGES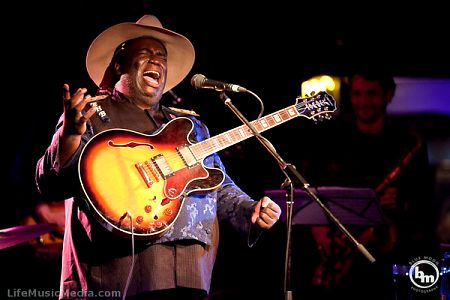 Eugene Hideaway Bridges proved he had earned his frequent flyer points when he announced this was his 30th Australian tour but first Port Fairy visit.

It won't be his last - the Louisiana born veteran R & b and soul singer showed peers how to work an audience as he showcased tunes from eighth album Rock And A Hard Place in 2011 and soul classics.

"It's my 47th anniversary of performing," Bridges 50 and son of blues guitarist Hideaway Slim told fans as he cruised through classics with soulful support from his bassist and drummer.

The latter day Texan kicked off with A Change Is Gonna Come from his debut Born To Be Blue CD from 1998 and You're Gonna Miss Me When I'm Gone off 2000 CD Man Without A Home.

"My daddy was Hideaway Bridges," he drawled after performing Look At Me Now and How Long Will It Take To Make A Good Man Walk Away from his new CD.

"I was driving up a mountain and found this big stone in the middle of the road. I decided there was no way I was gonna turn around - when things get hard don't turn around. I got out and got a piece of that stone. It was the symbol of my journey. I wrote this next song A Piece Of The Mountain."

That song appeared on his 2007 self-titled album that featured Aussie guitarist Ian Moss, expat Asleep At The Wheel pedal steel ace Lucky Oceans and Ray Wylie Hubbard's slide guitar.

Bridges continued his ascent with Your Love Is All I Need and the delicious double entendre Don't Call Me For Supper When There's No Meat On My Plate.

He reprised I'm Going Back To South Carolina from 2005 album Coming Home before a Sam Cooke medley - Working On The Chain Gang, Cupid and Wonderful World.

It was a wondrous world as he reprised Rome Wasn't Built In A Day and How Can I Win before being joined by a horn section for a blistering finale on Moving And A Grooving.

Eugene not only bridged soul, blues and R & B but proved a pacing and warmth that only time and talent can deliver.

SHANE HOWARD
Shipwreck Coast legend Shane Howard and organic home grown band - fresh from Arlo Guthrie's all-star This Land Is Your Land tribute show filled stage one with ease as he name checked author Stephen Hawking.

Howard's rural roots ensure Cooper's Creek from 2004 CD Another Country and ancestral anthem Don't Give Up On Us - performed with Troy Cassar-Daley at Port Fairy in 2010 - were a clear conduit to his audience.

The latter - a conversation with God not Hawking - was used in The Known Universe film.

But Howard, 58, has long been an avid supporter of our indigenous custodians of the land and many others.
Today he gave the stage to didgeridoo player Mark Atkins for an extended performance for something impromptu.

Not so impromptu was his nurturing of local musicians including guitarist John Hudson and bassist Reuben Shannon on his 12 solo albums, one accompanied by a book.

He also took listeners on a trip back to Uluru for the 30th anniversary of the huge Goanna hit Solid Rock with accompanying video.

It was a much more moving travelogue than anything produced by Tourism Australia but was well celebrated on ABC show Australian Story.

Howard, 58, drove home the message for bilingual resources to teach children an Australian language and native culture.

The singer, one of seven children raised in the shadows of the Nestles, now Fonterra, factory at Dennington - a western Warrnambool suburb - let the video tell the story on a stage shared with a three piece choir including daughter Myra and Amy Saunders.

Forgive me for shortening this review but I appear to have mislaid my notes - perhaps they're blowing in the wind.

ARLO GUTHRIE BACK ON CITY OF NEW ORLEANS


Arlo Guthrie not only earned his legend status but his stamina as he boomeranged for a raft of concerts including his all-star paternal tribute This Land Is Your Land.

Even the popularity of his solo shows precluded me from seeing an entire concert until the final day.

But I wandered to the outside back of Stage 3 tent on Saturday night and shared the steamy environs with a cast of uninvited crickets - without their mystical leader Buddy Holly.
Having brushed off the nocturnal frequent flyers I was treated to the history of how Guthrie came upon City Of New Orleans.

"I was in Chicago in 1973 when we were doing three shows a night," Arlo recalled as if it was yesterday - not 40 years ago.

"I had just finished this concert at 3 am and this man came up to me. He said he had a song he wanted me to hear. I was done hearing songs for the night and he said I'll buy you a beer if you'll listen to it. I said I'll listen for the length for the beer. The song was City of New Orleans and the singer was the late Steve Goodman. The rest is history."

So I returned to the same tent on Monday at high noon for the festival finale.

Guthrie, 65 and glowing with a towel bandana and racked harmonica, needed no introduction but received one anyway as he as he opened with Down To Galilee - "a kids song I learned from Lenny Chandler in Baltimore" before reviving Freight Train.

"The older I get the smarter I seem to be," Arlo joked.

"Song writing is like fishing - every once in a while when the fish swims past you hook em.

Don't go fishing downstream from Bob Dylan. I just wish he would throw some back."

It was time for the singer to revisit In My Darkest Hour before recounting the embryo of When A Soldier Makes It Home.

"In the seventies I had friends coming back from Vietnam," he recalled.

"Then the Soviet Union invaded Afghanistan but no-one cares these days when a soldier makes it back they just unload the body sacks."

Guthrie honoured Sonny Terry and Brownie McGee with Corn Bread And Black Molasses before telling the story about leaving home at 18 and hanging out with Ramblin Jack Elliott at Malibu and being taken to a rodeo.

"He was a rodeo fanatic and barrel racing devotee. Leading the parade was the most beautiful woman.

We met three years later - two years after that I wrote Highway In The Wind - my first record - about her. We later celebrated our 43rd wedding anniversary."

Sadly Jackie Guthrie died at 68 on October 16, 2012 - Arlo honoured her with his classic song.

He then related a story about Hurricane Katrina that led to the City Or New Orleans train being put back on the rails before a bout of fund raising concerts with fellow artists including Willie Nelson and Ramblin Jack.

"I saw Katrina unfold on TV and called my daughters about the fund raising concerts," Arlo recalled.

"They all called me back. Richard Pryor emailed me. Willie Nelson called me on the phone. He had never called me before and never called me again. Amtrak provided the train and we headed south from Chicago."

Guthrie then performed his Katrina song In Times Like These before celebrating his dad Woody's 100th birthday last July by performing his song Seven Little Gypsies.

"His genius was not just the songs he wrote but the ones he stole," Arlo joked.

"He heard this old English song about this lady of the castle. The Lord goes off on his horse and hunts down all her lovers and hangs them. In my father's version the lady of the castle ends up with the guitar player."

Guthrie also honoured Peter Seeger, now 93, with Union Maid and regaled the audience with the source of his Motor Cycle song.

"My father checked himself into a psychiatric hospital in New Jersey and spent 15 years in there," Arlo recalled.

"The doctors called my mother from the hospital and said your husband is seriously ill - he has great delusions - he thinks he is a famous folk singer. Then this new patient came and said I know you - 'you wrote the book Bound For Glory.' Dad said did you read the book. He said "no, I ate it."

Guthrie then performed My Peace - one of 3500 previously unpublished songs - that he added lyrics to.

The singer then closed the set and festival with famed Leadbelly song Goodnight Irene.

It was a hard act to follow - and no-one tried despite the best sound systems and mixers on the festival circuit.
Review by David Dawson