POKEY LAFARGE - CORNER HOTEL - 12 MARCH 2014 - REVIEW
Pokey LaFarge and band are '"artfully dodgy ambassadors for old-time music, presenting and representing the glories of hot swing, early jazz and ragtime blues" who have "made riverboat chic cool again."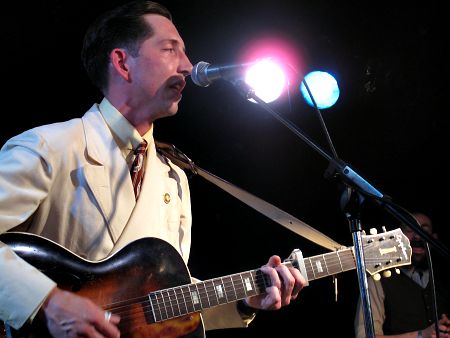 Pokey LaFarge live at Corner Hotel 13 March 2014
On this, his first tour of Australia, Pokey LaFarge won the hearts and minds of any music lover who happened to attend his shows at Port Fairy Folk Festival, Womadelaide or the two side shows at the Corner Hotel in Melbourne and The Basement in Sydney.

Pokey LaFarge hails from Mid West USA, being born in Bloomington Illinois, but these days calls St Louis Missouri home. He fell in love with old time American music in his childhood and developed an interest in its history. At the young age of 31, he's become somewhat of an expert on the subject, recently delivering a dissertation titled Evolving Through Preservation on TEDx.

I must admit that two months ago I had not heard of Pokey LaFarge, but an article on the artist in Rhythms Magazine led me to check him out on the internet, and subsequently to purchasing tickets to his show at the Corner Hotel.

So it was with high expectations that I arrived at the Corner on Wednesday night, and I left at the end of the night feeling that my expectations had been well and truly exceeded.

Mustered Courage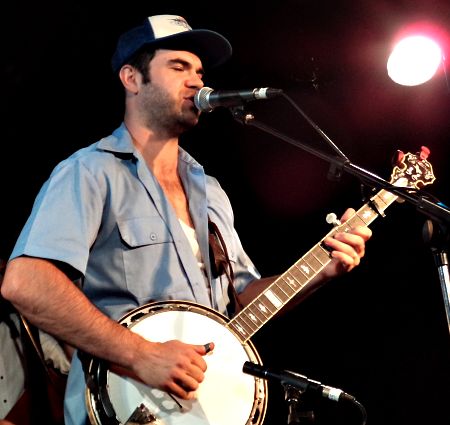 Nick Keeley - lead vocal and banjoist with Mustered Courage
The opening act was local Bluegrass band Mustered Courage, who performed a short set of songs mostly from their recent album Powerlines. They put on a lively act of fast and furious bluegrass ala The Old Crow Medicine Show or Mumford & Sons. A four piece band they are:

Nick Keeling - lead vocals, banjo
Julian Abrahams - Guitar, vocals
Paddy Montgomery - Mandolin, vocals
Josh Bridges - Bass, vocals

They were warmly received by the substantial crowd that was amassing for the main act and were a quality opener of whom SMH reviewer Bernard Zuel writes: " Like the Dillards 45 years ago, there's toughness to this mountain music even when it's high and sweet. Like the Dingoes 35 years ago, there are no pretensions but strong tunes".

Mustered Courage Set List
1. Sweet Blue Eyed Darling
2. Southern Style
3. Allegheny
4. Cruel Alibis
5. Standin' By Your Side
6. Train 45
7. Powerlines
Pokey LaFarge
It is very rare to come across a band who can connect so instantaneously with their audience, but Pokey LaFarge had the practically sell out crowd in the palm of his hand from the first song.
He had them singing along in no time, clapping, dancing on the spot (as it was a stand up concert, there wasn't any room for dancing), each song drawing rapturous applause. The vibe was love, love, love all night long.

A thoroughly engaging entertainer, Pokey Lafarge certainly looked the part. He has a wonderful interesting face, and a tremendous sense of style, dressed as he was in a loose creamy white suit, under which was a pale lemon shirt. Around his neck he wore a retro tie patterned with horseshoes and beautiful two tone, cream and tan, shoes clad his feet. He wouldn't have been out of place at the Oaks, and looks like a cross between a Gatsby film extra and Jimmie Rodgers.

And the music was sublimely enervating, instantly causing an unconscious foot tapping reaction and urge to dance or clap your hands - uplifting to the heart and the soul.

Pokey's take on the music of the American past sounds completely authentic. The scintillating rhythms of Ragtime Jazz, Swing and Blues took us back to a time before we were born, yet sounded simultaneously fresh and familiar. He would probably object to my using the "retro" term as he has said "It's not retro music, it's American music that never died'".

Pokey LaFarge wrote most of the songs on his latest self titled record, but they are indistinguishable from the period pieces and traditional songs of the 1920s, 30s and 40s which he favours. Take Central Time, one of Pokey's compositions, which goes…

The Missouri is my right arm, the Ohio is my left/But I'm livin' on the Mississippi River where I like life the best/I don't mind the west coast, and I don't mind the east coast/Oh, baby but I ain't gonna live on no coast

Chorus:
I'm just a plain ole Midwestern boy/Gettin' by on Central time

…and though it is a modern song, possibly autobiographical, it has the genuine feel of music from a bygone period. Pokey sees himself as an innovator and preservationist, not a traditionalist. His voice sounds as if it is issuing from an old 78 record or mono radio.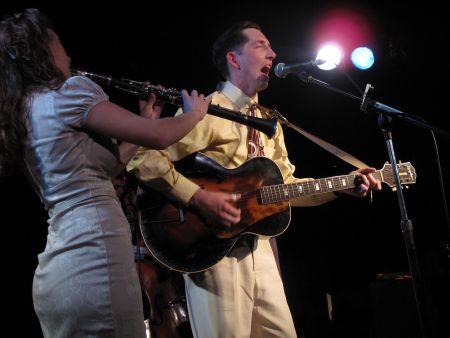 Pokey LaFarge with clarinetist Chloe Feoranzo
Ably supported by his hot band, Pokey LaFarge, performed a total of 16 songs, the highlights being Hard Times Come And Go, River Boat Shuffle, La La Blues, Central Time and In The Graveyard Now, though truth to tell, as every song was performed with verve and energy, it is hard to pick standouts.

The band are Joey Glynn on bass, Adam Hoskings on guitar, Ryan Koenig on harmonica, washboard and snare drum, T J Muller on cornet and trombone and Chloe Feoranzo on clarinet and saxophone. They were excellent, one and all.

There is always one! You know the fan who has had a few too many drinks and wants the rest of the audience to know how much he loves the band or artist? Well we had one of them close to where we were standing. At one stage he yelled his appreciation at the end of a song, which caused Pokey to pause his stage patter, unhook the microphone and present it to the fan with the remark "This person has something poignant to say" The fan was over the moon, and shouted into the mike "Holy fucking shit!" much to the amusement and/or outrage of everyone else.

When the main set was over, a concerted effort by the totally smitten audience drew Pokey back for an encore. He returned munching a slice of water melon, remarking that water melon was, after music, his favourite thing in life. He started by singing Josephine solo, before being joined by the band for Show Me The Way To Go Home the popular 1925 Irving King song, no doubt a hint that the night's entertainment was drawing to a close.

However, as Pokey said, to go out on a lively note, Bowlegged Woman was the final song.

It was indeed a night of timeless music. You had to be there to experience the fun and magic of time travelling with Pokey LaFarge and his ace band.
SET LIST
1. The Angel Of Flowers
2. Close The Door
3. Goodbye Barcelona
4. All Night Long
5. Sweet Potato Blues
6. Cairo Illinois
7. Riverboat Shuffle
8. Hard Times Come & Go
9. Kentucky Mae
10. Good Lord Giveth
11. Central Time
12. When Did You Leave Heaven
13. Fan It
14. La La Blues
15. Window Faces South
16. In The Graveyard
Encore
1. Josephine
2. Show Me The Way To Go Home
3. Bowlegged Woman

Review and photos by Anne Sydenham